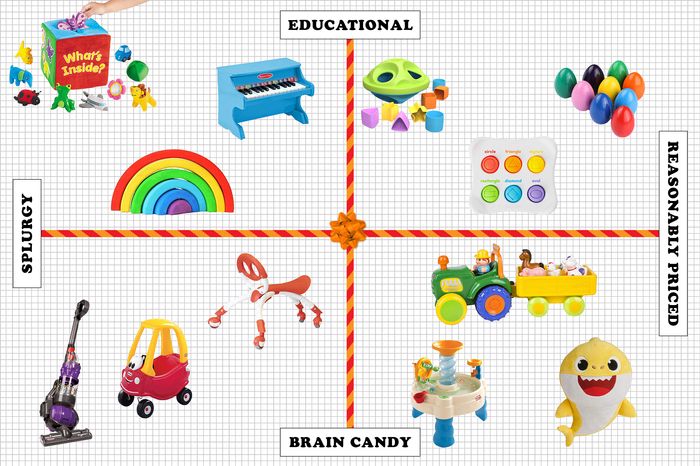 Photo: Photo-Illustration: Stevie Remsberg; Photos: Courtesy of the retailers
You know about New York Magazine's "Approval Matrix." Now, the Strategist has taken that model of what falls where on our taste hierarchies and applied it to toys. In this case, the four sides of the grid are "Educational" (say, rainbow nesting blocks), "Brain Candy" (baby shark), "Reasonably Priced," and "Splurgy." Each toy in every quadrant comes highly recommended — click here to learn more about our sourcing process and the dozens of experts involved — and every age up to double digits is covered, all of which you can see by also clicking here.
Now let's begin with the 1-year-olds. The key to pleasing this age, we learned, is in finding toys that will stimulate and surprise their growing minds. "Babies' brains develop so quickly — something like a million neural connections per second," points out Sarah MacLaughlin, a child-development expert, author, and senior writer at Zero to Three. "To keep them interested, you have to add sensory or mobility features to the mix." To that end come the following 20-plus suggestions, with input from professionals like MacLaughlin as well as a range of other discerning shoppers, from many-time grandparents to the singer-actress-mom Jordin Sparks. You can jump directly to the section that interests you most — "Educational/Reasonably Priced," "Educational/Splurgy," "Brain Candy/Reasonably Priced," or "Brain Candy/Splurgy" — or read all the way through to get the full picture of what kids these days are into. Whether you're shopping for a birthday or a holiday or any other day, it's a list that keeps on giving.
Educational/Reasonably Priced
Crawl tunnels are a thrill for this age and get big giggles, to be sure, but they also help young toddlers with spatial awareness and a better understanding of object permanence. Older kids and adults know that the person whose face leans into and out of the tunnel is always nearby, but for a 1-year-old, these types of lean-in, lean-out peekaboo games genuinely help them learn about the way the world works. Says Dr. Sarah Roseberry Lytle, director of outreach and education at the Institute for Learning and Brain Sciences: "You really want parents to be there playing with their children, following their lead, allowing them to figure out what happens."
"Young kids love making music and noises and exploring things, like, 'Can I make it softer? Can I make it louder?,'" Dr. Lytle says. "'What happens when I hit it harder? Does that make it louder?' That's a really interesting learning process." Tap the colored keys on Baby Einstein's Magic Touch Piano to play classic tunes or create your own melodies — a great way for babies and parents to play together.
In addition to music, 1-year-olds also love creating art, especially if they watch big siblings drawing or painting. But most art supplies simply aren't suitable for small, less-than-deft hands: Pencils have a dangerous point, paint makes a mess, and regular crayons snap into pieces. These large palm crayons are easy to grasp and almost impossible to break, encouraging artistic expression and supporting fine motor development.
Engaging sensory toys make great stroller accessories because they can soothe a bored baby when you're stuck in line or on the subway. "I'm sure the temptation for a lot of parents is to hand them something like an iPhone that makes a lot of noise. But the AAP [American Academy of Pediatrics] doesn't recommend consuming electronic stimuli in that way for children under 2 years old," explains MacLaughlin. This squishy bead toy will hold their attention and stimulate their motor-skill development. "It's like a more sophisticated rattle. It rattles when you shake it, but it also has beads that move around the bars, and it has a sensory aspect to it," MacLaughlin says. And by the way, she recommends attaching any stroller toys to the stroller, lest they get chucked into the street by a gravity-curious baby.
Speaking of sensory: There is a simple joy that comes with repeatedly popping the soft rubber discs set into this toy's frame in and out (as an adult, even, it might well provide you with a sort of mindless relaxation). One-year-olds certainly enjoy pushing the discs back and forth, but for them, the Dimpl Duo also creates opportunities to learn shapes and colors and to work on fine motor skills. The Braille element, inclusive for the seeing-impaired, adds interest for those with normal vision.
"Toddlers are beginning to think more critically about their world, improving their attention to detail, and using their eyes and hands together to develop coordination," says Keri Wilmot, pediatric occupational therapist and toy expert, a.k.a. the Toy Queen. "Match the Baby puzzles are a great opportunity for kids to not only learn about animals but focus on developing their visual-spatial skills as they learn to identify concepts that are the same, even if they might be a different size or color."
"Puzzles exercise children's cognitive abilities to be able to think about both the physical manipulation of the pieces and understand how something will fit into something else," says Dr. Lytle. "It's this idea of containment and fitting and what goes where." This one is made from 100 percent recycled plastic.
Educational/Splurgy
Lovevery play kits are carefully curated by a team of developmental and educational experts. The toys included are age and stage appropriate, designed to foster the growth of spatial skills, reasoning, and of course to be plenty of fun — think simple stacking toys, colorful pouches for hiding away wooden treasures, and books with images of other children. They have been a staple in this author's home since the birth of a daughter in 2018, and are growing popular with parents across the country, including a few notable folks: While you always have to take celebrities Instagramming about products with a grain of salt, we're inclined to believe the caption in actress, singer-songwriter, and mom Jordin Sparks's Instagram story that spoke of how the kits have been "incredible" for her son's "mental, physical, and emotional development."
"We've had this toy since 2016, and my daughter still plays with it every single day," says Susie Allison, former teacher, mom, and creator of BusyToddler.com. Inside the box, you'll find things like a little stuffed ladybug, an airplane, a ball, and more. The variety of objects will appeal to toddlers with myriad interests. "It's magical," says Allison. "A child can love it equally at 16 months old and 4 and a half."
This piano plays genuine notes across two octaves and is both an actual instrument and a great outlet for the energy humming inside a little kid. Infants will love smashing the keys wildly, while 1-year-olds will begin to smash more selectively. And as this writer is also a dad speaking from personal experience: Our Melissa & Doug piano is still in great shape after years of use by two kids, proving its durability. The fact that the 5-and-three-quarter-year-old still plinks away at it from time to time shows staying power.
"This big wooden cube has lived in the playroom in my house for years and grown up with all nine of my grandchildren," says Westchester grandmother Donna D'Andraia. "It's such a beautifully made toy that it can be handed down through generations. I recently passed it on to my niece's son, when he was a year old: He loved moving the beads along the maze and opening the little wooden doors to be surprised with the different faces of animals. And soon he can use it to practice the alphabet." Though a heavy, bulky investment — it weighs almost 15 pounds — "it will last forever."
This colorful wooden set of blocks can often be found in Montessori and Waldorf classrooms alongside more basic rectangular versions. Each arc in this nesting set can be stacked, balanced, and combined with the others to create imaginary city scenes with bridges and buildings or simply allow for experimenting with texture and gravity. "Stacking is fun, but even if they're not coordinated enough to stack their toys, they would love to watch you stack and then be able to knock it down," says MacLaughlin.
"This wagon is great for the stage when your baby begins to 'cruise,' or walk around the room by holding onto things," says Zahra Kassam, founder of the at-home Montessori program Monti Kids. "It's a Montessori-teacher favorite because it allows babies the opportunity to practice their walking skills while building their independence." A tip she adds: "Weigh it down with heavy books or free weights to slow it down at first." And on the celebrity front: A red Radio Flyer wagon appeared on the back terrace of the home of actor Aaron Paul — who has a 19-month-old daughter — in this encounter with New York.
Brain Candy/Reasonably Priced