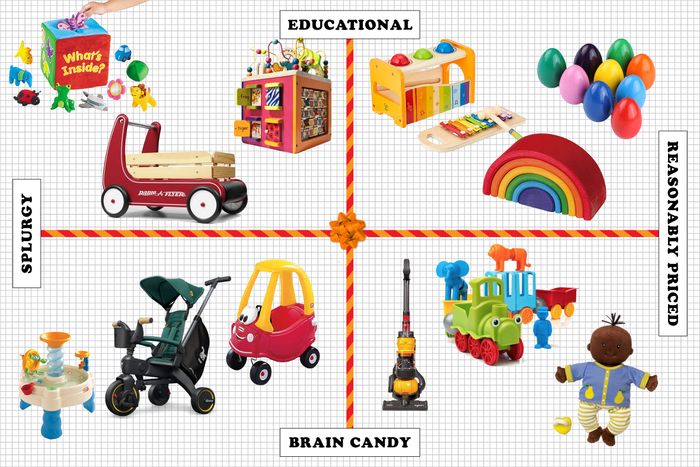 Photo-Illustration: Photo-Illustration: Stevie Remsberg; Photos: Courtesy of the retailers
You know about New York Magazine's "Approval Matrix." Now, the Strategist has taken that model of what falls where on our taste hierarchies and applied it to toys. In this case, the four sides of the grid are "Educational" (say, rainbow nesting blocks), "Brain Candy" (a toy train), "Reasonably Priced," and "Splurgy." Each toy in each quadrant comes highly recommended — click here to learn more about our sourcing process and the dozens of experts involved — and every age up to double digits is covered, all of which you can see by clicking here.
Now let's begin with the 1-year-olds. The key to pleasing this age, we learned, is in finding toys that will stimulate and surprise their growing minds. "Babies' brains develop so quickly — something like a million neural connections per second," points out Sarah MacLaughlin, a child-development expert and the author of What Not to Say: Tools for Talking With Young Children. "To keep them interested, you have to add sensory or mobility features to the mix." Shannon Lockhart, a manager of early-childhood applied practices at HighScope, an early-childhood-education research foundation, agrees: "The more senses that you can appeal to within an experience, the more learning is going to happen."
To that end come the following 30 suggestions, with input from professionals like MacLaughlin and Lockhart as well as a range of other discerning shoppers, from many-time grandparents to the singer-actress-mom Jordin Sparks. You can jump directly to the section that interests you most — "Educational–Reasonably Priced," "Educational-Splurgy," "Brain Candy–Reasonably Priced," or "Brain Candy–Splurgy" — or read all the way through to get the full picture of what kids are into these days. Whether you're shopping for a birthday or a holiday or any other day, it's a list that keeps on giving.
Educational–Reasonably Priced
For kids who love music — and hitting things — this two-in-one toy ought to be, well, a hit. The multifunctional bench features a pullout xylophone and three wooden balls that can be banged on with a mallet. Once they're pushed through, the balls either land on the xylophone to create a pleasing melody or simply roll down the ramp to be fetched. Remove the xylophone from the bench and you have a stand-alone musical instrument. Publicist and mother of two Sonya Li Casino says her now-3-year-old son loved it so much, "I ended up purchasing it for a few other 1-year-olds."
It's never too early to start affirming your kids, which is exactly what these fun flash cards are for. We heard about them from leadership speaker Jovian Zayne. "We're very intentional about showing our daughter a diversity of images; it matters early, the messages you receive," she told us. "I got these ABC affirmation flash cards when Jorgie was about 4 months old, and it's still a daily practice for us: You'll see a Black girl on one side of a card and a Black boy on the other; A is for amazing, and the little girl is saying something like, 'I am amazing and can do great things in my community.'" Zayne credits affirmations like these that she heard growing up as being critical for her growth and abilities to "operate with conviction, clarity, and joy, and build a sense of resilience." Beyond being inspirational, the flash cards are also a fun way to learn the letters of the alphabet.
Photo: Retailer
According to speech-language pathologist Ellice Kim Lacerda, you can never go wrong with the gift of books, especially if they come in a curated box. "One of our favorite gifts we have received and given is a children's book subscription box," she says. Lacerda's favorite book subscription comes from her local Bay Area bookstore, the Reading Bug — which happens to ship nationwide. "It was fun receiving books we had never read or even heard of," she says, adding that many of the titles her family received became fast favorites. You can either choose a curated box with preselected titles or opt for a personalized one based on age, gender, interests, and reading level. As far as curated boxes go, the store has lots of options, but either its "Baby" box of board books for 0- to 30-month-olds or "Read to Me" box of developmental read-aloud titles would make an excellent choice for a 1-year-old. The price shown is what you'll pay for monthly deliveries; but if you want to give a year's worth of boxes, you can save a bit by paying $216 (which breaks down to $18 for 12 boxes) up front. There is also a six-month subscription that breaks down to $19 a box and a three-month one that breaks down to $20 a box. Those who only want to give a single box can do so for $20.
You can always gift your own favorites. Tze Chun, founder of Uprise Art and mom of two, loves the TouchThinkLearn series by Xavier Deneux. "These books are so beautifully constructed. Each page is super-thick and has embossed areas so that babies can feel the surface of each one," she says. Her favorites include ABC (shown here), 123, and Colors. "The pages really hold up, even after years of playtime and bedtime."
For a more traditional musical instrument, consider this "magic touch" piano from Baby Einstein. Simply tap the colored keys to play classic tunes or create your own melodies — a great way for babies and parents to play together. As Dr. Sarah Roseberry Lytle, director of outreach and education at the Institute for Learning and Brain Sciences, explains, "Young kids love making music and noises and exploring things like, 'Can I make it softer? Can I make it louder? What happens when I hit it harder? Does that make it louder?' That's a really interesting learning process."