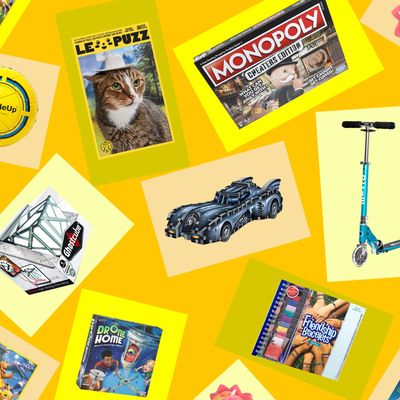 Photo-Illustration: Photo-Illustration: Stevie Remsberg; Photos: Courtesy of the retailers
The road through tweendom is, like most developmental phases, not a straight line. By the time kids reach their first double-digit birthday, they might be throwing you a jaded eye roll one day and asking for extra hugs the next. Cognitively, they "can think more abstractly" and have developed "the ability to gather information and formulate well-organized thoughts," says Glenda Stoller, a psychotherapist in private practice in Manhattan. And this new-found mental maturity gives them the skills to take on more complex games, crafts, and puzzles. It also carries over into deepening interest in sports, drama, painting, and other hobbies.
Kristin Morency Goldman, a senior editor at the Toy Association, says that kids around 10 years old are often playing independently and that many of them like collecting toys as much as they like playing with them. Some may even be starting to grow out of toys altogether, showing more interest in reading, listening to music, or doodling in a journal. But we heard from multiple parents of 10-year-olds that stuffed animals and other toys still play an important role in their kids' lives. So to find the best gifts for all different kinds of 10-year-olds, we asked experts like Stoller and Morency Goldman, highly discerning parents, and a couple of in-the-know tweens for their recommendations. Since what 10-year-olds actually want will depend on their unique talents and interests, the resulting list — which we've organized by price — includes a wide range of age-appropriate STEM and craft kits that will spark their creativity, word and math games that'll let them flex their problem-solving skills, and a whole lot of squishy, funny, collectible things too.
Meanwhile, if you're shopping for kids in other age groups, we have gift guides for 1-year-olds, 2-year-olds, 3-year-olds, 4-year-olds, 5-year-olds, 6-year-olds, 7-year-olds, 8-year-olds, 9-year-olds, 11-year-olds, and 12-year-olds.
Under $25
We've heard from camp counselors and directors that Squishmallows are a common sight in older kids' cabins — the largest sizes are the ones that older kids like best. Kayla Weissbuch, founder and executive director of Brave Trails, which runs camps designed for LGBTQ+ teens, told us that most of her campers bring Squishmallows because they're cute and double as an extra pillow. "It makes the bunk a little bit cozier," she says. This 12-inch triceratops Squishmallow doubles as a throw pillow that kids can lean against while reading or doing homework.
New York features writer and mom to an almost 10-year-old Kathryn VanArendonk says her daughter is into boba and things that squish. Though retailers like Amazon and Target are full of squishies, VanArendonk specifically called out the stress balls and fidget toys from Nee-Doh, which her daughter likes best and which tend to be higher quality.
This 3-D Tetris game comes recommended by Ali Mierzejewski, editor-in-chief of the Toy Insider. It works like the original version of the game except you're competing in real-time against the other players and sharing one pot of physical game pieces. "You have to be strategic about what pieces you need and try to predict what the other players will need while playing. It's a really fun way to update the classic video game," she says.
I recently discovered this teeny LEGO-like building toy at the New York Toy Fair — and fell in love pretty much immediately. Each brick is about the size of an ant (anything tiny is popular with this age group) making the process of building a single Kirby figure painstaking but really fun. There are individual characters — Hello Kitty is coming soon — and giant kits where you can build things like the Eiffel Tower or the Titanic. But for a 10-year-old, depending on how focused they are, this set of four Kirby characters among two trees is probably the sweet spot.
This crystal-growing kit is a hands-on way to teach kids about geology and experimentation ("10-year-olds enjoy science projects," Stoller affirms). You dissolve powdery compounds in hot water and add seeds according to the instructions, then watch your faceted red, purple, blue, and white stones sprout under clear domes and live on and on and on.
This fast-paced board game's main objective is to be the first to help all of your aliens escape into outer space using a drone. Suitable for up to four players, "it's the first game I've ever seen with a real flying drone," says Adrienne Appell of the Toy Association, who recommends it because it "combines different kinds of play for a lot of fun."
Strategist writer Latifah Miles, who has a just-turned-11-year-old son with an interest in art and a deep appreciation for comic books, says he really enjoyed this fill-in-the-blanks-style sketchbook. "He always talks about wanting to create his own comic but can get overwhelmed trying to plan it out," she says. "This book has individual boxes, examples, and tips" that have encouraged him to create."
This version of Monopoly is for cheaters, specifically; the object is to see what you can get away with. "Isn't that the way every kid plays all the time anyway?" says Zibby Owens, an author, mother of four, and host of Moms Don't Have Time to Read Books. Complete with a set of plastic handcuffs, the game "encourages secret bank thefts, secret property swipes, and serious consequences if caught," Owens says. One of her kids "saw this advertised on TV, grabbed my iPad, and before I knew it had added it to his wish list. Now the whole family plays."
Toy Insider senior editor James Zahn, who is a dad to two tween girls, says DIY friendship-style jewelry is as popular as ever. This kit comes with everything a crafty 10-year-old will need to make embroidery floss bracelets they can trade with their friends. It also serves as a flat surface to work on.
Several parents we spoke to, including VanArendonk, mentioned that their fourth- and fifth-graders love cute notebooks. Extra points if you can find them with squishy elements, boba, or a classic lock for privacy.
Under $50
Kelly Harris Smith, founder of children's art space Minni and mom to a 9-year-old boy and an 11-year-old girl, told us her family loves spreading out a big puzzle to work on together over the course of a long weekend. This cat-in-a-cowboy-hat 500-piece puzzle from Le Puzz is challenging enough to entertain both kids and adults with a cute and silly payoff at the end.
This best-selling book series from writer Erin Hunt has spread like wildfire among fourth- and fifth-grade kids. It's a favorite of VanArendonk's daughter, though it's hard to keep up as the books are always checked out of the school library. And my soon-to-be-10-year-old niece is a megafan (she calls it "Lord of the Rings but with cats") and has already finished reading 70 of the nearly 100 books in the vast Warriors universe; there are a total of seven collections. This box set introduces the first series to young readers. It revolves around four clans of wild cats, fighting over the forest they have shared for generations, and a surprisingly brave house cat named Rusty who joins the cause.
For a 10-year-old who's already mastered the classic Rubik's Cube — their fine-motor skills are improving at this age, according to Stoller — puzzle designer Adam G. Cowan presents a new challenge. Unlike the rainbow Rubik's Cube, the steely-toned Ghost Cube does not involve aligning colors but rather twisting up all kinds of shapes, after which you are faced with the task of returning the pieces to the original cube form. Introduced in 2013 (a relative ingenue compared with Erno Rubik's invention of 1974), the puzzle is "hours of fun," according to Beth Beckman, a co-founder of Little Kid Big City New York. "I came across it in a boutique toy store, and my son went crazy for it. He said it was a 'way cooler' version of a Rubik's Cube that was dressed as a mummy."
This 3-D Batmobile puzzle, recommended by Zahn, is challenging enough to keep tweens interested. The thick pieces won't bend or fold, and are designed to interlock and stay put without any glue. After your giftee assembles the 255-piece puzzle, they can display the Batmobile in their room. (If they aren't a fan of The Dark Knight, the brand has a Harry Potter collection and the Ghostbuster Ectomobile.)
This STEM kit encourages engineering skills by letting kids build their own foam-dart blaster, which Zahn says is a prime example of toy companies "merging play with learning" to connect with older kids. Screen- and battery-free, the kit comes with an assembly guide, all of the pieces to put it together, and six darts. The brand notes that 10-year-olds may need some help to complete the build, but for kids who are interested in how things work, the challenge is part of the fun.
Leaning on the math skills that 10-year-olds are learning in school, Prime Club gives young players "meaningful practice with addition, subtraction, multiplication, and division as they move around the board making decisions about which operation will advance them or bump opponents back," says Maya Smart, a mom, educator, and the author of Reading for Our Lives. The game is designed for two to four players, is fun for adults to play too, and helps kids develop deeper mathematical thinking and the ability to predict several moves ahead.
Zahn says many 10-year-olds gravitate toward crafts and building sets like the ones from K'Nex, which allow them to flex both their construction skills and creativity. This K'Nex bundle contains two sets: one that comes with 480 pieces — including wheels, rods, and rotors, plus an instruction booklet that kids can use to build 35 models — and another that comes with 250 pieces and allows them to assemble a 3-D, battery-operated dinosaur.
Appell says the SmartLab Outdoor Science Lab kit is a "great way to keep kids engaged outside while learning." The kit contains 21 activities designed to introduce children to various sciences including botany, geology, entomology, and chemistry. "It's easy and portable," Appell adds, the latter being a plus should your kid want to bring it to an outdoor playdate.
Ruka Curate, founder of the Tiny Treasures Nanny Agency, recommends this arcade-themed kit, which is a more advanced version of Snap Circuits that's great for 10-year-olds. Another option, according to Lindsay Bell, the founder and owner of the Bell Family child-care company, is Snap Circuits Extreme, though it's more expensive.
Pokémon's popularity has only grown in the last 27 years, making fans out of every generation. Pokémon-related gifts have real staying power, and this, a board-game adaptation of the Pokémon trading card game, is no exception, according to Jackie Cucco, a senior editor at the Toy Insider. "It's easy to learn and understand, and there are ways to make the game more challenging so it doesn't lose its play value over time," she says.
Although cornhole is a highly popular outdoor activity for all three of her children, New York deputy photo editor Emily Denniston says her tween was "especially competitive about it" at age 10. Considering how much use she knew it would get, she found this collapsible version that conveniently zips up into an 11-by-11-inch bag and weighs less than five pounds.
LEGOs are still huge with kids of all ages, but for 10-year-olds there is increasing interest in building worlds based on their other hobbies. Tessa Thornton says a Minecraft LEGO set was one of her 10-year-old son's favorite gifts from his last birthday (along with a kid's digital camera). This pumpkin-themed set calls back to the game's swamp biome and lets kids tend a pumpkin patch, battle a potion-flinging witch, sail a boat, and combine ingredients to make a pie.
Under $100
Multiple parents told me that their 10-year-olds are obsessed with Taylor Swift. So I asked the Strategist's resident tech expert Jordan McMahon about the best Bluetooth speakers for kids who want to re-create the Eras tour at home. His recommendation: JBL's Clip 4 portable speaker. "It's a fun speaker that they can carry with them to a friend's house for a sleepover, or take to the park on a nice day. It comes in a bunch of colors, and they can pair it with a smartphone or tablet to get better audio than either would provide on its own," he says.
This virtual-reality world-traveler kit exposes kids to foreign countries, different cultures, and historical monuments around the globe. "It combines reading in a traditional form with virtual reality to create a total immersive experience for exploration and discovery," says Chris Byrne, who's known as the "Toy Guy." With the help of a smartphone, VR goggles, and an app, the interactive augmented-reality atlas guides kids through games, activities, and videos that teach them about everything from the building of the Colosseum to digging up dinosaur bones.
Cameras, in general, are a great gift for this age, according to child therapists, but this version stands out: "The Instax Mini cameras are the simplest in Fujifilm's instant-camera line, making them the kid-friendliest," says instant-camera expert and New York city editor Chris Bonanos (he's written two books, one about the history of Polaroid and another about the photographer Weegee, which won the National Book Critics Circle Award for the best biography of the year). Bonanos continues, "They use the least-expensive instant film Fuji makes, which can be important when kids don't think about the economics of their party snapshots. My own kid took his to camp with the idea of photographing new friends and sending them home with souvenirs."
Appell told us about this LED version of the popular beach and yard game Spikeball. "This gives the ability to play in the dark," she explains. The primary objective is to bounce the ball onto the net in such a way that the opposite team cannot return it. Like volleyball, a team is allowed three touches before it must be returned. If the ball isn't returned, the opposing team scores one point. Play continues until one team scores the designated number of points (and is ahead by a margin of at least two).
This smart soccer ball is an innovative upgrade from the typical ball and comes with a stand to hold a smartphone. Download the DribbleUp Soccer app, sync your ball, and choose a warm-up or workout exercise. Says Denniston, "My son practices for hours with this ball and app and tracks his progress. People always stop him and ask what he is doing."
$100 and up
If your Lego-fanatic 10-year-old is more musically inclined, Appell says this is "an amazing splurge gift." The kit for the 3,662-piece grand piano includes a motor along with keys, pedals, and dampers that actually move. After they construct it, kids can sync the piano to the Lego Powered Up app, which allows them to play actual music on it (or to simply have the piano auto-play one of ten available songs).
When we talked to parents and experts about the best scooters for kids, the Micro Kickboard brand was the most mentioned by a long shot. Vox Media senior engineering manager and father of two Ryan Freebern says this two-wheeled model — which most kids are ready for by age 10 — is very well made and incredibly sturdy, and his eldest regularly rides it to school and back.
If they already have a scooter, this is also a good age for kids to master cruising around on a hoverboard. Strategist senior editor and mom Jen Trolio gave one to her older daughter with the caveat that she has to wear a helmet and wrist guards when using it.
Additional reporting by: Latifah Miles, Trupti Rami, Dominique Pariso, and Lauren Ro
The Strategist is designed to surface the most useful, expert recommendations for things to buy across the vast e-commerce landscape. Some of our latest conquests include the best acne treatments, rolling luggage, pillows for side sleepers, natural anxiety remedies, and bath towels. We update links when possible, but note that deals can expire and all prices are subject to change.
Every editorial product is independently selected. If you buy something through our links, New York may earn an affiliate commission.