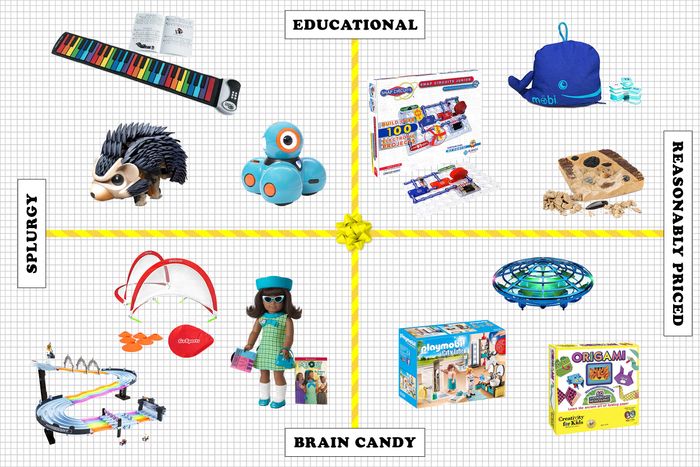 Photo-Illustration: Photo-Illustration: Stevie Remsberg; Photos: Courtesy of the retailers
You know about New York Magazine's "Approval Matrix." Now, the Strategist has taken that model of what falls where on our taste hierarchies and applied it to toys. In this case, the four sides of the grid are "Educational" (say, a fossil-excavation kit), "Brain Candy" (a mini plush playset that promotes social interaction), "Reasonably Priced," and "Splurgy." Each toy in every quadrant comes highly recommended — click here to learn more about our sourcing process and the dozens of experts involved — and every age up to double digits is covered, all of which you can see by also clicking here.
Here, our assortment for the 7-year-olds. As Dr. Roberta Golinkoff told the Strategist, this age is all about finding a sense of independence. "When you go into first grade, you're not sure of which end is up, and you're still depending on everyone," said Dr. Golinkoff, a professor of child psychology at the University of Delaware. "But by the time you go to second grade, you know the drill." The toys that follow speak to that newfound bit of agency — and also just let them go crazy with Post-its and other arts and crafts. You can jump directly to the section that interests you most — "Educational/Reasonably Priced," "Educational/Splurgy," "Brain Candy/Reasonably Priced," or "Brain Candy/Splurgy" — or read all the way through to get the full picture of what kids these days are into. Whether you're shopping for a birthday or a holiday or any other day, it's a list that keeps on giving.
Educational/Reasonably Priced
When Ruka Curate, founder of the Tiny Treasures Nanny Agency, consulted her Facebook group of 50,000 women for help in recommending the best toys to us, Snap Circuit came out on top. Its color-coded, easy-to-assemble components can be combined to form working circuit boards like the ones inside a television or a radio (there's even a music-integrated circuit and a speaker). "Of all the Manhattan families I know with kids between ages 7 and 10, most of them have at some point received Snap Circuit as a gift," says Curate. Personally, she estimates she's gifted six to eight of these over the past three years, because she's seen how engaging it is, all while encouraging STEM and STEAM learning. (Incidentally, Dr. Golinkoff believes that while STEM toys are important ⁠— STEM of course stands for science, technology, engineering, and mathematics — STEAM, which adds an A for the arts, is even better.) And, Curate adds, "It's a great price point."
This isn't a toy, but according to Jacob Cohen, a teacher in Brooklyn, the Fly Guy book series is just as exciting as any toy for 7- and 8-year-olds he works with. "They're very competitive about collecting the whole set," he says. This easy reader series is full of funny drawings and slapstick scenarios, and it's perfect for independent reading time.
With this kit, kids dig into a molded block of clay that appears to be straight out of the desert and use chisels and brushes and a magnifying glass to uncover highly realistic fossils — dinosaur bones, shark teeth, sea urchins, etc. "It makes kids feel like real scientists," says Elizabeth S., a nanny for the New York–based SmartSitting agency. They can also classify the fossils using the accompanying learning booklet. "I gave this gift to a 7-year-old, and he and his 9-year-old sister were digging for the better part of a rainy day inside. Next time I saw them, they couldn't wait to show me what they'd uncovered."