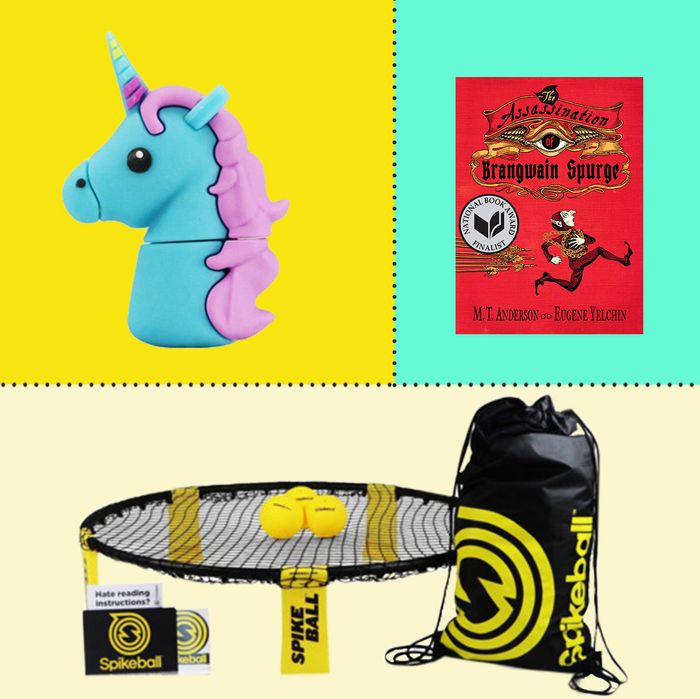 Photo: Courtesy of the retailers
"In the library, we say that young adult is 12. When you're this age, you're straddling that children's and teen section in life," says Lisa Goldstein, a librarian at the Brooklyn Public Library. And as kids get deeper into puberty, they're negotiating their freedom more. "Adolescence is all about the dialectic of freedom versus supervision," says Matt Lundquist, a psychotherapist in private practice in Manhattan.
When it comes to choosing gifts for these not-yet-teenagers, it's important to ask your child about their interests. "Take the time to get to know a young person and offer a gift that facilitates deeper exploration," says Lundquist. "I like the idea of thinking about gifts that are tools for inquiry." While some 12-year-olds may still like playing with dolls and stickers, for instance, it's possible that a toy perceived as babyish may offend the recipient, according to psychotherapist Alyson Cohen. Below, 19 age-appropriate gifts for 12-year-olds, all recommended and approved by our experts.
We've got gift guides for kids of all ages, including 1-year-olds, 2-year-olds, 3-year-olds, 4-year-olds, 5-year-olds, 6-year-olds, 7-year-olds, 8-year-olds, 9-year-olds, 10-year-olds, and 11-year-olds, as well as guides for teenage girls and boys. And if you're looking for holiday toys, don't miss the top kid's toys to buy before they sell out — we talked to experts to find 2018's hottest toys. Don't miss all of the Strategist's holiday gift coverage right here.
Rather than thinking about specific toys, Lundquist finds it important to understand exactly what kids at this age are into. You can even ask them about their preferences outright, says Cohen. "Ask them, 'Do you want toys this year? Or are you looking for something older that you could use in the coming years?'" For example, maybe your 12-year-old really loves baking. Instead of an Easy-Bake Oven, which is primarily for younger kids, Cohen suggests getting them something that "shows that you recognize their interests and that can also [push] them to try something that's a little more difficult" — like a hand mixer. "This is an age when you can help them explore some of their deeper interests. Show that you're taking their interests and hobbies seriously, and that you trust them with things that are made for adults."
"Boys are a little bit behind girls in terms of puberty at this age, but this is when some of the guys might be developing more muscles, or their voices might be deepening, so their athletic ability will be likely to be improving greatly at this time," says Cohen. A group outdoor activity like the super-popular Spikeball is a good choice for 12-year-olds and will serve as an opportunity to hang with their friends.
"A boy at this age might be trying to get more in shape, and something simple like a pull-up bar in their bedroom could also be a great gift," says Cohen.
Lundquist, who says that gifts should be tools for inquiry, recommends things like STEM kits that help them explore their interests and the world at large: "Climbing gear, books about identifying plants, coding kits, and tools for building projects are all great examples of this." This drone-building kit is great for beginners or hobbyists.
Cohen agrees with Lundquist. For a girl, you could get something for her to make herself, like pottery, jewelry, or origami — "something that might require a little bit more skill," says Cohen. She cautions that it's important to look at the age labels on boxes: "You'd have to be careful that it's intended for ages 12 and up and not 10 and up." Here's a tool kit for the budding ceramicist.
Middle school is a time when kids are beginning to really express themselves creatively, whether that's through what they wear and listen to, or how they decorate their lockers, according to Cohen. "Most of their social activities are happening in school, so if you can give them something that they can use to express themselves in a school setting, that's something that they would utilize," she says. These magnetic frames for Instax photos would make great stocking stuffers — and, more importantly, look cool on lockers — AND showcase a middle schooler's BFFs.
Cohen also suggests gifting trendy gym clothes for your preteen. "I know that gym class is something that a lot of kids find to be a chore, but if they had leggings from one of their favorite stores or something trendy like from Nike and not just from the clearance rack, they would feel cool wearing it."
This Champion sweatshirt in a non-boring color sports the cutest little embroidered Snoopy and would make any middle schooler look fly in gym class.
For the 12-year-old just getting into makeup, Caboodles is a fun way to organize all their beauty finds.
As kids develop their taste in music, giving them more control of what they listen to and download would be a great way to show that you value their independence, according to Cohen: "Giving kids that opportunity to download media from iTunes and other platforms gives them purchasing power but with boundaries."
"Amazon gift cards are also really popular," says Cohen.
While most kids this age would love their own laptop, they're usually stuck with using the family computer or an old hand-me-down. "Maybe you can help them personalize the family computer by getting them a cool jump drive, or giving them their own username within the computer," suggests Cohen.
Best books for 12-year-olds


This National Book Award Finalist by Jarret Krosoczka is getting a lot of attention, according to Brooklyn Public Library's Lisa Goldstein. Known for picture books and graphic novels for younger readers like the popular Lunch Lady series, the author's latest book is his first for older kids and is a memoir about his life growing up with an addict mother. Although 12 is on the younger end of the book's age range, Goldstein thinks it appeals to younger kids who may see themselves in the story. Raised by his grandparents, the author goes through childhood trying to make sense of his life. It's not until he becomes a teenager that he begins to understand his family and the art he turns to as a way out. "It's written from his viewpoint as a teenager, and it definitely works for kids working on that idea of identity," says Goldstein. "If you're struggling, something you're good at [like art] can be your way out." The author includes letters, drawings, and photographs from the '80s and '90s, when he grew up, creating "a cool mixed-media" experience, according to Goldstein. "For kids who like graphic novels, the book is a way for them move on to [somewhat] heavier work with heavier content. It is very serious but it's also something that a lot of kids experience themselves."
Here's another graphic novel, albeit one that's a lot lighter in content. Called Fake Blood, it takes place in Spoons, Oregon (a little nod to Forks, Washington, where Stephenie Meyer's Twilight series is set), and is "kind of like Twilight meets Buffy the Vampire Slayer," according to Goldstein. It's about AJ, who has a huge crush on Nia, who is obsessed with vampires. In order to get her attention, he decides to become a vampire, but then he finds out that Nia is in fact a vampire slayer, putting his whole plan — and life — in jeopardy. "This book also fits in with the idea of identity and speaks to kids who feel like they're not enough and feel that they need to be more than who they are," says Goldstein. "This actually tells them that you don't have to pretend to be something you're not; you're actually great as you are. It's also really, really funny."
The Prince and the Dressmaker is a fairy tale about Prince Sebastian, a prince living in Paris whose parents are searching for a bride for him. But he would rather wear dresses and be Lady Christalia, his alter ego. Luckily, his best friend and dressmaker Frances shares his secret, but that means putting her own dreams aside to protect her friend. "The book is full of acceptance and beautiful fashion, like frilly dresses, and colors that are like rainbow sherbet," says Goldstein, "and it's such a frothy, fun, and joyful fairytale that also deals with the subtlety of gender identities."