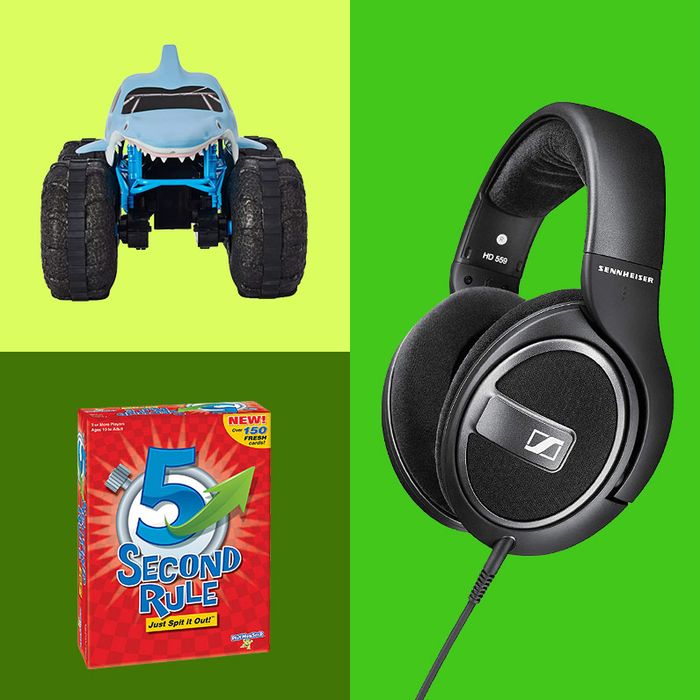 Photo: Courtesy of the retailers
While you might think the tween years blend together, those who spend a lot of time with adolescents say that is not exactly the case. "In the library, we say that 12 is 'young adult': When you're this age, you're straddling that children's and teen section in life," explains Lisa Goldstein, a librarian at the Brooklyn Public Library. And as kids get deeper into puberty, they're negotiating their freedom more. "Adolescence is all about the dialectic of freedom versus supervision," says Matt Lundquist, a psychotherapist in private practice in Manhattan.
When it comes to choosing gifts for these not-yet-teenagers, it's important to ask a child about their interests. For instance, while some 12-year-olds may still like playing with dolls and stickers, it's possible that a toy perceived as babyish may offend the recipient, according to psychotherapist Alyson Cohen. That's why Lundquist stresses to "take the time to get to know a young person and offer a gift that facilitates deeper exploration. For those who may not have that time, though, we asked Goldstein, Lundquist, Cohen, and six more experts (including actual 12-year-olds) to share what they think are the best gifts for 12-year-olds. Below, their 18 picks, which we've divided into categories like educational gifts, tech gifts, creative gifts, and more. If you've got kids of different ages to shop for, don't miss our other age-specific gift guides, including for 1-year-olds, 2-year-olds, 3-year-olds, 4-year-olds, 5-year-olds, 6-year-olds, 7-year-olds, 8-year-olds, 9-year-olds, 10-year-olds, and 11-year-olds. We've got gift guides for teenage (and tween) girls and boys, too, and if you're just looking for toys, we also spoke to trend forecasters about the buzzy ones they predict will fly off shelves this year.
Best toy and game gifts for 12-year-olds
While your preteen may initially scoff at Pindaloo, "once they get off the couch and try it, they'll be addicted," promises Lori Jepsen, who reviews and blogs about toys for Toysenberry. She says it's always fun to pull out after a long day of studying, because the game "actually helps hone their focus, coordination, and balance skills." Plus, it can be a great confidence booster. "They'll love the sense of accomplishment they get once they master getting the ball to do a continuous loop through the tube."
If you're looking for a traditional board game, Jackie Cucco, a senior editor at The Toy Insider, suggests 5 Second Rule. "Each player takes a turn in the hot seat with only five seconds to name three things based on a card prompt," she explains. Those card prompts, she adds, can range from cereals to book series to items in grandma's purse. While "it sounds easy, you never know what kind of wacky answers you're going to spit out," she says.
Jepsen says that her 12-year-old niece and nephew got hooked on this game as soon as she introduced them to it. "Monopoly Deal packs all the competitiveness and strategy of the board game into a much shorter card game," she explains, making it a great option for fidgety kids who can never sit through a marathon session of the classic. "Tweens love the scheming it takes to win," she adds.
Gus, an adolescent boy who is just on the other side of 12, says that is the age when kids really start getting into this ever-popular card game. If you think your 12-year-old would prefer a strategy-based game that's a little more complex and consuming than Monopoly Deal, Gus told us that the Magic Core Set is a great gift for anyone looking to get started.
Chris Byrne, who also goes by the Toy Guy, says that "remote-controlled cars and other vehicles are always good ideas for this age group." Of the many out there, he particularly likes the "hilarious" Megaladon, which he describes as "a high performance shark-slash-vehicle." It can drive on both land and water so "there's lots of great play in this," Byrne adds.
For Mandolorian fans, Byrne suggests snapping up Hasbro's The Child Animatronic Edition Figure (a.k.a. Baby Yoda) as soon as possible, as he predicts it "is going to sell out." While he notes that "animatronics tend to skew towards younger demographics and collectors, this is one that is going to appeal to everyone" thanks to our ongoing Baby Yoda mania.