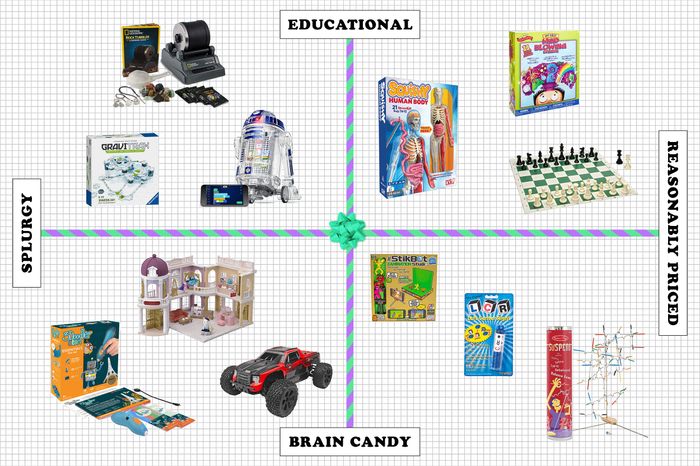 Photo-Illustration: Photo-Illustration: Stevie Remsberg; Photos: Courtesy of the retailers
You know about New York Magazine's "Approval Matrix." Now, the Strategist has taken that model of what falls where on our taste hierarchies and applied it to toys. In this case, the four sides of the grid are "Educational" (say, a logic-based laser maze), "Brain Candy" (a waterproof monster truck), "Reasonably Priced," and "Splurgy." Each toy in every quadrant comes highly recommended — click here to learn more about our sourcing process and the dozens of experts involved — and every age up to double digits is covered, all of which you can see by also clicking here.
For those who are age 8, "there's a tremendous growth spurt in physical, emotional, and cognitive development," says child therapist Glenda Stoller, LCSW, co-founder of Village Parenting NYC. And so, in the interest of exposing them to new things that will challenge and entertain their exploding brains and bodies, we present the following 20-plus gifts, from those recommended by professionals like Stoller to those found in the hands of Kate Hudson's son. You can jump directly to the section that interests you most — "Educational/Reasonably Priced," "Educational/Splurgy," "Brain Candy/Reasonably Priced," or "Brain Candy/Splurgy" — or read all the way through to get the full picture of what kids these days are into. Whether you're shopping for a birthday or a holiday or any other day, it's a list that keeps on giving.
Educational/Reasonably Priced
You might remember the feel of these rectangular decks in your hands as you fanned them out from their fastened corner (brilliant design detail — this way the cards never get lost) and revealed each of a thousand trivia questions, with their full-page illustrations, written by Chris Welles Fedder (eldest daughter of Orson Welles). They've modernized the look and updated the material since you were a kid — still based on school curriculums, with categories for the third-grade set including math, science, social studies, and language arts. But they don't feel like an extension of school for kids — the quizzing, in this form, becomes a game. They can be played in the car or plane (and come with a convenient carrying pouch). "And even during dinnertime," says Kate S., a nanny for the New York–based SmartSitting agency. She likes to buy sets for the level just above the child's actual grade, "to challenge them and help them get ahead in school." And the price of less than $10 for an educational gift like this, she says, can't be beat.
For ages 8 and up, this is "an amazing logic and thinking game," according to Dr. Taylor Chesney, Psy.D., director of the Feeling Good Institute NYC. The goal is to arrange the tokens on the board so that the flashing laser beam hits your target. And since it "comes with multilevel challenges," Dr. Chesney notes, "it grows with your child." To that end, an Amazon reviewer writes: "Fourth graders and engineers love this toy. Follow the cards, create your own, make it big, make it long — it's all fun. It is the most sought after game in my classroom and it engaged two very serious young adults until they were told to put it away."
This DIY kit teaches kids about gears and electronics by showing them how to build a motorized machine that makes rainbows spin around their room. Adrienne Appel, senior director of communications at the Toy Association, says the different experiments covering the science of light and different weather conditions for rainbows are good learning opportunities. It's also really pretty to look at.