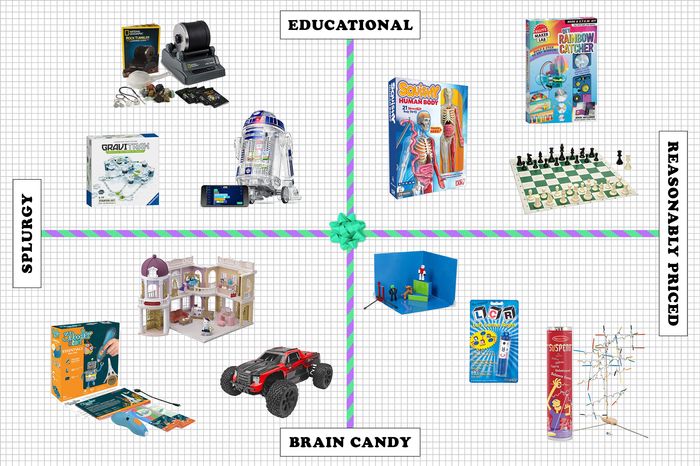 Photo-Illustration: Photo-Illustration: Stevie Remsberg; Photos: Courtesy of the retailers
You know about New York Magazine's "Approval Matrix." Now, the Strategist has taken that model of what falls where on our taste hierarchies and applied it to toys. In this case, the four sides of the grid are "Educational" (say, a logic-based laser maze), "Brain Candy" (a waterproof monster truck), "Reasonably Priced," and "Splurgy." Each toy in every quadrant comes highly recommended — click here to learn more about our sourcing process and the dozens of experts involved — and every age up to double digits is covered, all of which you can see by also clicking here.
For those who are age 8, "there's a tremendous growth spurt in physical, emotional, and cognitive development," says child therapist Glenda Stoller, LCSW, co-founder of Village Parenting NYC. And so, in the interest of exposing them to new things that will challenge and entertain their exploding brains and bodies, we present the following 30 gifts, from those recommended by professionals like Stoller to those found in the hands of Kate Hudson's son. You can jump directly to the section that interests you most — "Educational/Reasonably Priced," "Educational/Splurgy," "Brain Candy/Reasonably Priced," or "Brain Candy/Splurgy" — or read all the way through to get the full picture of what kids these days are into. Whether you're shopping for a birthday or a holiday or any other day, it's a list that keeps on giving.
Educational/Reasonably Priced