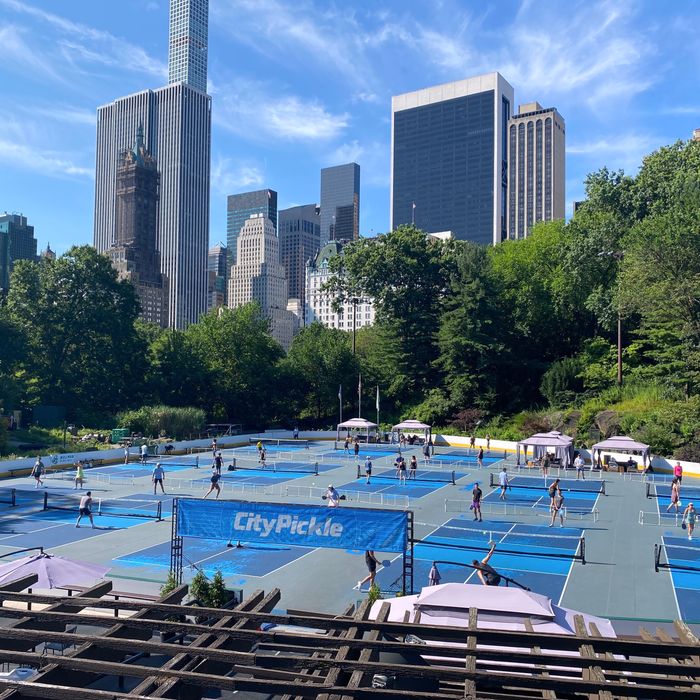 Sometimes, a place that draws a specific kind of crowd — from a sample sale to an office lunch spot — can yield a wealth of shopping intel. What are these like-minded people all into right now? What sneakers are they wearing? What is that pants brand? For this edition of "People Watching," we posted up at Wollman Rink in Central Park, home to one of City Pickle's five always-bustling pickleball locations. 
Since early April, Central Park's Wollman Rink has been taken over by pickleball enthusiasts willing to pay upward of $100 an hour to reserve one of City Pickle's 14 courts. For those who thought the sport couldn't possibly outlive its pandemic virality, Wollman Rink — along with a pro league and indoor courts where vacant department stores used be — is just more proof that pickleball is in fact thriving. I've recently noticed more and more young people picking it up, some of whom are actually cool and definitely stylish.
So on July 25, I took the hour-long subway ride up to Central Park to check out the weekend scene. I arrived just after 9 a.m. and joined a dozen tourists gathered on the patio that overlooks the courts surrounded by a cinematic view of the park and city skyline. Because you have to reserve your spot way in advance, there were no lines or unruly crowds. But every court was full (you're allowed up to eight people per reservation), with several players waiting on the sidelines, and our conversations were often cut short to make the most of their valuable time. The group as a whole leaned way more toward early-30s finance and tech professionals than it did the cliché dink-obsessed retirees. And the overall sartorial vibe was workout gear you could also wear to brunch — Outdoor Voices, ALO, Lululemon, Hoka, Nike, and Vuori were everywhere I looked. I did my best not to get in the way as I chatted with folks for several hours about the paddles, sneakers, clothing, and sunglasses they brought to play.
There's no pickleball-core (yet), so tennis-core dominated
Outdoor Voices was by far the most popular clothing brand I saw. I counted three of the brand's exercise dresses (a Strategist favorite) in forest green, light blue, and white. I also spotted the OV Volley dress in purple, a one-shoulder dress in neon green (from a past season that's only available secondhand), and an exercise skort in olive.
Lululemon was also all over the courts on both men and women. I saw three players in the fluttery Court Rival skirt in red, pink, and black; overall, I saw five black tennis skirts, including Lululemon's Court Rival and Pace skirts. There were classic pleated styles from ALO (I spotted the same skirt in white) and Spanx, as well as more modern miniskirt styles.
The rental paddles are decent and cute, but Head was the brand I spotted most
City Pickle is sponsored by Selkirk, one of the most popular and high-quality paddle brands. It's the only brand of pickleball paddle they sell in the pro shop (and the maker of their baby-blue logo-adorned rental paddles). But they were still not the most common paddle brand I saw — I spotted six Head paddles, including four of this exact style.
And lots of people just bought paddles with good Amazon reviews
I counted four Joola paddles, and six people mentioned the brand when I asked about paddle trends. But the guy who was actually playing with a Joola set told me he bought them to use at his buddy's birthday party (one of two happening while I was there) because it has good reviews on Amazon and comes with a backpack and two balls.
Two groups of friends I talked to had the same set of four LSTECICE paddles that also come with a backpack and balls. But the checkerboard-print paddle from Holbrook, also bought on Amazon, gets my vote for most stylish. It comes in three other graphic designs.
People found innovative ways to beat the heat


Most of the men's tees and tank tops I saw were standard gym fare, but I immediately clocked a gray, intentionally distressed graphic T-shirt as the same hype-y, "moth-eaten" tee from Satisfy Running that former Strategist associate editor Louis Cheslaw spent a week testing in January. Though he didn't expect there to be quite so many holes, the owner said they made the shirt more breathable.
The temperature was already in the 90s by 11 a.m., but one brave soul named Stockett preferred to play in this long-sleeve, quarter-zip shirt. His explanation: "I sweat a lot regardless, and this traps the sweat from dripping down on the racket or on the weights when I'm working out at the gym. It's incredibly breathable and this really dark, like, vantablack. In other colors it's very clear that I'm dripping sweat, but this hides it."
A third player named John sported this Kith for Columbia hat. "I like it because it's moisture wicking and I think it's, like, a little SPF," he said.
"I just wear my regular workout gear" was a common mindset for sneakers
Though one person did tell me he was wearing his clothes from the night before, most of the players I spoke to stuck with their normal activewear kit, including shoes. The only sneaker requirement at Wollman Rink is that they be non-marking, so there were, of course, lots of Nike and Adidas sneakers. I saw more Hokas than anything (I counted eight pairs), even though the real pickleball-heads told me that extra-cushy sneakers are the cause of a huge number of injuries.
In the time I was there, I saw five people wearing On running sneakers and one person wearing the On court shoes Roger Federer helped design. My favorite pair of sneakers, which I've been seeing on every cool Dimes Square girlie and hot boys all over New York, were a pair of purple and blue Salomons worn with purple Patagonia Baggies. Lastly, I saw a surprising amount of Nobull, which are designed for CrossFit. According to the four people wearing them, the sneakers also make great pickleball shoes. "I usually wear them for weightlifting because they're really comfortable and long-lasting with grippy, supportive soles," said Michelle, who paired her Nobull trainers with the aforementioned light blue Outdoors Voices exercise dress. "With lifting you want a super-solid base, and that makes these good for pickleball, too, to keep you from rolling an ankle."
But the sports bras (and one sports corset) were more elevated
When they weren't wearing tennis dresses, most of the women I saw and talked to chose some version of a stylized sports bra with shorts or a skirt. Three standouts that I've since considered buying for myself are this henley tank from Abercrombie & Fitch, a surprisingly wearable (and comfortable, according to its owner) workout corset from ALO, and something called a Wellness Bra, also from ALO.
The BBL Jacket made an appearance
Hana, the same woman who rocked the ALO corset, told me about the jacket she brought with her and had tied around her waist. "I literally am obsessed with this. You can wear it to protect yourself from sun damage and it also just snatches your waist. Online, everybody calls it the BBL jacket because it just literally sucks everything in. So you can wake up feeling awful and just throw this on and you're good," she said. (Though she probably knows it by a different name, Kate Middleton has also worn the BBL jacket as has Charlotte York.)
The coolest people looked like fashionable insects
Oakleys were everywhere. The brand is experiencing a resurgence, yes, but as one person told me, they stay on your face no matter how much you sweat. In a similar aesthetic vein, I saw a woman who plays every weekend wearing these Giorgio Armani shield sunglasses.
Wearing an Apple Watch could help you save money
There are no memberships to make it cheaper for regulars, but if you're dedicated enough, you can snag reduced rates through City Pickle's community play: $5 an hour every day from 12 to 2 p.m. "You have to book exactly a week in advance at noon," says dedicated player Camryn Okere. "So every day at noon, you'll hear all our alarms go off and suddenly everyone is booking for the next week. I normally come during my lunch break and then run back to work." A total of 11 people were sporting an Apple Watch — a good way to track steps or quickly make next week's reservations without leaving the court.
Everyone wears Supergoop
The only sunscreen I saw or heard about from people I spoke to was Supergoop (they also sell it in the pro shop). One woman told me she got her travel-size Supergoop Play at a bachelorette party ("the best party favor ever") and has taken it everywhere she goes since.
The Strategist is designed to surface the most useful, expert recommendations for things to buy across the vast e-commerce landscape. Some of our latest conquests include the best acne treatments, rolling luggage, pillows for side sleepers, natural anxiety remedies, and bath towels. We update links when possible, but note that deals can expire and all prices are subject to change.