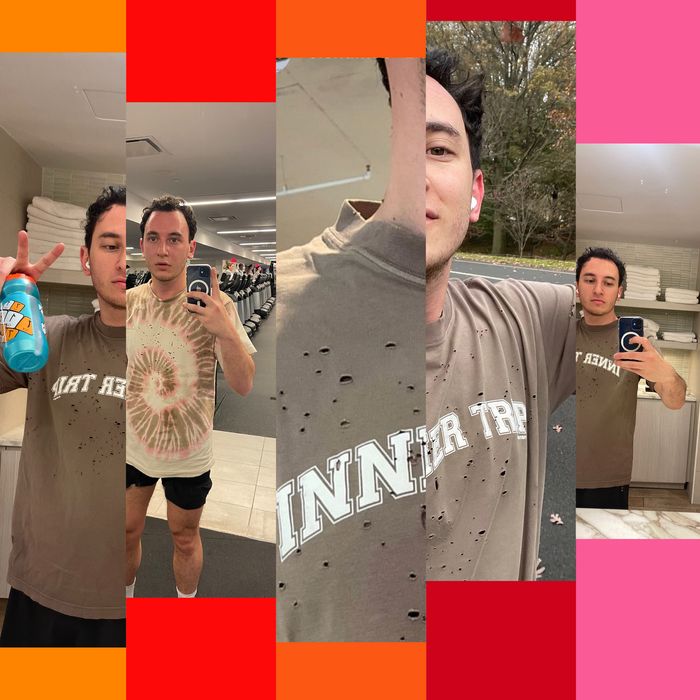 Photo-Illustration: The Strategist; Photos courtesy the author
I first encountered the French running brand Satisfy in 2019 at a consignment store in Echo Park, where I picked up a cast-off pair of shoes from its Salomon collaboration. (The previous owner had, for some reason, Sharpie-d out every part of the shoe that wasn't black, but it somehow worked.) Impressed by some of the thoughtful design details — for example, the laces have rubber dots that make them less likely to come undone — I made a mental note to keep the brand in mind.
It was in that spirit, while casting around for gifts for the Strategist's holiday print issue, that I checked Satisfy's website to see what the brand had been up to lately. There, I was stopped in my tracks by a bizarre-looking distressed shirt, with tiny holes spread across the chest, neck, and shoulders, and a name that made me smile: MothTech.
MothTech, a Satisfy staffer in Paris tells me over Zoom, is the brand's first "technology," developed way back in 2015. As the name suggests, it's inspired by the moth holes that Brice Partouche, Satisfy's founder, used to find in vintage cotton T-shirts. Partouche, apparently, has a strong preference for running in cotton, which goes against what experts say about how cotton "soaks fast and dries slow." He happens to like sweat stains (he finds the "visual representation of effort" to be satisfying). But he still started to wonder if the holes in his old band tees were actually helping him with ventilation. MothTech is the result of the investigation that followed. (It was originally called Moth Eaten but changed to MothTech to convey more clearly that there's strategy and intention behind the holes.) Intrigued, I asked Satisfy to send me some shirts to sweat in for a week.
Day 1
A package from Satisfy arrives from Paris. MothTech tees are currently available in 14 SKUs, and I chose the three that spoke to me most: a seasonal "sun-bleached brown" color with "Inner Trip" emblazoned across the chest, a spiral tie-dye design, and a subtler shirt with a small logo on it.
My first thought upon opening the package is that these things really are full of very visible holes. They're everywhere you look on the shirt's upper half, and some are as big as my fingernails. I recall Satisfy's rep telling me that the location of the holes was based on months of "strategic body-mapping experiments," in which staff and friends of the brand went running and took notes on where sweat spots appeared most. "As you can see," he said, showing me the resulting chart, "this is something we took very seriously." (This research, along with the higher costs of using organic Portuguese cotton and details like a hidden key pocket, is part of the brand's justification for the $130 price tag.)
When I raise the shirt to show it to my open-plan officemates, everyone gets a bit jealous. Our features editor, Katy, says it gives her a pang of nostalgia for the Y2K period when distressed clothing was in fashion, but then we agree that it feels like it might be coming back.
Day 2
I officially kick off my MothTech experience with an outdoor run in the sun-bleached brown color, with "Inner Trip" across the chest. I live in the South Slope neighborhood of Brooklyn, very close to Prospect Park, and this year I've been running a few miles there every other morning. The temperature is 49 degrees and it's drizzling. Starting out, my first thought is that this shirt really is a cotton shirt. As is common for these DriFit, moisture-wicking times, I work out exclusively in lightweight meshes and polyesters, so the added heft felt noticeable. (It's also slightly thicker than your average cotton shirt.)
Aside from that, I enjoy running in it a lot. The organic cotton is very soft and warmer than mesh, both of which made me more comfortable in the cold. And while I'm wary of buying into anything too quickly, the holes do seem to make a difference, in that sweat patches aren't appearing even as I round mile two. By the end of the run, I feel a typical sweat patch on my lower back but not the one I usually get on my chest. It's too soon to make any judgments, though. We'll see what happens tomorrow, when I go to the gym.
Day 3
My friend Krithika is a member at the Chelsea Piers Gym in Boerum Hill (very confusing), and in order to use up her guest passes before the end of the year, she has invited me to work out there with her sister and our friend Elena. I'm wearing the same shirt as yesterday, and each of my companions has a different reaction to it. Krithika says it looks cool; Krithika's sister is concerned about the heavy cotton; and Elena recoils at the holes. I decide to run two miles on the treadmill. I'm again aware of the weight of the cotton, and unfortunately find that in the temperature-controlled indoors, the cotton doesn't keep me warmer so much as it feels distracting. Still, I don't feel overly sweaty. Perhaps the most surprising thing is that no one at the gym (aside from my friends) has commented on the MothTech or even stolen a second glance. But then again, there was a guy in the weight room who — no joke — was lifting with a Cartier Tank Solo on his wrist.
Day 4
There's an Equinox in New York's office building. I'm not a member, but I was feeling reckless and lucky, so I went down the other day to ask if there was a discount for Brookfield Place workers and came out with a complimentary three-day trial. Today is day one. I start with some resistance training, this time in the Spiral Mojave version of the shirt, and find the shirt extremely comfortable to do it in, because I'm not moving with much intensity, and because the thicker, looser soft cotton is more comfortable against my skin than my usual skintight polyester shirts. I think I now understand why bodybuilders are always in loose tank tops. My contact told me Satisfy's goal is for runners to feel "naked" in their gear, and while I don't feel like I'm working out in the nude per se, I do feel unencumbered, because the looser fit of the cotton means the fabric doesn't bunch or pull as I lift. I return to Equinox after work and wear the shirt again for a quick cycling session, and it seems fine. Really, I'm there to use the steam room, so the bike ride lasts maybe nine minutes.
Day 5
The Equinox trial includes group classes, so I signed up for an 8 a.m. spin class to test MothTech during a workout that is truly challenging for me. Throughout the session — with only six other riders, half of whom left without doing the cool-down — I again notice the heavier weight of the shirt, but it's not unpleasant this time, because the air-conditioning is cranking in here more than on the gym's main floor. I really break a sweat during this class, and without my usual temperature-regulating, ultra-lightweight Ten Thousand shirt on, the sweaty feeling lingers. Yet again, while I had sweat patches on my lower back and belly, I found none on my chest or upper back, which I have to attribute to the holes.
That evening, I do laundry. After two workouts each, I wash both of my used shirts cold and let them hang to dry, like the instructions say. The holes on both shirts remain intact, with no weird bunching or drooping like I'd feared there might be.
Day 6
At the office, I tell my colleague Justin that I'm on the final day of my Equinox trial, but that I can't really justify the cost, given that it would also mean commuting to our office building on weekends. He tells me about our company's Crunch Fitness discount, and then I learn that some locations have saunas, which excites me. I set up a guest pass for that evening at a Brooklyn location. Tonight, however, in an effort to establish some kind of control variable, I decide to work out in a thick cotton shirt without MothTech's ventilation holes. By the ten-minute mark of my treadmill run, I'm pouring sweat from my face. By the 20-minute mark, the shirt is plastered to my back and torso. I decide that after this week, if I'm ever going to do indoor cardio in a cotton shirt again, it can only be a MothTech one.
Day 7
I decide to bring this experiment full circle with another run through Prospect Park. It's 50 degrees out, but it's windy this time, and all the other runners on the loop are in long sleeves and running sweaters. I find that Satisfy's heavy cotton once again keeps me warm enough on its own. (It's a little drafty, but it's refreshing rather than intrusive.)
It's on this final, seventh-day run that I realize that I'm going to keep wearing MothTech for outdoor running even after this week is over. It's incredibly suited to sweating in 40- to 60-degree weather; it's warmer than thinner fabrics but absent the discomfort of a sticky chest. I also think I'll probably keep wearing the shirts for resistance training, because the soft, thick cotton is just that much more comfortable against my skin. But I also know that I've done my last high-intensity indoor workout in these shirts — if I go to another cycling class, I'm still going to want my temperature-regulating technical gear. And while I'm now glad to be able to recommend cotton as a workout fabric again, I'm still sad to report that MothTech isn't the conversation starter I thought it might be. Of the hundreds of New Yorkers who saw me running, cycling, lifting, and sweating in a series of convincingly moth-eaten T-shirts, all remained completely unbothered.
The Strategist is designed to surface the most useful, expert recommendations for things to buy across the vast e-commerce landscape. Some of our latest conquests include the best acne treatments, rolling luggage, pillows for side sleepers, natural anxiety remedies, and bath towels. We update links when possible, but note that deals can expire and all prices are subject to change.