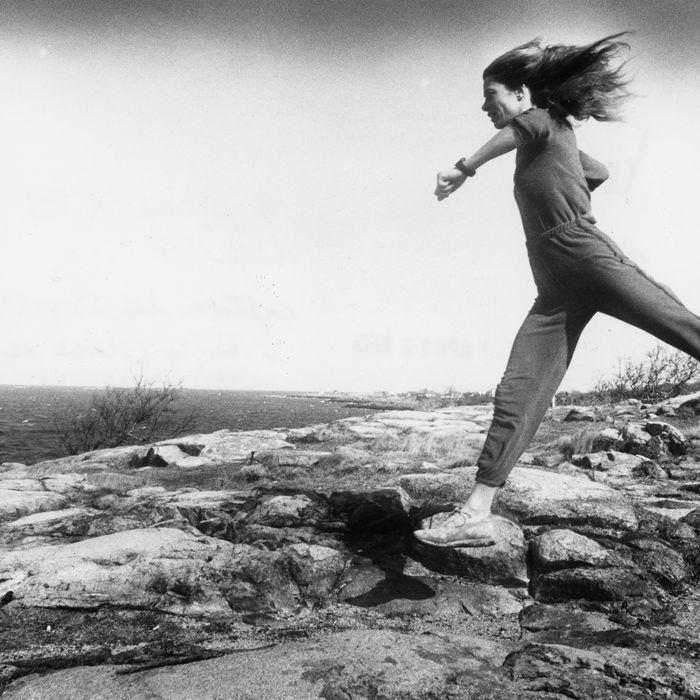 Photo: Boston Globe/Boston Globe via Getty Images
I am a year-round runner. Polar vortices and full-on downpours don't deter me. And I'm not even especially crazy: Through trial and error and a stint working in a specialty running store, I've simply built out a running wardrobe that's ready for any weather. And in the right outfit, bad conditions are almost irrelevant.
I've done this by organizing my arsenal of gear around temperature, moisture management, and layering. First up: In deciding what to wear, temperature is the most obvious factor to consider. Personally, I warm up very quickly on a run, so I follow a rule of dressing as if it's 20 degrees warmer than it actually is outside. This means I accept feeling cold for the first five minutes of my run as a trade-off to overheating on the first mile of a several-mile run.
Next, you'll want to manage moisture. This includes both the sweat coming off your body and any external moisture like snow or rain. You want to keep your skin as dry as possible to help regulate your temperature. I sweat a lot, so moisture-wicking fabrics — such as synthetic blends of polyester, nylon, and spandex — are allies in my war against chafing. If you want to keep it all-natural, choose wool, which actually wicks moisture well, but avoid cotton, which will leave you feeling soaked.
And finally, layering. All running outfits are built out of some combination of three types of layers: base layers, to keep sweat away from your skin; middle layers, to insulate you from the cold; and outer layers, to protect against elements like rain, snow, and wind. I might wear all three layers on an ice-cold day with biting winds but only a base layer on a mild day. But I have tried-and-true combinations for every kind of weather in between, and they are as follows.
Mild days (50 degrees to 65 degrees)
Photo: Lululemon
When the temperature dips below 60 degrees or the wind starts to blow, I'll reach for a short-sleeved shirt for some shoulder coverage. I've worn Lululemon Swiftly tops (this one as well as the long-sleeved and tank-top versions) on everything from casual jogs to full marathons. They are soft to the touch, lightweight, and sweat wicking, and they come in new colors every season. This "relaxed" style has a loose fit, so it looks more like a casual T-shirt than a skintight running shirt.
Photo: Courtesy of the retailer
These shirts are so comfy and come in such unique colors that I'm tempted to wear them even when I'm not running. The fabric feels like jersey and just glides over the skin. The almost drapey fit makes them incredibly comfortable.
Yes, it's a tank top, but since it's made from merino wool and is thicker than the tanks I wear during the summer (more on those below), I actually prefer to wear this top when it's chilly. It's also got a high neckline, which looks surprisingly stylish for a running shirt and gives you more coverage on windy days.
Photo: Lululemon
This may be completely psychological, but I think when the weather's verging on too cold for shorts, fitted styles like these are warmer than loose ones since they allow for less airflow. These are thin enough, though, that you'll never overheat. I also love the generously sized pockets, which fit my phone, keys, and some energy gels.
Thicker than the Lululemon shorts above, these might not be appropriate for the hottest days, but they're perfect for this in-between weather. As the name suggests, they have tons of pockets for carrying everything you need and more. These are out of stock in a few colors, but you can try the longer version as the weather cools down.
When I worked at the running store, most people didn't believe running socks were worth more than $10 for a single pair when you can get a six-pack of cotton socks for the same price or cheaper. And I get it — when I started running, I felt that way too. But over time, like most of my customers, I realized that specialty socks are worth every penny, for one reason: They prevent blisters. A wet, sweaty sock creates friction and rubs against your foot, leaving you with painful open blisters. Suck it up and buy socks made of moisture-wicking material, and that won't happen. When it's neither too hot nor too cold, opt for mid-weight socks, like this Bombas pair. They're soft, come in fun colorways, and offer support around the arch. They're also moisture-wicking, so you don't have to worry about blisters.
Chilly but not cold (40 degrees to 50 degrees)
Like the Harrier tank top above, this is a good choice if you prefer natural over synthetic fabrics. Made from merino wool, the shirt is so soft and cozy it makes me excited to run even on days when getting out of bed is a struggle. Tracksmith has a New England prep-school kind of aesthetic, so these shirts are stylish enough to keep on for a post-run errand or meal.
Made of the same material as the short-sleeved version, this is a lightweight long-sleeved top for days when you're on the fence about going long or short. It won't be as toasty as the Harrier, but it'll cut the wind and you won't feel frigid as you warm up, as you might if you wore a T-shirt.
Photo: Lululemon
Depending on how well you tolerate the cold, it may be time to retire your shorts for the season and break out the cropped tights. I started wearing these in the past year, and now I have them in three different colors. Like the Fast and Free shorts, they're so thin and stretchy they feel like a second skin.
Here's a thicker (yet still stretchy) pair of Capris with a wide waistband to hold everything in and plenty of pockets.
When it gets colder, I like a thicker sock. Balega's feel truly luxurious since they have very plush cushioning underfoot. I also love collecting all the fun colors.
Legitimately cold (30 degrees to 40 degrees)
Photo: Lululemon
Once it hits 40 degrees, it's finally cold enough for me to add a mid-layer. Lululemon does a really good job on its mid-layer tops because they have features that let you adjust for changing conditions. The built-in mittens fold back if you don't need them, and a half-zip provides adjustable airflow when you're heating up or cooling down. This helps me rationalize spending too much money at Lululemon, since I'll wear this jacket in a wider range of temperatures than one without all the bells and whistles.
I have to admit I bought this because I thought it looked cute, and I was ready to wear it casually as a sweatshirt if I didn't like running in it. So I was surprised when it turned out to be a very functional, and very warm, running top. You could layer it with just a T-shirt in these temps and still feel plenty warm thanks to the quilted fleece.
It's time to swap out the crops for full-length tights. I'm short, so I appreciate when running tights come in different lengths and then don't need to be hemmed. These tights have a snug fit that feels supportive on my running muscles and come in petite, regular, and tall lengths.
Another old favorite from Tracksmith. I originally tried these as a sample from the brand and went on to buy another pair with my own money. They aren't the warmest tights I've worn (more on that below), but they'll be totally fine when it's hovering around freezing. They feel softer and fleecier inside than the Fast and Free tights, so if you're getting chilly in those, these would be a good swap. They are also incredibly flexible and have no inner-thigh seams that could rub or chafe.
It's essentially just a tube of fabric, but a Buff can be worn 12 ways, according to the packaging (I've personally used it as a neck-warmer, face mask, and even a beanie) so it's a little miracle-worker in cold weather. Since it's so minimal, you can stash it in your pocket as you warm up on the run or if the sun comes out.
Convertible glove-mitten hybrids are awesomely multifunctional. For most of the winter, I'll wear just the liner gloves (with smartphone-friendly fingertips!) until it gets super-cold, when I'll flip the mittens over the gloves.
Below freezing (20 degrees to 30 degrees)
Every fall, the arrival of the first shipment of Craft base layers generated a palpable level of excitement among my running-store co-workers. This cult favorite lasts forever and will be your staple base layer all winter. The thermal material is ideal for locking in warmth.