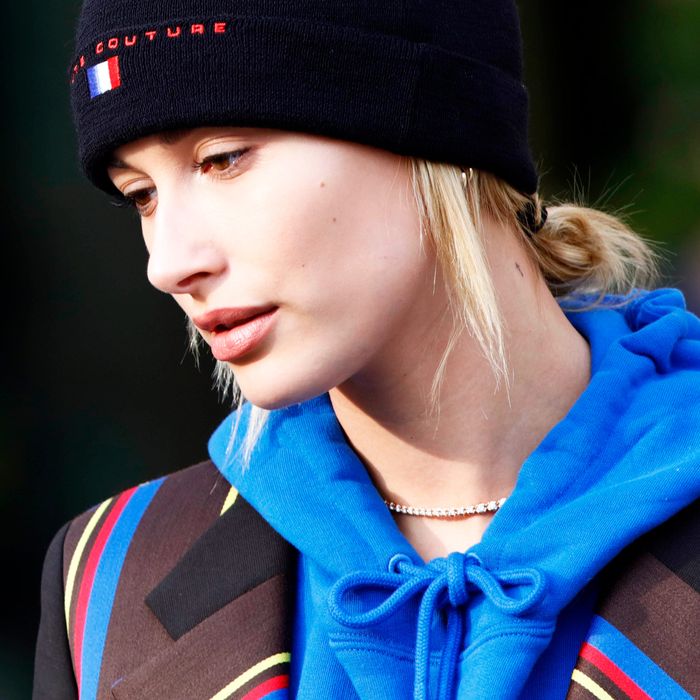 Ms. Baldwin's tied-drawstring look.
Photo: NurPhoto/NurPhoto/Getty Images
Since I love clothes but don't closely follow fashion news, trends tend to creep up on me in the form of unexpected urges. I want ugly sneakers on my feet, for example. Or, I want all my earthly possessions to be burnt-orange. Or, most recently, I must purchase a tiny hoodie and tie its drawstrings at the neck in a bow. Curious as to who informed this particular desire (we're not just randomly attracted to cerulean sweaters, after all), I did some research.
"Some research" entailed scanning the internet for instances of tied drawstrings in recent fashion shows or street-style slideshows. And it was successful: Two sweatshirts with knotted drawstrings, I found, went down two separate runways in two separate 2018 shows — one Off-White, the other Céline. Dozens of street-style photos and Instagram snaps further confirmed my theory: The look, which I dubbed the Off-Duty Model Drawstring Thing (ODMDT), was a bona fide trend. I contacted Emilia Petrarca, the Cut's fashion writer, to help me contextualize it further. "I think the knotted, high-at-the-neck drawstring is a deviation of the very of-the-moment gorpcore-esque head covering, which Raf Simons did in his spring show," she said. "Basically, it follows a familiar fashion trajectory: Raf does some avant-garde thing, Virgil makes a streetwear version, and then everyone does it."
Since I am everyone, I hastily set out to find the right hoodie to realize the ODMDT. And was just as hastily thwarted: The ones I liked were mostly men's, which meant they were too long and bulky to wear with high-waisted pants; the cropped hoodies I found were mostly too girly-looking, slashed at the waist in a way that reminded me of middle-school pep rallies (yes, I grew up in the suburbs). And the really stylish ones — the Moschinos and Helmut Langs and Comme de Garçons — well, I had a hard time justifying spending $300 or more on a cotton pullover whose drawstrings I wanted to tie in a bow. In the end, I went with a white Uniqlo hoodie. It's under $20, slightly cropped, and its hem is uncinched, which means it hangs flatteringly over my hips. All I have to do to feel stylish now is slip it on, tie its drawstrings tight, and tell everyone who will listen that I'm Raf Simons's comfiest disciple.
Perfect, cheap, plain-white hoodie: I've been wearing it in a size small with my wide-legged Rachel Comey pants and sneakers.
This would look nice with some flared black (fancy) pants.
Or this with some white ones.
Just in case you wanted a fashion hoodie.
This cool Baserange guy has a balaclava-ish neck.