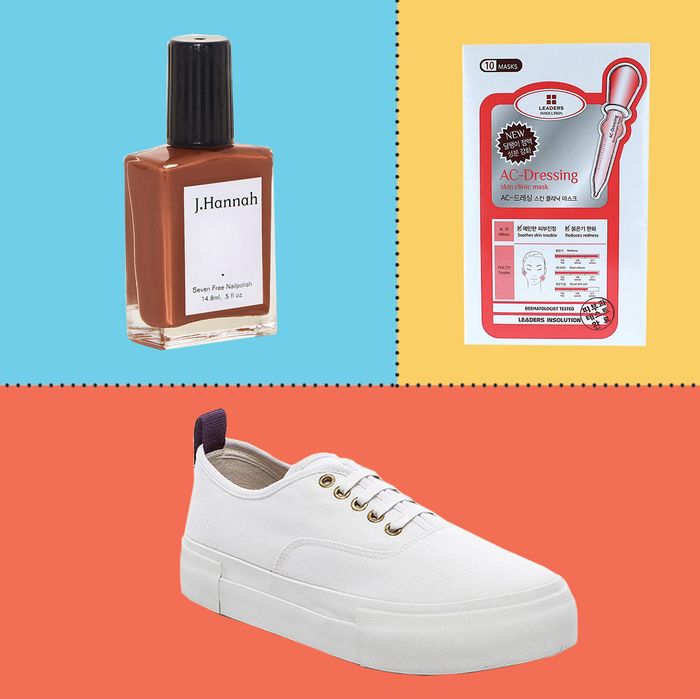 If you follow our biweekly feature Your Shopping Cart, you know that we have some eerily good intel on what things you all are buying. It led us to think that, as Strategist editors, we could turn the tables and highlight all the things we've been buying ourselves. As you'll notice, it's both a blessing and a curse to be a Strat editor; we're picky, but sometimes we just have to get on with it (it's online-shopping expertise meets IRL needs). Below, what we all bought in October.
I had a pair of Rod Lavers in middle school (inspired by the cooler older kids who were dressing like or were extras in the movie Kids), and thought it would be fun to revisit them many years later. I have not been disappointed — they look great, I think, with a cropped pant, and are just as comfortable (but less ubiquitous) than the Stan Smith.
I, of course, had to pick up a few pieces from Uniqlo's new "U" collection. I got this mock-neck sweatshirt in black as well as this T-shirt in bright red — both of which I have already worn multiple times. And while I was at the store, I also picked up a J.W. Anderson for Uniqlo white sweater turtleneck with sweet little ties around the wrists, which was on sale.
I truly have a mock-neck addiction, but this one from Everlane is great; it's cotton, which means I can wash it easily, and I won't overheat when our offices turn into a sauna come wintertime.
Finally, I bought the cheek tint that Rio Viera-Newton featured in her no-makeup makeup-look guide. As RVN promised, it is the perfect blush for those worried about looking too clownish, and instead are going for the "just a little bit sun-kissed" look.
I'd read about Uniqlo's new customizable Easy Care shirts and decided to test one out. Really, "customizable" is generous — Uniqlo lets you choose a standard shirt size as a base and then adjust the collar size, sleeve size, and whether the collar buttons down. The process was quick, though, and if, like me, you have gorilla arms and need a slightly longer sleeve, it's a nice option for stocking up on affordable dress shirts, which inevitably need replacing in a year anyway. (Be warned: If you wear it without an undershirt, the thin material will expose nipples.)
After years of my sad iPhone 5s, I finally upgraded my phone to an 8 Plus and needed a new case. It pains me to have to obstruct it, so I chose the Pitaka phone case as recommended by our friends at Select All, Jake Swearingen and Paris Martineau. The thing's already saved my phone from several drops, including a heart-stopping moment when it almost slid down an office elevator shaft. Just this last weekend, it protected my phone from mashed legumes when I dropped it into an open tub of faux gras at our Strat stoop sale.