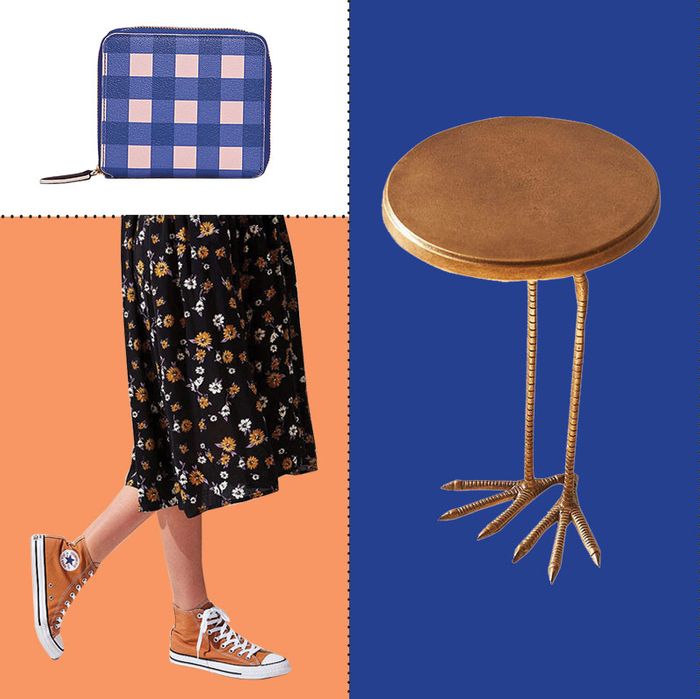 If you follow our biweekly feature Your Shopping Cart, you know we have some eerily good intel on what things you all are buying — it led us to think that as Strategist editors, we could turn the tables and highlight all the things we've been buying ourselves. As you'll notice, it's both a blessing and a curse to be a Strat editor; we're picky, but sometimes we just have to get on with it (it's online-shopping expertise meets IRL needs). Below, what we all bought in September.
Merrell Hambleton actually introduced me to this DVF wallet and when I saw that it was on sale, I pulled the trigger and bought it. I must admit that I was slightly concerned it would be too small, but it's actually bigger than it looks in the photo, and fits all my cards, change, and bills perfectly. It is so cheerful-looking and I have gotten many compliments on it.
It's the sisterhood of the traveling bathmat! After Jason wrote last month that he bought the bathmat that Katy recommended in her bathmat roundup … I felt left out and wanted one too. It has changed my entire showering experience. No longer must I step on a sad and flattened terrycloth bathmat, and my bathroom suddenly feels like a spa. I was a little worried about water seeping onto the floor, but it's only a minimal amount that drips, and I'll wipe it up if I remember to (and if I don't, it's no big deal).
So I've been thinking about this "Birdy" side table for months now — Katy featured it in her side tables–with–animal feet roundup — and on one otherwise uneventful Sunday night a few weeks ago, I said, "to hell with it!" and bought it. My jade plant now sits daintily atop the table, and its spindly little legs make me smile every time I look at it.
So I already mentioned buying my COS shirt, but I actually liked it in hunter green so much, I went and got another. I wasn't sure about this gray one since my vibe is more blue or black, but I actually love how the powdery, paintlike color looks with a pair of dark jeans. As a bonus, it was (and is) on sale, too.
Talk to me at a cocktail party after a glass or two of P.G., and you'll likely get an earful about the underrated genius of Heartburn. Tbh, I found this book a little light on actual insight or dish (especially if you've already heard Rob Reiner deliver the same anecdotes on the When Harry Met Sally Blu-ray like seven times), but I'll take any Nora nuggets I can get.
I bought the much-lauded Bormioli glasses that both Joanna Goddard and the Mimi Cheng's founders recommended, but I find them to be a touch shallow and small for everyday use. I ended up also going a size up with the tumblers (second from left in the photo above, versus the ones on the right) and consider them just the ticket for a vodka-soda or plain water. Designer Katrina Hernandez likes them, too!
Further evidence that Strat takes up most of my shopping brain, I bought this insanely cheap coffee table we featured to fill the long but narrow space between my couch and TV. It doesn't hold very much, but is just fine as a surface for Seamlessed Thai. Shout-out to the boyfriend for putting it together in an as-speedy-as-advertised 15 minutes.