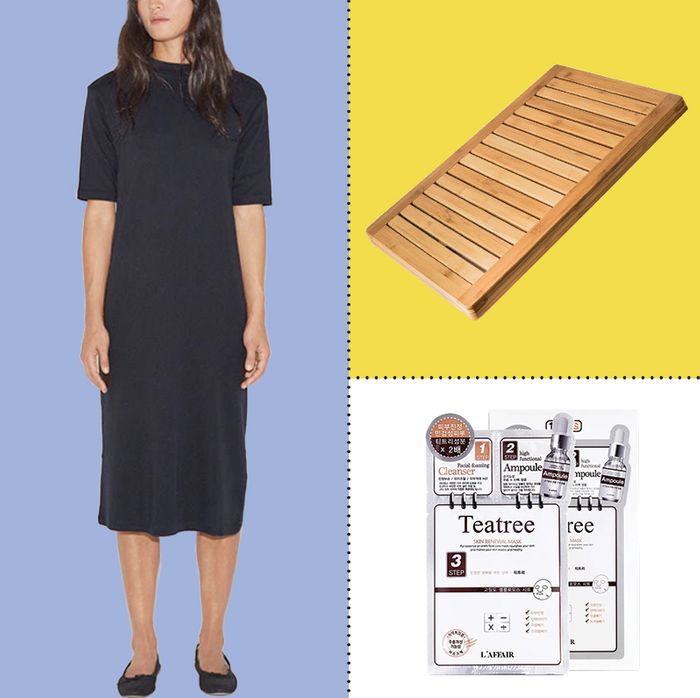 If you follow our biweekly feature Your Shopping Cart, you know we have some eerily good intel on what things you all are buying. It led us to think that, as Strategist editors, we could turn the tables and highlight all the things we've been buying ourselves. As you'll notice, it's both a blessing and a curse to be a Strat editor; we're picky, but sometimes we just have to get on with it (it's online-shopping expertise meets IRL needs). Below, what we all bought in August.
I went hard at the La Garçonne extra 20 percent off sale and got a Re/Done T-shirt (I've always wanted one, and it's as perfect as I imagined it) and some simple everyday white Vans, since my current Jack Purcells are getting a bit worse for wear. I did not get — but would encourage all to get it, since I already own it — this mock-neck dress from La Garçonne's house line, which is currently on sale for a mere $45, and is just an excellent piece that I wear all the time.
I also did a little Uniqlo run the other day, where I got this Equipment-esque blouse in navy — part of my attempt to appear a little more "together" at work. My Re/Done T-shirt is not a step in that direction, I have to admit. I also got these pants in black, which I will say look a little better in person (I think) than they do on the model here.
You will never believe this, but at a yard sale, I found two of these side tables (which we wrote about here) for $5 apiece. I actually don't have room for them, but they were too good to pass up — so I will give them to a friend!
I re-upped on Fatboy Hair Putty, which I swear is the only thing I can use to get my hair to do that kind-of-matte, kind-of-shiny thing I like (forget your Sumotech and Baxter and Oribe). It's got the consistency of a moldable clay that's exactly what my towel-dried hair needs.
The bath rug I was using gasped its last breath (we don't need to talk about it), so I bought one of the bamboo mats featured in our roundup and couldn't be happier. It's sturdy, sizable (but not too), and makes every day feel like a luxuriating morning at the ryokan. I like knowing that when guests use my bathroom, too, they can take stock of my nice bamboo mat. My wet feet never want to touch fabric again.
It's shacket season and I'm pleased as punch. Shirt-jacket hybrids (or overshirts, or whatever you want to call them) are the unsung layering heroes of summer-to-fall, made for rooftop sunsets and wearing around the campfire for a long weekend. I've been sporting my camp collar overshirt and COS shirt to work for freezing office climes, too.
I have an acknowledged problem with white sneakers. If I fall in love with a pair, I'll wear them practically every day until they're too scuffed to be presentable, then buy a new pair and do it all over again. Recently, I've cycled through Eytys and Saturdays Dereks, but the other day, on the F train, I spotted someone in these pristine white sneakers that looked almost like Common Projects, except for the discreet gold print on the upper. Like a creeper, I pretended to exami