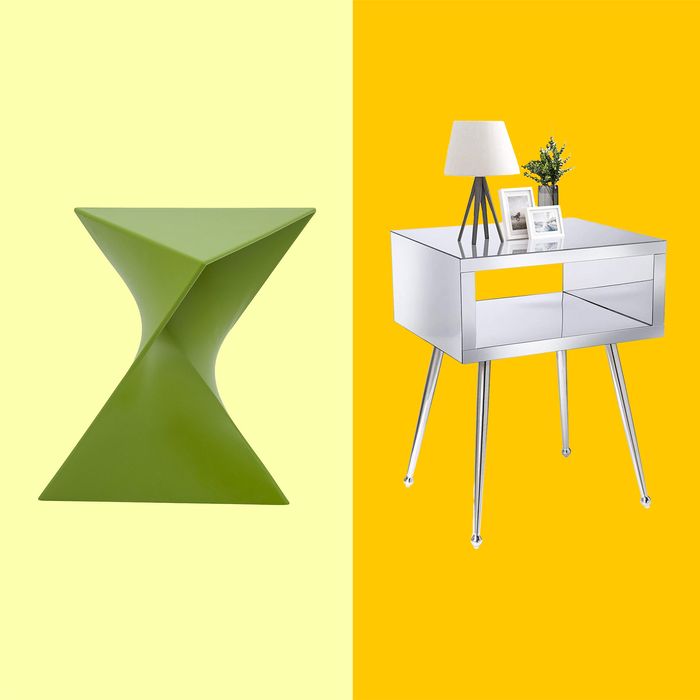 Photo-Illustration: The Strategist; Photos: Retailers
The side table — otherwise known as the end table, occasional table, or cocktail table — is not the world's most thrilling home purchase. (When was the last time you or anyone you know said, "I can't stop thinking about my side table!") But, in its own quiet way, a side table can really set the tone of a room, as it dutifully holds a lamp, remote control, snake plant, or bowl of Magic Spoon. A bright-yellow one is a nice way to introduce some color without going full-on Sesame Street; a Lucite one is a nice way to add a minimalist '80s vibe without going full-on Wall Street. We did the work of finding the right one for you by rounding up affordable (no more than $200), but expensive-looking, side tables you can buy on Amazon (some of which are actually stools but do the same job). The selection below includes colorful side tables, clear side tables, side tables made of brass and wood, all-white side tables, and even a few side tables that double as places where your (small) pet can hang out. If you know exactly what you're looking for, you can click on any of the links in the previous sentence to jump straight to that section.
Colorful side tables
A bright side table like this one is a great way to add some life to your living room without, say, reupholstering the entire couch — and then regretting it.
This circular red option from Kartell is just as much of a mood-lifter, with the added benefit of two storage compartments that help reduce clutter.
This vibrant coral side table also has storage in the form of a small drawer and shelves for anything (candles, books, booze) you might want to display.
Working out to just about $20 per stool, any one of the five in this kindercore-esque set would pop as a side table. The stools you don't use as a table will come in handy when you need extra seating for guests, and their stackable nature makes them easy enough to tuck away when not in use.
Few side tables on this list are as guaranteed to start conversation — or be confused for a piece of sculpture — as this one.
We think this statement side table would make a great home for some flowers or a mushroom lamp.
Clear side tables
An acrylic side table is a great way to conjure 1980s-era minimalism without veering too hard into American Psycho territory. In addition to providing instant style, it's incredibly easy to clean. This one has the added benefit of folding away easily.
This acrylic end table has a handy extra shelf for magazines, coffee-table books, or a laptop.
The nifty thing about this S-shaped glass table? It can be flipped to become a horizontal coffee table, should you ever be in the mood for a refresh.
Okay, so this table isn't technically clear, but we think its mirrored finish makes it just as unobtrusive. Like the two side tables above, it also has convenient built-in storage.
Brass and metal side tables
This brass table has a (faux-) marble top that can support as much as 50 pounds.