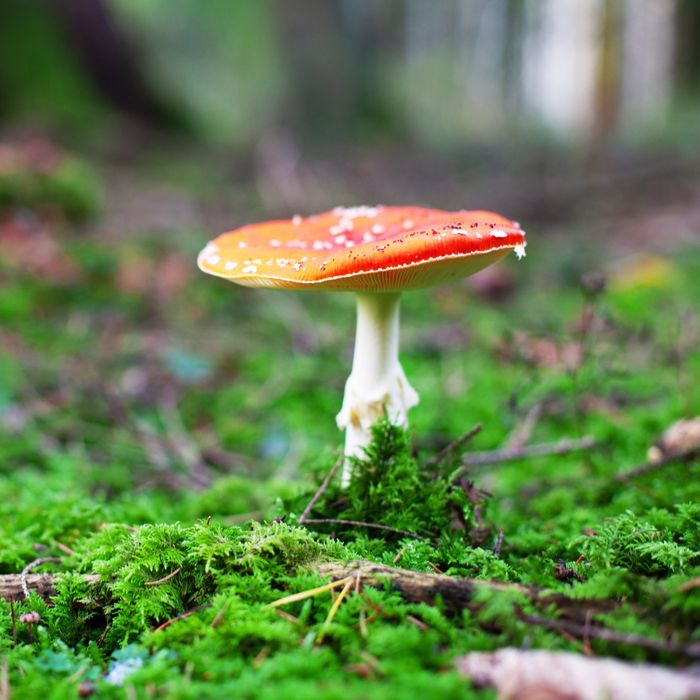 Photo: Kathrin Ziegler/Getty/Getty Images
Earlier this year, the Murano mushroom lamp began sprouting up on my Instagram feed, not unlike the way a patch of wild mushrooms would. Dozens of influencers and otherwise stylish people were suddenly decorating their homes with the Italian handblown-glass light and, more importantly, documenting it on social media. Soon, home décor stores could no longer keep the vintage item in stock; at Home Union, a vintage furniture boutique in Williamsburg, co-owner Meghan Lavery says that from the moment they upload a Murano online, the lamp sells within the hour and can go for as much as $750.
While the Murano was, well, mushrooming on my Instagram, cottagecore — an aesthetic that I'd describe as mushroom-foraging-woodland-nymph-in-a-nap-dress – was taking over my TikTok and, before long, my brain. As I entered month three of being stuck in the suburbs due to the pandemic, I found myself daydreaming about living in the countryside and spending my days roaming through lush green fields and making mushroom flower arrangements. Around this same time, I discovered Anja Charbonneau's account for Mushroom People. The one-off magazine, expected for release in 2021, will examine "abstract interpretations of what it means to love mushrooms." (Mushroom People is not to be confused with Mushrooms & Friends, a series of zines created by artist Phyllis Ma.)
Of course, mushrooms have been lurking in social consciousness long before they entered my social-media feeds. The presence of mushrooms in popular culture can be traced all the way back to Eastern European and Scandinavian folklore, where fungi was a common motif for mystery in fairy tales. I recently learned that Beatrix Potter, my favorite author and illustrator as a child, was also a mycologist (someone who studies mushrooms) and many of her findings were documented in the book Les Champignons. During the '60s and '70s, mushrooms further explored the duality of reality and fantasy in everything from hallucinogens to lava lamps and bowl cuts; meanwhile, Murano began producing its iconic lamp.
But only recently have I begun noticing mushrooms everywhere around me — in fashion spreads, in beauty products, in wellness potions, even in hand soap. Brain Dead, a streetwear label that has long sold mushroom-embroidered clothing and accessories, recently collaborated with Maak Lab on "Shroom Cola," a very hyped line of hand sanitizer, soap, and fragrance that combines woodsy notes of mushrooms and the sweetness of soda pop. The capsule collection was dreamed up by Brain Dead co-founder Kyle Ng who, despite what you might assume from the brand's cheeky name and experimental aesthetics, is straightedge and has never taken psychedelics (though he regularly consumes reishi and lion's mane from Host Defense, he told me).
Ng is not the only designer with a mushroom obsession. EDEN Power Corp's entire SS21 collection is dedicated to mycelium — the look book was shot at Les 400 Pieds de Champignon, an indoor mushroom farm located in Montreal, and the science-meets-sustainable brand even made a hat from a single mushroom. Supreme recently got onboard with a FLOS Bellhop lamp in its upcoming fall/winter collection. Mycelium packaging is also expected to become the "new luxury" as it solves many of our ongoing waste problems, with biotech companies like Ecovative Design leading the compostable charge. While I may have missed out when Online Ceramics dropped their merch collab with Mushroom House (Pete Davidson was spotted wearing it), stores like Aritzia and Urban Outfitters are now printing knockoff versions of their own. Is it possible that Gucci's assortment of mushroom-themed luxury goods is an homage to the breed of Himalayan mushrooms known as guchchi? I suspect it was more than mere coincidence.
Art movements often precede fashion ones, and mushrooms are no exception. Just last year, multimedia artist Naoko Wowsugi created the installation THE FUNGUS AMONG US: Our Mycelium Connection to provide an immersive experience through a mushroom-themed meditational planetarium. Then right before the whole world shut down, Somerset House examined the cultural legacy of mushrooms in a special exhibit.
But it's not just the art and fashion industries that have caught on to the charms of mushrooms; fungi has infiltrated wellness, too. A few years ago, Amanda Chantal Bacon expanded her Moon Juice empire — which began with a few well-packaged $38 powders made of herbs and, yes, mushrooms — to include skin care. She was trying to make a version of cult-favorite P50 that was less harsh on the skin, and discovered that adaptogenic reishi (the same ingredient in her best-selling dusts) was also a potent topical ingredient. Acid Potion was born; a handful of other mushroom-powered beauty products have followed.
And though the world of adaptogens can lean woo-woo, the benefits of mushroom supplements like reishi have been hard for me to deny. As someone diagnosed with irritable bowel syndrome that's often triggered by stress, anxiety, and depression, adding reishi to my diet has done wonders for my mental health. It has also broadened my understanding of the gut-brain axis, the powerful connection between mind and body. Supplements are often unregulated and come with lots of vague claims, but Rainbo, a brand of medicinal mushrooms, has become one of my most trusted sources. Its suite of functional food products target all sorts of needs, including stress and sleep (reishi), focus and function (lion's mane), and sex and energy (Cordyceps). And, at least for me, they work. "From medicine, myth, art, science, psychedelics and beyond, there has been a longtime fascination with fungi," the brand's founder Tonya Papanikolov, a certified holistic nutritionist and mycophile, told me. "I think the recent trendiness is multifaceted. I believe, in part, that the movement to decriminalize nature has led to an increased interest in mushrooms and their potential for healing some of the deep wounds, traumas, and mental illnesses of our time. There is a lot of money and hype around psychedelics and research right now, and I see a possibility for a new era of health, mental well-being, forgiveness and healing."
While my cottagecore dreams are still largely unrealized and I have yet to experience mushroom hunting with foragers, I am saving up for a Murano, planning a solo field trip to Smallhold, and plotting how to grow my own mushrooms. Until then, you can find me in my apartment reading The Mushroom at the End of the World and Healing Mushrooms with a cup of reishi cocoa.
A few of my favorite mushroom goods
If you can't get your hands on a Murano, this dupe will do.
Add a touch of cottagecore to your kitchen table.
Tie-dye and mushrooms — doesn't get more psychedelic than that.
These earrings put the fun in fungi.
A good placeholder until Online Ceramics restocks their mushroom merch (if that ever happens).
This puzzle has 1,000 pieces and nearly as many varieties of mushrooms.
The only wreath you need.
A beautiful ode to fungi from the brilliant mind of a "beshroomed" composer.
Pour this medicinal-mushroom-infused maple syrup on anything — anything — and it will taste infinitely better.
Not sure where to start in terms of mushroom tinctures? This option, bottled with 11 different mushrooms, is a one-stop shop.
I'm a sucker for pretty packaging, but I happen to know this formula tastes as good as it looks.
Another great option if you're looking for a powerful combo with six medicinal mushrooms and a splash of vanilla and cinnamon.
When my energy levels dip lower than desired, I sprinkle some of this into a latte.
These sachets, filled with lion's mane as well as supplements like L-theanine, promise to alleviate anxiety and increase energy.
Since we're all washing our hands now …
Your face is in good hands with this white jelly mushroom lotion.
An exfoliating mask with medicinal mushrooms and wildflower honey that you will probably want to eat.
The Strategist is designed to surface the most useful, expert recommendations for things to buy across the vast e-commerce landscape. Some of our latest conquests include the best acne treatments, rolling luggage, pillows for side sleepers, natural anxiety remedies, and bath towels. We update links when possible, but note that deals can expire and all prices are subject to change.