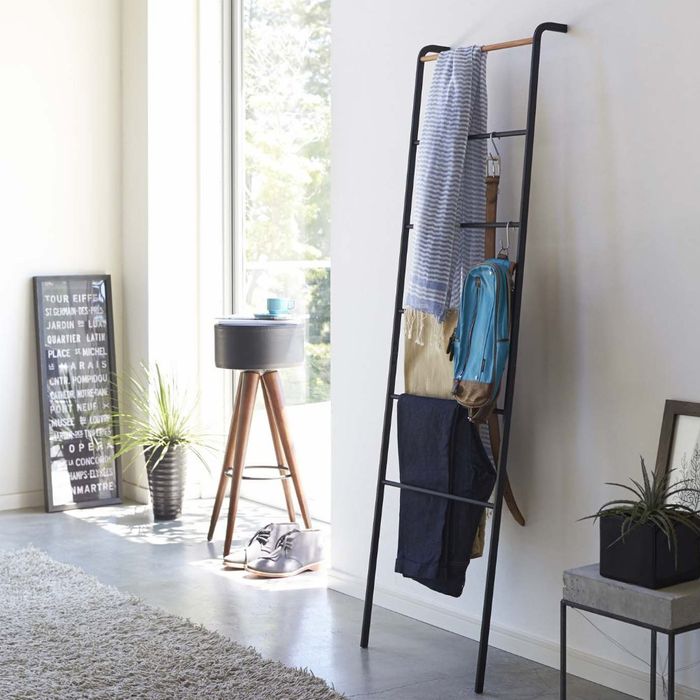 I live in a small apartment in New York, with limited closet space, that I share with another person. Until recently, I still had that "clothes chair" that everyone seems to have in their bedrooms: the place where clothes live that are in constant rotation or that have been worn but aren't ready to be washed. I didn't want to hang anything back in the closet because I wanted to have eyes on these garments, and also, it's always an ordeal to put them on hangers at the end of the day. The pile would get higher and more precarious, crisp shirts would get wrinkled, dresses scrunched, pants lost.
On Pinterest one day, I saw something: a ladder that doubled as a place to hang clothes. Once you've been down the Pinterest K-hole of wall ladders, with extremely specific and minute detail differences between them (wood or metal? Blond wood or dark pine? Six rungs or five?), it may be hard to choose. It helped that I had specific parameters: Get my stuff off the ground and don't take up a lot of space doing it and don't look hideous and don't cost too much. The Yamazaki Home Tower Leaning Ladder Rack fit all these rules. It leans on the wall next to my dresser and it holds shirts I wear a lot, the three black dresses I wear again and again to work (the tower is helpful for "uniform dressing"), and, well, bras. Everything gets its own rung. Stuff is off the ground, off the chair, and I can see it all. The bras aren't hanging on the bedroom doorknob like I'm still in college. I rotate things in and out of my closet and onto the tower as the seasons change: shorts and Eileen Fisher tanks in the summer, sweaters and wool pants in the colder months. It's $50, and it hasn't fallen on me yet. I have my bedroom chair back to actually sit on (or really, to stack books on: a problem for another day). I take this as a victory. Welcome to the world of wall ladders.
The ladder comes in white and black, but is slightly cheaper in white (by a couple bucks).
More Strategist-recommended wall ladders
Wall ladders can be used for more than just organizing your clothes. According to Lee Mayer, the CEO and co-founder of online interior-design service Havenly, "Storage ladders bring a sense of visual height to a space." For example, if you have a large blank wall that's crying out for a little something, Mayer says that the ladder itself can be "décor hero," on which you could hang, say, blankets that then double as décor themselves. "They are a welcomed blend of form and function, as they double as both a decor element and as extra storage," she says. Below, Mayer, Perciasepe, and two other design-savvy folks recommend several more wall ladders at a range of prices that are useful and pleasing to look at.
Wall ladders under $100
This white-dipped wood ladder would be a good option if you're going for a more rustic look. It comes recommended by designer Lisa Gilmore, who says she likes to use wall ladders for a variety of storage solutions, including "hanging towels in a bathroom, as a magazine rack in the living room, or for hanging scarves in a bedroom." At 55-inches tall, this one would work well in a smaller space.
Gilmore is also a fan of this affordable wall ladder from Wayfair. "I find that most storage ladders tend to be more boho and rustic, so this is a great option for someone whose style is more sleek and modern." Made of black steel and a walnut top rung, it stands 63-inches tall.
Perciasepe considered this 5-foot one from Umbra, which she called "popular and stylish." Made of solid ash and powder coated steel, it's expandable width-wise, from 16 to 24 inches, making it convenient to adjust to whatever space you put it in. While it was ultimately too wide for Perciasepe's bedroom, it may be a good option for someone who wants to play around with scale.
Wall ladders under $200
Interior stylist (and the owner of vintage-textiles shop the Reserve) Mallory Fletchall loves the "wabi-sabi and rustic look" of this wooden leaning ladder. "I can imagine it in a room with white-painted or cement floors," she says. It's 68-inches high, and is also available in brown and two-toned options.
Mayer likes this wall ladder made of iron for the way that it brings "a touch of refined industrial flair to any room." Like iron bars used in construction projects, the 64-inch-tall ladder features ridges, which Mayer says adds "detail and character" to the otherwise simple object.
For those looking for a different take on the standard upright ladder, consider this triangular one that Fletchall also recommends. Still minimal in its aesthetic like the metal ladders above, this one has a "surprising shape that transforms it into a statement piece," according to the stylist. Made of powder-coated metal, it stands 5-feet tall.
This wood storage ladder came recommended by both Mayer and Fletchall. According to the brand, it's handcrafted in Indonesia in a fair-trade environment with ethically-harvested teak, which, because of its durability, is an appropriate material to use in a bathroom or any other humid environment. Fletchall appreciates the "rich hue of the teak" and the "rounded top that provides a refined look." Mayer calls outs its "clean contemporary lines" and the fact that it stands 71-inches high, saying that it's a "sophisticated choice for layering textured throws or towels" and a great way to add visual height to a space.
Here's a slightly less-expensive (and shorter) teak-wood ladder that Mayer also likes. This one has a more "boho" look, according to her, as it's more rough-hewn thanks to the naturally distressed wood. She calls it charming and says that draping some of your favorite linens on it would go a long way toward creating a relaxed vibe in any space. (That's the beauty of wall ladders, says Mayer: "Given their clean lines and inherent structure, they can work well in a wide range of spaces and styles.")
And a nice-looking step ladder that's just as functional
While this one isn't technically a wall storage ladder, it's still a pretty cool-looking step ladder, and one that Strategist contributor Jinnie Lee has come to love for its versatility. Calling it "the most frequently used piece of equipment around my apartment," Lee uses it not only to reach for high places, but also for "displaying books (though you could display other things) or hanging coats on it in full view." It also takes up minimal space when folded up for easily storing in a small closet.
The Strategist is a new site designed to surface the most useful, expert recommendations for things to buy across the vast e-commerce landscape. Some of our latest conquests include the best hair dryer, body lotion, perfume, and facial razor. Note that all prices are subject to change.