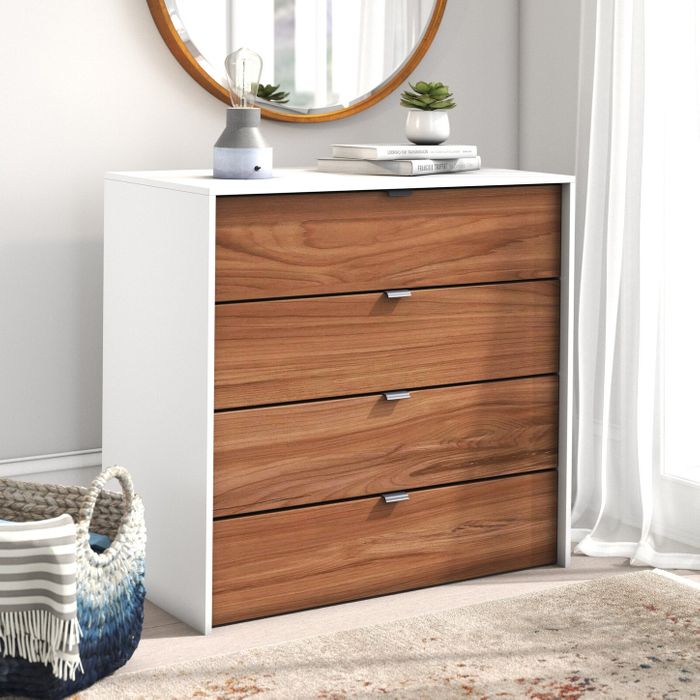 Photo: Courtesy of the retailer
Even if you're blessed with a gigantic bedroom closet, you're probably going to need a dresser for stashing socks, underwear, undershirts, and other basics you don't necessarily want to hang or put on a shelf. But even if you want something affordable, you'll still want a dresser that looks decent and holds up. Sure, you could always go for the Ikea dressers everyone has (those would either be the Hemnes or the Malm), but where's the creativity in that? To help you break out of the Ikea mold — and find something equally stylish without spending a ton of money — we put together the below selection of dressers in a range of styles and configurations, all of which are $300 or less. And if you're refreshing your home, may we suggest checking out a few accents for your living room, bathroom, and kitchen while you're at it?
A solid pine dresser that looks vaguely mid-century modern and can be purchased for $139 less. The cutout handles are a thoughtful detail.
This simple, unassuming white dresser could work in both modern and more traditional design schemes.
If your taste leans more cottagecore, you'll like this dressser's antique-y ceramic handles in pistachio and the two included wicker baskets.
Tapered dowel legs add a subtle mid-century-modern touch to this otherwise simple dresser.
Here's a taller, more slender option for your underthings — or anything else that doesn't take up too much room in its drawers.
This looks like something straight out of a West Elm catalogue but for a fraction of the price.
While this is technically made for a nursery, the sleek handles and blue-gray tone would work just as well in an adult's bedroom.
Mid-century-inspired hairpin legs and a millennial-pink finish make this an Instagram-worthy choice.
Another three-drawer, mid-century-modern dresser, this time in a walnut finish. The drawers' long cutout handles add a little more visual interest.
The dark walnut finish and the black cup handles make this one feel quite stately.
In addition to drawers, this compact dresser has open shelves for organizing your tchotchkes. It would be perfect for someone whose bedroom is also their office.
Also technically meant for a nursery, we think this is another could-go-anywhere dresser. Made of solid wood, its curving legs give it just the right amount of whimsy.
It doesn't get more traditional — or adaptable (in terms of décor) — than this minimal white style.
This one, with its gray exterior and white drawers, has a little more going for it but is still simple enough to fit almost anywhere, including in a nursery. Again, cutout handles give it some added flair.
A similarly two-toned dresser with square knobs, if you'd rather have drawers with something to really grab on to.
We could totally see this in the bachelor pad of someone whose aesthetic leans "streamlined."