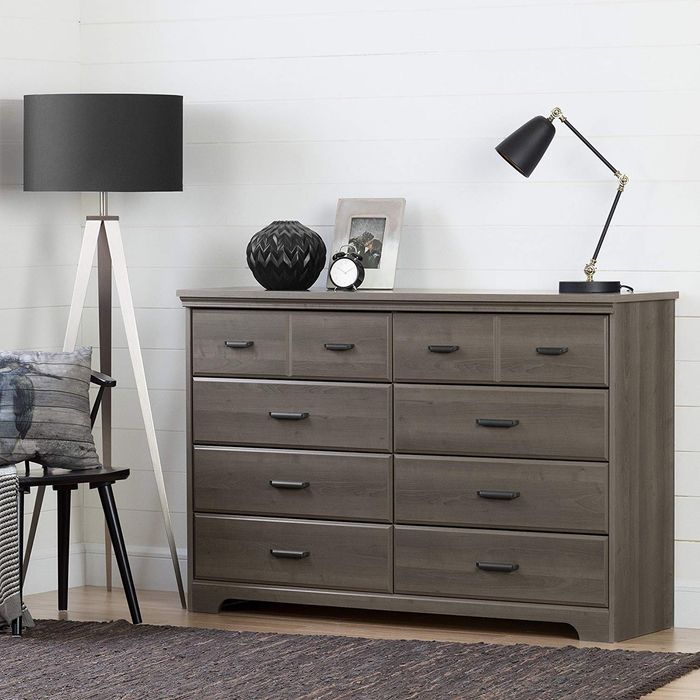 Photo: Courtesy of the retailer
Dressers aren't going to be the most exciting piece of furniture in your bedroom, but they're still a necessity. You could go for the Ikea dresser everyone has (that would either be the Hemnes or the Malm), but where's the fun in that? To help you break out of the Ikea mold — and not spend a ton of money — we found a bunch of solid options on Amazon in a range of styles and configurations for under $300. While you're refreshing your home, why not check out a few accents for your living room, bathroom, and kitchen, too?
We love the dark walnut finish of this dresser and the fact that its pulls are built into the tops of the drawers.
While this dresser is technically meant for a nursery, you can use it wherever you want. We love its solid-wood construction and curving front legs.
We also like the traditional styling on this one.
The metal pulls remind us of a chest you'd find at your grandparents' house (in a good way).
Here's a Malm-esque dresser that comes in a reclaimed wood-esque finish.
We're digging the early '90s vibe of this one with silvery bar handles.
Or if you prefer no handles, we like the minimalist cutouts on this compact six-drawer guy.
This one also has handle-free fronts and a mid-century modern look going for it thanks to the outturned legs and two-tone drawers. It can even fit up to 21 pairs of shoes, according to the product description.
We like how streamlined this double dresser looks, especially in black and with those cutout handles.
This taller chest comes with removable wheels for easy rearranging.
A dresser with a side of bookshelf, if you please.
The big knobs on this country-style dresser — in a delightful blueberry color — are just so fun.