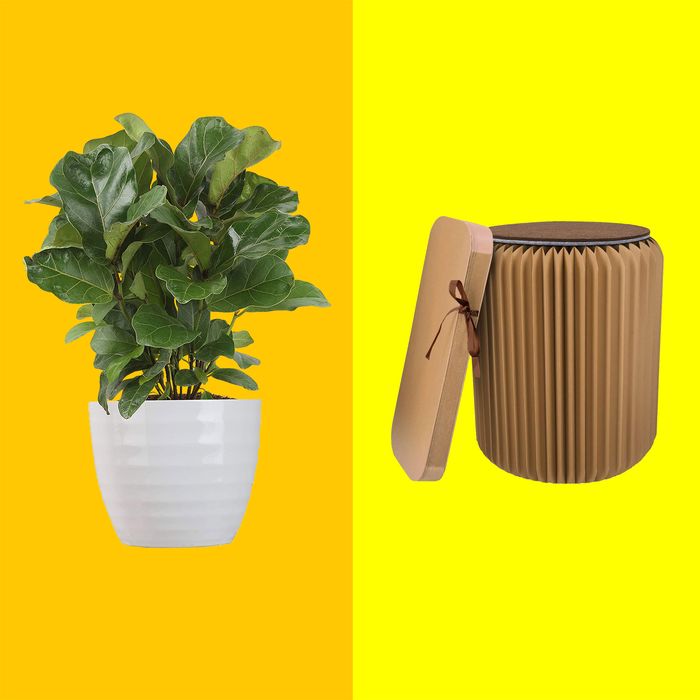 Photo: Courtesy of Amazon
The bedroom is arguably your most sanctified spot in the house, so you'll want to invest in making it as comfortable and pleasing to the eye as possible. But that doesn't mean you have to spend a fortune in order to do so. To help you get your bedroom just so, we've rounded up plenty of affordable — but still expensive-looking — décor items on Amazon, from futuristic alarm clocks to sleek lamps to cuddly throws. If you're looking to zhuzh other spaces, check out our roundups of the best décor for your kitchen, bathroom, and your entire apartment.
A plush throw blanket artfully draped over a chair just screams luxury.
Here's a mid-century-modern-inspired chair that you can use at your vanity or desk — or as a more stylish place to throw your just-worn clothes.
This vintage-y rug is the type of thing that can instantly pull a room together.
Two pretty trays for your pretty little things.
And one handsome tray for your handsome little things.
This sleek digital alarm clock also displays the temperature and humidity level, giving you a couple reasons not to immediately reach for your phone when you wake up.
Having a dedicated water carafe at your bedside will ensure that you'll never wake up parched. They don't get much sleeker than this one: It comes with a glass that also acts as a lid to keep out any dust.
This touch-operated LED lamp seems made for a nightstand because it has two USB charging ports and an AC outlet, allowing you to charge up to three devices at a time.
Bring a bit of nature indoors with this adorable bonsai tree.
An ingenious accordion-style stool (or side table) that's actually made of paper and folds up for easy storage. A felt cushion tops it off.
Not only are these Paddywax candles lovely-smelling, they're sleek-looking too. (Here's another not-too-pricey candle we love.)
Man's best friend is finally allowed up on the furniture.
Carved from rock salt, this lamp provides that sought-after rosy glow.
If you'd prefer a proper, live plant, might we suggest this foot-tall fiddle-leaf fig.
A less classic lamp that's meant for a baby's nursery, but would look great perched on a grown-up's bedroom bookcase.
No need to spend a zillion dollars getting it framed — use this oak-wood magnetic poster hanger instead.
We've written about the life-changing magic of this $50 wall ladder. It's basically like having an extra closet.