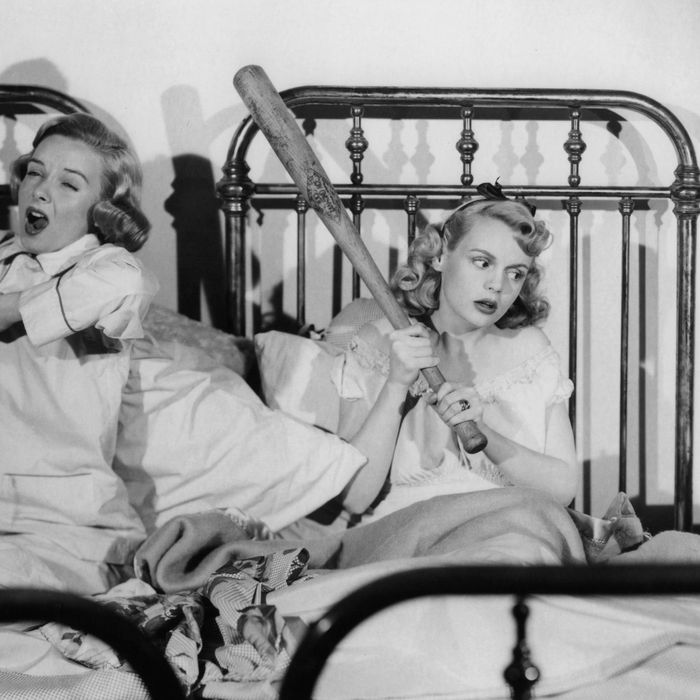 Alarm clocks you won't want to whack.
Photo: Archive Photos/Getty Images
Whether you rely on a beeping digital clock or a marimba-playing iPhone to wake you up, chances are the sound of your alarm is an unpleasant interruption to your peaceful slumber. Recently, gentle-wake alarm clocks, which use light, vibration, and even scent to get you out of bed — have been gaining popularity as less startling alternatives. "Gentle-wake alarm clocks are designed to ease the users into wakefulness instead of jolting them awake with an alarm," says Janet Kennedy, a clinical psychologist and founder of NYC Sleep Doctor. Studies have demonstrated that using a gentle alarm clock — in this case a dawn-simulating one — can even reduce the risk of morning cardiac events.
When transitioning to a gentle alarm, Kennedy cautions that "it's important to be able to trust that your alarm will wake you. Otherwise, anxiety about oversleeping can ruin your sleep." Rafael Pelayo, a clinical professor at the Stanford Center for Sleep Sciences and Medicine, also advises testing out a new alarm clock over the course of a few nights to see if it will consistently work for you. We spoke with four sleep experts to find which gentle alarm clocks are the most reliable — and provide the most pleasant morning experience.
Best dawn-simulating alarm clocks
The most popular gentle-wake alarm clocks utilize gradually brightening light to rouse you from sleep. "Research indicates that a more naturalistic exposure to light can improve sleep quality," says Terry Cralle, a clinical sleep educator. "The gradual nature of the increasing level of light mimics a natural sunrise, essentially waking us up before our eyes open." The sunrise-simulation alarm from Philips — which we first heard about from writer Liz Krieger — works on this principle, and also features a sunset mode with subtly fading light to help with falling asleep. "The body does respond to light even with eyes closed, shutting off melatonin to signal the end of the night," says Kennedy.
If you're looking to save some money — and don't need the nighttime sunset feature — Cralle has also heard good things about this Philips model. Both alarms work by beginning to light up 30 minutes before your set wake-up time so that by the time you need to get out of bed, you'll feel alert and ready for the day. Cralle points out that studies have shown those who wake up with dawn-simulating alarm clocks demonstrate better cognitive abilities throughout the day compared to standard alarm users.
Best gentle-wake alarm clocks with light and sound
As Pelayo explains, people have different "arousal thresholds," or how much simulation they require to go from sleeping to awake. This can vary based on age and level of sleep deprivation. For those with a higher threshold, who need more than light alone to wake them up, this dawn-simulating alarm also features sound effects. Unlike harsh alarm beeps, though, its audio options include a "dawn chorus" of chirping birds, gentle ocean waves, or a rooster call. For falling asleep, it will also play white noise at bedtime.
Besides changing from red- to yellow-hued light as your wake-up time approaches — an even closer approximation to the sun rising over the horizon — this Philips alarm can wake you up with nature sounds like rainfall or bird calls. There's a breathing-relaxation guide, which Kennedy calls "a nice added feature," for winding down and falling asleep.
Best vibrating alarm clocks
"Vibrating alarms are better for people who have a harder time waking up because the sensation will register, whereas it might take a long time for a deep sleeper to hear and register a gentle sound," says Kennedy. So if you frequently sleep through your alarm clock, try one that wakes you up with a buzz, like the iLuv SmartShaker that goes underneath your pillow and can be set with the accompanying app. Just make sure to keep your phone out of the bedroom once the alarm is set. Kennedy says, and most sleep doctors agree, that "having access to the phone can be tempting and create bad habits that undermine sleep hygiene."
Another vibrating option, this one can either be worn on your wrist or placed under your pillow. Because it relies on vibrations instead of noise, Pelayo says a personal buzzing alarm may be helpful for those who are on different sleep schedules from their bed partners and need to wake up without disturbing them.
Best aromatherapy alarm clocks
Like the other clocks on this list, this one uses gradual light and nature sounds to wake you up — but with the addition of scent. "For people who enjoy scents and essential oils, this might be nice," says Kennedy. Cralle agrees that "starting your day off with a pleasant aroma rather than an unpleasant or jarring sound can help set a positive tone for the day." Choose from smells including green apple or jasmine, or if you have a favorite aromatherapy oil, you can use your own instead. And if the aroma, light, and mountain-stream sounds aren't enough to rouse you, a chime builds in volume as your set time approaches.
A streamlined option, this alarm clock also doubles as an aromatherapy diffuser and can wake you up with smells such as lavender and orange.
And a bed that massages you awake
An alarm-clock option that isn't an alarm clock at all, this app-controlled bed base "will give you a gentle massage at a preset time or lift your upper body into a seated position when it's time to get up," says Ben Trapskin, founder of the sleep-product review site the Sleep Sherpa.
The Strategist is designed to surface the most useful, expert recommendations for things to buy across the vast e-commerce landscape. Some of our latest conquests include the best acne treatments, rolling luggage, pillows for side sleepers, natural anxiety remedies, and bath towels. We update links when possible, but note that deals can expire and all prices are subject to change.
Every editorial product is independently selected. If you buy something through our links, New York may earn an affiliate commission.