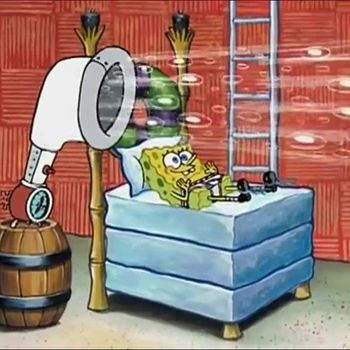 Photo: Courtesy of Nickelodeon
There are better ways to wake up in the morning than by relying on your phone's alarm function. Not only can that be a recipe for disaster should you forget to charge your device overnight, but a real alarm clock often has a louder volume, a clearer display, and other handy add-ons like USB ports (for charging said phone) and sunrise-simulating light bulbs. So while we've written about lots of things that will help you fall asleep — including natural supplements, nighttime earbuds, and comfortable linen sheets — here, we're focusing on things that will wake you up. Specifically, the best alarm clocks, as praised by the most enthusiastic reviewers on Amazon.
Related Article: Best Stylish Alarm Clocks
Best-rated alarm clock
This Strategist-approved alarm clock has more than 30,000 five-star reviews from buyers who love its minimal and sleek design. In fact, nearly 20 percent of reviewers say it "looks great," with one going so far as to call it a "perfect little gem." Another reviewer, who "did not want an obnoxious bright light staring at me during the night or when I wanted to take a nap," was delighted with this purchase. They like it so much, in fact, that they "plan on getting about three more to place in various places in the house" because the adjustable brightness and dark interface are ideal for light sleepers. "Not only is it sleek and beautiful (we purchased the black), but the numbers are easy to read and it's very easy to program (you'll want to read the directions once)," writes another reviewer, who's also so happy with the purchase that they "are going to purchase another one for my side of the bed."
Best-rated (less expensive) alarm clock
There are nearly 12,000 verified five-star fans of this simple, effective electric alarm clock with battery back-up on Amazon. "What I like about the clock are the large numbers, so very easy to read" writes a typical reviewer, echoing hundreds of similar declarations. Reviewers also say the dimmer is especially effective. As one puts it, "If, like me, you like the alarm right by your bedside, the dimmer allows you to set the brightness to your comfort level — all the way from exceedingly bright to exceedingly dim." "[Y]ou can even make the display go completely dark," adds another. And, while basic, customers like that that clock includes "a bright night light at the top for reading in bed." This beep's job is to awaken, not comfort, and reviewers note that it is not a pleasant, soft tune: "Alarm is loud even on low and an awful sound," says one. Another says, "I expected this clock to be okay, based on the reviews, but it is so MUCH better. I LOVE IT." They describe the sound as "effective but not jarring," and add that they "like the nice solid and satisfying click of the button when you set the time."
Best alarm clock radio
People like this old-school clock radio for its compact size and blue numbers. "Even at its brightest, it's a lovely blue light. Not obnoxious at all," says one reviewer. Several note that the "instructions are intuitive." And for its size and price, people are impressed with the features. "Another neat addition is a USB port in the back of the unit for charging your smartphone while you sleep," one points out. And this is not a violent wake-up call: "Alarm volume comes up in steps for 5 seconds so it does not startle," as one who gives this clock five stars puts it. It also has a thermometer, which one buyer calls "a super feature." Several reviewers warn that this is a small speaker, not a hi-fi system, but most users are pleased with the antenna. One says, "Where I live it is sometimes hard to get a good signal, but with this the radio reception is outstanding."
Best retro alarm clock
People like this Peakeep for its throwback looks, simplicity, low price, and loudness. As one reviewer writes, "The volume of the alarm is 'old school' awesome with a hammer beating two bells without the option to stop them other than getting up and turning it off. The lack of a snooze button is a godsend." It's so loud it's effective for those with hearing loss. Several dozen purchasers with hearing issues vouch for this alarm. One says, "I no longer stay awake all night fearing that I'll miss a wake-up call." They also call the clock "adorable" and "a miracle." Users also like that, when the alarm isn't going, this clock has a smooth second hand, so it's especially quiet, "The second hand sweeps too, so no annoying ticking next to the bed," as one purchaser puts it.
Best alarm clock with color night-light
About a quarter of reviewers love this alarm clock because of its built-in night light that's both very bright and shifts colors. One parent, who bought this for their seven-year-old, says, "It stays on long enough for him to fall asleep and if he wakes in the middle of the night he can easily turn the light back on." It's a hit with another reviewer, who keeps it in a guest room: "The night light feature is so helpful for guests to move around in an unfamiliar house at night." Users can also choose between seven colors for the night light, depending on your mood or decor, which dozens admit is cool. One reviewer says their daughter "changes the color multiple times every day - super fun and unexpected." In addition to the night light, reviewers like how compact this light is. One even says "it fits on my mini clamp-on side table just fine with room for my Kindle and tablet, phone and other small items." It also comes with two USB ports and the sound is adjustable, which one reviewer, who bought this for their daughter who "jump scares" easily, appreciates: "She has it on low and that doesn't startle her awake but instead is gentle enough to be a pleasant way to awaken."
Best alarm clock with ceiling projection
Along with a bright seven-inch LED screen, USB charging, and five adjustable dimming levels, the Mesquool Alarm Clock has a 180-degree tiltable projector that shows time on your wall or ceiling. One reviewer says, "It's very easy to change from one color to another by toggling the top of the clock. It also has a very large, easy-to-read display, I don't even need my eyeglasses." Another reviewer who says they have poor eyesight finds the projected time display so helpful. A third reviewer says the range of brightness is impressive, "meaning you can set it to be so dark that you can barely see it in the dark, or so bright that it can be seen in bright light."
Best alarm clock with USB port
Nearly 71 percent of reviewers give this alarm clock five stars, including nearly 500 who praise its dual USB ports. "I wanted something that was more of a one-stop function for my bedside," begins one such reviewer, who purchased two "unfortunate" alarm clocks before finding "the USCCE answer to my prayers! Being able to plug in and charge my phone or Kindle as needed leaves more room on my nightstand." Another pleased customer didn't expect to use the USB charging ports, but he found them helpful when anticipating some important middle-of-the-night calls. "Instead of having to move my charger from where I prefer to keep it and set it up next to my bed," he says, "I just plugged the phone in to the clock. That allowed me to sleep without being concerned that the phone battery might die during the night." But the USB ports aren't the only nice thing about this alarm clock. One reviewer, who calls it a "feature-packed package," especially likes that this clock offers two separate alarms to set and that it has a small footprint. Even so, "the numbers are large and very readable. The multifunctional dial on top can be used to adjust brightness all the way down to nothing," they add.
Best alarm clock with audio input
Dozens of five-star reviewers love that this alarm clock's built-in audio input allows it to do double duty as a speaker via an auxiliary cord. One customer bought this for their daughter's new apartment and was surprised "at the excellent sound quality from the speakers when we put on the radio and when she plugged in her mp3 player with an aux cord. She doesn't feel like she needs to buy a radio or stereo anymore; she just uses the clock." Another customer, who bought this alarm clock specifically to use as a speaker, is also pleased with its easy-to-read screen and projector: "The actual clock screen is able to be seen by me (a wearer of glasses) from where I lay about eight feet away, and I aimed the projector across the room near the ceiling, which is about 20 feet, and I can see it perfectly. Neither light is overly bright but is still able to be seen without strain." Given all the features, nearly 500 shoppers say this clock is well worth the price, even though you have to buy an aux cord to use the similarly well-reviewed audio input. One even says mornings are no longer a "battle" with her teenage daughter: "The projection display is clever and engaging. She is able to see the time without rolling over in bed. She has to get out of bed to turn off the alarm, so it actually wakes her up!!!"
Best alarm clock with smart speaker
This do-it-all device functions as a speaker and control for smart-home devices, but hundreds of reviewers love using it as an alarm clock. One reviewer who bought this as a replacement for an alarm clock they had for decades writes, "I don't regret getting this Dot. With Alexa, [setting an alarm] is a no-brainer … just tell her what time to wake you, and she will ask you all of the questions needed to be sure that is the time you will be awoken!" Others appreciate that the "setup was a breeze, even though it's a smart-home device. Another traded out their old alarm clock for this little speaker and calls it "the best addition to my bedroom!" Though they note the display "could be a little larger for my age group," its other capabilities make it worth it: "The ability to say, 'Hey, Alexa, play Jimi Hendrix,' without getting out of bed to plug in a CD makes up for a little squinting. Looks nice, functions well, and we are super-happy with this latest device."
Best alarm clock with indoor humidity indicator
"This is the one you want," writes one reviewer, because it comes with just about every feature you could imagine. "It auto dims at night, so [you] can still see it but it isn't a beacon in your room. It has a USB charging port, date, time, day, temperature and humidity level and even cycle of the moon. It appears to be accurate and the convenience of being able to charge my phone from it is great." And you don't have to wait to start enjoying this alarm clock, because reviewers say it works straight out of the box. "The minute I plugged it in, it showed the right time, date, etc. No setting was necessary," writes one reviewer. This wasn't a fluke, since dozens of reviewers say the same thing. The built-in humidity gauge, though specific, is especially popular among users with humidifiers. "The moist 'bang for the buck' came with the humidity display," one jokes, before getting serious. "I have had a humidifier in the bedroom for years but I never knew what the actual reading was. Now that it is displayed, I can regulate when higher humidity is not needed and I can turn the humidifier on and off when the desirable humidity is reached."
Best no-tick alarm clock
"In short, if you need an analog alarm clock that doesn't keep you awake with an audible 'tick,' this should be on top of your list," writes a reviewer, one of dozens who point out that this alarm clock is silent. One reviewer says it's not noisy, with "no irritating 'tick tock' sound – but its alarm is more than ample if placed on a motel bedside table close to you." More than 40 percent of reviewers say it's great for travel, too, since it's "small, lightweight, light to see time in the dark and no click movement." Plus, it's reliable. One reviewer, "Used it on my golf trip and never missed a tee time." But it works just as well at home: "These are small and meant for travel but in my family we also use them in our bedrooms next to our beds as everyday clocks, and we like them enough to have ordered several."
Best alarm clock for seniors
A reviewer writes that this alarm clock is great for seniors "to read and orient themselves to information that they might find confusing — such as date, day, and time." Another review says the large blue numbers make it convenient "to be able to refer to the date when I'm having a 'senior moment' and my other digital devices are turned off." They say the temperature display is an added bonus. A reviewer who says that their husband has dementia and bad eyesight notes that "this clock is easy to see across the room, but can also be dimmed at night. Instead of asking multiple times a day what the day and date are, the clock is right by his recliner. I can even set the alarm for each of his medication times."
Best extra-loud alarm
The Sonic Bomb, which we've written about before, has more than 18,000 five-star reviews from reviewers who appreciate its serious volume and bed-shaking option. Nearly 350 reviewers specifically say that it's effective for the notoriously hard-to-wake teen. "For months, [our teenage son] would be late to class and always claimed he never heard his alarm. But along came the Sonic Boom," one reviewer writes. "Not only is this a fully functional alarm clock with HUGE numbers you can see very easily, but this clock packs an enormous and loud alarm … that will rock your face off!" That thunderous volume is a recurring theme in the reviews. "I actually worry the neighbors will complain. For real," writes one. Hundreds also mention that it can "wake the dead." A verified buyer even says, "This thing actually woke up a dead pet I had buried in my yard." People also love the wired vibrating disc, which a user can place under the mattress or pillow. This feature can be used alone for a silent alarm ("like if your two roommates don't have to be up for hours," as one reviewer puts it) or in concert with the sonic alarm. As one fan sums up, the Sonic Boom is "absolutely ridiculous, but in the best way possible."
Best alarm clock for the hearing impaired
"This will shiver your timbers," warns one reviewer, who says if this alarm doesn't get your attention, "you might want to check your pulse." They placed the vibrating device under their "17-inch-thick innerspring mattress" and could still feel it going off. Another reviewer who hates how "jarring" regular alarms are calls this the "best hearing-impaired alarm clock ever" and appreciates that the "cord for the vibrator mechanism is nice and long and fits snugly under my pillow." And a third reviewer whose son is partially deaf and can't hear regular alarms got this "hoping it would help him wake for school each morning." They report, "We have had this one for months, and so far he hasn't missed a day of school."
Best digital travel alarm clock
"The clock is simple and intuitive to set, as is the alarm feature," one reviewer says, summing up the main appeal of this digital alarm clock with over 8,000 positive reviews. It has "a gentle but effective alarm sound," as one user puts it. "If you need to see the time at night, all you do is press the top button and the dial lights up just long enough to see the time," says a fan who bought it for tight quarters on a cruise, though a few reviewers noted the blue light could be a little too bright. Ultimately, people like this clock for its simplicity. One reviewer, in addition to noting it "seems robustly built, and the buttons have a nice feel," likes that the display has "no weather, no incoming ICBM warnings, no horoscope symbols — just time, which is complex enough."
Best analog travel alarm clock
Over 800 five-star customers use the word travel in their reviews of this alarm clock, mentioning its efficiency in hotel rooms, camper vans, and tents alike. "Great for travel, this alarm clock will not set off TSA scanners like larger travel alarm clocks," says one reviewer, who notes that it "belongs in every traveler's grab-bag of tricks." Hundreds of other reviewers mention that this clock is well-designed, with no ticking sound. One self identified "clock person" says that she and her "non-clock addicted husband" were both thrilled when using this product in their camper van: "The clock is SILENT, very important when your living space is approximately 6 by 5. Love the light button, it's got a good but not ear-shattering alarm, it keeps perfect time, and it's so cute."
Best durable travel alarm clock
Compared to the ultra-small version above, this alarm clock is about one ounce and one inch bigger. And while many reviewers say it works for travel too, they also continue to use it as their primary alarm clock at home. "Bought a more expensive clock for my bedroom which did not work as advertised so I returned it immediately. However, in the same order I had purchased this clock for travel," writes one customer who says that this clock "amazingly turned out to be the perfect solution for my bedroom clock." They add, "All that money spent looking for the right bedroom clock and here it was all along." Another pleased customer, who says this clock is "GREAT" for camping, traveling, and home use, names it as one of their "best purchases," especially for the price: "I love the 'sweep' second hand and the face is big and easy to read (especially using the light at night)." In fact, over one hundred of the nearly 1,000 five-star reviewers mention readability as a major selling point of this simple, durable clock. One such reviewer says this clock is a "winner" because they can read it without glasses, and it doesn't damage easily. "I knocked it off the nightstand when I dragged a towel over it while drying off and it flew across the room no scratches or damage."
Best sunrise alarm clock
This alarm clock has been recommended to us by sleep experts, and is a favorite of writer Liz Krieger who says it provides "a slow, gentle progression from a barely-there golden glow to a bright, everything's-gonna-be-all-right white light, steadfastly streaming just a few inches away from my head every morning, no matter what's happening outside my window." Amazon reviewers love it too. "I got it because I got tired of being owned by my phone," writes one reviewer, who's fully adjusted their nighttime routine thanks to this light therapy alarm clock. They set the timer, "and get in bed and read a book for an hour. Then the 'sun goes down' gradually, and I go to bed. Eight hours later, the 'sun' starts coming up gradually." One reviewer, who sleeps with the shades closed, says, "This perfectly solves the problem of not being able to wake up to pleasing sunlight at an unnaturally late hour." They continue, "The light is really powerful and works great as a reading lamp or just to get more light in the room during the day." More than a quarter of reviewers also appreciate the natural (or natural-ish) sounds from this alarm clock. "I especially like the birdsong with flute music, as it reminds me of being in a spa," says one reviewer, but you can wake up to ocean waves, classical music, and FM radio, too. And though this is the most expensive alarm clock on our list, reviewers think it's worth it. "I initially had a hard time being willing to spend over $100 on a lamp/alarm, but you will not regret this purchase," one reports.
Best alarm clock for kids
This robot-shaped alarm clock is expressly designed to appeal to mechanically minded children. One reviewer's "little guy" loves robots and was especially enamored with the "light-up eyes and the hand clips he can put pictures on." (They also like that it is "quite sturdy and heavy.") The alarm sound isn't too ear-splitting — according to another reviewer, it's "the perfect volume" to wake up their son so it doesn't "startle him awake but just slowly get[s] him to wake up." A third reviewer writes that their "4-year-old is the envy of all his siblings since I gave him this cute little robot alarm clock," and they like how its "eyes flash and it has a nice (not annoying) beep when the alarm goes off."
The Strategist is designed to surface the most useful, expert recommendations for things to buy across the vast e-commerce landscape. Some of our latest conquests include the best women's jeans, rolling luggage, pillows for side sleepers, ultra-flattering pants, and bath towels. We update links when possible, but note that deals can expire and all prices are subject to change.
Every editorial product is independently selected. If you buy something through our links, New York may earn an affiliate commission.