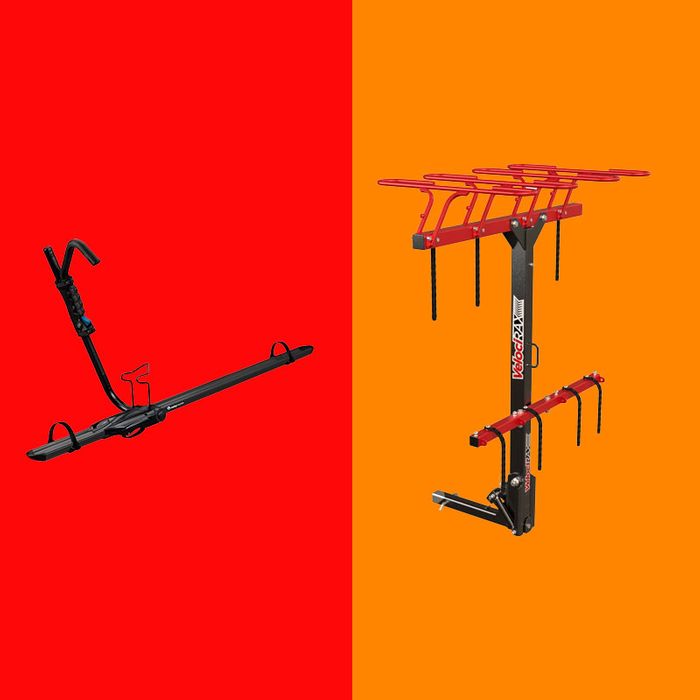 Photo-Illustration: The Strategist; Photos: Retailers
If you think picking out a bike is challenging, wait until you need to find a car rack to haul that bike around. The sheer volume of options can be paralyzing, from single rooftop racks to beefy contraptions meant to haul several mountain bikes. You'll want to consider your budget, the type of car you drive, and what kind of bikes you need to carry.
"I've spent a lot of time researching racks," says Alex Howes, a professional road and gravel cyclist with Team Education First. "It's complicated, and there's no perfect solution for everybody. The best thing to do is ride your bike and not rack it around, but that's not realistic for everyone."
To help simplify the bike-rack-buying process, I talked with several bike-industry insiders — from podcasters to pro cyclists to bike-club leaders — to find out what racks they use to haul their own bikes around. I've also spent the last 20 years writing about bikes and cycling gear. During that time, I've personally owned and tested countless car bike racks. One lesson I've learned: Rooftop racks and parking garages in Las Vegas don't mix.
Best rooftop racks | Best hitch racks | Best trunk racks
Style of rack: There are three types of racks to consider: rooftop racks that attach to factory or after-market crossbars, hitch racks that slide into a car's hitch receiver, and trunk racks that attach temporarily to a car via straps and padded bars. Hitch racks typically have trays that are lower to the ground, making it easier to mount bikes and fold up against the car when they're not in use, minimizing the space they require. There are also hanging-style hitch racks, where the front tire or fork of your bike hangs vertically from a hook, and bar-arm hitch racks with arms that secure the top tube of your bike. Most experts agree that hitch racks are the preferred option in many cases because of their user-friendliness. They can also carry heavier bikes than trunk racks. But don't overlook rooftop racks or trunk racks if your situation calls for it. "There's still a place for rooftop racks," says David Byrne, the marketing coordinator for Rack Attack. "They're a good choice for people who live in cities where parking is tight and for people who are only transporting a single bike." Trunk racks also have their place as they offer a temporary option for cyclists who only need to carry a bike occasionally.
Weight capacity: Each rack is designed to carry bikes up to certain weights. This becomes important if you're carrying heavy mountain bikes or even heavier e-bikes, some of which can weigh up to 75 pounds.
Number of bikes: The most basic of questions you need to ask: How many bikes do you want to carry? Some racks give you the option of expanding. You can always carry fewer than the maximum number the rack can carry.
Best overall rooftop rack
Rooftop rack | Up to 45 pounds | One bike
The BrassKnuckles mounts to existing roof racks and is compatible with crossbars from a variety of brands. Some roof racks require you to remove the front wheel, but the BrassKnuckles features an arm that secures the front tire to the rack, working with a variety of bike styles with a carrying capacity up to 45 pounds. And there's no bike wobble on top of the car. "It's totally bomber," says Howes, who uses the BrassKnuckles on his Subaru. "The bike never moves up there, and it can handle my road bike, gravel bike, or mountain bike. That versatility is key for me." Byrne likes the BrassKnuckles because it offers a simple way to carry a single bike at a budget-minded price. Online reviewers tend to agree with Howes about the solid no-wobble connection, with some adding that they like that you don't have to take the wheel off, which streamlines the process. One Amazon reviewer notes that the rack is sturdier than other rooftop options they've used in the past and was impressed with how well the ratcheting arm secures the front tire.
Best (less expensive) rooftop rack
Rooftop rack | Up to 35 pounds | One bike
Swagman makes budget-friendly bike rack options in various styles, and the Upright is one of the more popular racks on Amazon with many users boasting about how the rack can handle a variety of bikes, from 29-inch mountain bikes to 16-inch kid's bikes. One user commented on how well the rack worked "on windy and cobblestone roads in the Azores, making it easy to transport bikes on the Island." The aluminum rack fits to most brands of rooftop crossbars — even factory bars — and uses an arm and a clamp to secure the bike by its bottom tube. Some users have noticed wobble from the bike when driving aggressively and added an extra strap, securing the bike frame to the crossbars of their roof rack to help reduce the wobble of the bike. Strategist editor Simone Kitchens's husband got the Swagman rack for driving two days cross-country to a gravel race and plans to use it again for the same race next year.
Best overall hitch rack
Tray-style hitch rack | Up to 60 pounds per bike | Two bikes
The NV 2.0 is one of the highest-rated racks on the market, and multiple experts recommended it to us because of its versatility and ease of use. "It's great because the trays aren't too far off the ground, so it's easy to lift bikes into position," says Kristen Bonkoski, the founder of Femme Cyclist. The NV 2.0 is loaded with features that make it extremely user friendly like a foot-assisted pivot system that allows you to lower the rack into place with the tap of a foot. It has integrated cable locks so your bikes are secure and an integrated bike stand so you can work on your bikes at the trailhead. The best feature might be the adjustable tire trays, which you can slide into three different positions so your bikes never rub against each other. The NV 2.0 is built to handle two bikes, but you can add additional trays if your needs expand, and it can handle any size from 20-inch kid's bikes to 29-inch tire mountain bikes. Installing the rack to the hitch doesn't require tools, but it's heavy (56 pounds), so moving it can be tricky.
Best (less expensive) hitch rack
Carry arm-hitch rack | Up to 70 pounds total | Two bikes
The Allen Sports 2-Bike is a solid option for carrying bikes on your hitch at a fraction of the price of many other hitch-mounted racks. It even has some high-end features you might not expect at this price point like a tilt-away main mast that gives you access to the trunk and carry arms that fold down when not in use. It's built for 1.25-inch hitches but comes with a two-inch adapter, and reviewers on Amazon note that both options offer a "no-wobble" carry as long as you install it according to the instructions. The Allen Sports 2-Bike uses carry arms that secure the bikes via their top tubes, which is a system that's been used for hitch- and trunk-mounted racks for decades. It's secure and trustworthy, but it has its limitations as many modern bikes have oddly shaped top tubes that are hard to fit on these carry arms. If you're carrying road bikes, gravel bikes, or hardtail mountain bikes, this rack might be a great budget option for you, but if you have full-suspension mountain bikes and kids bikes with small frames, you might be frustrated with the carry arm system. And if you have more bikes you need to carry, Allen Sports makes similar three- and four-bike racks.
Best mid-priced hitch rack
Carry arm hitch rack | Up to 40 pounds per bike | 4 bikes
I've used an older version of the RidgeBack for years and have kept it in my stable of racks because it's so light (just 35 pounds) and easy to install and fits four bikes in a relatively small space compared with tray-style hitch mounts. If you're not carrying skinny road bikes, it can be difficult to squeeze all four bikes on the racks, especially if you're dealing with different sized bikes. Carry-arm style racks have their limitations, which we've noted in other reviews on this list, but you're likely to pay twice this price to carry four bikes on a tray-style rack. I also like that the rack tilts down, providing easy access to the trunk, and the latest model folds completely flat, so it's easy to store when you're not using it.
Best hitch rack for multiple bikes
Vertical hanging hitch rack | Up to 55 pounds per bike | 4 bikes
Vertical-style hanging racks are becoming more popular because they can carry multiple bikes while taking up less space behind the vehicle. The VelociRAX gets the nod from our experts because it can accommodate multiple styles of bikes (many vertical racks can only carry mountain bikes), from small kid's bikes to large fat-tire bikes, making it an ideal solution for families. And while loading bikes on vertical racks can be challenging for smaller people, the VelociRAX tilts down, lowering the point of entry so you can essentially wheelie your bikes into place. The 12-inch spacing between trays keeps the bikes from rubbing, which can be a problem when you're carrying multiple whips. "How the bikes are arranged on the rack is an important thing to consider," says Michael Mangler, a mountain biker and co-host of the mountain-biking-focused Pisgah Podcast. "You spend a lot of money on your bikes; you don't want the frames rubbing against each other." One cool bonus feature of the VelociRAX: It includes a garage mount, so the rack can double as bike storage when it's not in use.
Best hitch rack for EV drivers
Tray-style hitch rack | Up to 75 pounds | One bike
1Up has earned a nearly cultlike status among cyclists because of the lightweight nature of the rack (just 28 pounds) and ease of use. "It's so light; it's easy to get it on and off your car," says Lori Lee Lown. "And the rack itself is very straightforward to use." Lown also likes the fact that she can add extra trays (up to four) if she's leading a group ride and needs to transport more than one bike. The Super Duty is rated to hold bikes up to 75 pounds and built to handle the bumps of off-road driving. But Lown loves this rack mostly because of its weight; she drives an electric vehicle and is always concerned about weighing the car down. "You have to think about weight when you're stretching your battery life," Lown says. "And 1Up is the lightest rack on the market."
Best hitch rack for trunk access
Tray-style hitch rack | Up to 70 pounds per bike | Two bikes
The biggest challenge to hitch racks is they make it difficult to access your trunk, especially while loaded down with bikes. But the Apex XT has a swing arm hinge that lets you move the rack and bikes out of the way, for unfettered trunk access. "The swing arm is the best innovation in bike rack design," says Mangler, who has the BackStage on his car. The BackStage has trays for two bikes, which fold up against the car when not in use, and swing away from the car when you need to get into your trunk. The feature makes it more reasonable to leave the rack on your car permanently. The BackStage is compatible with any bike with 20-inch to 29-inch wheels and can carry bikes up to 65 pounds each.
Best hitch rack for e-bikes
Tray-style hitch rack | Up to 67 pounds per bike | Two bikes
Most tray-style hitch racks use arm clamps that secure the bike by the front tire, but these racks can be incompatible with e-bikes, many of which have fenders that interfere with the arm clamps. Kuat's Piston Pro X has a dual-arm design that can secure the bike on the tires below the fenders. "It's an innovative design and just one cool feature on the Piston," says Byrne. "This is the cream-of-the-crop bike rack right now, and the price reflects that. But you're paying for excellence." Among the notable features on the Piston Pro X is integrated tail lights and a "OneTap" system that moves the arm clamps into position with just the push of a lever. The rack holds two bikes up to 60 pounds each and accepts add-on trays if your needs expand. You can also add a ramp if your bikes are particularly heavy.
Best overall trunk rack
Trunk rack | 35 pounds per bike | Two bikes
Trunk racks are designed to be removable, so they're a good option if you only need to transport your bike occasionally. And as long as they're installed right, they've proven to be reliable on the road. "Trunk racks get the job done," says Byrne. "They're good if you're looking for something compact and simple." Byrne likes the Bones EX2 because it's lightweight, secure, and easy to use. The Bones EX2 is compatible with most cars on the road, attaching to the trunk via a series of straps and cushioned bars. A hanging arm extends from the rack with straps that lock down the top tube of your bike. But be aware of the bikes you want to carry: It only holds bikes up to 35 pounds, which means some e-bikes are out, and frames with awkward top tubes — like some kid's bikes and full-suspension mountain bikes — can be tough to arrange on the rack.
Best (less expensive) trunk rack
Trunk rack | 70 pounds total | Two bikes
You might think that for the low price of $32, the Allen Sports Deluxe would crumble under the weight of your bike, but this inexpensive trunk rack has thousands of five-star reviews on Amazon with users noting how easy it is to install and how sturdy the system is for carrying bikes. One reviewer admitted she was nervous at the onset of a 14-hour road trip, but "there were no issues, even at high speeds of 90mph." The Deluxe 2 Bike is similar to Allen Sports' hitch rack in that two carry arms secure the top tubes of your bikes, and it has the same benefits (easy to use, secure) and limitations (can be difficult to carry certain styles of bikes) of that rack. It fits a variety of style of vehicles, from SUVs to hatchbacks, though some users noted the metal hooks have the potential to damage the car's paint and recommended adding a layer of silicone or duct tape to those hooks.
Some other cycling gear we've written about
• Kristen Bonkoski, cyclist and founder of Femmecyclist
• David Byrne, marketing coordinator for Rack Attack
• Lorri Lee Lown, head coach for Velo Girls
• Michael McQueen, mountain biker and co-host of Pisgah Podcast
• Alex Howes, pro road and gravel cyclist with team Education First, winner of the U.S. Road Race Championships in 2019
The Strategist is designed to surface the most useful, expert recommendations for things to buy across the vast e-commerce landscape. Some of our latest conquests include the best acne treatments, rolling luggage, pillows for side sleepers, natural anxiety remedies, and bath towels. We update links when possible, but note that deals can expire and all prices are subject to change.