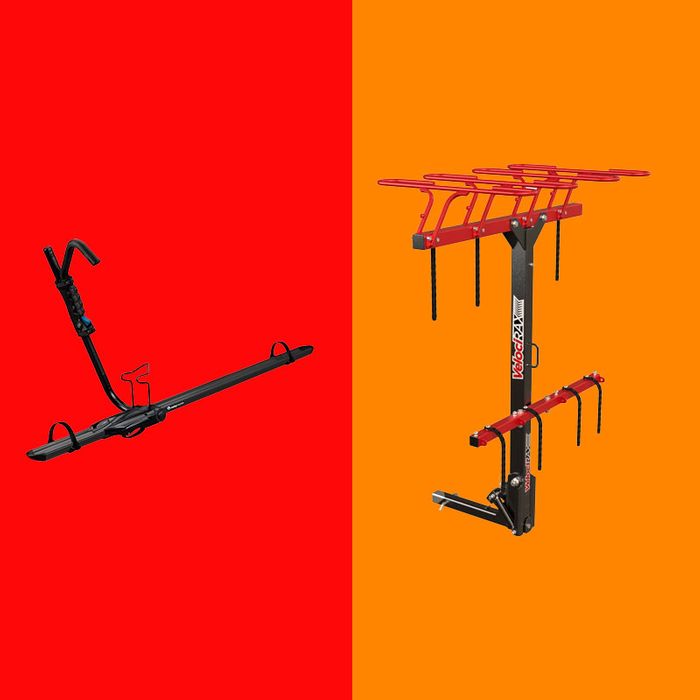 Photo-Illustration: The Strategist; Photos: Retailers
If you think picking out a bike is challenging, wait until you need to find a car rack to haul that bike around. The sheer volume of options can be paralyzing, from single rooftop racks to beefy contraptions meant to haul several mountain bikes. You'll want to consider your budget, the type of car you drive, and what kind of bikes you need to carry.
"I've spent a lot of time researching racks," says Alex Howes, a professional road and gravel cyclist with Team Education First. "It's complicated, and there's no perfect solution for everybody. The best thing to do is ride your bike and not rack it around, but that's not realistic for everyone."
To help simplify the bike-rack-buying process, I talked with several bike-industry insiders — from podcasters to pro cyclists to bike-club leaders — to find out what racks they use to haul their own bikes around. I've also spent the last 20 years writing about bikes and cycling gear. During that time, I've personally owned and tested countless car bike racks. One lesson I've learned: Rooftop racks and parking garages in Las Vegas don't mix.
Best rooftop racks | Best hitch racks | Best trunk racks
What we're looking for
Style of rack: There are three types of racks to consider: rooftop racks that attach to factory or after-market crossbars, hitch racks that slide into a car's hitch receiver, and trunk racks that attach temporarily to a car via straps and padded bars. Hitch racks typically have trays that are lower to the ground, making it easier to mount bikes and fold up against the car when they're not in use, minimizing the space they require. There are also hanging-style hitch racks, where the front tire or fork of your bike hangs vertically from a hook, and bar-arm hitch racks with arms that secure the top tube of your bike. Most experts agree that hitch racks are the preferred option in many cases because of their user-friendliness. They can also carry heavier bikes than trunk racks. But don't overlook rooftop racks or trunk racks if your situation calls for it. "There's still a place for rooftop racks," says David Byrne, the marketing coordinator for Rack Attack. "They're a good choice for people who live in cities where parking is tight and for people who are only transporting a single bike." Trunk racks also have their place as they offer a temporary option for cyclists who only need to carry a bike occasionally.
Weight capacity: Each rack is designed to carry bikes up to certain weights. This becomes important if you're carrying heavy mountain bikes or even heavier e-bikes, some of which can weigh up to 75 pounds.
Number of bikes: The most basic of questions you need to ask: How many bikes do you want to carry? Some racks give you the option of expanding. You can always carry fewer than the maximum number the rack can carry.
Best rooftop racks
Best overall rooftop rack
Rooftop rack | Up to 45 pounds | One bike
The BrassKnuckles mounts to existing roof racks and is compatible with crossbars from a variety of brands. Some roof racks require you to remove the front wheel, but the BrassKnuckles features an arm that secures the front tire to the rack, working with a variety of bike styles with a carrying capacity up to 45 pounds. And there's no bike wobble on top of the car. "It's totally bomber," says Howes, who uses the BrassKnuckles on his Subaru. "The bike never moves up there, and it can handle my road bike, gravel bike, or mountain bike. That versatility is key for me." Byrne likes the BrassKnuckles because it offers a simple way to carry a single bike at a budget-minded price. Online reviewers tend to agree with Howes about the solid no-wobble connection, with some adding that they like that you don't have to take the wheel off, which streamlines the process. One Amazon reviewer notes that the rack is sturdier than other rooftop options they've used in the past and was impressed with how well the ratcheting arm secures the front tire.
Best (less expensive) rooftop rack
Rooftop rack | Up to 35 pounds | One bike
Swagman makes budget-friendly bike rack options in various styles, and the Upright is one of the more popular racks on Amazon with many users boasting about how the rack can handle a variety of bikes, from 29-inch mountain bikes to 16-inch kid's bikes. One user commented on how well the rack worked "on windy and cobblestone roads in the Azores, making it easy to transport bikes on the Island." The aluminum rack fits to most brands of rooftop crossbars — even factory bars — and uses an arm and a clamp to secure the bike by its bottom tube. Some users have noticed wobble from the bike when driving aggressively and added an extra strap, securing the bike frame to the crossbars of their roof rack to help reduce the wobble of the bike. Strategist editor Simone Kitchens's husband got the Swagman rack for driving two days cross-country to a gravel race and plans to use it again for the same race next year.