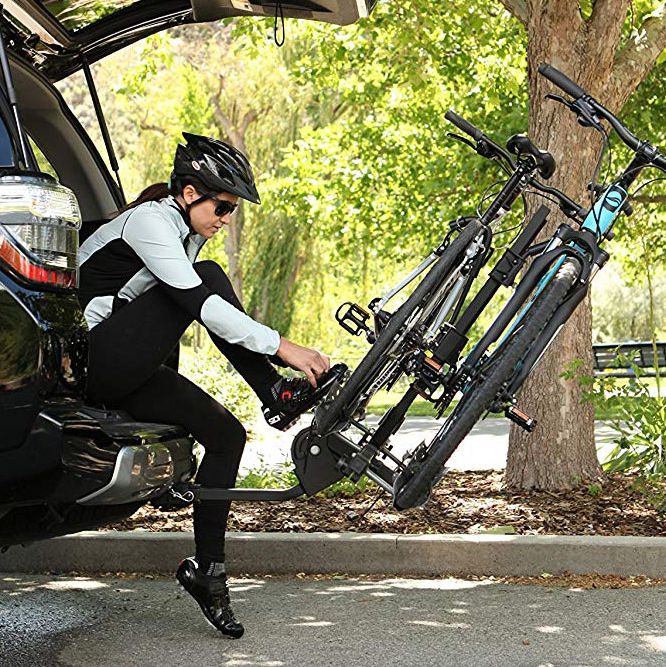 Photo: Courtesy of the Retailer
Here at the Strategist, we like to think of ourselves as crazy (in the good way) about the stuff we buy, but as much as we'd like to, we can't try everything. Which is why we have People's Choice, in which we find the best-reviewed products and single out the most convincing ones. (You can learn more about our rating system and how we pick each item here.)
And while we've written about lots of bicycle items — including the best commuter bikes, the best stationary bikes, and even the best bike helmets — here, we've rounded up the best car bike racks, as praised by the most enthusiastic reviewers at Amazon.
Best-rated car bike rack
In over 3,000 positive reviews, we saw a ton that mentioned taking long trips cross country or on bumpy dirt roads. In every case, the reviewer reported being more than satisfied with their purchase. "I drove freeways, good and bad county roads, even a stretch of washboard dirt road to a trail head and the rack performed rock-solid." In fact, more than a few reviewers said that their bikes were "rock-solid" and that the rack itself was "very durable." One happy customer who took his rack over the Rocky Mountains explained the extent to which he put it to the test. "I drove up Pikes Peak in Colorado, across the rain-soaked plains, over the Rocky Mountains, in crazy-hot temperatures, in cool temperatures, in dry and wet climates, at all levels of incline, at 90 mph on Utah highways, on bumpy, crazy park roads, and more. I'm just so glad that my bike was safe."
Best-rated (less-expensive) car bike rack
A common trend throughout the reviews for this less-expensive Allen Sports car bike rack was the use of exclamation points — as in we saw a lot of them! Reviewers were beyond excited about the quality of this rack for the price. "Cheap price, Easy to install and holds up great!!!!" said one reviewer. Another 5-star reviewer who mentioned being happy about the affordable price also enjoyed the convenience of being able to fold the rack up and store it in her trunk when she isn't using it. "It's so easy to take on and off quickly, fits very easily in the trunk because it folds down flat, and holds my Schwinn bike — heavy, and oddly shaped! I live in a city where I wouldn't want to leave the rack on my car all the time for fear of it being taken off so the convenience of the easy on/off has been great for me and this is so much cheaper than any racks I've seen elsewhere."
And a couple who uses their rack almost exclusively on rental cars said they liked that it fits nearly any type of car. "We have it in a storage unit in Maui and rent cars when we are there not knowing exactly what we will get for a car, but still needing to get our bikes out the storage unit to our condo was a challenge. We've used the rack several times and not a single issue. It takes my husband about three minutes to attach it and about the same to detach."
And now some micro-picks for every type of bike rack you might be looking for.
Best car bike rack for two bikes
The majority of positive reviewers liked this bike rack for two reasons: It's easy to use and it won't scratch the paint on your car. "The rack definitely passes the no-scratch test for the three pads that touch your trunk and bumper. You could probably drive a few hundred miles without any abrasion under the three main pads." Another reviewer reiterated the same point, saying "It is scary to go down the road with a low quality rack and one that is prone to scratching your car. This is engineered and designed with excellence. Easy to put on and very easy to adjust." And one owner of a 59 cm road bike said that he was happy with the fit and general ease of use. "Very well made product, super easy to set up, and requires no tools. It comes out of the box ready to use, no assembly required. Many carriers have no adjustments and don't provide sufficient space between the car and the pedals. This product is very adjustable and handled my 59 cm road bike easily."
Best car bike rack for 3 bikes
Reviewers called this trunk rack "trustworthy," "solid," and "flexible for different vehicles." More than a couple positive reviews said that it works exceptionally well for cars with spoilers. One reviewer said that after driving through over 300 miles of bumps and hard turns, the bikes remained tightly in place and that there is ample room for three adult bikes. "I took three bikes on a 300+ mile trip and through bumps, hard turns, and highways the rack held up fine with no noticeable looseness. With three adult road bikes they each still have enough space between them to not overlap." Other reviewers were worried about whether this rack could handle the weight of three big bikes, but were pleasantly surprised. "I have used it for two 8-hour trips (both of these with heavier bikes — two old '80s road bikes once, and one 80's roadbike and a hybrid the second time). I know for sure that I trust this thing with my bikes."
Best car bike rack for 4 bikes
Nearly a dozen individual reviewers called this rack "heavy duty" and many others said something similar. This reviewer who took their bikes on a long road trip said this rack was "rock solid" and "the bomb:" "This thing was rock-solid!! We used it to cart our bikes from Michigan, to and all around the mountains in Colorado, and back home again, and this rack was the bomb. We always checked the straps when we were stopped but never needed to adjust or tighten anything. It worked perfectly for our vacation and was very strong and secure and very easy to install." And another excited reviewer had this to say: "The Hollywood Racks F4 Heavy Duty 4-Bike Trunk Mount Rack lives up to the hype. This bike rack fit like it was made for our Chevy Tahoe. It was so easy to use that I couldn't believe it. After we had put it on the vehicle, I said 'Is that it?' No problems during transport. Would highly recommend this product to anyone looking for a bike rack."
Best hitch-mount car bike rack
A common compliment for this hitch-mount bike rack is that it's easy to assemble and lets you load and unload the contents of your trunk without having to disassemble anything. Reviewers called it "well made" and "very strong." One reviewer, who took it on a 7,000 mile road trip said "This was bought one month before a 7,000 mile road trip with it on the back of my 2016 Subaru Forester. After assembly, it can be removed or installed in one minute. It holds our bikes securely with locks (included) on the hitch and on each bike. The rack folds up close to the car when no bikes are mounted. It's so compact, that I don't remove the carrier when the bikes are not mounted. And when folded it does not block my back-up camera!" Another very satisfied customer said "This bike rack is the envy of all of our biking friends. We unload and load in a fraction of the time it takes them. The bikes are rock-solid on the rack, and the fact that you can lock both the rack and the bicycles in the rack is awesome."
Best car-roof bike rack
When talking about this Yakima roof-mount bike rack, people raved about the easy assembly coupled with quality and reliability. Over and over again reviewers said things like "Super easy installation," "Worth the price!," and "Holds my bike steady." One cyclist who reviewed the rack said "These are outstanding. I was very impressed with the quality of the product, the clarity of the labeling on the rack itself, the instructions, and the cleverness of the overall design. It made for a flawless unboxing, installation, and first use. I wish every product could deliver that same experience." And another who provided photos of his rack in action said "Best bike rack for the money, easy installation with zero assembly. Right out the box, bolt to your roof rack. I looked at other Yakima bike racks, some cheaper but required a good amount of assembly. Spend the extra money to get something better and allows you to mount your bike without taking off front wheels."
Best car bike rack with integrated locks