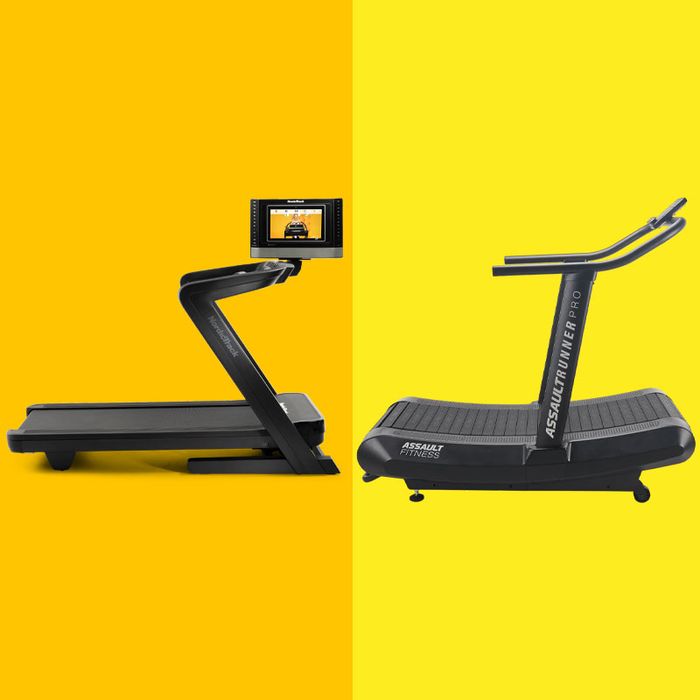 Photo-Illustration: The Strategist; Photos: Retailers
Treadmills are some of the most straightforward pieces of gym equipment: You hop on them and start moving. But shopping for them is a much more complicated task. (Unfortunately it's not as easy as going to the store and trying on the new pair of running shoes you're hoping to use on them.) These are big (and oftentimes expensive) machines that can be a pain to move and install, so it's important to do the research to find the right one for you. I've logged miles on many different types of treadmills in various gyms, hotel fitness areas, and rec centers, and I've learned through experience what makes a great treadmill. For this guide, I also scanned the Strategist archives and spoke to running and fitness experts to get their recommendations for the best treadmills for every type of user.
A treadmill's belt dimensions are an important consideration for the type of activity you'll be doing. Larger strides will require a longer belt length — that way your feet have room to catch the belt and not the treadmill frame. If you plan on just walking, anywhere from 48 to 50 inches should give you enough room. For regular running, 55 inches in length provides a bigger buffer, and if you're over six feet tall, look to belt lengths of at least 60 inches. For walking, look for an 18- to 20-inch-wide belt, and if you're running, look for 22-inch options.
The most obvious thing to consider when purchasing a treadmill is the space it will take up. Some models are more geared toward smaller living spaces, while others are best suited for areas with more room.
Every treadmill on this list is designed to help you move, but they each have standout features that specific users will prefer over others, like incline-decline capabilities, non-motorized belts, big display screens, guided runs, and classes, to name a few.
Traditional treadmills have a motorized belt whose speed can be adjusted, thus requiring you to run at a faster pace. The speed ranges for the treadmills vary in this list (one model has a non-motorized belt) and can help you determine what level of intensity best suits you. (Twelve miles per hour — the max setting on some of these models — translates to a six-minute mile. Here's a handy conversion chart that lays out belt speed and pace.)
The bulk of most treadmills makes them hard to put away, but some options have smart storage features, like a foldable design or flat builds that make them easy to tuck away into a corner, a closet, or, in some cases, under a bed.
Best overall treadmill
Belt length: 22" by 60" | Footprint: 80" by 38" by 65" | Standout features: Built-in workouts and training programs | Max belt speed: 12 mph | Storage: Folding frame
The NordicTrack Commercial 1750 was the top choice in our roundup of the best treadmills to use at home, according to personal trainers. Given NordicTrack's history as a reliable brand and designer of treadmills, it makes sense that the 1750 comes recommended to us by fitness experts like David Roche, coach and founder of the Swap running team and co-author of The Happy Runner. New York–based personal trainer Miriam Fried says it's a solid all-around option that fits her criteria: "You'll want something that ideally goes above ten mph and a 10 percent incline, especially if you have more specific fitness goals in mind," she says. Ava Fagin, a personal trainer and functional-strength coach, also recommends the 1750, highlighting its built-in workouts and interactive classes (it comes with a free 30-day iFit membership). The 1750 is all that most people need for walking or running sessions at home. The newest version of the 1750 — the 2022 — has a larger 14-inch touchscreen compared to the 10-inch version on older models. The screen also swivels, which could come in handy if you're following an iFit class from your yoga mat.
Best (less-expensive) overall treadmill
Belt length: 20" by 55" | Footprint: 73" by 35.8" by 67.5" | Standout features: Built-in workouts and training programs | Max belt speed: 10 mph | Storage: Folding frame
At under $700, the T 6.5 Si is one of NordicTrack's most affordable treadmills. Compared to the Commercial 1750, the T 6.5 Si has a smaller footprint, a lower maximum belt speed, and a smaller screen. But it also comes with a free one-month iFit subscription. If you plan to have lighter workouts that won't require a speed beyond ten mph, the T 6.5 Si is definitely worth considering.
Best manual treadmill
Belt length: 17.1" by 62.2" | Footprint: 69.9" by 32.8" by 64" | Standout features: Runner-powered belt | Max belt speed: No max speed | Storage: Transport wheels, no folding frame
The AssaultRunner is the only treadmill on this list that doesn't have a motorized belt — and that could bode well for your electricity bill. Ben Unger, a personal trainer and nutrition coach based in New York, recommended this treadmill with a slightly curved belt to Strategist writers Hillary Reid and Karen Iorio Adelson for at-home use. Unger explained that because the runner powers the treadmill, and not an electric belt, "way more calories are burned than on an electric treadmill in the same amount of time." There's no maximum speed, so this is a good option for those looking to practice sprints or tempo workouts. Your first time running on a manual treadmill might feel a bit different than on a treadmill with an electric belt, because on a model like the AssaultRunner, you control the pace, not the belt. It took me a few sessions on the AssaultRunner to get used to slowing down the belt by slowing down my stride, rather than pressing a button to turn off the treadmill or stop the workout.
Best treadmill for guided runs and workouts
Belt length: 22" by 60" | Footprint: 81" by 39" by 76" | Standout features: -5% to 40% incline, 22-inch touchscreen | Max belt speed: 12 mph | Storage: No folding frame
The X22i offers a 40-percent maximum incline, which is the steepest setting we've seen available on a treadmill. "That wildly steep incline makes all the difference for me because being able to really crank that up simulates the skimo races I'm training for," says writer and Outside magazine gear columnist Joe Jackson. "I felt like I was getting a badass hiking workout but on a treadmill. If I was on a normal treadmill at the gym, I wouldn't be able to do that." The massive 22-inch touchscreen is ideal for classes and programs available through iFit. One of Jackson's favorite features is the lineup of runs that simulate trail topography by increasing and decreasing the incline throughout the session. "On a climbing and skiing trip to Chamonix years ago, there was a trail that I wanted to run but never got to. I recently got to run that trail, virtually, thanks to the X22i's super varied incline capabilities. It was cool to get that kind of workout." There aren't any obvious carrying handles or transport wheels on the X22i — it's meant for more permanent placement in your home.
Best treadmill for standing desks
Belt length: 17.3" by 47.2" | Footprint: 57.1" by 28.3" by 40.6" unfolded | 39.4" by 28.3" by 6.3" folded | Standout features: Pairs with app | Max belt speed: 6.5 MPH max speed | Storage: Folds in half
The WalkingPad comes recommended by Strategist contributor Brittany Brown, who rounded up the best under-desk treadmills. Its folding capability and relatively slim size makes it an effective walking treadmill — great for casual exercises and pairing with standing desks. "I could pretty much do any work task imaginable on this," Brown writes. Because the belt speed is slower compared to other models on this list, and because the frame is less substantial, this isn't a treadmill designed for running. Brown also notes one tradeoff with the folding construction: "You can feel the line in the belt where it folds. It didn't exactly bother me while walking on it (in shoes or barefoot), but those used to working out on treadmills may find it distracting."
Fitness accessories to pair with your treadmill
• Karen Iorio Adelson, former Strategist senior writer
• Brittany Brown, Strategist contributor
• Ava Fagin, a personal trainer and functional-strength coach
• Joe Jackson, freelance writer, Outside magazine columnist, and home-gym expert
• Hillary Reid, former Strategist staff writer
• David Roche, coach and founder of the Swap running team and co-author of The Happy Runner
• Ben Unger, a personal trainer and nutrition coach based in New York
The Strategist is designed to surface the most useful, expert recommendations for things to buy across the vast e-commerce landscape. Some of our latest conquests include the best workout leggings, gym bags, workout gear, flattering sweatpants, running shorts, and sports bras. We update links when possible, but note that deals can expire and all prices are subject to change.
Every editorial product is independently selected. If you buy something through our links, New York may earn an affiliate commission.