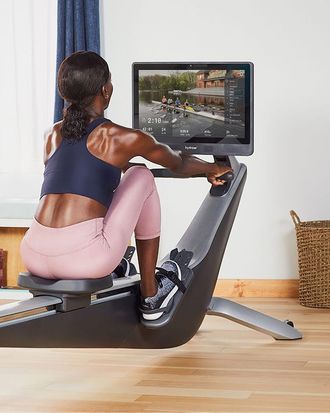 If the early 2010s ushered in the boutique-fitness boom (think $36 spin classes, studio locker rooms stocked with high-end skin-care products, and the rise of ClassPass), thanks to advancements in technology, the latter half of the decade ended up being all about smart home-workout equipment. In 2018, it was reported that Peloton's primarily at-home bike membership had more customers than SoulCycle and a higher retention rate than Equinox — and Peloton's stock has soared since. Of course, the global pandemic and rise of at-home workouts in 2020 only added to its popularity. In the past few years, a handful of new fitness brands have launched promising at-home workouts with all of the energy and community of studio classes, plus the ability to track your performance and even adapt to keep up with your fitness gains.
Since nearly all of these machines will set you back at least $1,000, we tested out some of the most exciting options to see which ones are worth the cost. Whether you want to cycle, lift weights, or even row with a world-class trainer in your living room, there truly is something out there for all kinds of exercisers. Since we first published this post in 2019, a handful of new pieces of equipment have hit the market. We've added our thoughts on those as well.
Who's It For: Both new and experienced weight lifters who want the personalized guidance of a trainer with the convenience of an at-home workout.
What You Get: The easel-shaped Tempo machine has a large touchscreen for displaying the workouts, plus storage space underneath and in the back for all of the gear that's included: a 25-pound barbell, 16 weight plates, two dumbbells, six collars (for securing plates on the barbell or dumbbells), a heart-rate monitor, workout mat, and foam roller. The monthly subscription fee of $39 includes access to unlimited classes and unlimited household accounts (an account lets you track workouts, including how much weight you used on each exercise, and see your progress over time). Delivery and in-home installation costs $250. Classes are taught by instructors with experience at high-end studios like Barry's Bootcamp and Orangetheory Fitness and include strength training, interval workouts, and mobility training. There are currently hundreds of classes to choose from, with new ones added regularly. Tempo's standout feature is its 3-D motion sensors that, paired with AI technology, track your movements to give you personalized feedback throughout the workout. In live classes, instructors see your sensor data and give you feedback directly.
What It's Like: Classes have the feel of a one-on-one session with a trainer guiding you through a series of exercises. The instructor of my strength circuit class was motivating (without being too rah-rah) and gave helpful cues on form for each exercise. It was definitely a challenging workout that had me feeling sore the next day. There's lots of data displayed during the workout, but it doesn't feel overwhelming. You see your rep count, rep rate (if you're moving too quickly, Tempo will suggest a heavier weight next time), your range of motion, heart rate, and feedback cues based on what the sensors pick up.
I loved the instant feedback I got throughout the workout: During squats, a notification popped up, letting me know my knees were going past my toes, and it also alerted me when I corrected my form. As I did bent-over rows, if the sensors noticed I was pulling more with one arm than the other, a pop-up let me know to correct my asymmetry. There's also a leaderboard where you can compare your progress (in terms of number of reps or volume) with others who've taken the same class.
TL;DR: The only smart option that gives you real-time feedback on form, Tempo is a great choice if you want to get stronger while avoiding injury. Tempo's offering of strength, interval, and recovery classes offer a well-rounded approach to full-body fitness.
Who's It For: Spinning-class devotees who love the community aspect but would rather not schlep to the studio.
What You Get: For the basics package? Just the bike, which is fine if you already have your own spin shoes and weights. You'll have to upgrade to the essentials package for those. For $39 per month, you get access to new live workouts streaming every day and thousands of prerecorded on-demand ones, including yoga, stretching, and more. Starting this month, you'll be able to take a series of themed classes created in collaboration with Beyoncé as part of her new partnership with the brand, which also includes Peloton gifting two-year memberships to its app to students at ten historically Black colleges and universities.
This year, Peloton introduced the Bike+ (starting at $2,495), which has new features like a larger screen that rotates 360 degrees to easily follow along with workouts off the bike, automatic resistance adjustments that follow along with your instructor's program, and full integration with the Apple Watch. Because of extended delivery times due to COVID, Peloton is currently offering complimentary access to the app — for workouts like yoga, strength, and outdoor running — from the time you order your bike until it's delivered. Currently, delivery times are estimated at four to six weeks for the original bike and ten weeks for the Bike+. Shipping and installation (once $250) is now included in the price of the bike.
What It's Like: With the large HD display and bike that's identical to the one you'll find in the studio, an at-home Peloton workout is probably the closest you're going to get to an in-person workout with one of these machines. Based on your cadence and resistance level, you'll get a power-output score to compare and compete with other riders who've taken the same class (or are currently taking a live class), and you'll see where you rank on the leaderboard. New rides with live DJs and themed playlists are added all the time, so there's never any lack of variety. If you hit a milestone (like your 500th workout — and no, that's not an unheard of number among the Peloton obsessed) during a live ride, there's a good chance the instructor will give you a shout-out.
The culty feel of the online community — Peloton riders maintain lively private Facebook groups and feel like they're on a first-name basis with instructors — echoes the early 2010s SoulCycle scene in New York, but this time it's digital and worldwide. If you're a competitive person, the leaderboard can be a little discouraging, as experienced riders put up some big numbers. Even though I consider myself reasonably fit, I was nowhere close to the top, but that didn't make the class any less fun.
TL;DR: With the biggest community (which is really the whole point of taking it online) and the most energetic instructors, if you love indoor cycling, you'll likely get hooked on Peloton.
Who's It For: Runners who do most of their workouts on the treadmill but would like the added motivation of an upbeat instructor and playlist.
What You Get: This is the basics package, which is just the price for the treadmill, but you can opt for the $4,565 essentials package, which also includes an exercise mat, two pairs of weights, and a resistance band. Of course, you'll also have to spend $39 monthly to subscribe to the actual classes. Delivery and installation are included in the price and, due to COVID-related shipping delays, you'll get free access to the app until your treadmill is delivered.
What It's Like: A slimmed-down version of the machine you see at the gym, the Peloton Tread+ replaces the standard console and its jumble of buttons with a 32-inch touchscreen tablet for streaming workouts. Even if it weren't connected to the Peloton app (which means it comes with built-in access to 10,000-plus classes), it would still be an excellent treadmill. Knobs on the right and left arms of the machine control incline and speed, respectively, and giving them a quick turn mid-run feels effortless. Instead of a continuous belt, the treadmill's surface is made up of rubberized slats for a smoother and bouncier ride. Of course, the classes taught by Peloton's stable of popular instructors and the competition for a spot on the leaderboard against other riders are the main draws.
Peloton recently announced a lower-priced Tread (as opposed to the Tread+) that will be available nationwide on March 30, 2021. (If you're in New York, Florida, Illinois, Oregon, or Texas, you'll get yours on February 9.) Starting at $2,495, it has a smaller profile, with about 10 inches less of running space and a slightly smaller touchscreen. The biggest difference is that you're trading the shock-absorbing slatted surface for a traditional belt.
TL;DR: Treadmill runners will appreciate the streamlined interface and smooth running surface, and the ever-expanding workout library ensures they'll never get bored.
Who's It For: At-home weight lifters who are tight on space.
What You Get: A six-in-one kettlebell that you can set to weigh anywhere from 12-42 pounds, plus a free app that tracks your movements via Bluetooth.
What It's Like:  Weights are stacked inside a 12-pound kettlebell-shaped shell; with the tap of a button, it can pick up a few additional pounds, or more than a few (up to 42) for more heavy-duty exercises. It also has a built-in motion sensor that counts your reps and sends the data to the app, so you can track your progress.
TL; DR: A worthwhile investment for the small-space dweller devoted to getting both their shoulder presses and deadlifts in daily.
Who's It For: Exercisers who like variety, tracking their metrics, and don't want their living room to look like a gym.
What You Get: The Mirror itself, which looks like a normal wall mirror when not in use, but transforms into a screen during workouts, along with a wall mount and stand, resistance bands, and a heart rate monitor. For a flat fee of $250, you'll get in-home delivery and assembly. You'll also have to pay $39 per month for access to live and on-demand workouts including cardio, kettlebell and resistance band training, yoga, boxing, pilates, and more. At least 50 new classes are added each week.
What It's Like: Because you're looking at an instructor, and also your own reflection, it takes a few seconds to adjust to working out with the Mirror, but once you do, the classes are a lot of fun. In a kettlebell class, it was helpful to watch the instructor demo the moves and then check my own form in the mirror. Mirror will also personalize workouts if you have any injuries or limitations. Just enter those in the accompanying app (iPhone or Android) and, when applicable, a modification of a move will pop up on the screen for you to perform. A running clock lets you know how long you'll be performing each move before moving on. Like Peloton, Mirror tracks your metrics but since it's over a wide variety of workouts, you're given a score based on staying in heart rate zones. Sticking in the correct effort zone will earn you points — and if you're repeating a workout you'll be able to see how your performance measures up against your previous scores.
At first, I felt that I'd miss the communal aspect of a group class, since this is just you and the instructor, but I found that the instructors were motivating enough to keep the workout exciting. Mirror also offers a personal training program (your trainer coaches you virtually via the front-facing camera, which can be covered up with a privacy cap when not in use.)
TL; DR: The most design-minded option, Mirror looks very cool hanging on the wall for anyone embarrassed by gym equipment. The online community is just starting to grow, but the wide variety of workout styles can handle almost all of your fitness needs.
Who's It For: Anyone who knows they should incorporate strength training into their routine but isn't quite sure how to start.
What You Get: The wall-mounted Tonal screen with built-in electromagnetic arms that offer up to 200 pounds of resistance. There's also a $495 accessory package that includes smart handles and a smart bar — both of which attach to the resistance arms and allow you to change the weight at the touch of a button — an attachable rope, a bench, a mat, and a foam roller. Delivery and installation costs $250, and a subscription to access hundreds of workouts will run you $49 monthly. Delivery time is currently estimated at seven to nine weeks.
What It's Like: Before your first workout on Tonal, you'll complete a fitness assessment and choose your goals (like "build muscle" or "tone up") and the machine will recommend a workout program for you and determine how much weight you should be using for each exercise. As someone who runs most days of the week, I know I should be doing strength training but find the whole weight-room thing a little intimidating. Tonal offers the perfect alternative, with guided workouts from expert coaches, detailed instructions, and weight recommendations for each exercise. It keeps track of the weight you use and will automatically bump it up as you get stronger. With all of the accessories, you can do pretty much any exercise you would at the gym — from armwork and legwork to core toning moves — with Tonal.
What struck me at first about using Tonal was that, unlike any other workout video I've done, there's no running clock dictating how long to do each exercise and when to move on. Instead, it's all about reps. Tonal recognizes when you start and finish each rep, and only then do you proceed to the next move. If you're feeling extra-ambitious and want to try lifting more on a particular exercise, you can go into "spotter mode" and Tonal will detect when you're fatiguing and reduce the weight.
TL;DR: Along with Tempo, Tonal is one of the best at-home "smart" options for resistance training. Tonal will definitely make you stronger if you stick to the workouts. It's like having a trainer keeping tabs on you.
Photo: Courtesy of Vendor
Who's It For: Anyone who has dreamed of being a collegiate crew star, or CrossFitters who wish the whole workout of the day was rowing.
What You Get: A commercial-gym-grade rower with adjustable resistance levels and a 22-inch touchscreen for viewing prerecorded workouts (nearly 500 and counting) or a "just row" mode where you'll get a view of the water without any instruction. Hydrow offers hundreds of on-demand and live classes. Along with rowing workouts, you can also take yoga, Pilates, and stretching classes to complement your cardio. Just tilt the screen off-center so you can be on a mat alongside your rower. The monthly subscription rate is $38. Delivery is included in the purchase price, and current delivery time is three to five weeks. Hydrow offers additional packages that include extras like a heart-rate monitor, foam roller, and mat.
What It's Like: If you haven't rowed before, jumping into a Hydrow workout can feel a little awkward. Fortunately, there's a short "Rowing 101" tutorial video breaking down the rowing movement. I watched this a few times before my first row and then the stroke felt more natural. Workouts are also broken down into categories (from easier "Breathe" to higher intensity "Push" workouts), and most are comprised of interval rowing.
While the trainers are all expert rowers (like Olympian Grace Luczak and U.S. National team member Christine Cavallo), I felt like they were still getting the hang of being fitness instructors back when I first tested Hydrow last year. My favorites were the ones with two instructors in a double boat, as their back-and-forth felt more motivational. Hydrow does have the best visual experience of all these devices: Instead of watching an instructor in a blank space or inside a studio, they're all out on the open water (the classes I took were filmed in Miami), which made me feel less cooped up, even though I was inside my apartment on a cold winter day.
TL;DR: If you're ready to make rowing your main form of cardio, Hydrow offers a lot of variety in an easy-to-use machine. The instructors are not quite there yet, but the scenery is a nice change of pace.
Who's It For: Rowers (and the rowing-curious) who are more motivated by data than peppy instructors.
What You Get: One of the best-looking pieces of equipment, Ergatta takes a handsome cherrywood WaterRower (a leader in the rowing field for three decades) and adds an arm with a visual display for interactive workouts. The rower stands up vertically to store when not in use, and if you already own a WaterRower, you can buy the add-on display panel for $549. White-glove delivery and installation costs $199, and a subscription to Ergatta's programming is an additional $29 per month. Ergatta is unique in that instead of traditional classes led by instructors, it offers "game-based" workouts, including interval workouts, virtual races, progressive programming to improve your speed and endurance, and an "open row" option for rowing on your own.
What It's Like: While you're doing the same exercise with the Ergatta and the Hydrow rower, the experience could not feel more distant. The scenic waterways and athletic instructors are replaced with a purely graphic screen displaying your splits (speed), cadence, and distance traveled. The founders compare race mode to a game of Mario Kart, minus the colorful animations and banana peels to trip you up, and it really does look like a pared-down video game with lines representing you and the other users (of similar ability) that the machine has matched up with you to race against. There are a variety of distances, so you'll compete against others who've done the same race in the past or, once more users join the platform, participate in live races.
Besides open rowing, racing is the most straightforward workout format. The others have a steeper learning curve. In interval workouts, you practice hitting a certain speed, cadence, or both, which is represented onscreen in bar graph form as you see yourself moving out of or, ideally, staying in the target range. I had the opportunity to test this out with one of the founders present and relied on his guidance to figure out what I was looking at, as the interface wasn't super-intuitive. New rowers may also miss form cues from an instructor, but once you get the hang of the technique and Ergatta's user interface, you'll likely find yourself hooked on hitting your targets and beating your past performance.
TL; DR: If you're not the type who enjoys group workout classes or an instructor cheering you on — and you enjoy rowing — you'll probably like the data-based style of Ergatta's programming.
Who's It For: Anyone who wants to go to Shadowbox because it's every model's favorite workout, but might be too intimidated to actually go to Shadowbox … because it's every model's favorite workout.
What You Get: Four foam mats that you can configure to fit your space, a free-standing punching bag that you'll have to fill with sand or water, hand wraps, and gloves. The smart component comes in with the little punch trackers you slip into your hand wraps that measure your punch count and speed as you pound the bag. There's no screen so you'll have to download the app and watch classes either via Apple TV or on an iPhone or iPad (There's no Android app as of now). A subscription to access the classes costs $39 monthly, and shipping is free.
What It's Like: Like rowing, boxing requires a little bit more preamble for learning proper technique. The app has a "Prospect Path" beginner program that includes tutorials on specific punches and then workouts that only include the moves you've learned up to that point. Filmed in a boxing studio, videos show the instructor demonstrating the moves and fit class members working out at their own punching bags.
The workouts are fun — and seriously hard. They're broken down into "rounds," which usually consist of a punching routine and bodyweight exercises like burpees, squats, or lunges that keep your heart rate up between punching. During each round, there's a punch goal to hit that gives you an idea of how you're doing. FightCamp currently offers nearly 200 workouts and adds four each week. You can also retake classes to see if you can beat your previous score.
TL; DR: Totally fun workouts with enthusiastic coaches that'll definitely get your heart rate up. If you do like to mix it up, though, you might feel limited by only boxing workouts — it's a very specific movement.
The Strategist is designed to surface the most useful, expert recommendations for things to buy across the vast e-commerce landscape. Some of our latest conquests include the best acne treatments, rolling luggage, pillows for side sleepers, natural anxiety remedies, and bath towels. We update links when possible, but note that deals can expire and all prices are subject to change.