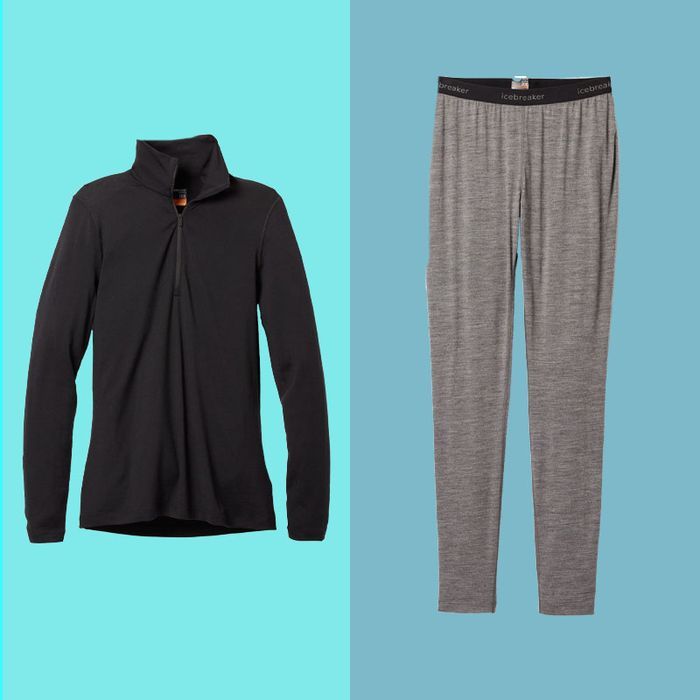 Photo-Illustration: The Strategist; Photos: Retailers
Whether it's the dead of winter or in between autumn weather, long underwear — a.k.a. long johns, thermals, base layers, or whatever else you want to call the cozy, body-hugging tops and bottoms worn beneath looser clothes in cold weather — can help relieve windchill. When dining outdoors, hanging out at the park, or doing something more hard-core like winter camping or hiking, long underwear traps warm air close to your body and keeps it there. It's an essential purchase for anyone who goes outside, even if you're not regularly hiking up and down any mountains.
To find the best long underwear for women, I consulted gear experts, undergarment designers, textile savants, snowboarding stylists, hikers, and campers. They told me that good base layers should be formfitting — not tight but not loose — in order to retain heat. They are often woven from merino wool or technical synthetic fabrics that also have moisture-wicking and odor-reducing properties. These will come in handy if you're hiking, skiing or working out in winter: Sweat turns ice-cold when you stop moving around. Yet merino wool and other performance textiles are expensive, and there are cheaper alternatives out there that will better suit those who are simply looking to warm up an urban commute. Our top long-underwear picks for all kinds of activities are below.
Materials and construction
When it comes to base layers — and other winter essentials, like wool socks — the experts are unanimous: merino, merino, merino. This natural fiber is one of the best materials for trapping warmth. "My No. 1 recommendation for long underwear is merino wool," says Sarah Savala, a gear expert and customer-care supervisor at the Seattle-based outdoor retailer Evo. "It wicks moisture away from your body, which also makes the clothing extremely breathable and odor resistant." On a basic level, it also just keeps you warm (unlike cotton, which holds on to moisture). Merino even offers UV protection — plus, unlike the typical wool, it's "very soft and feels very nice against your skin," adds Savala. Instructor of textile science at Fashion Institute of Design and Merchandising in Los Angeles Deborah Young agrees that merino wool has many benefits and is unusually comfortable to wear, with none of the downsides that comes with lambswool. "It's the softest and finest of the wools," she says. "It's not itchy or scratchy, and it's incredibly fine, so we can make it into incredibly light products — like base layers."
Because base layers are increasingly technical and specific in their design, I broke down these picks according to activity: whether that's hiking, skiing, or something more cozy. Base layers for hikers might have thumbholes, while base layers for runners use a mesh weave in order to help expel heat while you're moving. Skiers might look for not only warmth but stylish colorways and patterns when it comes to their base layers, as well as a zip-collar for ventilation. And you'll also find recommendations for thin everyday layers that won't add bulk to your outfit when you head to the office or an outdoor venue.
We sometimes think of base layers as tight-fitting and maybe even constricting. But some long underwear is actually so thinly woven that you will barely feel it beneath your regular clothes. Most major outdoor brands tend to offer both lightweight and mid- to heavyweight options, according to season. The heavier the weave, the colder temperatures the base layers can withstand. It goes without saying that heavier fabric will feel somewhat bulkier — but merino wool and some synthetic fabrics can still be both very warm and relatively slim. I took note of how closely each of our recommendations is designed to sit against the skin. Choosing the right fit is a balance between personal preference and what kind of weather you're facing.
Best overall long underwear
Materials: Merino wool and nylon | Intended use: Hiking and everyday | Weight: Light
Smartwool's merino-wool products are a perennial Strategist favorite for cooler months. I like these base layers for their lightness and looseness: it's truly hard to believe that they're made from wool rather than synthetic fibers. Wonderfully breathable, they're ideal for hiking, running, or any activity that works up a sweat. Smartwool long underwear was mentioned favorably by several of the experts I spoke with, including Chyla Anderson, founder of the outdoor representation company Outdoorism, who calls her Smartwool base layers "much softer and cozier than others I've tried," adding that they don't itch either. "We love Smartwool long underwear," adds Campendium co-founder Leigh Wetzel. "It's a staple for winter camping in our Airstream — great for layering under jeans or wearing as loungewear." This set is 150 GSM, meaning the fabric is woven with 150 grams of merino wool per square meter, also integrating nylon for a bit of stretch and durability. They're suitable for everyday use in cold, but not below-freezing, weather — unless you're seriously layering up. You can even wear these as a single layer on spring and summer hikes, when merino wool's sweat-wicking capabilities will continue to come in handy. For more extreme winter conditions, level up to Smartwool's 250 GSM merino wool base layers.
Best 100 percent merino long underwear
Materials: Merino wool | Intended use: Everyday | Weight: Light
New Zealand brand Icebreaker is synonymous with all things merino; its sustainably designed apparel is constructed using natural fibers only. So whereas the Smartwool layers above are woven with nylon for a bit of stretch, these tops and bottoms are made from pure wool, which means they're especially good at wicking moisture and retaining body heat. At 200 GSM, they're also slightly thicker and warmer without being too constrictive for everyday use. Indeed, I own a pair of these and think the bottoms are especially good for slipping under a pair of jeans on cold days. The thick elastic waistband on the bottoms resembles that of boxer-style underwear, making for a flexible fit, and the fabric is so fine that it could easily be silk — except far warmer. If you're a merino purist, these are the base layers to invest in.
Best silk long underwear
Materials: Silk | Intended use: Everyday | Weight: Light
As Ira Rosh, divisional merchandise manager at Paragon Sports, explained in our story about the best base layers for outdoor dining, silk is the thinnest and most lightweight base-layer fabric. (Go for it "if you want to feel like you're wearing almost nothing underneath," he says.) Daniel, a sales associate at Panda Sport in Brooklyn, agrees and recommends Terramar for its lightweight and stretchy feel. The leggings and top are made from 100 percent filament silk and are machine washable (although the brand recommends hang drying.)
Best synthetic long underwear
Materials: Recycled polyester | Intended use: Hiking and everyday | Weight: Mid
When designer Carolyn Yim isn't wearing the merino leggings she designs for Ply–Knits, she swears by Patagonia's Capilene thermals, which the brand calls its most versatile base-layer bottoms. "Their commitment to responsible sourcing is really neat," Yim says. "For instance, these thermals are made from 92 percent recycled PET bottles. When you grow out of them, you donate them back to Patagonia's Common Threads program, which will recycle them again into another new garment. Being able to recycle a garment twice or more is a big deal because it's hard to keep the fibers stable enough after multiple recycling processes." Primary Essentials owner Lauren Snyder agrees: "I like Patagonia thermals because they really do work, and they last. I still have pairs that I've had for years." Other experts, including Rosh; Alyssa Ravasio, founder of the camping booking site Hipcamp; and Daniel Kenney, the public-relations and communications manager at upstate New York ski resort Hunter Mountain, all cited Patagonia's Capilene line as some of their favorite base layers. Being mid-weight, these are suitable for a range of outdoor winter activities.
Best fleece long underwear
Materials: Polyester | Intended use: Hiking and outdoors | Weight: Heavy
Hot Chillys long underwear is another longtime Strategist favorite. Our former writer Kayla Levy prefers fleecy layers to thin wool or silk ones, citing their warmth and coziness. "They're more like sweatpants than leggings," she says. "The initial cold you feel is less than, say, a pair of merino-wool leggings, which do keep you warm but take some time to really heat you up and recycle your body heat." Although these are a bit bulkier to layer, she adds, they work great under her Everlane carpenter pants.
Best heat-reflecting long underwear
Materials: Polyester, reflective stretch jersey | Intended use: Hiking and outdoors | Weight: Heavy
Columbia's futuristic base layers are lined with metallic fabric that reflects your body's own heat, trapping it in a cozy bubble while still wicking away sweat. Award-winning photographer and travel writer Susan Portnoy, a.k.a. the Insatiable Traveler, fell in "love, love, love" with these layers when she wore them on an Alaskan cruise, where they came in handy during glacier hikes. But they'd be perfectly appropriate for battling through chilly city commutes too.
Best mesh long underwear
Materials: Wool and polyester | Intended use: Hiking and outdoors | Weight: Light
We learned about these slightly strange-looking base layers when researching the best long underwear for outdoor dining. Though their wool-mesh construction may take a little getting used to, designer Stacey Berman told us that these layers were the best option for staying warm while she worked on a film in the Arctic Circle. She was tipped off to them by her Norwegian colleagues, who have lots of experience with the cold. "The science behind net layers is pretty simple: The open weave of mesh lets your body heat escape as a vapor, instead of sticking close to your body and turning into sweat," Berman says. "Sweat is the enemy of warmth. With mesh, the heat you produce gets trapped in by the next layer you're wearing, whether that's classic long underwear or your clothes." Though functional enough for extreme Arctic conditions like Berman describes, at 140 GSM, these are also lightweight enough for Brooklyn.
Best long underwear for running
Materials: Merino, nylon, and polyester | Intended use: Running and sports | Weight: Light
Boston-based running brand Tracksmith has a seal of approval from the Strategist's former resident winter runner, Karen Iorio Adelson. Its lightweight Brighton top features thicker knit wool on the arms than on the body, as your extremities generate less heat while running. The top is soft to the touch and, thanks to the merino blend, effectively moisture wicking. Its material is very thin — surprisingly so considering how warm it feels — which makes it ideal for layering under a thicker mid-layer or a windbreaker.
Best long underwear for hiking
Materials: Merino wool | Intended use: Hiking and outdoors | Weight: Heavy
Ibex sent me a set of its cult favorite Woolies 2 base layers at the beginning of winter 2021, and I've become a big fan. Here's what I like: Despite its warmth and thickness, the top in particular fits more like a crew tee than a skin-tight layer. This means I don't feel too weird stripping down to it when I move from outdoors to indoors, or work up a sweat. It also means that you can use the top as an insulating layer if you want to, with something tighter underneath. I haven't felt a particular need to do this, though, because these layers are seriously warm. They're 240 GSM merino wool, straddling the category of mid- and heavyweight, and the magic of merino means they're breathable, sweat wicking, and odor reducing, too. I huffed and puffed 13,000 feet above sea level in mine, camped overnight, then slid back down the mountain the next day in the same set of layers — they barely smelled afterwards. A cool feature that I haven't taken advantage of is a set of optional thumb loops: There's a little line of reinforced stitches on each cuff that's designed to be unpicked so that the sleeves turn into half-gloves. This would suit anyone who is wearing these regularly on the trail or when cold-weather camping.
Best long underwear for skiing
Materials: Merino wool | Intended use: Skiing and snowboarding | Weight: Heavy
If you want base layers made by an actual skier, consider Kari Traa, the eponymous line from the three-time Olympic freestyle skier who, says REI category-merchandising manager Shelly Wilkinson, started the brand because she felt there was a lack of choices with style and function for women. Launched in Norway in 2006, Kari Traa is "known for its fun base-layer collection, which is mostly wool blends." This set is made from 100 percent merino wool, with a zip collar for ventilation. The patterns and colorways are beautiful, referencing Nordic ski culture without too much kitsch. I tried a pair for myself and found them to be both very warm and very glamorous: Tra's matching pieces are so flatteringly formfitting that you will quite literally feel like stupid sexy Flanders on the slopes.
Best long underwear for camping
Materials: Polyester | Intended use: Camping and lounging | Weight: Heavy
The Dyrt app co-founder Sarah Smith wears this onesie from cult outdoor company Airblaster while sitting around at base camp on cooler evenings. She recommends it "more for lounging around the campfire, not so much hiking." The suit's hood and gloves mean you're exposing a bare minimum of skin, thus trapping heat and keeping you toasty when you're not being physically active. Although Smith has the classic Ninja Suit, Airblaster offers an even warmer mid-weight merino-wool option for fall and winter adventures. And to answer your most pressing question: When nature calls (perhaps in the actual wilderness), a 350-degree waist zipper transforms this suit into an almost two-piece.
Best affordable long underwear
Materials: Polyester, acrylic, rayon, and spandex | Intended use: Everyday | Weight: Light
Wool and silk base layers are pricey, and our experts advised that cheaper synthetic long underwear will still work — just make sure that you don't buy anything made of cotton, which dries slowly and doesn't retain body heat. For everyday urban wear (under your jeans or sweatpants, for example), it's hard to do better than Uniqlo's affordable, effective Heattech line. "I love Uniqlo Heattech for layering because it has different warmth levels, it's breathable, and it's made of comfortable fabric," says celebrity stylist Krisana Sotelo. "It's perfect for those extremely cold winter days. It is also very easy on the wallet." Iva Pawling, co-founder and CEO of underwear brand Richer Poorer, is also a fan, and ran to purchase a pair during an unexpected freezing-cold NYC trip. "These are super-thin, so they were easy to wear under jeans and saved my built-for-70-degrees self," she says. I own a pair of these layers too, and find them particularly easy and cozy to wear around the house, when central heating is doing most of the work but I still want an extra boost of warmth.
Some more women's base layers we've written about
• Karen Iorio Adelson, Strategist senior writer
• Daniel Kenney, public-relations and communications manager at Hunter Mountain
• Iva Pawling, co-founder and CEO of underwear brand Richer Poorer
• Alyssa Ravasio, founder, Hipcamp
• Ira Rosh, divisional merchandise manager at Paragon Sports
• Sarah Smith, co-founder, The Dyrt
• Lauren Snyder, owner, Primary Essentials
• Krisana Sotelo, celebrity stylist
• Leigh Wetzel, co-founder, Campendium
• Shelly Wilkinson, category-merchandising manager at REI
• Carolyn Yim, designer, Ply–Knits
• Deborah Young, instructor of textile science at The Textile Expert
The Strategist is designed to surface the most useful, expert recommendations for things to buy across the vast e-commerce landscape. Some of our latest conquests include the best women's jeans, rolling luggage, pillows for side sleepers, ultra-flattering pants, and bath towels. We update links when possible, but note that deals can expire and all prices are subject to change.
Every editorial product is independently selected. If you buy something through our links, New York may earn an affiliate commission.