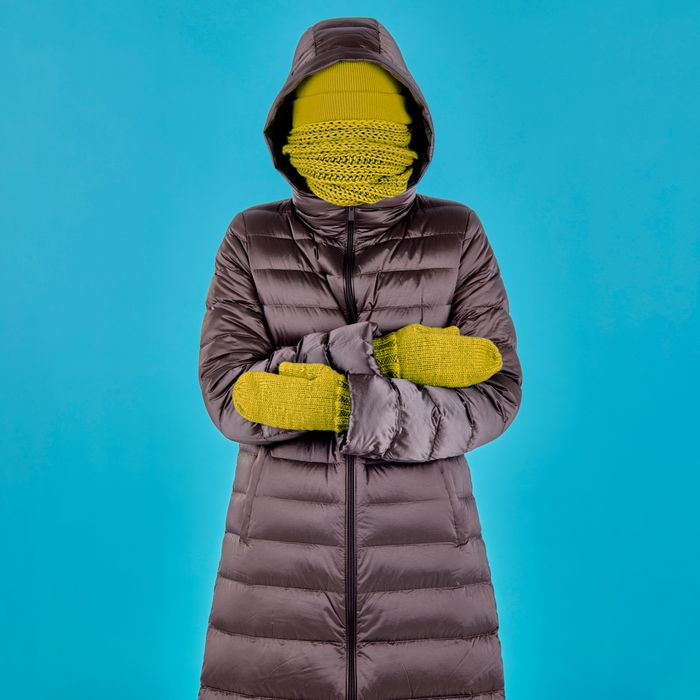 Alongside a good pair of boots and gloves, an insulated parka is one of winter's true essentials. Less fussy than wool coats yet more protective than cropped puffer jackets, parkas are effective against rain, snow, wind, and cold. Whether you're looking for a lightweight everyday parka or a heavy-duty one that'll hold its own against New York City snowstorms (when they finally arrive), here are the best ones — as recommended and tested by Strategist staffers, outerwear designers, outdoors people, and stylish types. Because a winter coat is one of the biggest wardrobe investments you can make, I broke down these picks according to price, with our experts assuring me that you don't need to spend a fortune to stay warm and dry each season. If you can splurge, though — and it's a great idea to shop around for deals during the off-season — then it's often worth it: "Good-quality fabric and other special features cost money," says outerwear designer Terez Havancsak. The result is a "purposeful, well-built parka" that will last multiple seasons.
With parkas and other winter coats, "puffiness does not always equal warmth," says Dr. Susan Sokolowski, founding director of the University of Oregon's sports products design program. All down jackets receive a fill-power rating indicative of how many cubic inches each ounce of feathers occupies. If a parka has a 950 rating, that means its down will "fill 950 cubic inches and weigh just one ounce," explains Eric Goodwin, outerwear designer and founder of Lathley. Which makes for a lightweight yet very warm coat.
Fill power usually changes according to how much actual down, as opposed to larger and longer duck or goose feathers, is in the mix. "A feather pillow would have terrible fill power because it's mostly feathers, but a high-end 950 fill power jacket will have almost all down and no feathers in its insulation," as Goodwin elaborates. Still, fill power isn't everything. "Parkas are usually heavy, bulky, and not very compressible" anyway, he adds. "So it doesn't apply as much as you might think." As a general rule, Havancsak advises that you want to be looking for a rating of 550 and above when buying a down coat.
While most of the parkas recommended here are packed with duck or goose down (both of which are similarly warm), I also found some vegan options. Synthetic stuffing like PrimaLoft and Thinsulate closely mimic the insulating properties of feathers, although down is still lighter and warmer on average. One major advantage of synthetic fill is that it can retain warmth when wet; it's also easier to wash and dries out faster than feathers will. If you are parka shopping in a rainier climate like the Pacific Northwest, Goodwin suggests you either buy a synthetic parka or a down one with very advanced waterproofing.
Wind and water resistance
Speaking of rain, parkas with nylon exteriors will provide lightweight yet effective protection against wind and wet. Down parkas especially should be treated with a durable water repellent (DWR) coating to protect their precious insulation, and the very best ones will go above and beyond this standard, using materials such as Gore-Tex and other synthetic membranes to wick sweat and other moisture. In terms of wind resistance, fur-trimmed hoods are a design feature that's worth considering, according to Goodwin. These "will block the wind in the same way a furry microphone cover will block wind noise." In this context, "faux fur will perform the same as real fur."
The best parkas come with additional design features that make dreary days cozier: fleece-lined pockets, insulated hoods, and high collars. Havancsak also advises prioritizing an inner zip pocket for storing your phone, as well as "tight and warm cuffs" to lock in heat. For maximum comfort, Sokolowski says that sizing is important. "Make sure the parka fits appropriately, covers your body over the areas you want protected, and allows your body to move freely," she says. "Not too tight to restrict motion, but also not too big where the hood would get in the way of your peripheral vision, or the hem could trip you when walking."
Best overall women's parka
Insulation: 640 fill power duck down | Wind and water resistance: DWR shell | Comfort: Anti-static lining, packable, knee length, removable hood
For a minimalist parka that won't break the bank, Uniqlo is an eternally safe bet. A longtime Strategist staffer favorite, this anonymous-looking coat is perfect for commuters in cities where winter temperatures tend to hover a little above freezing and rain isn't an everyday occurrence. Stylist Rasheena Liberté loves the versatility of its removable hood: "It lets you go for a chic hoodless puffer on lighter-weather days, with the option to pocket the lightweight hood until needed," she says. In fact, the entire jacket packs down into an included storage pouch for when the weather switches up. If you're forced to keep it on all day, though, Strategist associate editor Jenna Milliner-Waddell attests that hers has proven warm enough for waiting outside in long COVID-testing lines and bundling up while outdoor dining. The coat was updated in 2022 to have an anti-static lining (especially useful when you're wearing a beret or beanie), a slightly longer length, and a gradient quilting for a more flattering shape in the back.
Best short parka under $300
Insulation: 700 fill duck down | Wind and water resistance: DWR shell | Comfort: Fleece-lined hand pockets, thumbholes, inner zip pocket
With their array of colorways and fabric finishes, Aritzia's Super Puff jackets have become enormously popular in recent years. Though multiple Strategist staffers are fans, I was a skeptic until the brand sent me one to try this winter. Sure enough, I've ended up wearing this truly warm and waterproof jacket most days. Available in multiple lengths, the original shorter style is still the best. It has a Goldilocks silhouette that's neither too cropped nor long enough to restrict movement, while providing all-important butt coverage. Fleece-lined pockets and stretchy thumbholes make an unexpectedly huge difference when walking to the subway, and the hood is perfectly sized to fit a beanie beneath. One final aspect of the Super Puff's appeal is its anonymity. Apart from a small logo on the back of the hood, the exterior is unbranded and minimal-looking. Unlike a North Face Nuptse puffer or some of the other options listed here, it will disappear against any outfit.
Best (even cheaper) short parka under $300
Insulation: 700 fill duck down | Wind and water resistance: DWR shell | Comfort: Fleece-lined hand pockets, thumbholes, inner zip pocket, removable hood
Quince, the DTC brand best known for its affordable linen bedsheets and washable silk slip skirts, ventured into outerwear for the first time this year. After switching between Aritzia and Quince over the past month, I'm happy to report that Quince's Super Puff dupe is just as warm and flattering, although unfortunately available in just four colors. (I went with the '70s blue, which matches my vintage knitwear.) It has the same thumbholes and fuzzy pockets, and almost the same silhouette, except it's a smidge puffier around the chest. There's also a removable hood, which might actually be an improvement on the Super Puff's design. It's $100 cheaper, with free shipping, and completely logoless.
Best parka with universal sizing under $300
Insulation: Polyester fill | Wind and water resistance: DWR shell | Comfort: Two-way zipper, removable hood, high collar, fleece-lined pockets
Mimicking that same just-long-enough-to-cover-your-butt silhouette is this parka from Universal Standard that's a favorite of my fellow Strategist writer Dominique Pariso. "It's super-warm but lightweight and streamlined enough that I don't feel like the Stay Puft Marshmallow Man when I wear it," Pariso explains. The parka (which, like the Super Puff, boasts fleecy pockets and thumbholes) is also just "downright cozy" and comfortable enough that she's been able to really "snuggle into it" during outdoor movie nights. I also like that it's available in sizes 4XS to 4XL, like all of the brand's designs. (The Aritzia Super Puff size range extends to 2XL.)
Best stylish parka under $300
Insulation: Synthetic fill core, 650 fill-power down sleeves | Wind and water resistance: Wind-resistant shell | Comfort: Flattering draping style, exterior pockets
The viral phenomenon that is "the Amazon coat" has been a Strategist favorite for wintertime ever since we wrote about its slightly Balenciaga-esque silhouette taking over the Upper East Side in 2018. The coat is fairly plain: paneled, olive green, and made by a company called Orolay, a Chinese brand that also, curiously, makes folding chairs, storage cabinets, and wall-mounted tables. It is sold on Amazon for $150 and a favorite among stylish uptown women. Other things we like about this best-selling parka: its generous size range, fleece-lined hood, and big, practical pockets. It isn't suitable for Arctic conditions, but it will keep you cozy on the way to SoulCycle.
Best parka under $500
Insulation: 550 fill goose down | Wind and water resistance: DWR, wind-resistant shell with breathable membrane | Comfort: Internal zip pocket, ribbed cuffs, faux-fur hood
Several experts I spoke with mentioned the North Face as a tried-and-true outerwear brand that makes thoughtful and reliable products for non-outrageous prices. Havancsak calls this parka in particular an example of "classic design" that's warm and well made. Packed with plenty of down and synthetic fill, it has a smooth and streamlined silhouette that mimics more expensive coats from Canada Goose and Arc'teryx. A faux fur–lined hood helps keep wind out, while the parka's subtly cinched waist keeps warmth in while creating a flattering shape. Its DWR shell also boasts a breathable membrane for when you find yourself suddenly sweaty and overdressed in a heated subway car.
Best long parka under $500
Insulation: 550 fill goose down | Wind and water resistance: DWR shell | Comfort: Two-way zip, zippered pockets, removable hood
A worthwhile upgrade from our beloved Uniqlo full-length is this down North Face parka that also comes recommended by Havancsak. She likes it for cold, dry climates — those who are likely to get caught in the rain with any regularity are better off with the more waterproof Arctic parka, above. The long and relaxed fit makes room for multiple layers underneath while also creating a streetwear-inspired look. The two-way front zip increases versatility, and multiple zippered pockets are great for stashing stuff on the go.
Best synthetic parka under $500
Insulation: Polyester fill | Wind and water resistance: Waterproof polyamide shell | Comfort: Drawcords, lined hand-warmer pockets, lined hood, chest pockets, side pockets, phone pocket
If you prefer not to wear down, this durable parka (which matches one of our favorite laptop-toting backpacks) uses an advanced synthetic fill "that's really good at trapping heat and has a polyurethane membrane that's excellent at resisting moisture," according to Sarah Savala, a former gear expert at Backcountry. Goodwin, too, praises Fjallraven's "classic style and solid performance." The parka has drawcords that cinch it into a flattering shape while trapping heat and comes with a fleece-lined hood and detachable faux-fur collar, as well as two all-important hand-warmer pockets.
Best heavy-duty parka under $500
Insulation: 750 fill power | Wind and waterproofing: DWR shell | Comfort: Insulated, detachable hood, two-way zipper, fleece-lined pockets, waist drawcord
Strategist senior writer Liza Corsillo is something of a parka collector. "I have a lot of them," she admits. But her all-time favorite is this one, which was gifted to her by the brand three winters ago. "My criteria for parkas include that they're lightweight, warm enough to wear without a ton of layers underneath, and long enough to cover my butt," she explains. "This achieves all of that and more." Insulated with ethically sourced white-duck down, Triple F.A.T.'s parka is truly comfortable: Despite being heavy-duty (with considerably more fill power than the options recommended above), it feels almost weightless, and Corsillo says it keeps her very warm but never claustrophobic or sweaty. "It's very puffy but not in an unflattering Michelin Man kind of way," she adds. "Like, I actually feel stylish in it. Oh, and the hood is better than any other parka hoods I've tried."
Best parka under $1,000
Insulation: 750 fill power core and sleeves, synthetic insulation in moisture-prone areas | Wind and waterproofing: Gore-Tex shell, waterproof zippers | Comfort: Hand and interior pockets, insulated hood, streamlined look
For those living through endless stretches of wet and freezing days each winter, Arc'teryx offers this impressively designed wind-and-water-resistant parka that's also super-warm. Every expert I spoke with recommended this parka, which is also Strategist editor Maxine Builder's go-to winter coat. It was mentioned very favorably when we interviewed Canadians about their favorite Canada-Goose alternatives, too. The hardy Gore-Tex exterior is designed for the worst of days, and the parka has an insulated hood and two-way zippers, with the latter allowing for more mobility even with the extra length.
Best minimalist parka under $1,000
Photo: retailer/CALOPE
Insulation: 650 fill power down | Wind and waterproofing: DWR shell | Comfort: Oversize fit, elasticated cuffs, adjustable waist, microthermal polyester-lined pockets
While not cheap, this cocoonlike parka will please the more minimalist and ecoconscious wearer, and its clean lines will never go out of style. Montreal-based Quartz Co. debuted in 2015 as the relaunch of an older brand, Quartz Nature, which was founded in 1997 and outfitted expedition teams and the Canadian Police Corp. Gabrielle, a customer-service specialist at the Montreal-based retailer Altitude Sports who requested that she go by her first name only, says it has quickly built a reputation for "designing performance outerwear with the planet in mind by using recycled textile fibers made from plastic bottles." Quartz Co.'s coats come with a lifetime warranty that includes free repairs or replacements for any sort of material or manufacturing defect. Its parkas lack any obvious logos save for a small insignia on the shoulder, which is easily spotted on walks through Mile End and the Plateau — the Williamsburg and West Village of Montreal. The coat is made from 43 percent recycled materials, and it is insulated with ethically sourced Canadian white-duck down. I also love that it's machine washable.
Best short parka under $1,000
Insulation: 625 fill power down | Wind and waterproofing: DWR shell | Comfort: Heat reflective paneling, zip pockets, adjustable waist, removable hood
I was surprised how many outerwear designers I spoke with recommended Canada Goose's parkas, which are perhaps more famous for their fashion status than functionality at this point. Goodwin says that the brand's Arctic explorer branding isn't just for show: "If you're actually going to the South Pole, you wear Canada Goose." For hanging out in the city, Havancsak likes this shorter style with a monochromatic sleeve patch. It's classic-looking with modern details, she says, including a highly adjustable fit, down-lined collar, and fleece-lined chin guard for added comfort. She adds that Canada Goose's iconic interior backpack straps (that allow the wearer to show off their expensive coat indoors) are a technically inessential feature that's "in my opinion very fun and useful." I like the pastel colorways, too. As with all Canada Goose jackets, this one has a lifetime warranty.
Best sustainable parka under $1,000
Insulation: 700 fill power recycled down | Wind and water resistance: DWR shell, breathable membrane | Comfort: Three-in-one adaptable design, handwarmer pockets
Patagonia is a sustainably minded outdoor brand that needs "no introduction," as Goodwin puts it. Adds Sokolowski: "Many companies are now using recycled shell and insulation materials, and providing repairs to improve their impact on the environment — the leader in this space is Patagonia." This three-in-one transforming design that Sokolowski has been eyeing for next season helps the buyer avoid shopping for multiple winter coats. Wear it as a puffer jacket in dry conditions or a full-length raincoat in wet ones. In truly miserable weather, attach the two together to create a warm and waterproof parka. It's made from mostly recycled materials.
Best vintage-style parka under $1,000
Insulation: Polyester fill | Wind and water resistance: Wind-resistant DWR shell | Comfort: Adjustable hood and waist, sherpa-lined collar
Kanuk is the brainchild of a textile family looking to develop warmer coats to withstand the Canadian cold, and its products have been designed and made in Montreal for 50 years and come with a lifetime guarantee. "Kanuk is a standard here for a very warm winter coat," Gabrielle says. "A lot of people in Montreal have vintage Kanuk coats because they are still amazing even years after." She's one of those people and says about the coat she's had for many years: "The brand's excellent quality practically guarantees that its old models are just as warm as the new ones." The parkas — which Kanuk says will keep you warm in temps as low as minus-13 degrees Fahrenheit — have synthetic insulation that holds up well to frequent washing.
Some more women's winter essentials we've written about
• Liza Corsillo, senior writer, the Strategist
• Gabrielle, customer-service specialist, Altitude Sports
• Eric Goodwin, outerwear designer and founder of Lathley
• Terez Havancsak, award-winning outerwear and apparel designer
• Rasheena Liberté, stylist
• Jenna Milliner-Waddell, associate editor, the Strategist
• Dominique Pariso, writer, the Strategist
• Sarah Savala, former sales assistant, Backcountry
• Dr. Susan Sokolowski, founding director, sports product design, University of Oregon
The Strategist is designed to surface the most useful, expert recommendations for things to buy across the vast e-commerce landscape. Some of our latest conquests include the best acne treatments, rolling luggage, pillows for side sleepers, natural anxiety remedies, and bath towels. We update links when possible, but note that deals can expire and all prices are subject to change.
Every editorial product is independently selected. If you buy something through our links, New York may earn an affiliate commission.