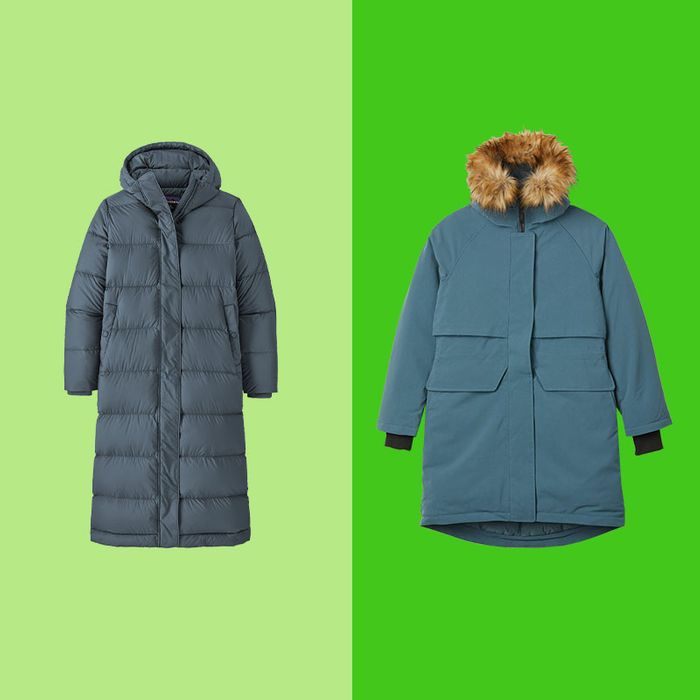 Photo-Illustration: Courtesy of Gramercy Pictures
Alongside a good pair of boots and gloves, an insulated parka is one of winter's true essentials. And while it's no fun to think about snowstorms during summer, the off-season is actually a great time to invest in one at a steep discount. Less fussy than wool coats yet more protective than short puffer jackets, the best parkas are pleasingly minimalist in style yet seriously effective when it comes to combating the wind and cold. Whether you're looking for a lightweight and packable parka or a heavy-duty one, here are our favorites — many of them currently on sale.
Best overall | Best heavy-duty | Best synthetic | Best short | Best long | Best recycled down | Best stylish | Best comfortable | Best vintage style | Best Canada Goose dupe | Best minimalist
Fill power: As with sleeping bags, all down jackets receive a fill-power rating, which essentially represents the fluffiness of the down they're insulated with. A higher rating will loft better and therefore trap more heat. But that's not the full story. Some parkas are filled with a smaller amount of high-power down, making them warm yet relatively lightweight and streamlined. Others will use a higher volume of low-power down, which makes them bulkier but still plenty warm. Parkas made for extreme conditions will use a high volume of high-power down for maximum warmth. These tend to be the most expensive.
Although we found a couple of great parkas filled with synthetic materials, duck and goose down still wins out as the best insulator for winter jackets overall, especially as it's more compressible and therefore packable than synthetic fill — no one wants to walk around with a bulky full-length parka tied around their waist.
Warmth and comfort: We found a range of parkas for different climates whether you're regularly experiencing inclement weather or just the occasional freakish snowstorm. We looked for additional creature comforts that'll make those wintry days a bit cozier: fleece-lined pockets, insulated hoods, and high collars.
Wind and water resistance: We liked parkas with tough nylon exteriors that act as lightweight yet effective shells against wind, rain, and snow. Because goose down loses its insulating properties pretty much as soon as it gets wet, the parkas we picked are treated with a durable water repellent (DWR) coating that should protect their precious baffles. Some of our favorite parkas go above and beyond this standard, using materials such as Gore-Tex and other synthetic membranes that will wick sweat and other moisture.
Best overall women's parka
640 fill power | Anti-static lining, packable, knee length, removable hood | DWR shell
Affordable and effective, this flattering parka from Uniqlo is perfect for cold-weather commuters. Stylist Rasheena Liberté loves the versatility of its removable hood: "It allows the customer to go for a chic hoodless puffer on lighter weather days with the option to pocket the lightweight hood until needed," she says. In fact, the entire coat packs down into an included storage pouch for when the weather switches up. If you're forced to keep it on all day, though, Strategist associate editor Jenna Milliner-Waddell attests that hers has proven warm enough for waiting outside in long COVID-testing lines and bundling up while outdoor dining. The coat was updated this year to have anti-static lining (especially useful when you're wearing a beret or beanie), a slightly longer length, and a gradient quilting for a more flattering shape in the back.
Best heavy-duty parka
Photo: retailer
750 fill power core and sleeves, synthetic insulation in moisture-prone areas | Hand and interior pockets, insulated hood, streamlined look | Gore-Tex shell, waterproof zippers
For those who live through endless stretches of wet and freezing days each winter, the Canadian outerwear experts at Arc'teryx offer this thoughtfully designed wind and water-resistant parka that's also super-warm. It comes recommended to us by Gabrielle, a customer-service specialist at the Montreal-based retailer Altitude Sports who says fellow homegrown brands such as Arc'teryx will offer much better performance than Canada Goose. The waterproof, windproof Gore-Tex exterior is designed for the worst of days, and the parka has an insulated hood and two-way zippers, with the latter allowing for more mobility even with the coat's extra length.
Best synthetic parka
Polyester fill | Drawcords, lined hand warmer pockets, lined hood, chest pockets, side pockets, phone pocket | Waterproof polyamide shell
If you prefer not to buy goose down, this durable parka (which matches one of our favorite laptop-toting backpacks) uses a synthetic microloft "that's really good at trapping heat and has a polyurethane membrane that's excellent at resisting moisture," according to Sarah Savala, a former gear expert at Backcountry. The parka has drawcords that cinch it into a flattering shape while trapping heat. Holding its own against freezing temperatures, this parka comes with a fleece-lined hood and detachable faux-fur collar as well as two all-important hand-warmer pockets.
Best short parka
Polyester fill | Two-way zipper, removable hood, high collar, fleece-lined pockets | DWR shell
Here's a parka that's just a little longer than your standard puffer jacket but has more of a butt-warming silhouette. Universal Standard sent Strategist writer Dominique Pariso one of these parkas a couple of winters ago, and it has since become her go-to. "It's super-warm but lightweight and is streamlined enough that I don't feel like the Stay-Puft Marshmallow Man when I wear it," Pariso explains. The parka is also just "downright cozy" and comfortable enough that she's been able to really "snuggle into it" during outdoor movie nights.
Best long parka
700 fill power | Removable hood, Two-way zipper, fleece-lined pockets | DWR shell
For maximum warmth, though, you really want a parka that insulates below the knee. Enter the full-length version of Aritzia's beloved Super Puff, a longtime Strategist staffer favorite. We're impressed with this parka's stylish silhouette, as well as its ability to block the cold, thanks to a wind and water-resistant shell, fleece-lined pockets, water resistant nylon shell and fluffy baffles of 700 fill, ethically-sourced goose down.
Best recycled down parka
700 fill power | Two-way zipper, jersey-lined hand warmer pockets, interior pocket, insulated hood | DWR shell
And here's another full-length parka that's a little sleeker, and utilizes 100% reclaimed duck and goose down, in keeping with Patagonia's strict sustainability practices. I noticed multiple stylish women wearing this parka in the plume gray colorway when walking in Fort Greene park last winter — the slightly leg-constricting length is somehow really flattering, not to mention extra-insulating.
Best stylish parka
Synthetic fill core, 650 fill-power down sleeves | Flattering draping style, exterior pockets | Wind-resistant shell
The viral phenomenon that is "the Amazon coat" is still one of our favorites for wintertime ever since we wrote about its slightly Balenciaga-esque silhouette taking over the Upper East Side in 2018. The coat is fairly plain: paneled, olive green, and made by a company called Orolay, a Chinese brand that also, curiously, makes folding chairs, storage cabinets, and wall-mounted tables. It's sold on Amazon for $160. And you're guaranteed to see stylish uptown women wearing it on their way to SoulCycle. Other things we like about this bestselling parka: its generous size range, fleece-lined hood, and big, practical pockets.
Best comfortable parka
750 fill power | Insulated, detachable hood, two-way zipper, fleece-lined pockets, waist drawcord | DWR shell
Strategist senior writer Liza Corsillo is something of a parka collector. "I have a lot of coats," she admits. But her all-time favorite is this one, which was gifted to her by the brand two winters ago. "My criteria for parkas include that they're lightweight, warm enough to wear without a ton of layers underneath, and long enough to cover my butt," she explains. "This achieves all of those and more." Insulated with ethically sourced white-duck down, Triple F.A.T.'s parka is truly comfortable: Despite being heavy-duty, it feels almost weightless, and Corsillo says it keeps her very warm but never claustrophobic or sweaty. "It's very puffy but not in an unflattering Michelin Man kind of way," she adds. "Like, I actually feel stylish in it. Oh, and the hood is better than any other parka hoods I've tried."
Best vintage-style parka