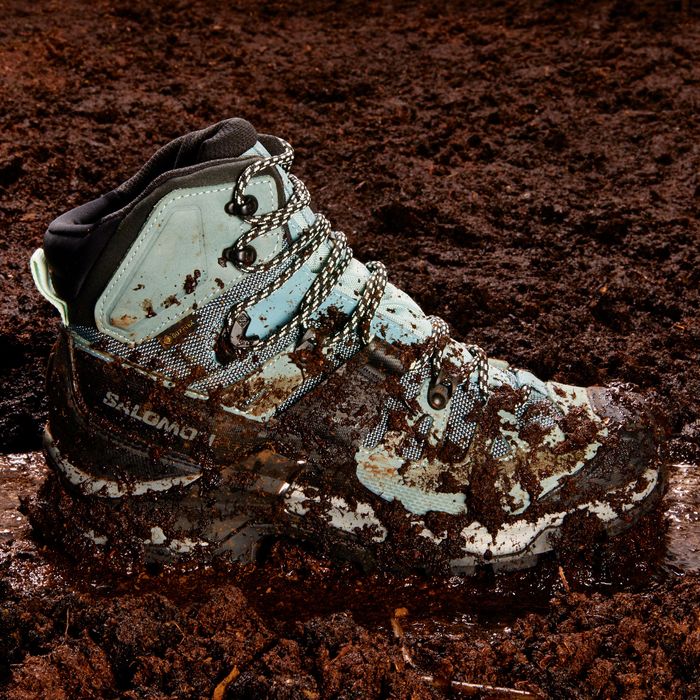 Hiking footwear is trendier than ever, which can make it difficult to find trail shoes that are as functional as they are fashionable. In preparation for fall hiking season, I consulted seasoned outdoor experts to find the best women's hiking boots and shoes for all terrain, from sleek sneakers to waterproof boots and everything in between. When picking out your pair, Pacific Crest Trail Association communications director Scott Wilkinson advises that "it's absolutely critical" to maintain circulation in your feet. "The best way to do that is to be sure you get footwear that's at least one size bigger than what you normally wear," he says. Sizing up also makes space for a pair of moisture-wicking wool socks, which will "keep your feet dry and reduce the risk of blisters," according to Elisabeth Haugan, communications coordinator at Arizona State Parks & Trails. Speaking of blisters, you should break in your new boots by walking around the house in them for at least a week. "Let the lining and insoles start to conform to your foot," says Haugan. She also suggests using this time to identify any areas that may rub, then taping those up with athletic tape before you hike. And an underrated piece of advice to ensure maximum foot comfort on the trail? "It's not pretty, but trim your nails before you go. Impacting your toes is a very common injury."
Talk to almost any serious hiker or outdoor-gear enthusiast these days, and you'll hear the same story: stiff and heavy hiking boots are out, flexible and lightweight trail runners are in. "Elite hikers, long-distance hikers — no one is wearing boots above the ankle," says Dr. Rachel Gross, an assistant professor at the University of Colorado in Denver studying the history of outdoor clothing and gear. Trail runners are essentially grippier, more hiking-specific sneakers, and they're built for comfort. "In the old days when you bought hiking boots you'd have to wear them around your neighborhood before the hike, to be confident you wouldn't get blisters," says Cris Hazzard of HikingGuy.com. "Now it's the opposite — you can put on a pair of new trail runners and do a long-distance hike."
That's not to say boots don't have their place. In fact, the best hiking boots are so lightweight and comfortable that they may as well be sneakers — except more durable. Rather than wearing out in a few months, they'll last forever and serve you especially well on wet or gravelly terrain. "If you're hiking over really rough rocks, a hiking shoe or a more traditional boot would protect your foot," Hazzard admits. "Sections of rocks on the Appalachian Trail are thin and stacked so you can't step flat on them, and that's the case where I'd recommend something beefier, because it shreds shoes quickly."
Waterproofing has always been the primary feature of hiking boots. "Originally, people would oil them or wax them," says Hazzard. "Then of course Gore-Tex came out." An outdoor-gear fixture since the late 1970s, Gore-Tex is a finely woven membrane that locks out moisture while remaining breathable. While they'll never keep your feet 100 percent dry in the event of full boot submersion, the best waterproof hiking boots will use Gore-Tex or a membrane that's very similar to it.
Yet not everyone wants a waterproof boot these days. The industry is trending toward ventilated boots and sneakers that air out quickly after being submerged. "The idea is you can get the shoe wet — you don't have to fight to keep your feet dry," says Hazzard. "In the old days, if I was trying to keep my feet dry, I'd be looking for a log or rock to get across a stream. Now I can just plow through and let my feet dry once I get out." If a wet shoe doesn't sound ideal to you, that's okay — we've included both waterproof and non-waterproof options on this list.
Because you'll no doubt encounter slippery slopes on your hiking adventures, we also looked for shoes and boots with deep traction, taking note of lug length in particular. Also key to maintaining good traction is lacing, says footwear and product designer Mark Britton. Laced boots and runners will have a tighter, more customized fit, which is why you won't see leather Chelsea boots on this list.
Best overall hiking boot
Style: Mid-calf boot | Waterproofing: Gore-Tex | Traction: Deep lugs
Bringing together the best qualities of old-school boots and new-school trail runners, these hardy hiking shoes from Salomon feature deep lugs that'll grip onto any terrain, a reinforced toe, and breathable Gore-Tex to keep your feet nice and dry. Yet despite these features, they're super-flexible on the foot. Writer and outdoor enthusiast Jael Goldfine recently section-hiked New York on the Appalachian Trail in a brand-new pair,and confirms they broke in immediately. "They're built like sneakers but have the support and tough exterior of a hiking boot," she says. "They were immediately comfortable." Mark Whitman of Mountain IQ also told us that he wears his pair in all seasons.
Best (more lightweight) hiking boot
Style: Over-the-ankle boot | Waterproofing: Waterproof membrane | Traction: Medium lugs
"A lot of Outward Bound instructors are now moving to Altra's Lone Peak line," says an Outward Bound logistics coordinator who splits her time between frigid northern Minnesota and the desert by Big Bend National Park in Texas. Though the Utah brand is known for its trail runners, it also makes ankle boots using the same lightweight tech, and this pair is especially waterproof and durable, thanks to a Gore-Tex-like membrane called eVent. Though these boots likely won't outlast the Salomons above, they're 0.9 pounds lighter.
Best beginner hiking boot
Style: Over-the-ankle boot | Waterproofing: Waterproof membrane | Traction: Deep lugs
Waterproof, sturdy, and relatively affordable, the Merrell Moab (a.k.a. "Mother of all Boots") is a classic of the hiking footwear genre for a reason. "Merrells are really easy to come by, and they're always in stock," says Melissa Goodwin, licensed outdoor guide and the founder of Girl Gotta Hike NYC. "They don't take a long time to break in because they're flexible from the get-go." For this reason, "they're a lot of people's first hiking shoe," and if you're not planning on doing anything particularly technical, you could easily keep wearing them for life.
Best trail runner
Style: Sneaker | Waterproofing: Non-waterproof | Traction: Medium lugs
If you're more of a trail runner, Altra's Lone Peaks are the sneakers to get. "They're lightweight and have no break-in time," attests Chelsea Rizzo, co-founder of women's hiking brand Hikerkind. Jennifer West, a positive-movement coach and trainer, is also a fan. "If I decide to do some thru-hiking, I choose Altra Lone Peak trail runners," she says. "They're what's called 'zero drop,' meaning the elevation of the toe of my foot in the shoe is the same elevation as the heel. This gives me a more natural gait and is so much better for the knees, back, and hips." Altra's Lone Peaks are especially known for their splayed-out toe box, which gives a lot of wiggle room — vital for increasing circulation whether you're walking or running. West gives them additional points for bouncy, cushioned soles and "crazy-good lugs for gripping the trail." These much-hyped sneakers even feature reinforced toes for protection against rocks.
Best hiking shoe
Style: Ankle-height shoe | Waterproofing: Waterproof membrane | Traction: Medium lugs
Don't require ankle support? Though not explicitly designed for trail running, these waterproof hiking low-tops "feel like you're wearing tennis shoes," according to Stephanie Harper, an outdoors enthusiast based in Asheville, North Carolina, who spends most weekends with her husband and four kids hiking and camping. "They're lightweight and form to your foot without risking stability."
Best (less-expensive) hiking shoe
Style: Ankle-height shoe | Waterproofing: Water-resistant leather | Traction: Deep lugs
A little cheaper than the Vasque pair above, these mesh-and-leather shoes are both lightweight and rugged. Avid hiker Anita Mahaffey is one of the three women who recommended Keens to us. "I was just telling my husband today that they feel like slippers," she says.
Best winter boot
Style: Over-the-ankle boot | Waterproofing: Waterproof membrane | Traction: Deep lugs
While Goodwin is loyal to her Altra trail runners in the summer, spring, and fall, during winter, she admits that a waterproof ankle boot becomes necessary on muddy and snowy trails. "Keens are my go-to," she says. "If you're more of a trail runner like me, they're a good fit because they tend to have a wider toe box, just like Altras or Hokas." Made from leather with a breathable and odor-reducing waterproof membrane, these boots (alongside a pair of toasty wool socks) are still lightweight enough for anyone used to doing most of their physical activity in sneakers.
Best narrow-fit hiking shoe
Style: Over-the-ankle boot | Waterproofing: Waterproof membrane | Traction: Medium lugs
We also like these mid-calf hiking boots from the same brand, which are designed specifically with women's feet in mind, being narrower through the heel while still allowing some wiggle room around the toe. Sophie Radcliffe, an endurance athlete and avid hiker, loves her pair both for their comfort and the fact that "the company has a massive commitment to sustainability."
Best wide-fit hiking shoe
Style: Ankle-height shoe | Waterproofing: Non-waterproof | Traction: Deep lugs
Hazzard pointed us to these classic low-rise Merrell Moabs, available in two widths. "A pain point literally and figuratively of older-style hiking boots is that they're narrow," he says. "That's a surefire way to get blisters — it will compress your foot, there's going to be friction." Instead, a lot of people will do much better with a wider toe box. "If you take a bare foot and put all your weight on it, the bone stretches and splays out, and that's natural when you walk," he points out. "So you'll want something that has the room and does not confine your foot."
Best chunky-sole hiking boot
Style: Mid-calf boot | Waterproofing: Gore-Tex | Traction: Medium lugs
For those who like to feel that bounce as they walk, Hokas are known for their chunky cushioned soles. "They are great shoes when either your foot's injured and you need something with extra cushion, or if you don't have the miles on your legs, but have signed up for a long trail," says Hazzard. "They're very forgiving, very cushy — it's like walking on a little mattress. It's great for when you have to drastically increase your mileage without physically being prepared for it." Strategist senior editor Simone Kitchens has a pair of these boots too, and especially loves them for winter hiking: "They look like a lot of shoe, but are incredibly lightweight and super agile."
Best (more lightweight) chunky-sole boot
Style: Over-the-ankle boot | Waterproofing: Waterproof membrane | Traction: Deep lugs
The On Cloud brand is best known for its cult-favorite running shoes, which are unusually lightweight and grippy with cushioned soles. These hiking boots have that same bouncy (and indeed rather cloudlike) feel, but with added ankle support. I've owned a pair since 2018 and have worn them in the Utah desert, Californian redwood forests, and Patagonian mountains. They're protective and supportive, especially around the toes and ankle, yet without that restrictive and heavy work-boot feel. Actress Hilary Swank, who lives in Colorado and considers herself something of an outdoorsperson, is also a fan. She calls the design "a game changer because it isn't too tight around my ankles so it doesn't hurt, but it gives me support." Also, "the waterproofing is excellent." While my pair have some signs of external wear and tear, they remain functional after years of use on all kinds of terrain.
Best narrow-fit hiking boot
Style: Mid-calf boot | Waterproofing: Waterproof membrane | Traction: Deep lugs
I have strangely slender feet, and the first thing I noticed when Vasque sent me a pair of these boots to try is how snugly and comfortably they fit. So while I wouldn't recommend them for the wide-footed hiker, they're perfect for anyone who shares my affliction. I've had my pair in rotation for half a year now, with zero break-in time. Their maiden voyage was a week and a half's worth of very sweaty jungle trekking in Colombia, from which I emerged with no blisters to speak of. (Although I will attribute some of that success to my Darn Tough socks.) Whereas the On Cloud hiking boots above are soft and squishy to the touch, these are solid and structured, offering far greater protection against any rocks and tree roots that might obstruct your path on more advanced backcountry hikes. They aren't particularly heavy, and their slightly rubbery exteriors easily contend with water and mud. Performance aside, I also really like their slightly vintage-y look – as our men's style columnist Chris Black writes, Vasque's designs are "simple and classic."
Best vintage-style hiking boot
Style: Mid-calf boot | Waterproofing: Water-resistant leather | Traction: Low lugs
"If you're looking for one boot to rule them all, the vintage styling of the Danner Mountain Light is iconic, and the one-piece leather design makes for a sturdy boot that can handle anything," says Zina Bougri, an account manager at Backcountry. "They're the boots Reese Witherspoon is wearing in the movie Wild. Once these babies mold to your feet, if you're invested in the process, they should be absolutely comfortable within a month, if not just a few weeks." If you've seen Wild, though, you'll recall that Reese deals with a fair few blisters on her journey toward self-discovery — for that reason, we'd definitely recommend (again) that you size up.
Best hiking sandal
Experts I spoke with were reluctant to recommend sandals as default hiking footwear, even in summer. "For safety reasons, it's a really good idea to wear closed-toe shoes even in hot temperatures," says Haugan. "This will help prevent injury from scraping your toes or jamming your toes on sharp rocks." Such injuries are common because "when going up a steep incline, as you grow more tired your legs can move more slower than at the beginning of the hike — your brain thinks your foot is a little higher than it is, and you can easily scrape your toe on the next step." If you know you'll be crossing a few streams or rivers, though, she recommends clipping a pair of (preferably closed-toe) sandals to your pack with a carabiner and swapping shoes as needed. Steve Silberberg, head guide at Fitpacking, says that these Keen Whispers "give the freedom to power through rivers" without the risk of stubbing your toes on slippery stones. "I also love that they are lightweight, they have outstanding traction, and are quick-drying and washable," he adds.
Best microspikes
Style: Optional traction system | Waterproofing: None | Traction: Metal spikes
For winter hiking, says Goodwin, "you might want to carry microspikes to put on your boots." Even if you think you're in for a mild winter hike, changing elevations can be surprising. "The difference in the amount of snow can be really massive within just a couple of miles," she adds. "And the conditions can be totally different upstate compared to Brooklyn." She refers to these spikes from Kahtoola as a reliable, "tried-and-true" option for increasing your traction on slippery surfaces.
Best snowshoes
Style: Snowshoe | Waterproofing: None | Traction: Metal crampons
And if you're at serious elevation, you might also consider a pair of snowshoes for alpine hiking. Goodwin says that this lightweight but highly durable pair from MSR is "the best of the best," and while they "come at a pretty high price tag, they will last you forever."
Some more hiking gear we've written about
• Zina Bougri, former account manager, Backcountry
• Mark Britton, footwear and product designer
• Jael Goldfine, writer and outdoor enthusiast
• Dr. Rachel Gross, assistant professor, the University of Colorado
• Melissa Goodwin, founder, Girl Gotta Hike NYC
• Stephanie Harper, outdoors enthusiast
• Elisabeth Haugan, communications coordinator, Arizona State Parks & Trails
• Cris Hazzard, founder, HikingGuy.com
• Simone Kitchens, Strategist senior editor
• Anita Mahaffey, hiker
• Sophie Radcliffe, endurance athlete and hiker
• Chelsea Rizzo, co-founder, Hikerkind
• Steve Silberberg, head guide, Fitpacking
• Hilary Swank, actress
• Jennifer West, positive-movement coach
• Mark Whitman, founder, Mountain IQ
• Scott Wilkinson, communications director, Pacific Crest Trail Association
The Strategist is designed to surface the most useful, expert recommendations for things to buy across the vast e-commerce landscape. Some of our latest conquests include the best women's wardrobe basics, white T-shirts for women, ultra-flattering pants, jeans for women, gray T-shirt, invisible underwear, and the most flattering things. We update links when possible, but note that deals can expire and all prices are subject to change.
Every editorial product is independently selected. If you buy something through our links, New York may earn an affiliate commission.