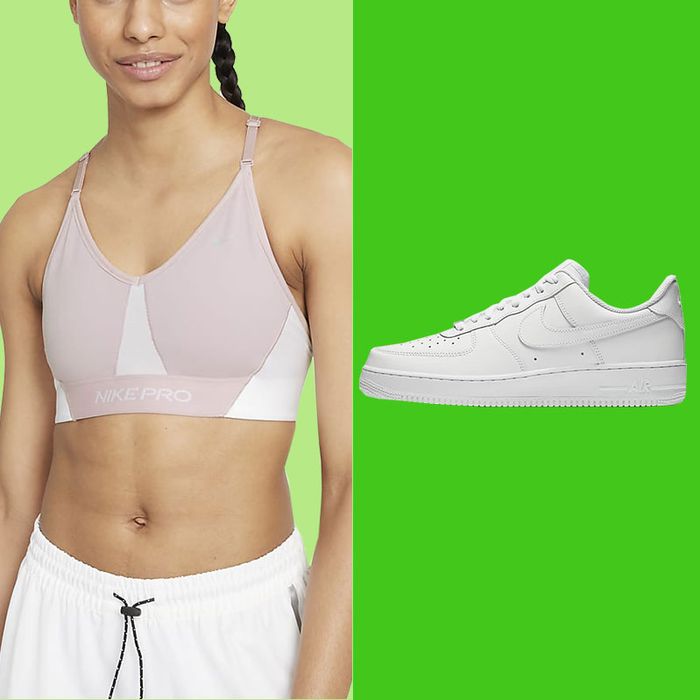 Photo-Illustration: The Strategist; Photos: Retailers
Anyone who has shopped at a big-box store knows it can be hard to figure out where to begin. There are dozens upon dozens of options that all seem as worthy as the next, but the reality is that products from any given brand are not all created equal. When you shop as regularly as we do, you learn that many brands just do some things better than they do other things. Nike, with more than 600 different sneaker styles alone, is one of those brands — its inventory of cool-people–approved shoes and performance workout clothes needs to be carefully picked through to find gems like HIIT-friendly leggings, tennis pro–approved wristbands, and sneakers designed for road running. Here, we've corralled all the shoes and clothes from Nike that our writers and editors — as well as professional basketball players, TikTok stars, fitness instructors, stylists, and other cool people like Chris Black — have recommended on the Strategist.
Perhaps the most-recommended sneaker on the Strategist to date, Nike Air Force 1s — in all white — are beloved by everyone from TikTok stars to cool teens for their timeless, goes-with-everything look. "You can't go wrong with Air Force 1s," says stylist and personal shopper Christel Langué, who adds that "as a native New Yorker, I would feel embarrassed not to own a pair." Mixed-ish star Arica Himmel, who has "probably owned five or six pairs over the years," also considers them a closet staple, noting that she can wear them with "pretty much anything." Hustlers star Keke Palmer is another fan, telling us they're the "most stylish shoe." For a "cool and unexpected" look, Leigh Plessner, a co-creative director of Catbird, pairs her Air Force 1s with dresses and nightgowns, while Real Housewife of Beverly Hills Erika Jayne wears them with "shorts or tights or with a tracksuit," adding that there is "never an occasion — okay, there are obviously some occasions — when they wouldn't work." To make them stand out, TikTok star Loren Gray customizes hers through services offered by Nike and Drip Creationz, telling us that she has "at least four pairs."
While the React Infinity Run Flyknit 2 is made specifically with runners in mind, Vanessa Chu, co-founder of recovery studio Stretch'd, says that on top of being her "go-to running shoes," these are her first choice for HIIT workouts (because they make her feel like she's bouncing but still protected). "They are superlight and were specifically designed to prevent running injuries, which seems like a no-brainer," Chu adds.
If dance cardio is your favorite workout style — or if you just love to go dancing — the Nike Air Max Bella TR 3 will keep your ankles secure as you move. Candace Taylor, an instructor at 305 Fitness, says that "for dance, the key to healthy feet is shock-absorption capacity and ankle protection." She recommends this "well-crafted" pair because they "are incredibly supportive and structured," in addition to being stylish.
Not all running surfaces are created equal. Runners who train on a treadmill have different needs from road racers, and the Nike Air Zoom Pegasus 38 was designed specifically for street running. Melissa Boyd, head trainer at Tempo, says that after struggling to get used to other running shoes' cushioning and responsiveness, the Pegasus 38s won her over. They have enough bounce for speed, but are light enough for sprints and longer runs, she notes, adding that the wider toe box helps her hit a consistent stride. "I found a lot of my prior qualms with the sport were solved with this shoe."