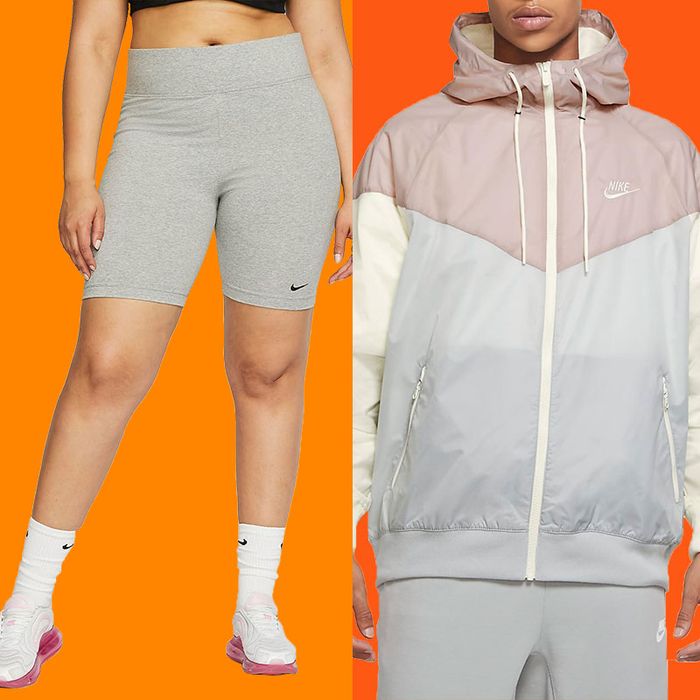 Anyone who has shopped at a bigger-box store knows it can be hard to figure out where to begin. There are dozens upon dozens of options that all seem as worthy as the next, but the reality is that products from any given brand are not all created equal. When you shop as regularly as we do, you learn that many brands just do some things better than they do other things. Nike, with more than 600 different sneaker styles alone, is one of those brands — its inventory of cool-people-approved shoes and performance workout (or lounging) clothes needs to be carefully picked through to find gems like HIIT-friendly leggings, travel-ready rain jackets, or celebrity-street-dancer-approved sneakers. Here, we've corralled all the shoes and clothes from Nike that our writers and editors — as well as professional basketball players, TikTok stars, fitness instructors, actresses, stylists, and other cool people like Chris Black — have recommended on the Strategist.
These sneakers, which can be worn for strength training or running, come recommended by Rachel Lapidos, a beauty and fitness editor at Well + Good. The shoes have a carbon-fiber plate within their cushion that "literally springs you forward more nimbly as you move" and gives "cloudlike support" while running, she says. Plus, she digs their "futuristic style."
Another sneaker for cross-training, yoga teacher and author Shona Vertue likes Nike Metcons for their flexible toe, which allows for "good movement through things like lunges or running," and stiff heel, which "creates stability in movements like heavy dead lifts and squats." Melanie Miracolo, the head of retail at yoga studio Y7, is another fan of the Metcons because they have a "sleek design, incredible fit, perform great, and stabilize your foot when doing any cross-training workout."
For running indoors or out, Vertue opts for Nike Joyride sneakers, which combine the brand's breathable Flyknit material with cushioning technology. The midsole is filled with tiny foam beads that "act like a beanbag and support your foot where it's most needed, according to your gait," she explains. Lapidos also recommends Joyrides, telling us that their unique support system makes her "feel like I'm bouncing when I wear them."
Perhaps the most-recommended sneaker on the Strategist to date, Nike Air Force 1s — in all white — are beloved by everyone from TikTok stars to cool teens for their timeless, goes-with-everything look. "You can't go wrong with Air Force 1s," says stylist and personal shopper Christel Langué, who adds that "as a native New Yorker, I would feel embarrassed not to own a pair." Mixed-ish star Arica Himmel, who has "probably owned five or six pairs over the years," also considers them a closet staple, noting that she can wear them with "pretty much anything." Hustlers star Keke Palmer is another fan, telling us they're the "most stylish shoe." For a "cool and unexpected" look, Leigh Plessner, a co-creative director of Catbird, pairs her Air Force 1s with dresses and nightgowns, while Real Housewife of Beverly Hills Erika Jayne wears them with "shorts or tights or with a tracksuit," adding that there is "never an occasion — okay, there are obviously some occasions — when they wouldn't work." To make them stand out, TikTok star Loren Gray customizes hers through services offered by Nike and Drip Creationz, telling us that she has "at least four pairs."
"When I say I run most of my miles in shorts, I really mean I run most of my miles in Nike Tempo shorts," says marathon runner and Strategist senior writer Karen Iorio Adelson. They're durable and feature a three-inch inseam, which she describes as "in that Goldilocks sweet spot of being neither too short nor too long." Adelson has worn them for everything from 5Ks to marathons, and the shorts (which she says will often go on sale) come in a multitude of colors and plus sizes.
Available in a range of colorways and in plus sizes up to 3X, these bike shorts are "made for movement because the high waist is extra supportive for high-impact exercises like burpees and jumping jacks," according to fitness influencer Chasi Jernigan. They have Nike's Dri-FIT moisture-wicking technology, a V-shaped, contoured waistband, and hidden pockets at the waist to keep essentials close.
Actress and "workout fanatic" Cynthia Erivo promises that these contoured tights are "the most comfortable things to work out in." Ideal for her high-intensity workouts and runs, they "come with me everywhere," she says — including to a half-marathon (where she wore them to run it).