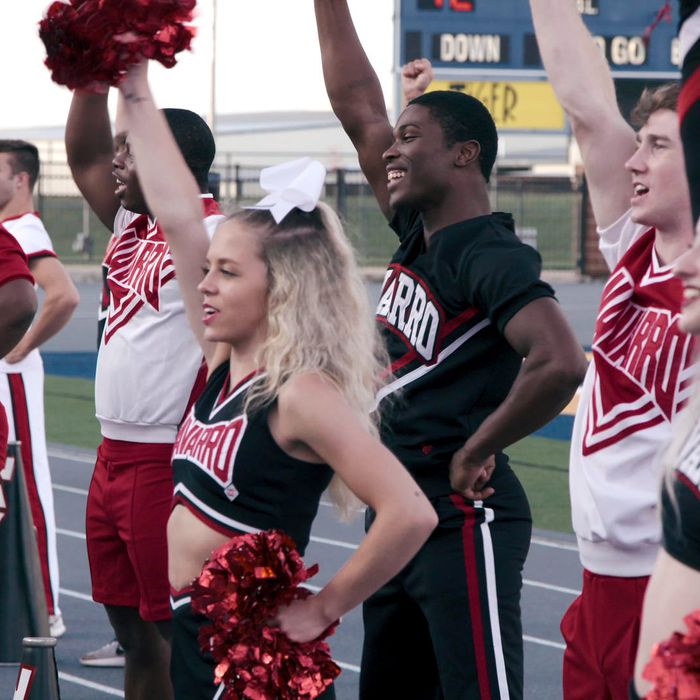 Photo: Courtesy of Netflix/Courtesy of Netflix
Status can be a funny thing. Of course, it is most obviously expressed through shiny hardware and easily recognizable logos, but it gets far more interesting when you start to observe the more subtle signals — the way you tuck your shirt, or what you eat for breakfast, or your particular brand of notebook can mark you as in or out. And, of course, what counts as a status item varies wildly across human tribes. In our series "Insider Goods," we're talking to members of different tribes (some with their real names, some anonymously) to learn about the niche status items among Broadway actors, ballerinas, or brain surgeons. 
Today, we hear from Navarro College cheerleader Morgan Simianer and assistant cheerleading coach Andy Cosferent on the hair spray, water bottles, and shoes that are popular among the squad that stars in Netflix's Cheer.
Morgan: Rebel sponsors us for our uniforms, our cheer shoes, and our bags. The whole team has the same brand of cheer shoes, but there are two different models we can choose based on support or style — the Ruthless and the Revolt. The Revolt is more of a knitted, sock-type shoe. It's more flexible and breathable. The Ruthless has more ankle support and is a little more firm. I switch back and forth, depending on the day. If my ankle's feeling sore, I'll wear the one that has more support. And then, other days, when I'm just doing my own thing, I'll switch back. All cheer shoes are very lightweight because it's harder to transition and tumble and flip your body over with a heavier material.
Andy: We like to keep a very clean, college image, so we want to match the white socks with the white shoes, for sure.
Morgan: For practice, we're wearing our Rebel cheer shoes and either black or white Nike socks, whether tall or short. And then we have Nike Pro shorts. Most of us wear black typically. Then we wear Lululemon sports bras (or Nike Pro sports bras). It depends on the girl, and certain things can be pricey, so preferences vary. Our school sponsors us with Under Armor T-shirts, so we typically wear those. A lot of the stuff that we have is Dri-FIT, which is very helpful. We want to make sure that we're comfortable and ready to work.
Andy: As for the guys, it's basically the same. The Rebel shoes, probably black or white Nike socks, Lululemon (or Nike) athletic shorts. And then, like Morgan mentioned, we're sponsored by Under Armor, so we wear a lot of those shirts to practice.
Morgan: Because they're white, we typically do not wear our cheer shoes outside, except for in Daytona. So we'll typically walk in to practices in slides (or tennis shoes) from Adidas or Nike. It makes it easy to just put your cheer shoes on and get ready.
Andy: Guys like Calvin Klein underwear because its comfortable while we're moving and flipping our bodies over. It stays tight and it's comfy for multiple hours.
Morgan: Same for the girls — many wear Calvin Klein seamless underwear, so you can't see it through your Spandex. It's comfortable, breathable. We don't really tend to do the lacy, crazy stuff. We tend to go for comfortable underwear.
Morgan: Most of us go from class to practice, so we use our backpacks for all of our everyday needs. We use it for school, for traveling as a carry-on, and also for practices and competitions. We all have this black one with "Navarro Cheer" embroidered onto it.