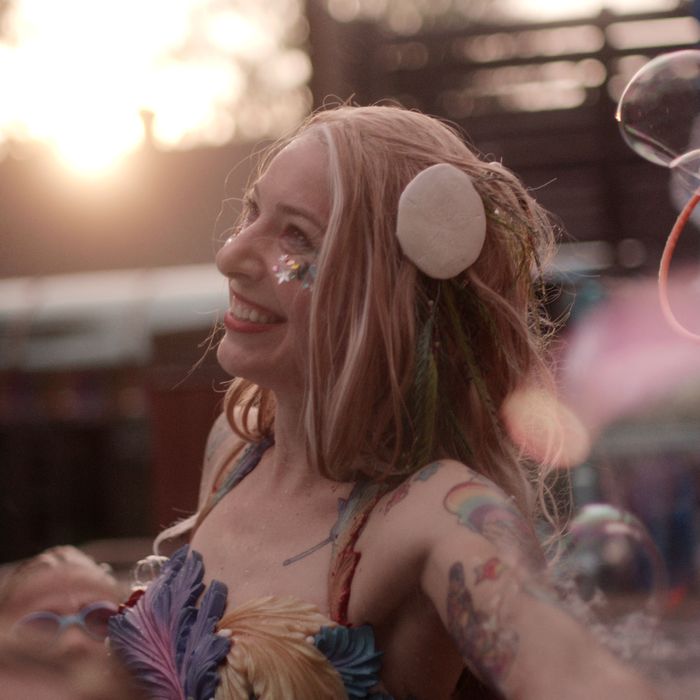 Status can be a funny thing. Of course, it is most obviously expressed through shiny hardware and easily recognizable logos, but it gets far more interesting when you start to observe the more subtle signals — the way you tuck your shirt, what you eat for breakfast, or your particular brand of notebook can mark you as in or out. And of course, what counts as a status item varies widely across human tribes. In our series "Insider Goods," we're talking to members of different tribes (some with their real names, some anonymously) to learn about the niche status items among Broadway actors, ballerinas, or brain surgeons.
Today, we hear from professional mermaid Sparkles, a star of Netflix's docuseries MerPeople, on the waterproof setting spray, seashell tops, and tails that are popular among professional merpeople.
Getting into my mermaid gear can be a complicated process. Just getting into the tail takes some serious decision-making. Each tail I own works best with certain different monofins. I've got a huge collection of monofins, at least ten to 12. I've tried them all, and my personal favorite monofin is the Linden. It's a very versatile fin that fits inside most fabric tails from beginner tails to more professional-grade tails. It has great propulsion. The straps are adjustable, so you can make them as tight or as loose as you need to. And it fills out the tail shape better than the other monofins I've tried.
I have at least 15 to 20 tails. I'm a collector. Most of them are fabric tails and then I have three more high-end, professional-grade tails, including one full silicone tail. I use my fabric tails for more casual swims. On days I just feel like dressing up like a mermaid and going to the pool, most of the time I'm just going to throw on a fabric tail because they're easier to get into and swim in than the heavier ones. Everyone loves Finfolk, Mertailor, Merbella, and MerNation. Those are the really popular tail-makers.
And then I've got two Mythic tales, which are made by Finfolk Productions, probably one of the most popular mermaid brands on the map. The body of the tail is made of neoprene with individual scales sewn onto it, so it makes a clickety-clackety sound. They are awesome but you can lose the scales easily, so I avoid swimming in those in open waters where they can affect fish and the environment.
Silicone tails are made from scratch. They generally cost around $2,000 to $4,000. You design it with the tail-maker and discuss the kinds of fins you want, what kind of fluke you want, the color scheme, the designs, the stripes, the spots, and then you and the creator tweak it together until you have your perfect, unique tail. Silicone tails are required for certain professional tank gigs or mermaid work like Circus Siren Pod because they're the most realistic. For my silicone tail, I chose Mermaid Regalia. She's a tail-maker based in Canada. She's kind of underground; not as many people know about her.
I'm usually always wearing neoprene socks, regardless of which monofin I'm wearing, because I have a very small shoe size and most fins are typically too big for me. My favorite pair of socks that I've bought over and over are the 3MM Slinx Hexagon Diving socks that cover my ankles; they help prevent rubbing and blisters and help my fin fit more securely. The neoprene also provides extra warmth. It's not that much, but when your feet get cold in the water, the rest of your body starts getting cold.
If I'm wearing a fabric tail, I'm always wearing a pair of swim leggings underneath. This makes getting in and out of the tail less awkward and provides an extra layer of fabric on the skin for a bit of extra warmth and comfort. I also love to wear them to the pool or to work. It's very, very common to see other mermaids show up in some kind of scale-print swim leggings. Finfolk Productions makes the most popular, iconic ones. They're the brand that turned me on to swim leggings, so I've always been a loyalist. I've got at least 15 pairs of Finfolk leggings and counting, but I also have pairs I love from Mertailor, Spacefish Army, and Neverland Tails.
Jurassic Merman is a merman performer who makes really amazing silicone tails. In a very short amount of time, he made a gap wrap for me from scratch to match my silicone tail, and he then rushed it out to me for the biggest performance I've ever done out in Vegas. A gap wrap is basically a silicone waistband that helps suction your tail to your body to help it fit even better. It also helps with blending because a lot of times with silicone tails there's a harsh line where the tail meets the skin. When you're wearing a gap wrap, the scales look more like they're blending up into your body.
You have to lubricate to get the silicone tail on. Most of the time, people will lubricate their feet, their ankles, their calves, their knees, all the way up to their thighs and all over the butt because you have to get that silicone up over you and it's skin tight. I go through a lot of lube. A lot. A standard, personal-size bottle from Walgreens is good for one swim. So I try to buy in bulk. It's really important to use only water-based lubricant because the oils from other kinds, like coconut-oil lube, for example, can wash off into the water and mess up filtration systems. I actually got one of these confiscated at the airport one time. I forgot it was in my luggage. They were like, "Ma'am. You can't bring this much lubricant on the plane."
When it comes to mermaid tops, I really prefer a silicone one. They're so comfortable, and I appreciate the way silicone tends to cling to the skin in the water. Silicone tops are considered high end because they're more realistic and more durable. They usually run around $300 a pop, but they're a good investment. They're going to last longer in the water, so I save up for them. There are so many different silicone-top-makers. My current favorite is Mermaid Kariel, who's based out of Hawaii. I'm flat chested, so her tops fit me the best. A lot of the mermaid crafters are strictly mermaid crafters, but some, like Kariel, are working mermaids as well.
As I'm doing my makeup, I layer on a waterproof setting spray. My favorite secret-weapon setting spray is ProSeal, by European Body Art. It always does the trick. I will be swimming for hours, and people will eventually be like, "Wow, your makeup is still on. How the heck do you do that?" I'm like, "ProSeal, baby." My tip is to apply it in layers. I put on my base, ProSeal it, put on one layer of eyeshadow, ProSeal it, put on another layer of eyeshadow, ProSeal it. I could spray my face five to ten times throughout the whole process. You really have to layer it and kind of cake it on, like cement it to your face.
For waterproof mascara, I swear by Too Faced Better Than Sex. When it comes to pigmented eyeshadows, Glamlite Cosmetics eyeshadows are super-pigmented and just layer on really well. There are so many different colors and shines.
If I'm gluing jewels or lashes onto my face, I use several layers of extra-strength waterproof eyelash adhesive. The trick is to make sure your skin is clean and free of oils. First, I usually wipe my skin with light rubbing alcohol on a cotton pad. After two to three layers of glue have turned clear and tacky, then I apply the embellishments. Gently press down in place until the glue is dry.
I always wear a netted wig cap so any pins or clips I press through my wig can go through that, too, for extra security. I secure my wig cap with a silicone wig band, which helps keep the wig from slipping so much in the water. I always make sure there are claws sewn onto the inside of the wig around the edges. Most of the time, I have to sew in extra clips and claws. I prefer a lace-front wig because gluing that lace down well will keep the wig on in the water and look more natural.
Just like the jewels and the lashes, I do two to three layers of wig glue on clean skin. From what I've found, not all glues that say they're waterproof are actually mermaid-standard waterproof. My trusted glue is the Bold Hold Extreme Cream.
It's important to have plenty of rubbing alcohol to remove the glue from your wig, face, and lashes when it's time to take it all off. Side note: Rubbing alcohol won't work for everybody.
I've just really lucked out when it comes to my skin type; it doesn't really affect me that much.
After my wig is in place, I like to adorn it with hair clips, pieces, or crowns. My favorite waterproof crowns are made by Wunderland Arts. She's amazing. I've been following her for years and years and years. All the most popular, most famous mermaids have her crowns. She makes exquisite pieces. She has been a crown-maker in the mermaid community for as long as I can remember.
My ear-maker is the Green Sorceress. She's from Texas and has been making my ears, both waterproof and non-waterproof, for the past several years, and they've become an iconic part of my look. Now that she makes ears for so many people, she has kind of become established in the mermaid community. Her ears are very recognizable.
Mermaid Aquata is my favorite glove-maker. She has made a couple of pairs of silicone gloves for me. They cost around $300 and have to be shipped from overseas because she's based in France. But I send her my hand measurements and she makes them custom. I have a pair of clear silicone ones that make it look like I've got clear webbing between my fingers, and she made my creature ones that have green webbing with black nails attached. Gloves help with propulsion in the water; they help you glide through it more easily. You can definitely feel the way they grab the water as you swim.
QilinOddities makes silicone tops and shell tops and really amazing necklaces, some of my absolute favorites. She dabbles in mermaiding in addition to being an amazing maker. She has created a few custom necklaces for me that are just so dear and near, and her work is completely waterproof so I can swim in it.
Hippocampus Creations makes seashell- and starfish-shaped weights that you add to your weight belt. Weight belts are for buoyancy, basically. If you're doing a deep dive or you've got to keep a lot of air in your lungs for free diving, you'll put weights on because, naturally, you're going to be pulled to the surface. The weight is what will help keep you down so you can stay down in the water without fighting that buoyancy. Mermaids also use weights to find their neutral buoyancy, which is that sweet spot where you're just going to float in the water without sinking or rising to the surface. I'm kind of a sinker anyways. I don't really need weights, except for deeper dives or when I'm diving in saltwater since saltwater is more buoyant.
The Strategist is designed to surface the most useful, expert recommendations for things to buy across the vast e-commerce landscape. Some of our latest conquests include the best acne treatments, rolling luggage, pillows for side sleepers, natural anxiety remedies, and bath towels. We update links when possible, but note that deals can expire and all prices are subject to change.