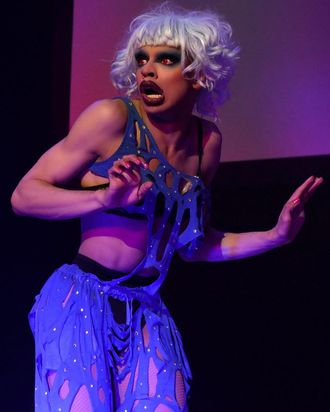 Status can be a funny thing. Of course, it is most obviously expressed through shiny hardware and easily recognizable logos, but it gets far more interesting when you start to observe the more subtle signals — the way you tuck your shirt, or what you eat for breakfast, or your particular brand of notebook can mark you as in or out. And, of course, what counts as a status item varies wildly across human tribes. In our series "Insider Goods," we're talking to members of different tribes (some with their real names, some anonymously) to learn about the niche status items among Broadway actors, ballerinas, or brain surgeons. 
Today, we hear from Yvie Oddly — winner of RuPaul's Drag Race season 11 and current performer on the upcoming Werq the World Tour, which comes to New York City on October 19 — on the tights, setting powder, and snacks that are popular among drag queens.
Lots and lots and lots of tape. I use a bunch of different types of tape for all the different things I do in drag. When I'm tucking myself I use vinyl dance floor tape or boat tape because it's elastic. When I'm just making an outfit, I either use gap seal tape or packing tape. And I use gap tape to embellish my costumes sometimes. I tape my extra head skin back with my tucking tape as well, and lots of queens tape their heads just to keep their wigs on.
Lots and lots and lots of glue. Hot glue's really good for quick costume fixes or just odd crafting jobs. And superglue is super-essential for so many different things in drag, like keeping your nails on, or jewelry — even though it's not recommended to superglue things to your head. I use Elmer's glue sticks to glue down my eyebrows, and Spirit glue (a costume adhesive) to keep my wigs down, and hair bonding glue to keep my lashes on. All the adhesives, drag is sticky.
I've only been a Ru girl for eight months, and so far have spent six of them more away from home than not. I've had to learn how to become way more organized and budget my time well, and still fit in time to take a bath or rest if need be. I actually take a whole slew of vitamins every single day, including Emergen-C. I always like to pack some kind of CBD oil to rub on my joints and sore bits — it helps with the pain. I don't have a favorite brand, I keep experimenting. I'm still looking, I'm on the search.
Now that I've started touring quite a bit, I've gotten to see what really works for me. I like to buy some of those tiny, collapsible, fabric travel bags that help you organize things, so I can put outfits in there. And gallon-size bags are so helpful to keep everything in order while I'm on the road.
I use the standard iPhone headphones. I have different playlists for everything, but my getting ready playlist is mostly rap, because it's a really cool headspace to get in, it makes you feel confident, and makes you feel like you can do anything, which is a good energy to take into drag.
Backstage, we like lots of tiny little finger snacks and candy, because drag queens need to eat too, we're human beings. But when you're cinched, padded, tucked, and taped, there's not necessarily always space for real food. Personally, I like hot Cheetos and Red Bull.
Right after you're done wearing heels you still need to have something on your feet so that you don't get tetanus at every party. I've got a pair of Adidas that have lasted forever, I wore them on Drag Race. And I wore them like years before that too — they're my go-to. They're black and white, but because we weren't allowed to have logos on the show they have a bunch of green tape splotched over with like, specks of glitter.
Pleaser is really the biggest go-to heel brand. However, I've started going to this brand called Onlymaker — they have a lot of really cute shoes for gigantic-footed women.
Sriracha, that's real. I just need it. I've found that a lot of the places I go to have really good food, and it's super-enjoyable, but Sriracha just makes me feel at home.
Whether it's a monkey onesie or my old roommates giant coat — I need a security blanket that's big and fluffy. I get cold easily and I'm also tired a lot, so I take impromptu mini naps whenever I'm not super-busy. It's just nice to have something that I can use as a pillow or as a blanket. When I see a cute onesie anywhere in public I'll grab one, but all of the ones I have right now are Amazon buys. I know I'm not the only queen who's done it, I've seen Bob [the Drag Queen] in onesies, I believe. I just know I'm for sure reppin' the onesie game strong, especially in the winter.
As much beauty goes into drag, a bunch of ugly comes the fuck out of it. When you're up on stage, under these hot lights, in seven pairs of pantyhose and like, couch cushions strapped to your body, you're just sweating, and if you dance you're completely soaked. Often during traveling, you don't really have time to let your stuff air out, so you'll pack it up when it's still wet. And if you don't have a washer-dryer quick and handy, you still have to smell like a lady.
You need to get good dancer tights, because they're meant to last longer. I always get Capezio or Bloch. I buy mine in suntan, because my color doesn't shift a whole lot throughout the year.
There are some queens who you can pay to make padding for you — that's what I've had to do now because of lack of time — instead of actually sitting down and carving them out. However, something that anyone can do is get a little block of foam either from an old couch or from Hobby Lobby or Jo-Ann's.
I use Fenty and Ben Nye for my foundation. I use Ben Nye to cover the parts of me that are super-manly, like my mustache and my jaw. And then for the parts of me that don't require such heavy makeup, I use Fenty. It's a half-and-half blend.
To set everything, I do half with Ben Nye's bare setting powder and half with Coty Airspun powder. I started using Ben Nye because I used to paint like a theater clown, but a lot of the beauty queens I work with who look soft and Photoshopped turned me on to the Coty Airspun.
For makeup remover, ideally I try and use oils, like coconut oil, but if I'm in a pinch I always just use a makeup wipe. I don't like any of them, they all sting my skin. I haven't found one that really works for me, which is why I use an oil base first, then a wipe to clean the oil off.
On tour, it's recommended to bring your own makeup mirror, especially if you're a makeup perfectionist, because there's always some crazy lighting situation. I brought one of the cheaper ones on Amazon, but I haven't used it for the past six months.
For lips, I usually go for Jeffree Star. I use one as a lip liner and then I use a different one as a lipstick. I use every color of the rainbow — that's also why I love Jeffree, he's got brilliant colors. But the white one is the best. I'll also use that as my eye makeup, we'll use it as a base.
With wigs, I know the brands that are popular for everyone, but I really don't have any obsession. I know right now 1-800 Wig Takeout is hot, there's Serving Lace out of Colorado, and there's Wigs and Grace. I just like to go down to the local hair store and see what the craziest colors or cuts of wigs they have. On tour, I don't like to wear a lot of heavy hair because I'm a really theatrical, physical queen, and don't want it ruining my makeup. And I don't need to be any hotter.
To style my wigs, I only use scissors, and maybe a little bit of Got2Be.
The Strategist is designed to surface the most useful, expert recommendations for things to buy across the vast e-commerce landscape. Some of our latest conquests include the best acne treatments, rolling luggage, pillows for side sleepers, natural anxiety remedies, and bath towels. We update links when possible, but note that deals can expire and all prices are subject to change.