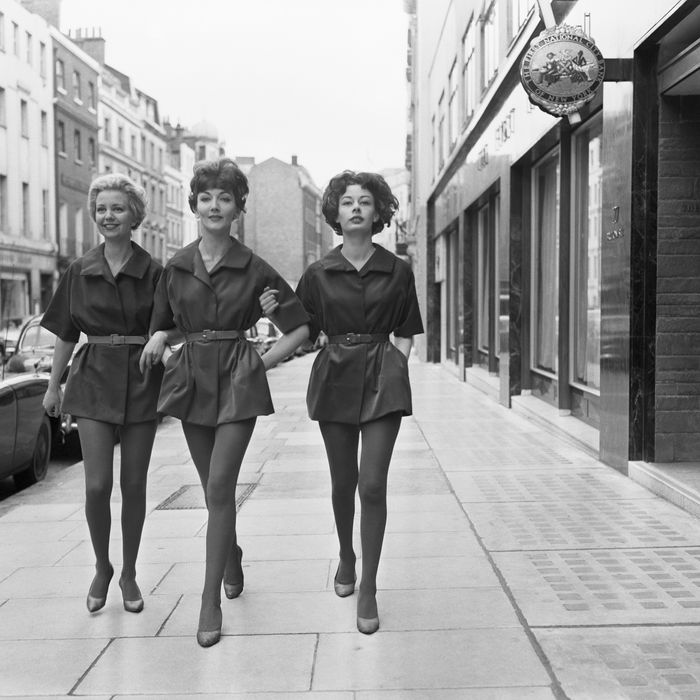 The darker the better.
Photo: Bettmann/Bettmann Archive
I live in Southern California, where we only need warm clothes to fight the chill in over-air-conditioned movie theaters, but I like wearing tights at all times because they easily answer the question: "Is this dress too short?" With a pair of super-opaque tights on underneath, the answer is always, "Nope." But not just any tights will do — for my money, it's black tights only, all the time. And that means blackout tights: completely opaque without even a hint of sheerness.
I've purchased and worn almost every style of opaque black tights currently available for sale, from the drugstore to Barneys — because while they may seem interchangeable, there really is a different pair of black tights that is the right pair for every wardrobe occasion. After several decades of searching, I've found my six favorites — the only ones you'll ever need.
These are the black tights I would have designed if I could quit my day job and design black tights for a living. They are total blackout tights (basically pants in stocking form) and labeled 200 denier (a unit of measure that indicates the density of fibers). They have a little bit of sheen that makes me feel like a ballerina when I wear them. I am five-eight and 140 pounds, and these hit me at mid-hip — and have only the tiniest bit of roll-down right at the waistband. They don't pill or snag, no matter how many cocktail rings I accidentally drag across them. The only thing is, they do have that annoying control-top bit built in, but finding a pair of opaque tights without that particular feature is like finding a date in the produce aisle: In theory, it could happen, but it's not likely.
This is my go-to black tight. I wear them everywhere — to work, to bed, on the airplane, at the gym. I buy them by the fistful, and I've never had to throw a pair away for a runner — they are indestructible. For a measly eight bucks, it's hard to find fault with them, but if I were to go looking, I'd say that (1) they come up a bit too high (these hit me at the bottom of my ribs), and (2) they have the built-in control top, which is visible if you wear them with an ultrashort skirt. They don't tend to roll at all though, so the trade-off is acceptable. Labeled 120 denier, these tights are still super-opaque — meaning I can't see my ankle tattoos through them. Compared to H&M's, they're more matte, so I style them with any outfit that the H&M tights are a bit too shiny for. They come in sizes small/medium up to a 2X, which can accommodate up to a women's size 24. (A side note: These tights are billed as being part of Target's brand-new "A New Day" line, but they are identical to their Merona-brand "Premium Tights" of years past, right down to the toe seams.)
If you're wearing a body-con dress or skintight skirt, spend the extra money and get yourself a pair of Commando's very-matte-black, totally sheer-to-waist tights. Even though they are only rated 70 denier, they are still quite opaque. Most importantly, though, they are control-top-free. That means you can wear them with the shortest of skirts and not have that annoying line across the top of your thigh, as with most tights. Commando has even eliminated the hideous elastic waistband regular tights have that can dig into your flesh, and cleverly replaced it with a sleek microfiber waistband that renders them sleek, smooth, and invisible under clothes — meaning no lumps, bumps, or visible seams at all. (Commando also makes my favorite invisible underwear, so this should come as no surprise.)
Fleece-lined tights have a very thin, fine, layer of toasty polar-fleece material built right into them — they are one of Mother Nature's very best inventions. They add very little extra bulk to your cold-weather look, but pack a wallop of warmth — it's like wearing a sweatshirt on your legs. I packed this pair by Plush when I made the mistake of visiting Chicago in January, and felt zero wind chill — even though I was wearing skirts the entire time. (If you're looking for a bit of extra warmth at a lesser price, try Target's bargain version of fleece-lined tights. They aren't quite as warm as the Plush versions, but for $12, they're a steal.)