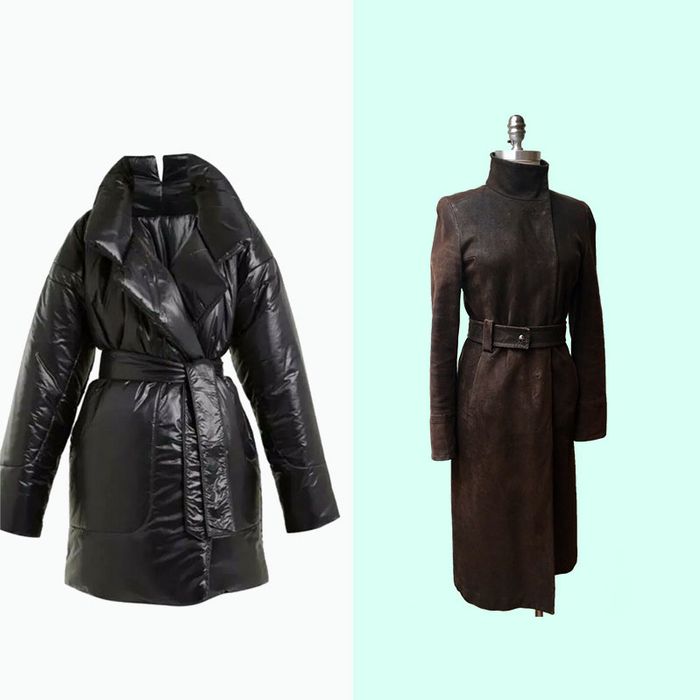 A Norma Kamali "Sleeping Bag" coat, leather Jil Sander trench, and Dries van Noten silk evening jacket, sourced from eBay and Poshmark.
Photo-Illustration: retailers
I couldn't tell you when exactly it started, but for years I've searched obsessively on eBay, Poshmark, and the Real Real for everything and nothing in particular. The hunt is as meditative as it is thrilling. And it tends to go in phases: There was a weeklong search for limited edition Richard Ginori butter pats that were made for Alitalia airlines (they make good trinket dishes). There was the hunt for an exact replica of the olive-green Patterson J. Kincaid trench coat that I bought at a Nordstrom Rack in Massachusetts in 2011, left on a Metro North train five years later, and had to replace. (That one was easy: eBay and Poshmark are rich markets for suburban-adjacent mid-aughts clothing.) I've attempted to locate a leather Agnès B. snap cardigan, without success, for years.
I've sold on these sites, too. There was a Dôen top I never wore, priced at $125, that sold within two minutes of my uploading it to Poshmark (Dôen, in my opinion, is essentially as reliable as Apple stock). I'm still holding a grudge against some guy in Oregon who accused me of selling counterfeit when he purchased a pair of orange Maryam Nassir Zadeh leggings that I bought at their sample sale two years ago (they weren't).
Rarely am I searching for anything particularly valuable or exquisite. More than anything, it's about the search — so welcome to the "The Online Thrifter," where I'll be chronicling my own secondhand online rabbit holes, and offering some advice about how to get what you want on these sites. This week, the search for fall and winter coats on eBay, Poshmark, and the Real Real.
Buying a fall or winter coat
A winter coat is an ideal kind of thing to shop for secondhand: You probably know your number size, you've touched enough coats in the world to know if you want wool or cashmere or a polyester blend, and the keywords can be fairly straightforward, whether it's "camel belted wool overcoat" or "Margaret Howell for Barbour." That said, sizing can vary from era — as a fellow eBay-obsessive friend said to me recently, "Never buy a secondhand coat from the '80s." (Unless you're explicitly looking for big shoulder pads.) I made this mistake last fall, while hunting for a leather blazer on Poshmark, and ended up with a Gap jacket from the early-'90s with shoulder pads that made me look like an Uncut Gems–obsessed linebacker.