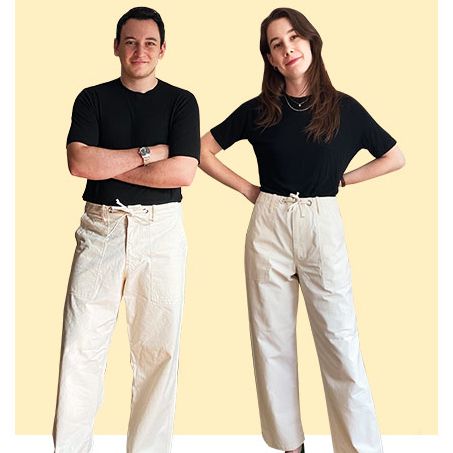 Photo: Courtesy of Louis Cheslaw and Hilary Reid
While just about any item of clothing could be unisex, lately we've been noticing a whole crop of specifically unisex — or genderless — brands popping up, including Ijji, Tekla Sleepwear, and ILYSM. We've also seen many existing brands release their first unisex collections. Our first reaction to this trend was excitement at the chance to try new, interesting designs in colors and fits that we may have been unfamiliar with. But we had some questions, too. Namely: Have brands willing to see gender as nothing more than a construct gone far enough to create products that actually fit our existing wardrobes — and, more importantly, our very different bodies? To find out, we zeroed in on one of these brands — Ijji —and asked if we each could try on a few of the same garments.
Why test IJJI?
One reason we were drawn to Ijji — a line of genderless, minimalist clothing that launched in 2016 — is because the clothes just looked like things that we wanted to wear. And since it has been making genderless clothing for a few years now, we were curious to see if (and how) the brand had perfected the craft. The clothes at Ijji looked like garments we might borrow from a stylish boyfriend or girlfriend or other-gendered pal — which was a baseline we considered while conceiving of this project. We ultimately chose six pieces to test out: a trench coat, a pair of pants, a pair of shorts, a silk shirt, a chore jacket, and a T-shirt. Below, we discuss our takeaways after wearing each.
Surprisingly, we found some of the clothes that had seemed inherently genderless — like the T-shirt — failed to truly live up to the brand's unisex claim. Others, like the pants, exceeded our expectations. On the whole, Louis liked more things than Hilary did, and two of the pieces — the trench and the silk shirt — failed to impress either of us enough to say anything more about them than that. Ijji's clothes, we should note, come in a range of sizes from XXS to XXL (though some items, like the silk shirt, are only available in XS–XL). We've noted the size of each garment we tried in our specific reviews below.
Hilary Reid: These pants, which come in white or black, were my favorite of the things we tried. They had some design details, like the drawstring at the waist, that I think make them work well for women. And I love that the legs aren't too wide and have a nice straight cut. Over the past few years, a lot of workwear-inspired pants for women have had a cropped fit and a slight flare to them, and as a person with longer legs, I appreciate the full length on this pair.
Louis Cheslaw: These were also my favorite of all the pieces. They look very stylish and are also very comfortable. They went with all my sweaters, hoodies, and T-shirts, as well as with all of my sneakers, boots, and brogues. Whenever I see white men's pants with this much room, it's almost always a pair of painter's pants, which have those hooks of fabric on the sides that seem a little too too if you're not actually a craftsman. So these feel like a great, pared-down painter's pant that seemingly work for both men and women. And, for what it's worth, I'm a 36 waist, which corresponded to an Ijji XL.
HR: The drawstring really accommodates hips and a waist; it makes them easier to wear as a woman because you have this element of adjustability. When I've tried men's pants or even menswear-inspired pants, I often find that they'll either fit through the hips but gap at the waist, or that the waist will fit but the hips will be too tight, which I think is because the straight cut is not really designed for a person with hips. The drawstring on these remedies that — I wore a size small, but you could go as big or small as you need to fit through the hips, and then cinch the waist so it fits without gapping.
LC: I also grew to love the drawstring. At first it was confusing to have an athletic detail on a workwear trouser, but since I've only worn these while working from home, the combination is kind of perfect. I have muscular legs but also a bit of a belly (what you get when you love biking and diner food), so the more space and adjustment opportunities in a pant, the better for me.
HR: When it comes to the material of the pants, I found it to be pretty similar to the upholstery on a couch … but in a good way, I think? I actually wore them on a day I went to test out some couches at Crate and Barrel, and a sales associate was like, "Oh, you're blending in with the couch!"
LC: I would say definitely in a good way. I'm so sick of the polyester feel of sweatpants at this point. Being able to wear something with a little texture — as this canvas has — that's also breathable, feels great.
HR: So the other bottom we got was the shorts, which come in black and camel. What'd you think of these? They have a pleat and a ten-inch inseam, which I was excited about — longer shorts for women have felt fresher and more stylish lately. On first impression, the shorts looked a little more masculine to me than some of the other pieces we tried — the pleat and the thicker cotton material reminded me of preppy men's khaki shorts. But when I put them on (again in a small), they actually looked a little dressy. I wanted to wear them out to dinner with heeled sandals and a nice top — though I'm sure they'd look equally cool with sneakers and a white tank top.
LC: I actually really liked these as well. The XL size again fit very comfortably and was also flattering. They're structured but quite long — a combination that's very different from the shorts I usually gravitate toward, which are either short and fitted, like my Banks shorts, or long and flowy, like my Champion mesh shorts. I'd never worn pleated shorts before and worried they might attract attention to an area I'd rather hide, but their wide-leg, heavyweight-cotton construction doesn't hug anything too tight and gives them a more rugged, "up for anything" feel, even with the dressier pleat detail. When I wear them, I feel like a French schoolboy in an old movie — they have a kind of nostalgic, old-world appeal.
HR: I am on the taller side (5'8"), so the shorts come to just above the knee on me, like a pair of Bermuda shorts. The waist-to-hip ratio is also good on these — they fit my waist without gapping, but feel comfortably loose through the hips. And the length and waist, coupled with the pleated front and loose leg openings, make the shorts kind of elegant in a way that I wasn't expecting.
LC: That's a great word. It's hard to find elegant shorts that aren't stuffy, and these definitely are an example. Normally, the combination of a button-down with "dressy" shorts feels a bit too contrived to me. But with the pleat down the middle, these are somewhat reminiscent of a suit trouser, so there's something more effortless about pairing them with a blazer or button down. They also have deep pockets, which are great for keeping things secure on bike rides when you want to lean into their rugged-ness. I biked in them along the Brooklyn Waterfront Greenway and they handled the task comfortably. And because the pocket runs so far down the thigh, I wasn't worried about my phone or wallet slipping out.
What
Louis
liked,
but
Hilary
didn't
LC: For me, the T-shirt (which comes in white, black, and "cadmium" orange) was also successful. There are feminine touches — the longer sleeve, the tighter neckline, and the material — which feels far softer and a little more plush and shapely than that of your typical men's T-shirt. But I really love that about it; the shirt feels so soft on my skin. Normally, men's tees, or at least the ones I gravitate toward, are either made of rugged, heavy cotton or an ultralight performance fabric. Perhaps because of this tee's fabric, it hugged my arms in a way that I really liked; it made my biceps look bigger than they are. And even though it feels a little tight in the sleeves, it doesn't feel tight on my body. I actually tried it in a medium and a large; I'm normally a large in T-shirts, but the medium in this fit me better.
HR: I totally agree about the fabric — it feels really high quality, nicely made, and very soft. That's interesting about it feeling more feminine. I can see what you're saying. For me, wearing this felt more like I was in a women's shirt that just didn't fit. I tried an XS, and it still just kind of hung on my body, even though I usually wear a size small in women's tops. Maybe it would work better on a larger-chested woman, but on me it kind of just looked like a flat square.
LC: Where was it the most obvious that it wasn't fitting right?
HR: It was straight up hanging. I did like where the sleeves hit on my arm, but something about the mock neck made the fit a little strange. I can imagine thinking that it looked good on a man, but it was just too shapeless for me.
LC: I loved this, too, but mainly as a matching off-white set with the canvas pants. Because it also comes in black, you could match it with the black canvas pants, too.
HR: Yeah, it's a good outfit. I like the jacket's material a lot — it's made from a lightweight canvas cloth. And the cut is interesting; I tried a small, and it fit more like an oversized shirt or closer to a standard Oxford than a chore jacket. What did you think about the length? The small hit at about my upper thigh, which I think is a flattering length for this style of coat. And I liked how subtle the buttons are — they're in a similar shade to the coat's canvas, so they blend in well.
LC: On me, the XL I tried fell right at my waist, which I liked. I could tell, though, that my broader shoulders helped with that fit — they just made the whole garment fall a little straighter. Beyond the fit, which felt just right (not too tight, not too roomy), I really like the collar, which gave my rounder jaw area some angles to work with. I also like the near-invisible buttons and the wide-but-subtle front pockets (which I was able to slot an issue of New York Magazine into nicely.) Honestly, subtle is the main word I'd use for this jacket. Like with the pants, I felt as though Ijji stripped down the quintessential chore jacket, which can often be overly masculine in design, into something more fashionable and genderless. To me, it felt like I was finally able to wear a chore jacket without coming across as a farmer bro or wannabe carpenter from Greenpoint.
HR: That's a really good point about not broadcasting that you're a farmer. I think the coat has a bit more of a cosmopolitan take on a typically rustic style. It's sleeker. I guess the problem I had with it is that the cut of the sleeves is a bit too rounded for me. I'm not particularly broad-shouldered, so I didn't feel like my frame supported the amount of fabric in the sleeves. Still, I really appreciate the idea of freeing pieces like a chore coat or a pair of pants from the need to be gender-specific and making them more neutral. I think that's a quality we felt excited about both in Ijji and in the larger trend of genderless and unisex clothing.
LC: It's definitely boxy, which works for me, but I can see how it wouldn't on you. I wonder if the easiest way for them to say 'unisex' with this was just to be like, "Technically, anyone can wear this because it's big enough."
HR: It's almost like they designed this thinking that the fabric required to accommodate a man's shoulders could somehow also accommodate a woman's chest. Like, "it's all the same quadrant of the body." But that thinking doesn't always translate. This coat did fit perfectly fine through the chest, it just felt a little droopy through the sleeves.
LC: Yeah. It's not like each body knows where to allocate excess fabric.
HR: That would be the ideal unisex garment.
The Strategist is designed to surface the most useful, expert recommendations for things to buy across the vast e-commerce landscape. Some of our latest conquests include the best acne treatments, rolling luggage, pillows for side sleepers, natural anxiety remedies, and bath towels. We update links when possible, but note that deals can expire and all prices are subject to change.