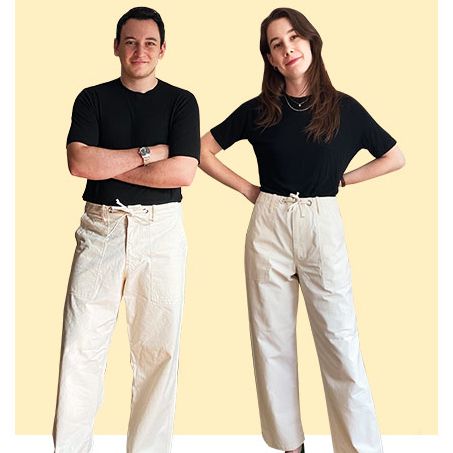 Photo: Courtesy of Louis Cheslaw and Hilary Reid
While just about any item of clothing could be unisex, lately we've been noticing a whole crop of specifically unisex — or genderless — brands popping up, including Ijji, Tekla Sleepwear, and ILYSM. We've also seen many existing brands release their first unisex collections. Our first reaction to this trend was excitement at the chance to try new, interesting designs in colors and fits that we may have been unfamiliar with. But we had some questions, too. Namely: Have brands willing to see gender as nothing more than a construct gone far enough to create products that actually fit our existing wardrobes — and, more importantly, our very different bodies? To find out, we zeroed in on one of these brands — Ijji —and asked if we each could try on a few of the same garments.
Why test IJJI?
One reason we were drawn to Ijji — a line of genderless, minimalist clothing that launched in 2016 — is because the clothes just looked like things that we wanted to wear. And since it has been making genderless clothing for a few years now, we were curious to see if (and how) the brand had perfected the craft. The clothes at Ijji looked like garments we might borrow from a stylish boyfriend or girlfriend or other-gendered pal — which was a baseline we considered while conceiving of this project. We ultimately chose six pieces to test out: a trench coat, a pair of pants, a pair of shorts, a silk shirt, a chore jacket, and a T-shirt. Below, we discuss our takeaways after wearing each.
Surprisingly, we found some of the clothes that had seemed inherently genderless — like the T-shirt — failed to truly live up to the brand's unisex claim. Others, like the pants, exceeded our expectations. On the whole, Louis liked more things than Hilary did, and two of the pieces — the trench and the silk shirt — failed to impress either of us enough to say anything more about them than that. Ijji's clothes, we should note, come in a range of sizes from XXS to XXL (though some items, like the silk shirt, are only available in XS–XL). We've noted the size of each garment we tried in our specific reviews below.
Hilary Reid: These pants, which come in white or black, were my favorite of the things we tried. They had some design details, like the drawstring at the waist, that I think make them work well for women. And I love that the legs aren't too wide and have a nice straight cut. Over the past few years, a lot of workwear-inspired pants for women have had a cropped fit and a slight flare to them, and as a person with longer legs, I appreciate the full length on this pair.
Louis Cheslaw: These were also my favorite of all the pieces. They look very stylish and are also very comfortable. They went with all my sweaters, hoodies, and T-shirts, as well as with all of my sneakers, boots, and brogues. Whenever I see white men's pants with this much room, it's almost always a pair of painter's pants, which have those hooks of fabric on the sides that seem a little too too if you're not actually a craftsman. So these feel like a great, pared-down painter's pant that seemingly work for both men and women. And, for what it's worth, I'm a 36 waist, which corresponded to an Ijji XL.