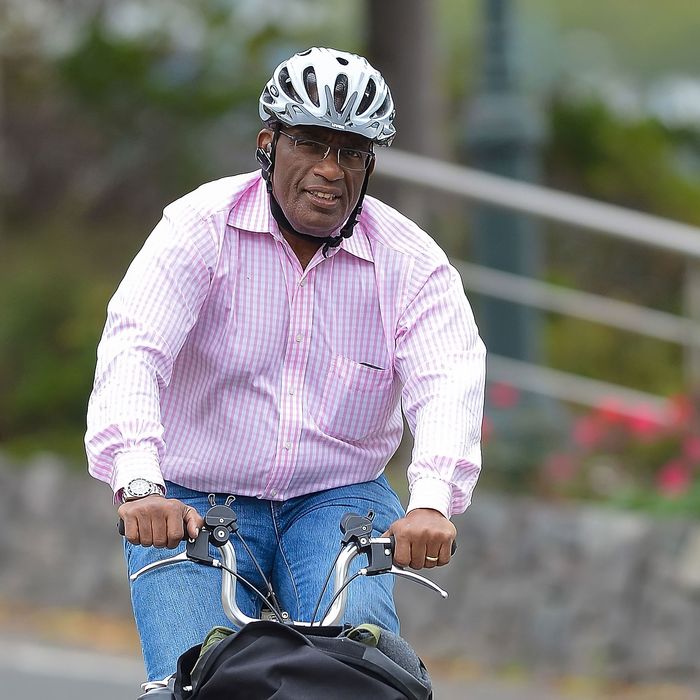 Photo: David Krieger/Bauer-Griffin/GC Images
Although there are many factors to consider when buying a new helmet, you don't have to worry about one particular model being less safe than any other. That's because all bike helmets sold in the U.S. already meet the safety standards set forth by the Consumer Product Safety Commission, so whatever you buy, you're covered — at least in terms of safety. Other factors, like style, visibility, ventilation, weight, comfort, and price come into play, but perhaps the most important thing to get right, according to Alex Strickland, editor in chief of Adventure Cyclist magazine, is fit.
"Fit can be very right or very wrong," he says, so he suggests you keep trying until you find something that feels good. He also reminds you to position the helmet correctly on your head. "You'll see a lot of people wearing them really tilted back, which doesn't give your face or your forehead any protection." There should be about two fingers' distance between your eyebrows and the front edge of the helmet, and the strap should fasten tightly.
Beyond that, try to match your helmet to its intended use as much as possible. For example, if you live somewhere hot, you'll want a helmet with lots of ventilation. If it's cold where you are and you think you'll be wearing some kind of cap or beanie underneath, then make allowances for that. Road cyclists who care about speed will want something light, aerodynamic, and well-ventilated. City commuters (once most offices are available to go back to), however, might prefer options that fold for easier storage. And a mountain bike rider would be smart to get a helmet with a visor to protect from flying rocks and debris. (If you're looking for a helmet for kids, we've got you covered there, too.)
According to John Watson, from cycling blog the Radavist, one thing all riders should consider is a helmet with MIPS technology, a lining inside the helmet that helps protect against brain injury if you fall. "I don't see ever wanting to own a non-MIPS helmet," Watson says. "It's your life you're talking about."
The other big decision, which is maybe a tiny bit less important (even if it doesn't always feel that way), is how the helmet looks. "I've found over the years that if a helmet is not bulbous on the head and is a bit more pleasing to the eye, people will wear it more," says Kyle Kelley of Golden Saddle Cyclery in Los Angeles. "It's so easy to not put one on," says Strickland, so knowing yourself and getting something you like gives you more incentive to wear it. As Charlie McCorkell of New York City's Bicycle Habitat puts it, "The helmet you wear is the best helmet."
To help you find a helmet that you'll want to wear (and look good while doing so), we consulted an array of bike sellers, cycling bloggers, riders, and other experts. Here are their favorites.
Best bike helmet
The Giro Cinder represents "the latest and greatest helmet design," Kelley says. It's light (234 grams), has MIPS technology, and the same Roc Loc 5 Fit System found on their more expensive helmets. It's a great option for everything from commuting through the city to serious road riding.
Best (less expensive) bike helmets
Both Kelley and Watson love the Register as an inexpensive, lightweight, entry-level helmet with MIPS. Great air flow, good venting, and mini visor make it a great all-around helmet for city, dirt, or road riding.
Watson loves this helmet, which has MIPS and comes at a great price without sacrificing features or being heavy. It also features Smith's VaporFit adjustable-fit system for great fit and comfort.
This style combines the comfort of a commuter helmet with the ventilation you'd want for more intense biking. Unlike some "fashion-based" helmets, which are inspired by skateboard and snowboard gear, this one offers ample air vents for keeping your head cool whether you're biking to work, road cycling, or traversing bumpier routes. It has a "static yoke below the ear so the straps don't tangle when you hang it on your handlebar when not riding, and it never needs adjustment after the first fitting," McCorkell says. That yoke is also great because, while most helmets need readjustment, this one doesn't — the yoke keeps the strap in place. "This is my favorite helmet feature, as the helmet is always ready to go when you are."
Best commuter bike helmets
Christina Torres, founder of City Girl Rides, says she has been "obsessing over Thousand bike helmets for their retro look, functionality, and sustainability practices." Sitting pretty at the intersection of form and function, the brand unsurprisingly was mentioned by several of the experts we spoke to. "While the design is clean and simple, the helmets have innovative features that include vegan-friendly straps, a creative pop lock to help leave your helmet with your bike, and a simple-to-use, pinch-free magnetic clasp," says Lauren Jones, manager of marketing and product development at Brilliant Bicycle Co. Kelly agrees that a lot of customers are really liking this helmet for the city.
One of the first companies to offer MIPS, POC recently developed their own new technology called Spin. "Instead of a plastic liner that moves independently of the helmet, Spin is silicone injected into the foam pads inside the helmet that slips side to side," Strickland says. He calls this "a supercomfortable, well-ventilated helmet" that comes in some highly visible colors that are great for commuters and features "a lower profile fit, so you don't have a bobble head feeling so much."
A classic city helmet from a German company known for making everything from bike helmets to home security systems, the Abus "has the equestrian look a lot of people want," Kelley says. Ryan Zagata, president of Brooklyn Bicycle Co., praises the Hyban's durability, lightness, and utility, citing its multiple vents and integrated LED rear light for improved visibility.
Zagata calls this helmet "stylish yet incredibly functional," adding that it offers "an abundance of ventilation to keep your head cool while riding." It also has a removable visor to shield your eyes from the sun. The combination of these features, Zagata says, makes this one "a top-notch city helmet."
Best road-biking helmets
Watson likes this MIPS helmet, whose top-of-the-line looks and styling are on par with the pro peloton but at a fraction of the price. It's a nice weight (270 grams for the medium), has good ventilation, and features the same BOA fit system favored by top cycling brands and manufacturers.
Instead of MIPS, this helmet features an even newer impact-reduction technology called WaveCel. "It looks kind of like a honeycomb," says Strickland, who explains that Bontrager used to put WaveCel only in its high-end helmets, but now "it's sort of trickled down to this $100 price point." Also, "it's super comfortable. You don't notice that it has this extra layer of stuff in it," he says. This helmet received a five-star review from Virginia Tech, which does independent impact testing that's said to be more thorough than the testing done by the Consumer Product Safety Commission.