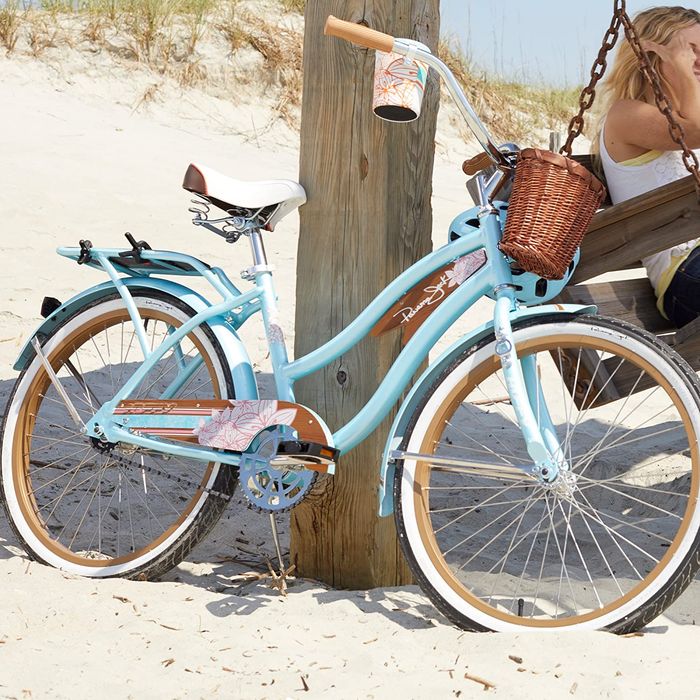 We've written about lots of bikes before — including the best commuter bikes for beginners, the best bikes for kids, and the best exercise bikes — and here, we've rounded up the best cruiser bikes, as praised by the most enthusiastic reviewers on Amazon. One word of warning: Bikes of all kinds have been in high demand over the last few months, and many of the cruisers on this list take one to two months to ship.
Related Articles: Best Electric Bikes | Best In-Stock Bikes Under $1,200
Best-rated cruiser bike
"I love the combination of chill beach cruiser with the functionality of the 21-speed," says one reviewer, and that combination of gears with comfort is what draws many reviewers to this bike. "It's an excellent choice for those that live in areas that aren't completely flat," writes on reviewer. It also makes it a better option if you want to do more than just beach or neighborhood riding. "The 21 speeds allows for more versatility and riding on hills, so I highly recommend 21 speeds over single or 7," one says, while another notes, "This bike is fun to ride and no hill is too big a challenge with all the gears." More than 40 percent of reviewers describe the bike as comfortable, and more than 100 say that it's still a smooth ride even with all the gears. One who put a baby seat on the front even says, "People freaked that I rode with my 13-week baby, but it truly is a smooth ride."
Best-rated (less expensive) cruiser bike
"I think it's the perfect combo between an old-fashioned beach cruiser and a new-school chopper-style cruiser," evaluates this reviewer. Another just calls it "very beachy," adding, "it looks and rides great." One reviewer admits she hasn't owned a bike since she was a kid but "couldn't be more excited about this bike." She explains, "I did a lot of research to find a beach cruiser that was high quality without the unreasonable price tag. This bike is the best of both worlds." Many more were entranced by the looks of this bike, with one describing it as having a, "classy, retro vibe, makes me think I am at the beach everyday when I ride." And one reviewer speaks to the ease of assembly, as well as the overall quality, even at this price-point: "Not only was it really easy to put together (by myself, while drinking), it's just such a wonderful bike! It's smooth, responsive, handles great, I love it. And for the price I'm honestly amazed."
Best simple men's cruiser bike
There are a few different versions of this bike, but many reviewers opt for the 26-inch, one-speed version and praise it for how simple it is. "Digging the simplicity of having a single speed bike with a coaster brake again," one reviewer writes. "Less maintenance and less to worry about. Looking forward to taking this out for my neighborhood errands, and rides out to bars and cafes in my town." Dozens of reviewers also like this bike for rides around the neighborhood. "This bike, my first purchase from Sixthreezero, is noticeably more comfortable and downright more enjoyable to ride than my mountain bike, at least around the neighborhood," one writes. "I've probably already biked 20-30 miles at this point and no issues as of this writing." Another says "The bike is quiet and smooth without gears and works well if your terrain isn't too hilly." About 20 percent also describe the bike as comfortable, even for bigger guys. "I'm a big guy at 280lbs and this bike holds me up just fine and the seat is better than expected," one writes, while another says they "Finally found a comfortable bike my 6'4" husband will ride." The concern with buying bikes on the internet is how hard they might be to assemble when they arrive, but reviewers say this one is pretty easy. "The bike went together super fast, instructions were idiot-proof, and the quality of the components and frame was pretty good," one writes. "If you are looking for a low-cost beach cruiser that is no frills, cool, and durable for overall general riding, this is the bike."
Best cruiser bike with basket
"I love the look of this bike and have already been complimented on it," writes one reviewer of this classic-looking cruiser. "It is comfortable to ride and the basket and cup holder are really handy." One reviewer who bought it for their daughter calls the basket a "cute addition," adding, "She likes to carry either a bluetooth radio or a stuffed animal with her when she rides." Not only does it have a basket and cup holder, but many reviewers were pleasantly surprised to find it "even has a bottle opener on the front fork … how cool is that." The assembly is also easy. One reviewer writes "It comes almost fully assembled out of the box," and many say it only takes between 20 and 30 minutes to put together.
Best stylish cruiser bike