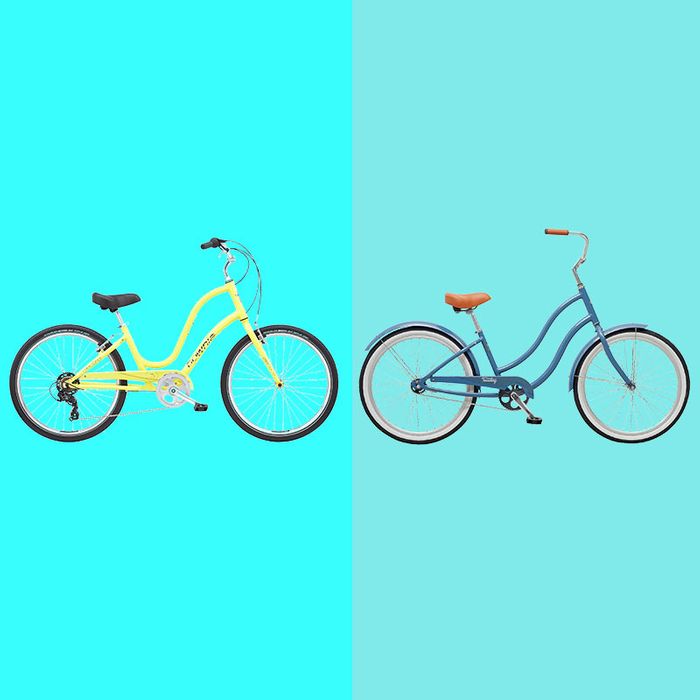 Photo-Illustration: The Strategist; Photos: Retailers
With their coaster brakes, balloon tires, and wide handlebars, beach cruisers are intuitive and fun to ride. Ideal for farmers' market trips and bar crawls, they suit casual or anxious cyclists who don't want or need to invest in high-maintenance street bikes. Nostalgic in look, they come in endless colorways and customization options — but if you don't love a retro aesthetic, many newer brands tone down the '50s shtick and add modern conveniences like hand brakes, gears, and pedal assist. Below, find the best cruiser bikes according to veterans of boardwalks and beach resorts across the country, as well as a few inland enthusiasts.
Best overall | Best less expensive | Best electric | Best colorways | Best retro | Best contemporary | Best for the boardwalk | Best for the bar crawl | Best for island time
Frame: Beach-cruiser bike frames are typically made from either steel or aluminum, the latter being lighter and more durable, albeit pricier. The difference between the two is weight, says Lee Oldak, owner of Amagansett Beach and Bicycle Company, and the fact that aluminum won't rust quite as quickly. Whatever they're made from, the best cruiser bikes have a stretched-out, step-through geometry that allows the rider to assume an upright position, or even lean back as they pedal. "Which is a lot more comfortable for your knees, and also allows you to touch the ground more easily," says Chelsea Kulp of Long Beach Island's Shore Brake Cyclery. She adds that riders who haven't been on a bike for a long time will feel more confident on cruisers.
A poorly designed cruiser bike will have a cramped frame and cheap parts that rust and rattle. For that reason, our experts suggested avoiding mass-produced cruisers from brands like Huffy, which Kulp says have a smaller frame that will provide a less relaxed ride. They're also somewhat disposable, being only "meant to last 30 or 40 miles in their entire lifespan." Rockaway Beach Cycles co-owner Marjorie Grassini agrees: "Those are the ones people end up putting the most money into. They could have had a beautiful, brand-new bike for the same price."
Gears: Classic beach cruisers are single-speed. While this might mean some occasional huffing and puffing, the trade-off is basically never having to service the bike or think much while riding it. Even so, most manufacturers will now allow you to upgrade their cruisers to either three-speed or seven-speed gear systems. Several of our experts suggested that a few gears are worth the investment if you don't live in a totally flat area. "People are not keen on going for a single speed unless they're really quite young," says Rocky Wood of Bike Palm Springs. "Three to seven gears go a long way, there's less resistance, and you can cover more ground. It's a nice plus." What you choose will ultimately depend on your lifestyle and budget.
Brakes: Another trademark of beach cruisers is coaster brakes, which require pedaling backwards to stop. Whether or not you're down to coast is "definitely a generational thing," according to Wood. "It comes down to how you learned to ride a bike and whether you grew up with a coaster brake — those people tend to stick to that style." He personally finds it much safer to have two hand brakes on his cruisers, and most of the cruiser bikes recommended here do offer coaster brakes as standard, with hand brakes available as an upgrade. If you're looking for anything more advanced, a cruiser might not be for you. And keep in mind that the more moving parts a bike has, the more maintenance and know-how is required — which doesn't necessarily fit into the beach-bum lifestyle. "Some hybrid bikes will have hydraulic brakes, but typically not cruisers, which are oriented towards people not maintaining them," Kulp explains.
Best overall
Aluminum frame | Seven-speed | Hand brakes
Californian brand Electra kicked off a beach-cruiser movement in the late 1990s when it started manufacturing fat-tire bikes that resembled vintage Schwinns. "They came out with these beautiful bikes, beautifully engineered and painted really nice," recalls Brad K. Evans, founder of Bike City Mag and the weekly bar-crawl ride Denver Cruisers, who became a "cruiser guy" during this era. Oldak explains that the Townie is beloved for its clever "foot-forward" design that's easily spotted all over the Hamptons. "Typically on a bike you'd have the seat up far enough that there's only a slight bend in your legs, and you can't quite touch the ground," he says. "On the Townie, the seat is positioned behind the pedals so when you're resting, your feet are flat on the ground." More of a contemporary cruiser, Townies come with seven-speed Shimano shift gears, as well as pull brakes on both handlebars. Comfortable to ride and cute to look at, these quintessentially SoCal bikes are our best overall pick for anyone serious about adopting the (extremely unserious) beach-cruiser lifestyle. (Which might explain why they're the No. 1 selling cruisers at Amagansett Beach and Bicycle and available to guests at both the Hyatt Regency Huntington Beach and Hyatt Regency Newport Beach.)
Best less-expensive
Steel frame | Single-, three-, seven-, and 21- speed | Coaster brake 
SixThreeZero's Instagram-ready cruisers are relatively affordable and come recommended by Hayley Shaw, co-owner of Newport Beach Bike Rentals. The store's entire fleet is made up of these cheap and cheerful cruisers, which look great in vacation photos (hers is teal blue). They also "have a fabulous crank," she says of the bikes, meaning you can go farther. Though not as high-end as Electra cruisers, Shaw's rental bikes have held up well to daily use on flat (yet sometimes rather sandy) bike paths: "Our first fleet lasted about three years. No maintenance, just some oil on the chain, fill up the tires, and wipe her down." She adds that the bikes, which can be customized up to 21-speed, are also surprisingly rust resistant.
Best electric
If you have bad knees or plan on biking off-boardwalk, a pedal-assisted cruiser bike might help. Alix Umen, co-owner of the Starlite Motel in Kerhonkson, New York, fell in love with Retrospec's Beaumont electric cruiser while on a beach vacation — so she ended up purchasing a fleet for guests to use when exploring state parks and swimming holes. The bike's battery is discreet, and its aesthetic is still "modern retro" enough to match the motel's lovingly restored rooms. Plus, the pedal assist comes in handy on rail trails and back roads. Umen was a newbie to electric bikes and says Retrospec's are great for beginners. "There's not much to it, and the batteries charge in a couple of hours. I'm totally obsessed with them now." She also notes that the bikes have luggage racks that make it easy to haul a suitcase — or packed picnic — around.
Best colorways
Steel frame | Single-speed | Coaster brake
Several of our experts also mentioned Retrospec's relatively affordable nonelectric cruiser bikes. They're a best seller at Rockaway Beach Cycles, as well as the stars of the store's rental fleet. Grassini explains that customers are immediately drawn to the brand's vintage styling and enjoy customizing their rides with baskets, banana seats, and other accessories. "We get people who come in here and fall in love with the color of a bike," she adds. "Especially one customer who buys everything red — we call him Mr. Red."
Best retro
Steel frame | Single-speed | Coaster brake
If you really want to lean into — or rather, lean back into — a vintage aesthetic, Tuesday's bikes are the cruisers of choice at Bike Palm Springs, where they feature in photos backdropped by retro motels and pools once swum in by Frank Sinatra. "A lot of influencers have reached out to us because of the style of the bikes," Wood says, adding that he's noticed that the cruisers are mostly for tourists coming to explore architecture and see the sights. Still, when it comes to any bike, looks aren't everything — and he's found that the Tuesdays can withstand "a good amount of wear and tear," as well as that punishing desert heat.
Best contemporary
Steel frame | Single-speed | Coaster brake
Californian brand Linus goes slightly more minimalist with its European-style Dutchi cruisers. While these bikes still have that sloping, step-through frame, their tubes are thinner and sleeker than those of other cruisers. The colorways are also a little more Pantone. "People see them and just want to ride," says Matt Wright, general manager of the Skyview Los Alamos, Hotel Ynez Solvang, and the Granada Hotel in San Luis Obispo. Linus bikes are available to rent for guests who want to pedal their way around wine country at all three resorts, where they're a hit. "People immediately start taking pictures before they go down the hill," Wright adds. Speaking of hills, these cruisers can be upgraded to three-speed for added efficiency.
Best for the boardwalk
Steel frame | Single speed | Coaster brake
During a two-year stint living in Venice Beach, lifestyle blogger Kat Jamieson couldn't help but notice that all the locals were getting around "on these amazing Solé cruiser bikes," which feature a Dutch-style step-through frame that's a little more subtle in its retro stylings. She picked one up for herself to explore her new neighborhood, often encountering the company's founders (a group of "down-to-earth Californian guys") when pedaling around. "I was looking for a neutral color, a beach cruiser I could ride on the boardwalk at night and to the beach during the day," she says. "The style, the quality, the price was right." Jamieson's since moved to Connecticut, and her Solé bike came too — she also recently purchased one for her husband.
Best for the bar crawl
Steel frame | Single speed | Coaster brake
Evans has quite the collection of single-speed bikes, but he says his favorite is this "old-school" cruiser. He'll take his out on Thursday-night social rides in Denver, and loves the bike for its combination of functionality and classic, slightly rockabilly good looks. "It's super retro [with] the arched dual crossbar," he says. "It's affordable, really sturdy, and easy to ride — feels like an old bike, but it's brand-new." In his past life as a bike-shop owner, he says he sold hundreds of Huntington cruisers "because they're so slick and cheap." You can expect your Huntington Beach bike to last a while, and should any maintenance or repairs eventually be required, Evans adds that the cost of parts is reasonable.
Best for island time
Steel frame | Single speed | Coaster brake
If you're taking your beach cruiser to, well, the beach, Sun bikes was a brand mentioned by all the boardwalk experts we spoke with. "They're built for a salt environment," says Kulp of the "very traditional-style cruiser." Sun's cruisers are "really, really well-built bikes," agrees Rocio Cabas of Blazing Saddles Bike Rentals and Tours on Governors Island. "They just last." Sun-cruiser bikes are also popular in Key West, where Eaton Bikes owner Chris Wild says they are the "mainstay" of his sales. "They come in gear options and lots of colors, a lot of which look and feel very tropical," he says. "We sold three just today."
Our experts
• Rocio Cabas, manager, Blazing Saddles Bike Rentals and Tours
• Brad K. Evans, founder, Denver Rides and Bike City Mag
• Marjorie Grassini, co-owner, Rockaway Beach Cycles
• Kat Jamieson, lifestyle blogger and influencer
• Chelsea Kulp, co-owner, Shore Brake Cyclery
• Lee Oldak, owner, Amagansett Beach and Bicycle Company
• Hayley Shaw, co-owner, Newport Beach Bike Rentals
• Alix Umen, co-owner, Starlite Motel
• Chris Wild, owner, Eaton Bikes
• Rocky Wood, owner, Bike Palm Springs
• Matt Wright, general manager, Skyview Los Alamos, Hotel Ynez Solvang, Granada Hotel San Luis Obispo