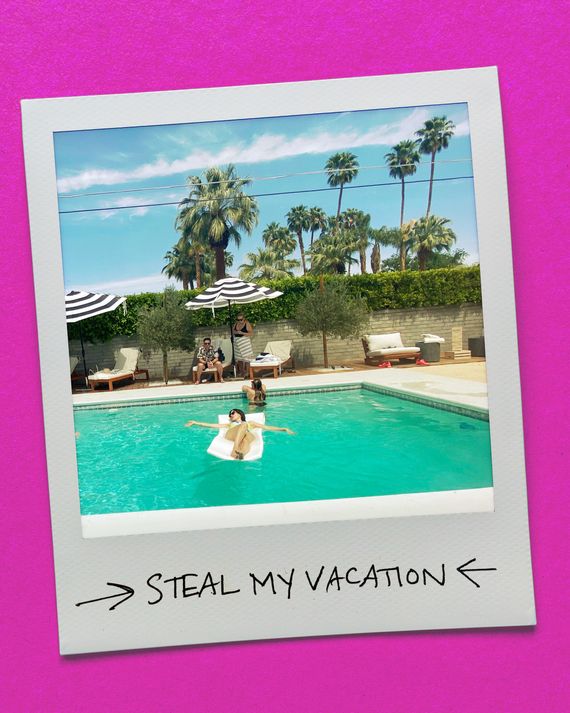 Photo-Illustration: The Strategist; Photo: Roanne Adams
Everyone knows that person who spends weeks sniffing around travel blogs, going deep down into Tripadvisor rabbit holes, collecting Google Docs from friends of friends, and creating A Beautiful Mind–style spreadsheets to come up with the best vacations and itineraries possible. In this recurring series, we find those people who've done all the work for you, and have them walk us through a particularly wonderful, especially well-thought-out vacation they took, that you can actually steal.
This April Roanne Adams — who runs the creative studio, RoAndCo — threw a (vaccinated) 40th birthday in Palm Springs with 25 friends. She became a regular out there during the pandemic, and zeroed in on her favorite not-kitschy Airbnb. Here she shares her favorite vintage furniture spots, not-too-hot hikes, and the retro-ish swimsuits she made sure to pack.
12 p.m.: Leave L.A. mid-day
If you're driving from Los Angeles, leave in the middle of the day. You want to avoid the 4 p.m. Friday rush, which adds an hour or more onto what's normally an easy hour-and-45-minute drive. There's less traffic than before the pandemic, but it's ramping back up. New Yorkers can fly direct into Palm Springs International Airport instead of LAX, which is totally worth it if you're just planning on being in Palm Springs.
2 p.m.: You don't have to stay at the Ace
My husband and I went to Palm Springs a bunch this past year, when we couldn't travel by air, and we stayed in several Airbnbs until we decided to buy a house to rent. This time, we wanted to get a big group of old friends together, as a coming-out-again party after a life of reclusion. We stayed with friends at an Airbnb, the Hey Casita (from $656 a night) which sleeps eight people and is so well-designed — not kitschy like some other Palm Springs houses. And we used our under-construction house as an event space. There's this great site, Boutique Homes, that lists more mid-century modern rentals and event venues for bigger groups. Just make sure you rent a house with a pool. Our other friends stayed at the Ingleside Inn (200 W Ramon Rd.; from $237 a night), an old Hollywood, Spanish Colonial–revival hotel that was built in 1922. It's glamorous, but very humble — not showy, and not as loud as the Ace Hotel.
8 p.m.: Get a porterhouse and a martini at Melvyn's
We also like Ingleside because Melvyn's, the classic Palm Springs restaurant, is there. We had Friday night dinner in one of the private rooms, which can seats dozens. We got dressed up and did an Old Hollywood glamour theme; no one went over-the-top Marilyn Monroe, but we put on real dresses with low necklines and structured sleeves for the first time since COVID. We had a prix-fixe menu, but the thing about Melvyn's, though, is it's a steakhouse — just get yourself a martini and a porterhouse. Dessert was delicious though, a molten chocolate cake. The bar environment is really fun there, too. They have a piano player and a singer, and people stand around and sing along. When we went in April the pianist was outside, because of COVID. The Ingleside also has a fire pit by the pool, so after dinner we got drinks from the bar and sat around the fire.
7 a.m.: Hike before it gets too hot
A bunch of people woke up early to hike. There are amazing hiking trails, but I'm partial to the South Lykken trailhead at the end of our street, Mesquite Avenue, because if you dedicate two hours and are okay with hiking straight up a mountain, you end up at a waterfall. Get on the trail by 7 a.m., because Palm Springs temperatures can get up into the 100s during the day, but it's quite cool in the morning. If you're hungry after hiking, there's Cheeky's (622 N Palm Canyon Dr.), this classic brunch spot that's been around forever. It's very decadent-rich, a place to get a stack of pancakes or waffles.
1 p.m.: Bike to the vintage stores
A friend who's a stylist led a troupe of ladies on a bike tour of the vintage shops. Palm Springs is very flat, so it's a bike-friendly place. You don't have to rent the bikes; the hotels and Airbnbs all have bikes available. Vintage shops are a thing in Palm Springs. My friend's favorite stores are The Frippery (664 N Palm Canyon Dr.) and Mitchell's Palm Springs (106 S Indian Canyon Dr.). At this point in my life I prefer buying vintage furniture over vintage clothing, and Palm Springs has so many stores. The people who work in them are really into what they're collecting and selling, so it's really fun to talk to them. Go to Hedge (68929 Perez Rd.) or Bridges Over Time (2500 N Palm Canyon Dr.) for midcentury modern furniture and old Hollywood finds. Palm Springs is known for that mix.
4 p.m.: Soak in a hot spring
I actually wasn't on the vintage-shop tour, because I stayed at home and got a massage. We have this awesome masseuse in Los Angeles who was like, sure, I can come for the day as long as you have five people who want massages. He ended up giving ten massages. My friends who use him on a regular basis would be so mad at me if I blew up his spot, but there are places to go in Palm Springs: Korakia Pensione (257 S Patencio Rd.) is known for being very calming — you feel like you're in Greece, it transports you — and there's some noise policy thing where you have to talk quietly. Twenty minutes away in Desert Hot Springs, there's also Two Bunch Palms (67425 Two Bunch Palms Trail), an adult-only spa where you sit in these tubs of hot spring water. It's amazing, a great day trip. Right now those soaking tubs are only open to guests, but I believe day passes might come back this summer. You can also book a private hot spring soak for two people through Airbnb Experiences. For a whole evening you sit in an earthen hot tub and watch the sunset behind the mountains.
7 p.m.: Shake up some mezcal margaritas
For my birthday dinner on Saturday night, one of my best friends, Gina Aglietti, cooked a Mexican-style meal with fish tostadas inspired by Contramar, the restaurant in Mexico City. She's the owner of Yola Mezcal, so she brought in mezcal to make smoky margaritas — on the rocks, with salt — and a cake with edible flowers from this incredible cake maker, Saehee Cho, in Los Angeles. If you're going out for Mexican food, go to Las Casuelas Terraza (222 S Palm Canyon Dr.). It's a fun atmosphere. Just get tacos and margaritas, it's not complicated. After dinner we danced by the pool to everything from Nancy Sinatra to Roxy Music, and people jumped in the pool — or got thrown in. After that we had a fire pit, obviously, to warm everyone up after they came out of the pool, freezing cold.
10 a.m.: Bike over to the Bob Hope house
If you're interested in the architecture, Modernism Week usually happens once a year in the spring, but there are tours year round. I haven't gone on any, but I like to bike around and see the homes: There's the 1962 steel Wexler house (290 East Simms Road), and the Bob Hope house by John Lautner (2466 Southridge Dr.) up on a hill. It's this crazy dome shape. It's a private residence, but that's where I'd want a tour.
1 p.m.: Walk to a waterfall
After that, head to Indian Canyons. It's a natural oasis with waterfalls where you can go swimming. It's less of a hike and more of a rigorous walk to get there, but wear sneakers and clothes as if you're hiking. Pack a picnic lunch from On the Mark (111 N Palm Canyon Dr #155), a meat-and-cheese provisions shop in town that makes sandwiches and sells guacamole and olives and stuff. You can go midday because there are tons of palm trees — natural ones, not imported or planted ones — that cut the heat. The Cahuilla Indians own the canyon, and it's beautifully preserved. Keep your camera handy — when I was there we saw a huge family of peninsular bighorn sheep.
8 p.m.: Grab duck-fat frites before leaving town 
Workshop Kitchen and Bar (800 N Palm Canyon Dr.) is an ideal Sunday evening dinner. The restaurant was built in an old movie theater, and they have a big outdoor patio, but it's definitely a nighttime spot. I think their fish is amazing, and they're known for the duck fat frites. The Coleman Farms lettuces is just a great salad. The bar menu also has beautiful cocktails; I had the M-80 last time, it's mezcal and tequila with ginger juice, lime, and grapefruit oils. And by the time you're done eating, you've already skipped the traffic driving back to Los Angeles.
Roanne's
Palm
Springs
Packing
List