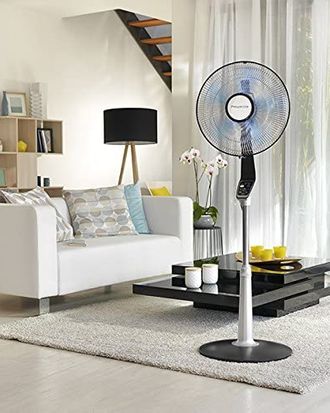 With the summer months just around the corner, you might be looking to invest in some warm-weather gear, like patio furniture and outdoor chairs. But while you're at it, you should probably pick up a fan as well to keep you cool while you (probably) spend most of the summer inside. We've written about a bunch of different things to cool you off, including the best desk fans, tower fans, and ceiling fans, but here we are featuring the best cooling floor fans on Amazon for every size room, apartment, and house out there.
Related Articles: Best Window Fans | Best Window Air Conditioners
Best-rated floor fan
With well over 5,000 five-star reviews, Lasko's Wind Curve oscillating fan towers above the rest. Standing 42-inches tall and featuring three speed settings, the T42951 is a tower fan that reaches right up to bed height so you can "get absolutely drilled in the face by that cool, angelic wind current," in the words of a reviewer who described their purchase as "a voucher slip out of a damn heat stroke." "Within five minutes of turning this thing on it was like an angel had come down from heaven and began to personally blow cool air on my face," a reviewer sweating in the swamps of Louisiana wrote, adding that even "a barely functioning human being" could assemble a Wind Curve "within 15 minutes AND without crying."
Beyond its ability to effortlessly cool whole rooms, this fan's been commended by satisfied customers for its stability, sleep timer, remote, noise that's "on the quiet to average side," and classy faux-wood finish. As one reviewer who drunkenly purchased one to escape the midwest heat sums it up: "I don't even remember how much I paid for this fan, but it was totally worth it."
Best-rated (less expensive) floor fan
"For about $26, you're getting a solid air circulator," says one reviewer of this small floor fan. Over a dozen reviewers compare it to the brand-name Honeywell fan — which we've named the best compact floor fan — like one who says it's "not much bigger than the Honeywell, yet it feels more substantial." He owned the Honeywell for "years," but now he plans to stick to the AmazonBasics brand because it's less expensive and just as good. Another compares it to the Vornado compact floor fan that we called our best fan for bedrooms, noting that even though it has one less speed setting, it's just as "well built and strong for the money." He calls this fan "the real deal," so if you're looking for a cheap but effective fan, this one works great. He warns that it's "a little loud on the highest setting," but that's easy to look past, apparently, because he says, "I'd buy this fan again in a heartbeat."
Best floor fan for children and pets
Though the Cyclone's mere 20-inch size and low price point may lead reviewers to believe it's a tabletop model, don't be fooled: It's "powerful for the price, construction, and weight," in the words of one owner. And multiple reviews tout its bang for the buck, easily blowing box fans out of the water at a comparable price. When set on low, the fan "blows as hard as the 20-inch box fan on high," notes one reviewer, describing it as "by far the best fan I've ever owned."
"The design is great for people with children or pets, [since] there's no way to knock this fan over," one reviewer adds. Reviewers also note that the Lasko 3520 is a great way to boost the power of an existing AC unit, with one reviewer noting that it can "circulate the cool air from my air conditioner and spreads the cool all over my apartment."
Best tower floor fan
Customers say this tower fan is great for circulating air in areas that are closed off, like a breakfast nook, where one reviewer uses it to "direct air flow to all who sit around the table" when it's particularly hot out. She also likes having it out by the pool: "This fan gives a nice breeze and helps evaporate any perspiration on your skin, which cools you off." Another reviewer calls this fan "one of the best investments" because not only does it circulate air well, but it's also "very quiet so you almost forget it's on." The tower fan also has eight different speeds, and one customer says even the highest speed still is fairly quiet. Plus, it has a "small footprint," so it can fit in smaller rooms and spaces.
Best tower floor fan for small rooms
Reviewers like that this Lasko tower is easy to assemble, requiring no tools and "just a few screws to attach the base to the main unit." And once that's out of the way, you've got your hands on a "butt-kicking, tornado-starting wind monster," which one reviewer describes as "one of the best fans, period." Lasko 2510 owners commend its functional remote, which makes it "very customizable as far as speed, oscillation, etc." Its enthusiastic owners also appreciate how small of a footprint this tower fan takes up, making it a worthy buy for anyone with limited space but still wants powerful, cooling relief. As one reviewer writes, "I'm surprised at how powerful this slim design is. I like that it can fit anywhere since I have limited space. The highest speed , which is 3 is quite sufficient for my needs. I have it positioned pointing toward my bed and it's quiet enough so as not to disturb my husband and not to blow us away like other fans."
Best floor fan for bedrooms
This compact Vornado unit has a number of reviewers holding it up as the perfect option for keeping a confined space cool without springing for an extra AC unit. "I went through an entire summer using just this fan. I never once turned on the AC regardless of how humid some days got," writes one reviewer, who was also surprised by how quiet the lowest settings were. "The amount of air it blows at even speed 1 is great, and it's extremely quiet. At 2, you can start to hear some noise, but the noise output is still next-to-none when you compare the amount of air being blown to any of its competitors (and even the lesser models in the same family)." That's part of the reason why it's often used in bedrooms. One reviewer, who lives on the southern California coast, writes, "Instead of having a regular fan rotating back and forth across the room and blowing air at the plants, the stove, papers, and on me intermittently, the Vornado 660 circulates the air in the entire space, cooling the whole room down. This is especially nice in the bedroom because when the regular fan turns my way and blows air at me, I get cold in the night."
Most quiet pedestal fan
Nearly 900 five-star reviews use the word "quiet" to describe this oscillating fan from Rowenta. One reviewer even says, "It's so quiet, sometimes I forget it's on." But despite its minimal audible footprint, and the plastic blades, it moves a lot of air. "When we set it up and used it last spring, I was MORE than pleased with its overall quality (it even has a weighted base), its attractive appearance (the fan blades are transparent enough to seem almost-absent), and wow, does it do the job. QUIETLY. A powerful flow of air almost silently," raves one reviewer who keeps it in their bedroom.
Best retro-style pedestal fan