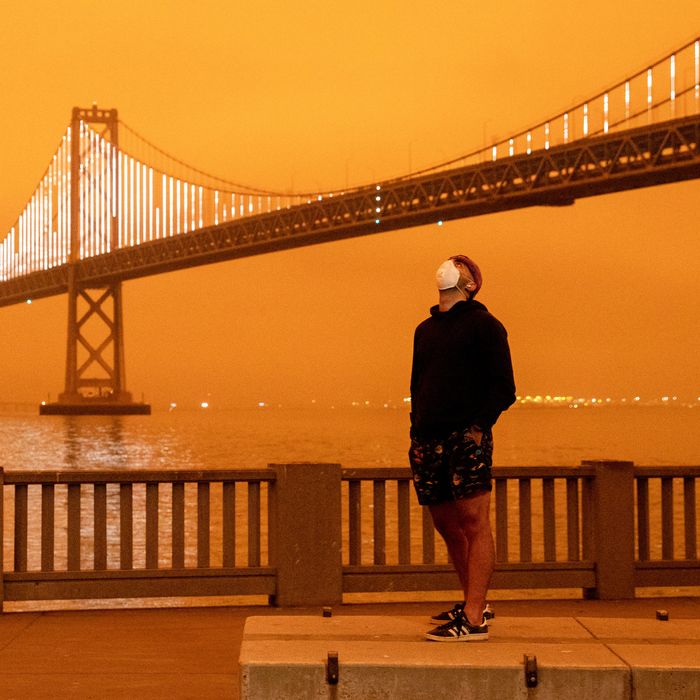 Photo: San Francisco Chronicle/Hearst N/Getty/Hearst Newspapers via Getty Imag
As wildfires become tragically regular occurrences in Oregon, Washington, and California and winds blow smoke across surrounding areas, millions of people on the West Coast and beyond are being exposed to hazardous levels of air pollution. Robert Gillio, a pulmonary critical-care physician, says smoke inhalation can cause coughing, scratchy throat, burning eyes, shortness of breath, headache, fatigue, and even asthma attacks.
It doesn't help that we're still dealing with a pandemic. "There is an association between areas with worse air pollution and worse outcomes for not only COVID-19 but for any issue where the immune system plays a role," says family physician William Lang, chief medical officer at WorldClinic and former director of the White House Medical Unit.
For those with preexisting respiratory conditions living in areas affected by wildfire smoke, Lang says it may be necessary to leave home until the fires are under control or the winds change. Otherwise, according to the doctors we spoke with, the best thing you can do to protect yourself from smoke inhalation is to stay indoors whenever possible. Make sure your doors and windows are closed tightly — Reza Ronaghi, a pulmonologist at UCLA Health Santa Monica Medical Center, advises sealing any gaps or cracks with old clothing or duct tape — and consider using an air purifier with HEPA filters to reduce the concentration of harmful smoke particles. It may seem counterintuitive, but Ronaghi says to avoid vacuuming or dusting during this time as you may disrupt settled air particles, causing them to become airborne again.
If you must go outside, a face mask or respirator can help you avoid inhaling dangerous smoke particles. The masks recommended for preventing the spread of COVID-19 — N95 respirator masks, which are certified by the National Institute for Occupational Safety and Health (NIOSH) to filter out 95 percent of airborne particles — are also most effective in protecting against smoke inhalation, according to our experts.
Last year, when these masks were hard to find, the public was advised against buying them so as to ensure a steady supply for doctors and hospitals. Fortunately, access to N95s has improved, and CDC guidelines now say these masks can be used outside medical settings if they're available. They remain your best option for protecting against smoke inhalation.
But what about all the cloth masks people have stocked up on to protect themselves and others from COVID-19? Mitchell Grayson, a physician-scientist who specializes in pediatric allergy, asthma, and immunology at Nationwide Children's Hospital and an adviser to the Asthma and Allergy Foundation of America, explains that fabric face masks are better at keeping particles from getting out (like your own respiratory droplets) than they are at stopping them from getting in.
"That is why surgical masks and cloth masks are perfectly acceptable for protection from COVID-19, but because these masks don't form tight seals and cannot filter out very small particles, they are not appropriate for smoke protection," Grayson says. According to Ronaghi, smoke particles are one-30th the size of a single strand of hair and can easily slip through the gaps of a fabric face mask.
But Lang emphasizes that risk reduction, whether in the case of COVID-19 or wildfire smoke, is not an all-or-nothing proposition. "The goal is to reduce risk as much as possible," he says. "N95 provides the greatest risk reduction, but a good cloth mask with a center filtering layer does still reduce risk substantially." Below, we've rounded up some available N95s and acceptable alternatives — including a filter to improve the efficiency of your fabric face mask — for staying safe if you're in an area affected by wildfires.
For a NIOSH-approved N95 mask you can likely find online or at a local retailer, the 3M Aura mask is a solid and affordable choice. It offers protection from both smoke and virus particles.
Some doctors suggest looking for KN95 masks, which are considered the Chinese equivalent of N95 masks — with some caveats. "KN95 masks in theory meet the same standards, but they are certified by other countries which may not test to the same accuracy," says Lang.
While the FDA initially authorized KN95 masks for emergency use during the pandemic, Lang points out that it later retracted its approval of several brands that failed to meet NIOSH standards. If you manage to find a legitimate KN95, like these Powecom masks we've recommended in the past, Ronaghi says "they are going to be at least more effective" than regular cloth face coverings.
If you're outside — and more than six feet away from other people — a respirator mask with a P100 filter is very effective at stopping smoke inhalation ("The P also filters out oil-based particles, which can get through the N respirators to some extent," adds Lang). The problem is it's not great for protecting people around you from possible COVID exposure. While the respirator's exhalation valve makes it easier for the wearer to breathe, it renders the mask useless in preventing COVID transmission, as all of the wearer's respiratory droplets are dispersed outside the mask.
As Julie Lyou, a pulmonologist at St. Jude Medical Center, says, "Since the exhalation valve allows air to escape, it is not ideal for preventing the spread of COVID-19 infection." In a pinch, you can use a surgical cloth mask to cover the valve if you have to be around other people, she says.
If your only option is a cloth face mask, some doctors say adding a filter like a PM2.5, which filters particles down to 2.5 microns in size, can add a level of protection. While a filter won't solve a cloth mask's inability to form a tight seal, Grayson says it's "probably slightly better than nothing."
The Strategist is designed to surface the most useful, expert recommendations for things to buy across the vast e-commerce landscape. Some of our latest conquests include the best acne treatments, rolling luggage, pillows for side sleepers, natural anxiety remedies, and bath towels. We update links when possible, but note that deals can expire and all prices are subject to change.