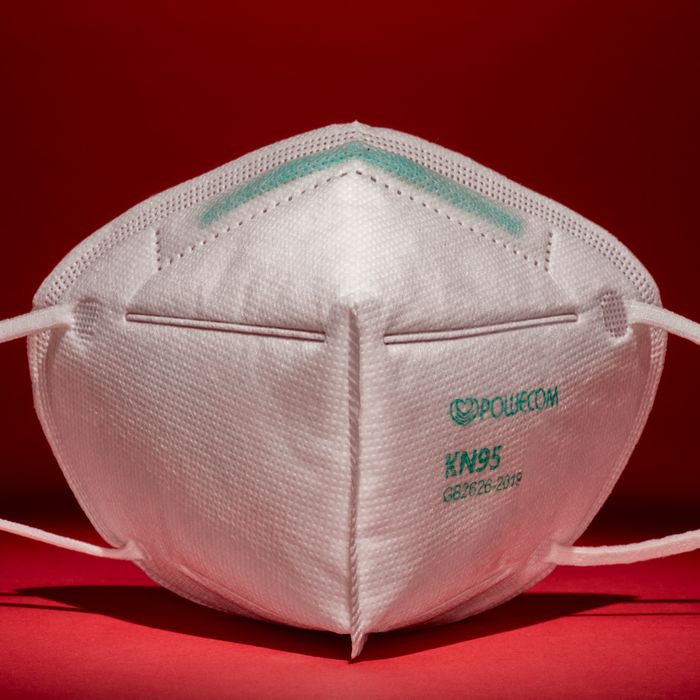 Amid ongoing surges of respiratory illnesses like COVID, RSV, and influenza, wearing a mask to help stop the spread and limit personal risk of infection is as important as ever. According to Dr. Ravina Kullar, an infectious-disease specialist, epidemiologist, and spokesperson for the Infectious Diseases Society of America, the newest COVID variants, including XBB.1.5 and BQ.1.1, are of particular concern because they are "capable of substantial immune evasion." That means your last booster shot likely won't protect you from infection the way it did in the past, with very young and very old people at the highest risk for serious illness.
For all of these reasons, both Kullar and Dr. Bruce Y. Lee, professor of health policy and management at the CUNY Graduate School of Public Health, say that mask-wearing and other infection-prevention strategies are still the best defense against getting sick. While any mask is still better than none, doctors and public-health experts all recommend putting aside fabric masks in favor of those that offer higher filtration like KN95s, KF94s, and N95s.
N95 masks may be the gold standard, as they are approved by the National Institute for Occupational Safety and Health (NIOSH), but KN95 masks, the Chinese equivalent, remain a more widely popular type of disposable high-filtration mask. Their beaklike shape and ear loops (as opposed to the head straps found on most N95 masks) make them a more convenient and comfortable everyday choice.
When I spoke to Kullar about the differences between KN95, KF94, and N95 masks, she said KN95 masks "are made of the same synthetic material as N95 masks and filter out and capture 95 percent of particles in the air." Fit is another major factor in how well a mask works. "N95s have the tightest seal when fit properly, but are uncomfortable to wear for long periods of time," says Chang. A tighter seal means fewer gaps where potential viral droplets can enter or escape. But since KN95s still provide a similar level of filtration, unless I am in a high-risk environment like a packed indoor concert or an airport where I won't be taking it off for several hours, I'll go for the more comfortable mask that doesn't mess up my hair any day.
To help you find the best masks for you, we pulled together a list of expert-approved and Strategist-tested KN95 masks you can buy right now. Skip ahead to the type of KN95 you're looking for using the clickable table of contents, or read on for the 10 best options for adults and children.
Chang says it's fair to assume that a lot of KN95s on the market are fakes. Everyone we've talked to says it is very difficult, without sophisticated testing, to tell the difference between a real KN95 and a counterfeit one. "The issue with KN95 masks is that there is no regulatory agency ensuring that manufacturers actually meet the KN95 standard," says Chang. Without a Chinese governmental agency similar to NIOSH or to Korea's FDA, anybody can claim they are selling masks with KN95-level filtration.
That's where people like Aaron Collins come in. The mechanical engineer with a background in aerosol science has spent the pandemic testing hundreds of masks he purchased online using a Total Inward Leakage test, which measures for filtration efficiency and breathability (or pressure drop). To closer replicate the way tiny COVID particles act, he tests using a smaller-than-standard aerosol size. This also makes his tests harder to pass. Though he is not an accredited lab, his data has shown good agreement with other published data. His public Google spreadsheet of the best children's masks has become a lifeline for overwhelmed parents and lists his findings as well as recommendations for sizing by age. But if you're an adult looking for authentic KN95s, he suggests only buying from reputable sources. "Don't buy random brands from Amazon or eBay. My recommendation is ProjectN95, BeHealthyUSA, KollecteUSA, or, if using Amazon, verify that you are purchasing from the brand's 'official' store," and that the mask you are buying ships from and is sold by Amazon, he says.
Otherwise, check for labeling that says the mask is made from multiple layers of non-woven polypropylene material and, ideally, includes a melt-blown filter layer. These materials use electrostatic charge to attract and catch tiny particles like a magnet, and unlike the gridded weave of cotton or other traditional fabrics, the random arrangement of fibers in non-woven materials does a better job at filtering tiny particles.
The perfect mask isn't much good to anyone if it's always sold out or stuck in shipping purgatory. At the moment, most masks are available to ship in a reasonable amount of time. And even if your mask of choice sells out, many pandemic-related supply-chain issues have been resolved, and there's a good chance it will be restocked soon. That said, with this list we are prioritizing masks that are available to purchase on a regular basis.
The fit of a mask will determine both how likely you are to wear it and how effective it is at filtering particles in the air. Even the best masks can fail if there are gaps around the edges that allow air to flow around the mask rather than through it. "Look for a mask that fits your face well, assuring that it covers your nose and mouth and fits below your chin," says Kullar. If your only KN95 masks are too big, don't worry: Dr. Stacy De-Lin, a family-medicine specialist in New York City, says you can tie knots in the ear loops or twist them once before putting them on to get a tighter fit. (If you're no good at knots, there are also lots of straps and accessories you can buy online to adjust the fit.)
While we all want our masks to feel soft rather than scratchy and not to leave deep lines across our cheeks, comfort matters most when we think about buying masks for children. The younger a child is, the more important comfort will be. "Also how easy a mask is to breathe through becomes more important," says Chang. The more comfortable and breathable it is, the less likely they are going to constantly adjust it or try to take it off. Additionally, a mask that's hard to breathe through will actually end up being less effective. That's because if your breath (or someone else's) meets resistance from the mask, it will be more likely to find its way around the sides. If you can feel air coming out around your cheeks, nose, or chin, your mask is either too loose or not breathable enough. To get an idea of how breathable each mask is, Collins uses a magnehelic pressure gauge to measure the resistance his breath meets as it flows through each mask. That measurement is the mask's pressure drop. The lower the number, the easier the mask is to breathe through. In both extremes, if the pressure drop is too low or too high, the mask isn't protective enough.
Best overall KN95 mask
We have been recommending Powecom KN95 masks since as early in the pandemic as summer 2021. Back then, they were on the FDA's emergency authorization list of approved face masks for health-care professionals when that list was still necessary. Like other KN95 masks, this one claims to filter out 95 percent of small particles. But when Collins tested the children's sized Powecoms he found them to have a filtration efficiency of 97.3 percent. They are soft on the skin and create a tight seal all the way around the mask, from the bridge of the nose to the underside of the chin. In September of 2020, I bought them for my husband, Jacob Cohen, to wear while teaching in person. He teaches fourth grade in Brooklyn and has tried a lot of KN95s over the last two and a half years. They are one of his favorite masks for work, and he says that, in addition to making him feel safe in the classroom since before vaccines were available, they fit more snugly than the other KN95s he has tried and don't move when he is talking. I have worn them on the subway, on Metro-North, at the airport, and to countless doctors appointments, and they remain my go-to masks.
Best black KN95 mask


Sold by Bona Fide Masks, the exclusive United States distributor of Powecom KN95s, this black KN95 mask is on Canada's emergency-use list of authorized medical devices for uses related to COVID-19. Earlier iterations of this mask were much less breathable, but the manufacturer has updated the design to make it more breathable without sacrificing the filtration efficiency of over 95 percent. It is made of three layers of nonwoven material, including a melt-blown inner filter layer.
Best recyclable black KN95 mask
In April of 2021, Kristy Drutman, host of the podcast Brown Girl Green, tipped us off to these recyclable masks from Vida, the second-most popular mask brand on the Strategist in 2020. Since then, the kid-size Vida masks, along with Lutema's M95c masks for kids, have been featured by Collins via his Google spreadsheet of test results. (Vida and Lutema masks are made in the same FDA-registered facility in the USA.) Because these masks are made in the United States rather than in China, Vida refers to them as "masks with KN95 protection" rather than KN95s. But that shouldn't keep you from wearing them and feeling protected. They are made of five layers of nonwoven fabric including two melt-blown filter layers, and each one is tested by Nelson Lab and shown to provide over 95 percent particle filtration. According to Collins, the only drawback to these masks is that they are not as breathable as other KN95s. To keep them from ending up in a landfill, simply send your masks back to Vida using the included prepaid return label, and the brand will properly recycle them.
Best colorful KN95 mask
These colorful and adjustable masks have quickly become one of my favorites for higher-risk situations. The brand sells its KN95 masks in sets ranging from neon hues with contrasting ear loops to desert neutrals, plain black and white, marble patterned, and placid pastels. Because they are so easy to match to your outfit, Kaze masks have become popular among a large swath of celebrities — including Justin and Hailey Bieber, Dua Lipa, Cardi B, and Offset.
In addition to looking cute, Kaze masks are made of five layers of non-woven material — including a melt-blown filter layer. They have been tested by Nelson Labs and certified by the Swiss lab SGS. The ear loops are adjustable and a foam nose pad helps create a tight but comfortable seal. In my experience, they are comparable to Powecom masks in softness and breathability.
Best multi-size KN95 mask
Most KN95 masks are one-size-fits-all, which could potentially result in a fit that's uncomfortably tight or improperly loose. For a more custom fit, Vital Supply Store's masks are available in five different sizes, from extra-small to extra-large, to accommodate a wide range of face and head sizes. Though the variations in the masks' measurements aren't all that pronounced on paper — fractions of an inch, really — in practice they can make a significant difference in how comfortable a mask feels to wear, especially for long periods of time. As someone with a face on the petite side, I found that Vital's small size felt more snug and secure than other KN95 masks I've tried; I also had a friend with a beard test out the large size, and he reported that it more comfortably accommodated his facial hair. As for the masks' protective abilities, they're constructed with five layers of non-woven melt-blown fabric, with a 95 percent particle-filtration efficiency.
Best KN95 mask for kids
These smaller Powecom KN95s are also featured on Collins's popular Google spreadsheet. According to him, they have a filtration efficiency of 97.3 percent. The only difference between these and the adult Powecom masks is the smaller sizing (these are about 15 percent smaller, to be exact). They are made of multiple layers of nonwoven soft and breathable fibers just like their larger counterparts. Reviewers and Collins say they fit children ages 7 through 12, depending on face size.
Best made-in-America KN95 for kids
Collins also tested these kid-size KN95s from Armbrust USA, a retailer that also publishes a comprehensive mask testing database. Produced in the U.S. with American-made materials, their three-layer, melt-blown filter is sandwiched between two polypropylene layers. Collins found them to have have a 97.8 percent filtration efficiency, and they are best for kids ages 6 to 11. These masks come in five different colors including gray and white. They are available to buy in packs of 20 or packs of 5 as well as on a subscription basis.
Best kids' KN95 mask with adjustable ear loops
When he tested them, Collins found that these child-sized KN95 masks from 4C Air (a company co-founded by Yi Cui, professor of materials science and engineering at Stanford University and one of the sources we spoke to for this article) provide 98.8 percent filtration of tiny airborne particles. Collins says these should fit children between 8 and 12 years old best. But they are also one of the few kids' KN95 masks with adjustable ear loops, which are especially useful when fitting smaller children.
Best colorful masks with KN95 protection for kids
Vida's smaller bifold masks for children have all the same specifications as brand's adult version, with the exception of size. They offer the widest range of color choice of all the kids' masks we have seen, including mixed color multipacks. Since they are made by the same manufacturer, Collins lists these Vida masks alongside Lutema brand masks on his testing spreadsheet where he found them to be 98.6 percent effective. He recommends them for kids between 9 and 13 years of age.
Photo: The Strategist; Photo: Retailer
As mentioned above, Lutema manufacturers these masks with KN95-level protection in the same facility as Vida's masks. When I asked Collins whether there is any meaningful difference between the two masks, he said the only difference is branding. "If you look on their page you will see that they are manufactured in a FDA site, that matches the same as Lutema," he says and lists them as the same mask on his spreadsheet.
Best envelope-style mask with KN95 protection for kids
After seeing huge success with their pleated surgical-style masks, Evolve Together launched a second mask, this time with KN95-level protection and a shape that mimics a KF94 mask. The envelope-style masks, a design that tends to offer a better fit for people with a lower nose bridge, come in both adult and children's sizes, with the kid versions available in this grade-school essential bright pink. They are made of five layers of nonwoven polypropylene material including two water-resistant outer layers, two melt-blown inner filter layers, and a moisture-absorbing interior layer. The brand's adult masks have long been a favorite of mine because of how lightweight and soft they are against my skin, making them perfect for warm weather or running around town. I used to wear their surgical masks almost exclusively; now I switch between the adult version of these masks, Powecom KN95s, and Kaze KN95s. All Evolve Together masks are independently tested and certified medical-grade type IIR by SGS, a world leader in consumer product testing. Evolve Together says these masks fit children ages 3 to 8 years old.
Our experts
• Michael Chang, MD, an assistant professor of pediatrics with McGovern Medical School at UTHealth Houston
• Aaron Collins, mechanical engineer with a background in aerosol science; follow him on Twitter @masknerd
• Yi Cui, professor of materials science and engineering at Stanford University
• Dr. Ravina Kullar, infectious-disease specialist, epidemiologist, and spokesperson for the Infectious Diseases Society of America
• Dr. Purvi Parikh, immunologist with NYU Langone Health
• Bruce Y. Lee, M.D., M.B.A., professor of health policy Management at the CUNY School of Public Health
The Strategist is designed to surface the most useful, expert recommendations for things to buy across the vast e-commerce landscape. Some of our latest conquests include the best acne treatments, rolling luggage, pillows for side sleepers, natural anxiety remedies, and bath towels. We update links when possible, but note that deals can expire and all prices are subject to change.