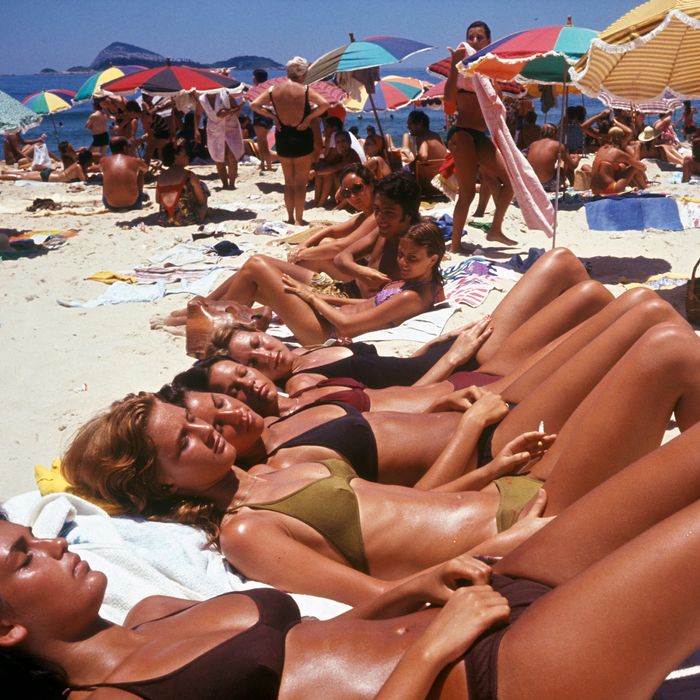 Photo: Romano Cagnoni/Getty Images
Self-tanner is a safe, UV-free way to get the sun-kissed look of someone who totally hasn't just been sitting in their apartment, far away from a window, for over a year. But not all self-tanners are made equal: Some have to sit on your skin for an agonizing amount of time, while others are hard to apply evenly. To help you find a self-tanner that won't make you look like a cheetah, we've scoured all the available self-tanning lotions, wipes, mousses, and face products on Amazon and pulled the ones recommended by the most enthusiastic reviewers. And if you are planning on lying out — fake tan or not — we have roundups on the best sunscreens, face sunscreens, and sunscreens for babies and kids, too.
All of the self-tanners that we've included here have more than 100 reviews and an average rating of at least 4.1 stars, and are fulfilled by Amazon. That means that Amazon, not a third-party seller, will handle customer service and product returns if anything isn't to your liking. Our best-rated pick is the self-tanner with the most reviews overall and our best-rated (less expensive) pick is the one that meets all of our criteria at the lowest price in the category, in case you're looking for a glow without spending too much money. The rest of the products are categorized based on what users are looking for and what reviewers are raving about.
Related articles: Best Self-Tanners | Best Sunscreens for Your Face
Best-rated self-tanner
Almost 11,000 reviewers give this self-tanner five stars, and over 1,000 of them rave about the natural ingredients and the natural-looking glow. A holistic esthetician says, "I love that they use real, organic ingredients and that I can feel confident recommending it to my clients (which I absolutely do). Aside from the ingredients being the best, the color I get is incredible, and I love that it's buildable if you want to get a darker tan." Another reviewer confirms the quality results, writing, "The bronze color is very natural looking. I am very fair, and it looks really good. I actually look naturally tan with this stuff." Another person, who was diagnosed with lupus and needs "to use natural products" loves this self-tanner because "it maintains my tan while making my skin feel moisturized and allows it to fade in a more natural way. I highly recommend it for anyone that wants a chemical-free product."
Best-rated (less expensive) self-tanner
"Natural glow" is how many are describing their tan after using this lotion. "Self tanners can be risky when you're super fair skinned, but this stuff is perfect for me. Rarely get lines or streaks (usually my own fault for sloppy application) and it gives a great, natural glow," writes one reviewer, who swears, "Will use this over and over — if they discontinue, I'll cry. Literally." Many gravitate towards the natural formula, saying it's tough to find a self-tanner that isn't loaded with chemicals, especially for those with sensitive skin. One reviewer sums it all up, writing, "Quick toasty color that deepened with repeated use. Zero orange tones. Blended beautifully and was easily absorbed — no streaks or crease marks. Gentle on my sensitive skin … And the cost was phenomenal, given that so many tanners are in the $30 to $50 range."
Best self-tanner with mitt
This set includes the same best-rated Beauty by Earth lotion, and it comes with an exfoliating mitt and two applicator mitts, both of which make using the self-tanner a lot easier. The applicator mitt "helps even [the lotion] out nicely," writes one five-star reviewer, adding, "The exfoliating glove is so helpful and really gets your skin prepped for the tanner." Another five-star reviewer is even more fervent. "BUY THE MITT. The mitt makes such a great difference," they write, before calling this lotion their "holy grail." This particular mitt even impressed a reviewer familiar with other tanning kits. "The mitts I've been able to find before this kit were made of foam and did not last very long, the seams always open up on the sides … [the Beauty by Earth] mitt is very well-made, more like a velvet material … I plan on using this forever."
Best self-tanner mist
Reviewers love this L'Oreal tanning mist so much that more than one has said it's now a staple in their routines. "I use this every two to three days before going to bed to maintain a natural-looking tan all year round on my face," writes one tanning cream convert. "This is 1000 times better, no mess on your hands, or anywhere else, and a fine mist evenly places the product, so that you don't see any streaking." Plenty of users also praise the wide-angle jet applicator, saying that it's "SO easy to put on" and is perfect for hard to reach spots. Plus, "The spray application makes it easy to get that gorgeous airbrushed look," writes another. Other customers are impressed by the natural look this tanner leaves. A reviewer who used to frequent tanning salons switched to this, and reports, "I put a light spritz on my face before bed and woke up looking like I had been kissed by the sun on a beach."
Best self-tanner wipes