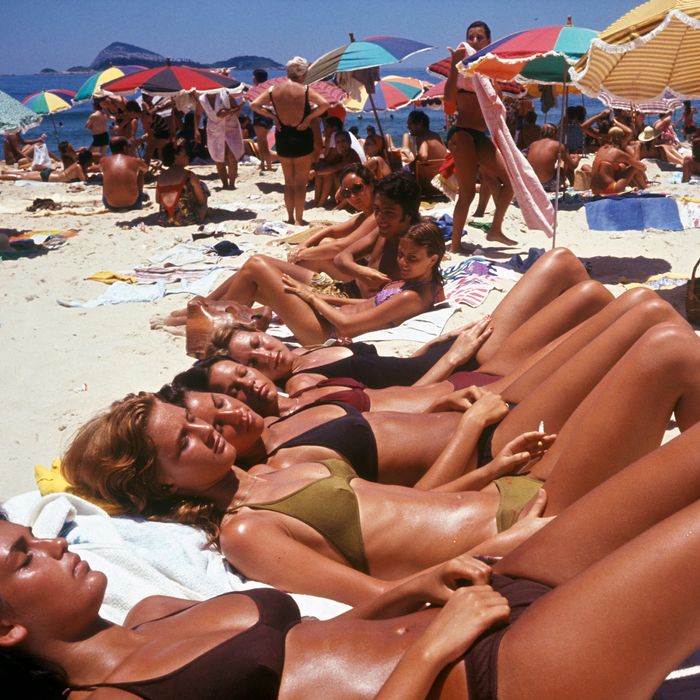 Photo: Romano Cagnoni/Getty Images
Self-tanner is a safe, UV-free way to get the sun-kissed look of someone who's been on a beach somewhere, recently, living their best life. But not all self-tanners are equal: Some have to sit on your skin for an agonizing amount of time, while others are hard to apply evenly. But more important than application is pre- and post-care. "Your tan is only as good as how you prep and care for your skin," says Mally Harrington, a spray-tan stylist based in Tennessee. "Exfoliate really well for a few days before and drink lots of water and moisturize twice a day." Sabrina Johnson, a spray-tan stylist based in Los Angeles, agrees. For post-care, she recommends showering gently the first two days after tanning to avoid fading your tan too quickly. "I usually tell people to plan around whatever event they have going on," she says. "Do the tan one to two days before and then have fun because everything you do — from an intense workout to going to the beach — is going to fade your tan. But you don't want to forgo exfoliation in the hopes of keeping your tan longer. This will cause your tan to fade unevenly." By day three, she recommends resuming your normal shower routine to ensure you get a uniform, natural-looking fade. "As long as your skin stays moisturized and you're taking care of your skin, the tan should fade relatively evenly," she says. When it comes to the actual application, you want your skin to be completely dry and free of any lotions and oils. Then, before you apply, put a little moisturizer on your elbows, knees, and the heels of your feet to avoid the tan darkening or staining those areas. And for a seamless application on the hands and wrists, tanning expert Eloise Maryam recommends tanning two inches away from the inside of your wrist and then blending toward your palm with a beauty sponge. That helps to avoid the harsh cuff look. Adding a little moisturizer there can help too.
Another thing to note: If you're looking to even out skin tone, it's important to have a solid skincare routine that addresses issues such as hyperpigmentation or unevenness. The ingredient that tans skin (DHA) darkens everything indiscriminately, so there's a chance it will settle into deep stretch marks or make strawberry legs look more prominent. To combat this, Johnson recommends adding a little moisturizer into any areas of concern and — of course — to patch test to make sure it interacts well with your skin and achieves the desired effect.
There is a near-endless number of tanners on the market, so to help you find a self-tanner that won't make you look like a cheetah or smell horrible, we spoke with spray tan stylists and self-tan fans about their favorite formulas, below.
Best overall tanner | Best quick-developing self-tanner | Best less-expensive quick developing self-tanner | Best self-tanner for sensitive skin | Best gradual self-tanner | Best self-tanner kit | Best self-tanner to complement undertones | Best self-tanner for the face
Color range: Choosing the right color for your tan is essential. It avoids the dreaded orange color, which tends to occur when you choose the wrong color or leave the tan on too long. The main ingredient in self-tanners is dihydroxyacetone (commonly known as DHA), which is the only FDA-approved ingredient for sunless tanning. It interacts with your surface skin cells and creates that tanned look. This means that most of your tan's color is dependent upon your natural skin tone and the way it interacts with DHA. The color of a tan correlates with the concentration of DHA, so the more DHA, the darker the formula. The depth of the color is also dependent on how long you leave it on. So when picking a tan color, it's important to keep in mind the end result when deciding what shade you'd like to achieve. If you have darker skin, you'll want to choose the deepest tan shade available, as self-tanner is based on pale skin tones. Johnson recommends that darker-skinned clients leave the tan on for longer or apply the product twice.
Undertones: Spray tans also have base shades, which affect the way it shows up on the skin. According to Johnson, this color only lasts for about two days before fading, but if you're planning to self-tan before an event or photoshoot, it's definitely something to keep in mind. There are four bases: red, brown, violet, and green. According to Harrington, those with warmer skin tones should stick to violet-based tanners, while those with a cool-toned or olive complexion should opt for a green-based tan. Red, she says, is great for deeper complexions, while brown is pretty universal and should work for just about anyone. If you're worried about which one will work best for your skin tone, all of our experts recommend doing a patch test to make sure the color will look good all over. Different brands tend to formulate with different undertones, so we've noted when that information is available.
Format: Spray tans come in mousses, liquids, waters, and lotions — it ultimately comes down to preference. Lotions tend to be reserved for more gradual tanners, while mousses and liquid formulations are what come to mind when one thinks about self-tanner.
Development time: Some tans take a while to develop (four hours or longer), while other formulas — typically referred to as "express" tans — develop in less than two hours before needing to be rinsed off. The longer you leave the formula on, the darker you get.
Price: Self-tanner pricing varies, so we've noted how much you're getting with each bottle so you can get the biggest bang for your buck.
Best overall tanner
Three shades | Green/neutral | Foam | 1-6 hours | 7 ounces (Approx. $2/ounce)
Two of the tan stylists we spoke to recommended Bondi Sands, which is widely available, fairly affordable, and has a wide range of shades. "Their products tend to be really dark, so they work for dark skin," says Johnson. "The ingredients are also super-high quality and don't leave you feeling dry." She also likes that they're easily accessible and can be found in just about every drugstore. Spray tan stylist Cait Cassagne of Studio C8 is also a fan. "They don't have that yuck self-tan smell," she says, "and the color has beautiful undertones." She uses the shade "ultra-dark," and despite having very fair skin, she says it doesn't turn her orange. According to Johnson, Bondi Sands tends to skew green or neutral, which she says looks nice on a wide range of skin tones.
Best quick-developing self-tanner
Two shades | Green/neutral | Mousse | 2 hours | 6.7 ounces (Approx. $9/ounce)
Lots of self-tanning formulas require hours (and hours) to develop, but this formula from Loving Tan shows up in just two hours. It comes recommended by Harrington, who says it is, despite having fewer color options, "still beautiful on the skin." This tanning mousse has an olivey base, which will produce a natural-looking green-tinged tan. Because it contains a base shade, it'll instantly tan the skin and the color deepens the longer you leave it on. It also contains built-in moisturizers to ensure it won't leave your skin irritated and dry.
Best less-expensive quick-developing self-tanner
Five shades | Green/neutral | Mousse | 1-4 hours | 6.7 ounces (Approx. $2/ounce)
Johnson is also a fan of this self-tanner from B.tan, which develops in just an hour. She likes this formula because it doesn't make her skin feel dry and offers a super-dark tan. Similar to Bondi tanners, Johnson says this one has green-neutral undertones, which makes it a good option for most people. B.tan is also vegan, cruelty-free, and uses sustainable materials, a plus when thinking about purchasing long term.
Best self-tanner for sensitive skin
One shade | Colorless | Foaming water | 6 hours | 6.7 ounces (Approx. $4/ounce)
If you have sensitive skin, Johnson recommends Bondi's self-tan foaming water from their Pure line. The Pure line of products is formulated with additional skincare ingredients like vitamin C, vitamin E, and hyaluronic acid, which together help to hydrate and tone skin. It's colorless and doesn't contain fragrance, which can be sensitizing to already irritated skin. "Your skin's already dry when you use self-tanner and can get a little bit itchy, but with this formula, I didn't feel itchy at all," says Johnson.
Best gradual self-tanner
Three shades | Varies | Mousse | 10 minutes | 5.1 ounces (Approx. $11/ounce)
For our beauty columnist and esthetician Rio Viera-Newton, a fake tan needs to be very subtle and natural. "When I fake tan, I want it to be absolutely undetectable," she says. She's also a self-proclaimed rookie when it comes to sunless tanner, so she opts for something gradual that won't make a big difference automatically. Her current go-to is Amanda Harrington's line of products, which she describes as foolproof: "It gives the most subtle warm sheen that just makes you look summery and glowy, not the least bit orange." She likes to use the shade neutral rose on both her face and body. And in case you'd like to tan your face, she uses the brand's face tanning drops in lieu of foundation. "You still see all your freckles and natural spots but it just makes everything warm and even," she says. "It only lasts a day or two but it looks incredible.
Best self-tanner kit
One shade | Brown | Liquid | 4-6 hours | 6 ounces (Approx. $4/ounce)
Self-tanners can be applied with gloves, mitts, or your hands depending on preference and the product's consistency. Maryam likes that Fake Bake's products come with the application accessory, which makes it both cost-effective, convenient, and beginner-friendly. She also likes the color, which she describes as a true brown. It also fades nicely and evenly. "This is super-important," she says. "Premium ingredients equal a good fade and a good color." It also has little to no smell (she likens the scent of cheap tanner to stale biscuits), a hallmark of fake tanner. Because Fake Bake uses high-quality DHA, the smell doesn't linger when you wash it off.
Best self-tanner to complement undertones
Four shades | Varies | Mousse | 1-3 hours | 6.7 ounces (Approx. $3/ounce)
Harrington's favorite self-tanner is Minetan's self-tan foams, which are available in four base shades: caramel, olive, violet, and dark ash. If you have a tricky undertone or find that tanners turn up orange on your skin, it could be useful to test out a tanner with a base designed to complement your undertone. In addition to a range of bases, Harrington says it works on her clients with a variety of skin tones — from fair to deep.
Best self-tanner for face
One shade | Colorless | Lotion | 8.45 ounces (Approx. $4/ounce)
When it comes to tanning the face, you'll want to be cautious and patch test first to avoid triggering a breakout. And while all of the products mentioned on this list can also be applied to the face, Johnson recommends Tan Luxe in particular because it's "basically skin care with tanner in it," she says. It's a gradual formula that tans skin over time, so the results aren't instant or dramatic. This can be a good thing if you're just starting out or want to be just a bit more glowy and bronze. Johnson likes the inclusion of moisturizing ingredients like raspberry seed oil, vitamin E, and aloe vera, which help to both nourish and soothe. It also has an oil-cream consistency, so it's deeply moisturizing and hydrating and won't feel dry on the skin. Rio is also a fan. "Whether you're new to self-tanning or are just looking for the most natural-looking tan possible, this is perfect," she says. As far as application, Rio recommends putting it on dry, clean skin and massaging it evenly all over in circular motions (remember your hands and feet). In one to two hours, you'll start to see tanner, glowier skin that'll last for around two days.
Some more self-tanners we've written about
The Strategist is designed to surface the most useful, expert recommendations for things to buy across the vast e-commerce landscape. Some of our latest conquests include the best women's jeans, rolling luggage, pillows for side sleepers, ultra-flattering pants, and bath towels. We update links when possible, but note that deals can expire and all prices are subject to change.
Every editorial product is independently selected. If you buy something through our links, New York may earn an affiliate commission.