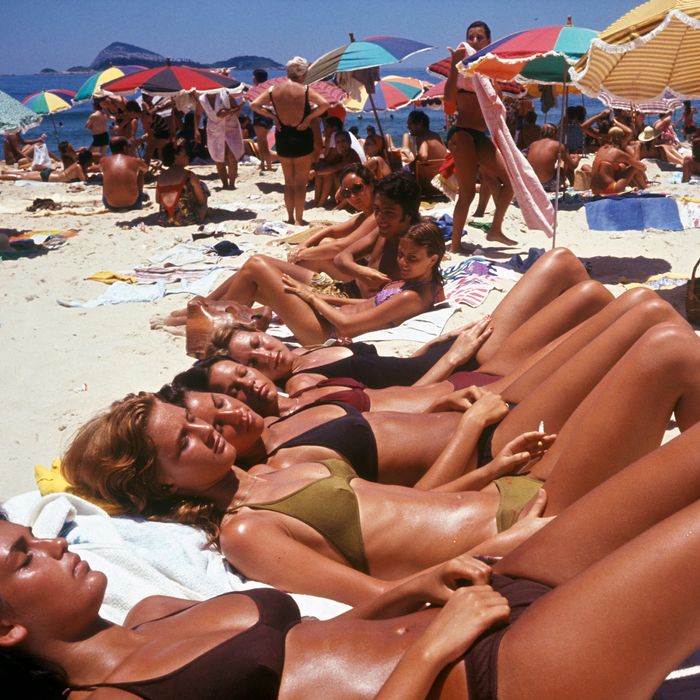 Photo: Romano Cagnoni/Getty Images
With the pandemic still upon us, the only safe way to tan is with self-tanners. And while we've written about lots of sun-care products before — from the best natural sunscreens to the best sunscreen for babies and kids — here, we've rounded up the best self-tanners, as praised by the most enthusiastic reviewers on Amazon.
Related articles: Best Self-Tanners | Best Sunscreens for Your Face
Best-rated self-tanner
Almost 11,000 reviewers give this self-tanner five stars, and over 1,000 of them rave about the natural ingredients and the natural-looking glow. A holistic esthetician says, "I love that they use real, organic ingredients and that I can feel confident recommending it to my clients (which I absolutely do). Aside from the ingredients being the best, the color I get is incredible, and I love that it's buildable if you want to get a darker tan." Another reviewer confirms the quality results, writing, "The bronze color is very natural looking. I am very fair, and it looks really good. I actually look naturally tan with this stuff." Another person, who was diagnosed with lupus and needs "to use natural products" loves this self-tanner because "it maintains my tan while making my skin feel moisturized and allows it to fade in a more natural way. I highly recommend it for anyone that wants a chemical-free product."
Best-rated (less expensive) self-tanner
"Natural glow" is how many are describing their tan after using this lotion. "Self tanners can be risky when you're super fair skinned, but this stuff is perfect for me. Rarely get lines or streaks (usually my own fault for sloppy application) and it gives a great, natural glow," writes one reviewer, who swears, "Will use this over and over — if they discontinue, I'll cry. Literally." Many gravitate towards the natural formula, saying it's tough to find a self-tanner that isn't loaded with chemicals, especially for those with sensitive skin. One reviewer sums it all up, writing, "Quick toasty color that deepened with repeated use. Zero orange tones. Blended beautifully and was easily absorbed — no streaks or crease marks. Gentle on my sensitive skin … And the cost was phenomenal, given that so many tanners are in the $30 to $50 range."
Best self-tanner spray
Photo: Copyright: Jon-Paul Davis, all moral rights asserted.
Over 10,000 reviewers gave this self-tanner five stars because, as one explains, "it goes on evenly and sinks into the skin quickly. It also doesn't rub off on clothes, sheets, upholstery like other sunless tanners." Others say it's very easy to apply, including one who claims they'll be wearing it all summer long: "It really works, looks natural, and lasts if you read and follow the directions." Another reviewer who explicitly "does not tan," uses the "idiot-proof" Fake Bake to gain a light, summer glow and says, "I'd argue that, when used properly, this is the best sunless tanner. The color guard in combination with the mitt makes sure I get every single square inch of my body, no streaks. It dried in minutes, and I was able to dress quickly. The liquid develops into a wonderful brown (not orange) color, and it was even and believable." A few customers didn't love the mitt for application, saying it was a bit awkward to use, but one reviewer, who says she's so pale her stomach "just blinds people," found the mitt helpful. "It helps me get an even, streak and blotch free application," she says. This is the lowest maintenance sunless tanner I've ever used. It doesn't feel like a chore."
Best self-tanner mist
Reviewers love this L'Oreal tanning mist so much that more than one has said it's now a staple in their routines. "I use this every two to three days before going to bed to maintain a natural-looking tan all year round on my face," writes one tanning cream convert. "This is 1000 times better, no mess on your hands, or anywhere else, and a fine mist evenly places the product, so that you don't see any streaking." Plenty of users also praise the wide-angle jet applicator, saying that it's "SO easy to put on" and is perfect for hard to reach spots. Plus, "The spray application makes it easy to get that gorgeous airbrushed look," writes another. Other customers are impressed by the natural look this tanner leaves. A reviewer who used to frequent tanning salons switched to this, and reports, "I put a light spritz on my face before bed and woke up looking like I had been kissed by the sun on a beach."
Best self-tanner wipes
"Easy" is a word that comes up in hundreds of reviews of these self-tanner wipes, with one customer calling them, "ridiculously easy to use" with "no mess, no stains, no problem." That reviewer adds, "This gives you that bronzy sun goddess vibe with just one application." Reviewers who find typical self-tanner too difficult to apply evenly appreciated this wipe-on option. "If you're worried about self spray tan being streaky, this is a much more reliable option. Not streaky and also light enough that you can build over several days instead of instantly turning orange," boasts one. Many love how natural this bronze looks, and as one reviewer explains, "No one should go into a tanner or lay in the sun. Period. But we all want that sun-glow kiss. This product will do that. Very happy. Yes, I miss the warmth of the sun but I can feel the warmth still layered in sunblock and hats."
Best (less expensive) self-tanning wipes
"I have used these tanning towelettes for years and I'm a huge fan," says one reviewer. "They give a very natural looking tan … not orange or fake looking like a lot of other products I've tried." Dozens also praise it for being easy to apply. "Honestly this one is the easiest with the least mess and least risk of any mistake with the application," writes one reviewer, while another says, "It is foolproof and gives realistic natural looking color quickly." These wipes are also long-lasting, and reviewers report actually reusing them over the course of couple days. "Once or twice lightly over my arms, legs and face gives the best results," one reports. "I often use only half-a-sheet at a time saving the other half tightly wrapped for one to two days later."