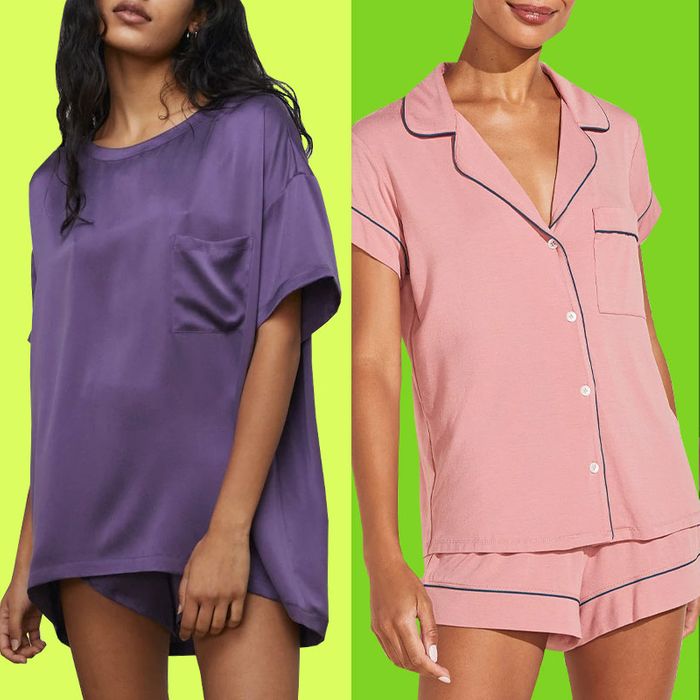 Photo-Illustration: The Strategist; Photos: Retailers
Falling asleep in an oversize, knee-length T-shirt or an old, ratty college sweatshirt is one thing, but there's something about wearing a pajama set. It's the nighttime equivalent of wearing a matching bra and briefs — it just feels right in an "I have my life together" way. To find the very best of the best sleepwear, we turned to opinionated pajama-wearers for their favorites and to our archives for any memorable recommendations.
Best overall | Best less expensive | Best overall long sleeve | Best less expensive long sleeve | Best T-shirt and pants | Best cotton | Best linen | Best silk | Best less expensive silk | Best cooling | Best nightgown 
Size range: As usual, we focused on finding pajamas that come in an inclusive selection of sizes.
Material: Think about the way you want to feel in bed — that's how you decide the textile to wear there. Sweaty sleepers, for example, probably don't need much between them and their sheets; their best bets are cotton, linen, or other fabrics of that ilk (including modal, which is what you'll see in barely there underwear). If you're that always cold person, look for merino, flannel, or wool. Or pick polyester, which usually comes with a cheaper price tag. And those with opulent taste might consider silk.
Design: When you've been on the underwear and sleepwear beat, as I have, you become rather obsessive about details. As I learned from Cora Harrington, the author of In Intimate Detail: How to Choose, Wear, and Love Lingerie, the details — a French seam here, an Elizabethan ruffle there — are what make a pair of pajamas worth it. With that advice, I did some detective work to note standout features such as trimming, piping, and pleating.
Price: Since these are (almost all) sets we're talking about, we're judging the recommendations below based on three price points: under $100, under $150, and over $150, denoted as $, $$, and $$$, respectively.
Best overall pajama set
Sizes XS–XL | Tencel modal, spandex | Button front, notch collar, piping, chest pocket | $
Eberjey's pajamas have made appearances all over our archives — so much so that they've earned the distinction of being a "Strategist favorite" — but there's an especially mighty cult following around the Giseles. Content creator Yuneida Gutierrez describes them as "insanely soft" with enough of a cheeky cut that there's not much separating you from your sheets. Photo editor Joanna Muenz considers these part of her "swanky loungewear" — after becoming a mom, these made her feel put together with their breastfeeding-friendly button-down top. Cup of Jo's Joanna Goddard is another Gisele convert, preferring the pants version, which she says don't wrinkle (a fact Gutierrez confirms). The set has the distinction of being one of the only pajamas we heard about that you can monogram for an additional $15.
Best less expensive pajama set
Sizes XS–4X | Modal, spandex | Button front, notch collar, piping, chest pocket | $
This set from Stars Above, a Target-exclusive (and Christmas-pajamas- enthusiast-approved) label, is the cheapest on our list, around four times less than the Giseles. You could even call them a dupe of sorts as they have a similar silhouette and piping along the hem, sleeves, and collar. However, it wasn't mentioned nearly as much as our best top pick, which is why it takes second place.
For TikTok creator and curve model Remi Bader, pajamas have to check off two points: comfort and charm. These fulfill that first requirement with a supersoft modal that makes you feel nearly naked. (As the owner of Stars Above's cropped pajama pants, which are made from the same modal, I can attest to this.) And Bader points out that these go up to a size 4X, making these a standout among other brands (as a regular loungewear reviewer, she knows this all too well).
Best overall long-sleeved pajama set
Sizes XS–3X | Pima cotton, modal | Button front, notched collar, satiny trim piping, patch pocket | $$
The term buttery was thrown around quite a few times by our panelists, but former Strategist writer Chloe Anello says there's no better word to describe the Bellas (which, full disclosure, were gifted to her by the brand). The set is made from equal parts cotton and modal with a relaxed cut adding to their indulgent feel. Even though they're long-sleeved, Anello says she doesn't get too warm wearing them. Writer Laura Lippman agrees — she discovered the Bellas during a trip to Miami in May, and despite the excruciatingly hot temperatures, these didn't suffocate her. And as someone who would live in pajamas if she could, Lippman says these are the best for making her seem "fairly put together for someone walking around the house in pajamas" at 3 p.m., as she is wont to do.
Best less expensive long-sleeved pajama set
Sizes XS–2X | Rayon, spandex | Button front, notched collar, piping, two patch pockets | $
Two of our panelists, both self-proclaimed "pajama dressers," raved about this Splendid sleepwear set. "They are so lovely that no one seems to care if they are pajamas, or maybe people are just too polite to say something," says photographer Olivia Locher, who wears these out of the house under a large coat. Cat Corcoran, the creative director of the advertising agency Mission, agrees that they're as comfortable to sleep in as they are stylish enough to wear out. These also fulfill her belief that if you go to bed feeling like a "sophisticated boss lady," you'll wake up feeling the same.
Best T-shirt-and-pants pajama set