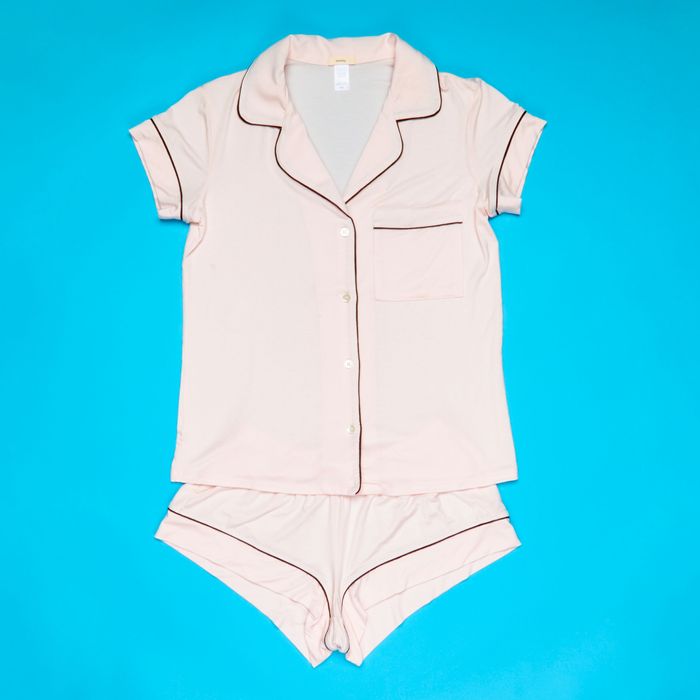 There's nothing wrong with falling asleep in an oversize T-shirt or ratty college sweatshirt — no judgment here! — but if you're looking to level up, might we suggest a pajama set? It's the nighttime equivalent of a matching bra and briefs: It just feels right, in an I-have-my-life-together way. To find the very best of the best sleepwear, we turned to opinionated pajama wearers (including photographers, models, and our very own Strategist staffers) to ask them about their favorites, and dug into our archives to surface the most worthwhile recommendations. You'll find a variety of styles below, from author Ottessa Moshfegh's pair du jour to a silk set that one writer says has the texture of frosty blueberries. I even put a few to the test — sleeping my way through several to decide which should make the cut, like the astrology-themed set that doesn't make me overheat.
As we would with any other clothing story, we focused on finding pajamas that come in an inclusive selection of sizes.
Think about the way you want to feel in bed — that's how you decide the textile to wear there. Sweaty sleepers probably don't need much between them and their sheets; their best bets are cotton, linen, or other fabrics of that ilk (including modal, which is what you'll see in barely there underwear). If you're that always cold person, look for merino, flannel, or wool. Or pick polyester, which usually comes with a cheaper price tag. And those with opulent taste might consider silk.
When you've been on the underwear and sleepwear beat, as I have, you become rather obsessive about details. As I learned from Cora Harrington, the author of In Intimate Detail: How to Choose, Wear, and Love Lingerie, the details — a French seam here, an Elizabethan ruffle there — are what make a pair of pajamas worth it. With that advice in mind, I made sure to note standout features such as trimming, piping, and pleating.
Since these are (almost all) sets we're talking about, we're judging the recommendations below based on three price points: under $100, under $150, and over $150, denoted as $, $$, and $$$, respectively.
Best overall pajama set
Sizes: XS–XL | Material: Tencel modal, spandex | Design: Button-front, notch collar, contrast piping| Price: $$
Sizes: XS–XL | Material: Tencel modal, spandex | Design: Button-front, notch collar, contrast piping | Price: $$
Eberjey's pajamas have made appearances all over our archives — the brand is a bona fide Strategist favorite. But the Giseles have an especially mighty following. Whether you prefer to sleep in shorts or pants, both sets are worthy of the "best overall" distinction. These have long been our top-pick PJs by consensus, but the company recently sent me the long-sleeved version to try for myself, and I can now say firsthand that the fanfare is well earned. The lightness of the Tencel-spandex fabric won me over — I like how it doesn't cling — and there's no gaping between the buttons. So I'm adding my voice to the chorus of folks who have recommended the pajamas to us before: Cup of Jo's Joanna Goddard appreciates that hers haven't wrinkled. Content creator Yuneida Gutierrez, who owns the shorts set, describes them as "insanely soft" with enough of a cheeky cut that there's not much separating you from your sheets. Photo editor Joanna Muenz calls them "swanky loungewear" and notes that after becoming a mom, they made her feel put together with their breastfeeding-friendly button-down top. These pajamas are also one of the only pairs on this list that you can monogram (for an additional $15).
Best (less expensive) pajama set
Sizes: XS–4X | Material: Modal, spandex | Design: Button front, notch collar, piping, chest pocket | Price: $
This set from Stars Above, a Target-exclusive (and Christmas-pajamas- enthusiast-approved) label, is the cheapest on our list, around four times less than the Giseles. You could even call them a dupe of sorts as they have a similar silhouette and piping along the hem, sleeves, and collar.
For TikTok creator and curve model Remi Bader, pajamas have to check off two points: comfort and charm. These fulfill that first requirement with a supersoft modal that makes you feel nearly naked. (As the owner of Stars Above's now sold-out cropped pajama pants, which are made from the same modal, I can attest to this.) And Bader points out that these go up to a size 4X, making them a standout among other brands with more limited size ranges (as a regular loungewear reviewer, she knows this all too well).
Best long-sleeved pajama set
Sizes: XS–3X | Material: Pima cotton, modal | Design: Button front, notched collar, satiny trim piping, patch pocket | Price: $$
Former Strategist writer Chloe Anello says there's no better word than buttery to describe the Bellas (which were gifted to her by the brand). The set is made from equal parts cotton and modal with a relaxed cut adding to their indulgent feel. Even though they're long-sleeved, Anello says she doesn't overheat while wearing them. Writer Laura Lippman agrees — she discovered the Bellas during a trip to Miami in May, and despite the excruciatingly hot temperatures, she found they kept her comfortable. And as someone who would live in pajamas if she could, Lippman says these are the best for making her seem "fairly put together for someone walking around the house in pajamas" at 3 p.m., as she is wont to do.
Best (less expensive) long-sleeved pajama set
Sizes: XS–L | Material: Rayon, spandex | Design: Button front, notched collar, piping, two patch pockets | Price: $
Two of our panelists, both self-proclaimed "pajama dressers," raved about this Splendid set. "They are so lovely that no one seems to care if they are pajamas, or maybe people are just too polite to say something," says photographer Olivia Locher, who occasionally wears these out of the house under a large coat. Cat Corcoran, creative director of the advertising agency Mission, agrees that they're as comfortable to sleep in as they are stylish enough to wear out. These also fulfill her belief that if you go to bed feeling like a "sophisticated boss lady," you'll wake up feeling the same.
Best T-shirt-and-pants pajama set
Sizes: XS–XL | Material: Modal, elastane | Design: High-low hem, scoop neck, deep pockets on pants | Price: $$
Strategist writer Arielle Avila turned us onto Hass, a loungewear line from Avocado, the maker of some of our favorite mattresses. Until she tried this set (after they were gifted by the brand), Avila never wore PJ pants to bed because of how hot she would get. On top of being breathable, the coordinating tee and pants almost feel cool to the touch. And though they're lightweight, neither the T-shirt nor the pants are see-through at all. Avila now considers the bottoms a work-from-home essential, though she'll also wear them to grab the mail or go to the bodega.
Best cotton pajama set
Sizes: XXS–3X | Material: Cotton | Design: Button front, notched collar, piping, chest pocket, tie waist | Price: $
Moshfegh, who is best known for writing My Year of Rest and Relaxation, owns these very pajamas. The author, a self-professed pajama obsessive, added them to her collection of more than a dozen sets after misplacing the top of a similar set. The set features a distinctly menswear-style silhouette that's a little more lax in terms of fit. It's an updated (read: nearly identical) version of J.Crew's ostensibly discontinued — and highly popular — Vintage Pajamas that former Strategist writer Hilary Reid and Strategist contributor Hermione Hoby are fans of. "They have a slight air of formality to them — they're the kind of pajamas I imagine wearing while trying to finish the last half of Swann's Way or reading a newspaper in bed," Reid says. These also have a literal airiness: Made from a cool cotton, they work well year-round, even when Reid has her air conditioner on the highest setting. There's some comfort in the color: Reid and Hoby own them in a shade called hydrangea, which they describe as "vaguely medicinal" and "soothing, almost hospital-y," respectively. It helps that these pajamas also remind Hoby of the pair Daniel Day-Lewis sports in Phantom Thread. And you can get this set monogrammed for a $10 fee, choosing between thread colors and including up to three initials.
Best printed pajama set
Sizes: XS–5X | Material: Cotton | Design: Satin piping, patch pocket, drawstring waist | Price: $$$
Illustrator Karen Mabon's eponymous label is known for its charming prints — see this one delightfully dubbed "cat café" and another featuring charging bulls and broken ceramics. I heard rave reviews about the brand's pajamas before, with content creator Lucy Litman calling them "chic enough to roll out of bed and look like you put in maximum effort." As an unabashed maximalist, their sleepwear has appealed to me for a while — and so I was very eager to test this set when the brand offered the chance. It lived up to my expectations. The cotton is refreshing — I'm a hot sleeper and the pajamas didn't leave me sweaty even during the hottest (or coldest, most blanketed) days of fall, so I suspect they'll work year-round. They also have the right amount of looseness. I thought the pants might drag since I'm petite (five-foot-two-ish) and that's often what happens with bottoms, but the hem hits the top of my slippers. And I like wearing them whenever I'm in need of a bit of eccentric glamour.
[Editor's note: Karen Mabon lists all prices in pounds, so the price shown below is an approximate conversion to U.S. dollars.]
Best boxer pajamas
Sizes: XXS–3X | Material: Cotton | Design: Side pockets and logo waistband | Price: $
This pair of boxers is a cousin of the End-on-End pajamas mentioned above. The shorts have appeared twice in our archives — earning a spot in our loungewear guide after Anello penned an ode to the shorts. Anello has even been inspired to wear them out of the house, taking after former J.Crew creative director Jenna Lyons, who "popularized the trend of wearing pajama shirts as everyday tops." She explains that because these don't have an opening in the front and feature pockets (unlike traditional boxers), you can easily go out with them on. "While they may not look like them, the shorts are exactly what you want from a boxer. They swing out from my hips in a way that my other shorts do not, allowing more airflow that keeps my legs cooler," Anello says. Her recommendation convinced me to buy them myself. I can happily report that these boxers feel like next to nothing. In the day, they resemble something you'd see on a tennis court (especially with the right tube socks). At night, the shorts are ultracomfortable, letting your legs breathe underneath sheets and blankets.
Best nightgown
Sizes: One size (equivalent to sizes 2–12) | Material: Cotton | Design: Adjustable straps, pin-tuck stitching, scalloped trim | Price: $
Sizes: One size (fits sizes 2–12) | Material: Cotton | Design: Square neckline, bell-shaped sleeves, embroidery| Price: $
Brooklyn-based general store Salter House is a nightgown nirvana. Stock is usually limited, so it's really a don't-dillydally situation. The First Nightdress is one of the few you can buy consistently — it's a replica of one that founder Sandeep Salter received for her 13th birthday with pin-tuck stitching and scalloped trimming. "Their look is very sleepy Portuguese aristocrat," says Lauren Mechling, a writer and the creator of @thecloglife. Weisner points out that the semi-sheer cotton the company uses is reminiscent of 19th-century undergarments in a "Victorian, Picnic at Hanging Rock" way. I wholeheartedly agree, having now written about Salter House sleepwear in two separate Strategist Hauls. The Lamb Nightdress is my favorite — though it's often out of stock, it's currently available, so I thought it deserved an honorary spot on this list. It's translucent and lovely, with a plum-tree branch and lamb-holding boy embroidered into the skirt.
Best linen-pajama set
Sizes: XS–XL | Material: European-flax linen | Design: Stonewashed, crew-neck collar, tie-waist | Price: $
Strategist writer Katherine Gillespie never saw herself as a linen-pajama person, but she eventually came around to this set from Magic Linen (which was gifted to her by the brand). Her change of heart comes down to the fact that the pair doesn't "particularly look like pajamas, especially in this linen-obsessed, loose clothes era." That looseness can be attributed to the high-quality linen (made from top-tier European flax) that drapes in a "supremely flattering" way. In the winter, Gillespie considers them a savior, especially with the hit-or-miss heating in her prewar apartment.
Best silk-pajama set
Sizes: XS–2X | Material: Silk | Design: Oversize top, no-twist waistband, chest pocket | Price: $$$
Our pick for the best silk pajamas, this set from Lunya has been on our radar since Reid tested it for her investigation into washable silk sleepwear; it not only survived the spin cycle but came out looking "impressively smooth and unwrinkled." She also declared, "If I could replace all of my pajamas with these, I would." More recently, I tested the set myself. The top is really oversize, but I found it helped the set feel fresh to sleep in. And I agree with Reid that Lunya's silk excels at temperature regulation; I am a sweaty sleeper, and I wasn't too hot or too cold. Yoga instructor Kate Posch even compares the set to wearing nothing in bed.
Best (less expensive) silk-pajama set
Sizes: XS–XXL | Material: Mulberry silk | Design: Adjustable shoulder straps, double-layer shorts, pleated V-neck | Price: $$
I plucked this set from the aforementioned silk-sleepwear guide to include here, too. Harrington called out LilySilk for its affordability and value, noting that the quality is comparable to that of higher-end sleepwear labels. So I asked the company to send me this lingerie-inspired set for review. I liked the little details that make the pajamas feel especially sumptuous — including pleating along the V-neck (the camisole offers only a slight dip so it doesn't show a lot of cleavage) and the petal-like cut on the shorts. The pieces wash well, too, without becoming laughably wrinkled.
Best silk-pajama pant set
Sizes: XS–XL | Material: Mulberry silk | Design: Button front, chest pocket, side slits on pants | Price: $$
Quince is another affordable-silk-pajama maker that Strategist senior writer Liza Corsillo introduced me to. She compares the texture of this set to "blueberries or grapes early in the morning that have a little frostiness to their skin." Unlike other silk she's tried, the button-up shirt and pants simultaneously hold heat well on chiller nights and feel breathable on warmer ones (the top's cropped length and trousers' side slits help too). And out of curiosity, I asked the company to send me the top (and matching shorts) to test out. Like Liza, I was impressed by the quality of the silk, which does have a more matte appearance than the glossier look of the Italic set above. The cheeky, cropped top does occasionally show a hint of skin when I raise my arms, but I don't mind that.
Best cooling pajamas
Sizes: XS–XXXL | Material: Viscose (bamboo-based), spandex | Design: Button-front, notch collar, contrast piping | Price: $$
This set from bedding brand Cozy Earth is made from a breathable, moisture-wicking bamboo viscose, and according to Strategist associate editor Jenna Milliner-Waddell, the pajamas are very refreshing. She sometimes wakes up soaked in sweat, so when the company sent her a gift card so she could try some pajamas, she chose these for their cooling properties — and found that they delivered on their promise. It helps that the fabric is supple and stretchy. Milliner-Waddell says that when she wakes up in these and looks up at the mirror first thing, she feels ready for the day — though she stays in the PJs as long as she can. "I just feel important in them," she says. (Part of the reason, she thinks, is because they also have Oprah's stamp of approval.)
Best (less expensive) cooling pajamas
Sizes: XXS–XXL | Material: Cotton | Design: Scoop-neck with matching trim, slight cutaway on hem of shorts | Price: $
Strategist writer Dominique Pariso — another self-professed sweaty sleeper — suggested this set from Lake as a more affordable alternative to Cozy Earth's. (Corsillo is another on-the-record fan of Lake's pajamas.) The brand sent her this shorts set for review, and she found that the lightweight pima cotton was not only "so, so soft" but kept her cool through the night. Pariso confirms that, per the washing instructions, the set shrinks slightly the first time you put it through a washer (and you should definitely air-dry it). "It was fine and to be expected for pima cotton," she assures, but if you prefer a very loose fit or are between sizes, you may want to size up.
Best maternity pajamas
Sizes: XS–XXL | Material: Micro-modal, spandex | Design: Button-front, notch collar, contrast piping | Price: $
When Strategist writer Lauren Ro was pregnant with her second child, that maker of her favorite nursing-pumping bra, Larken, mailed her a set of its signature pajamas. Although she didn't try them out until after the baby was born, she "still wears them nearly a year later" and likes them even more than the Eberjey Giseles that top this list. Ro says she always felt like she was "swimming" in the Eberjeys, and the ones from Larken have a closer-to-the-body silhouette that she prefers — while still having enough drape to feel comfortable in, she adds. "These are the only pajamas I want to wear now, and I recommend them to everyone, whether they're expecting or not," Ro says. With that said, they do have pregnancy-specific features like a no-digging waistband for growing bumps and a button-front that pairs with the brand's aforementioned bra.
Some more women's pajamas we've written about
• Chloe Anello, former Strategist writer
• Arielle Avila Strategist writer
• Remi Bader, TikTok creator and curve model
• Cat Corcoran, creative director of advertising agency Mission
• Liza Corsillo, Strategist senior writer
• Katherine Gillespie, Strategist writer
• Joanna Goddard, founder and editor of Cup of Jo
• Yuneida Gutierrez, content creator
• Cora Harrington, author of In Intimate Detail: How to Choose, Wear, and Love Lingerie
• Hermione Hoby, Strategist contributor
• Laura Lippman, writer
• Olivia Locher, photographer
• Lauren Mechling, writer and @thecloglife creator
• Jenna Milliner-Waddell, Strategist associate editor
• Joanna Muenz, photo editor
• Dominique Pariso, Strategist writer
• Hilary Reid, former Strategist writer
• Lauren Ro, Strategist writer
• Lucy Weisner, co-founder of Café Forgot
Additional reporting by Lori Keong and Chloe Anello
The Strategist is designed to surface the most useful, expert recommendations for things to buy across the vast e-commerce landscape. Some of our latest conquests include the best women's jeans, rolling luggage, pillows for side sleepers, ultra-flattering pants, and bath towels. We update links when possible, but note that deals can expire and all prices are subject to change.
Every editorial product is independently selected. If you buy something through our links, New York may earn an affiliate commission.