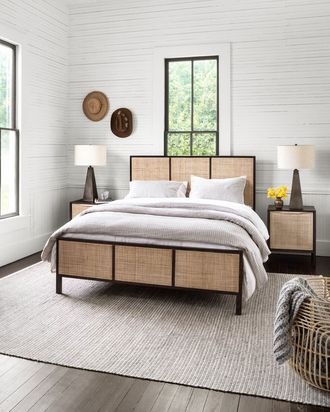 Photo: Courtesy of vendor
Finding the right mattress can take time and thought. But anyone who has shopped for a bed frame to put said mattress (and sheets) on knows that process can take just as much effort. For such a large and visible piece of furniture, there are a few considerations to make. Do you prefer a minimalist platform bed frame, or an elegant tufted one? Something with a canopy, or an austere iron design? Bed frames now even come with built-in storage, but would under-bed or nightstands better suit your space?
To help you find the bed frame of your dreams (after all, you spend a third of your life in bed), we tapped 15 interior designers for their picks and combed through our archives for any exceptional styles we've written about before. Many of the 23 bed frames on this list cost $1,000 or less, and nearly all of them are less than $1,500 (one is a bit more expensive, and some may find it's worth every penny). To help you shop, we've organized the bed frames by their design — from platform to canopy to wingback to ones with built-in storage — and to keep things simple, we've listed starting prices for queen-size frames, though all come in other sizes.
Best platform bed frames
You can't get more streamlined, or laid-back, than a platform bed frame. They have the slimmest profile and require nothing more than a mattress (no box springs here). This one comes recommended by Decorilla design expert Devin Shaffer, who loves that it's constructed from poplar wood, and made in Athens, Georgia — "which means it will stand the test of time," he says. Shaffer also likes this frame because it has "a price point for any budget" and even folds in half for easy, compact storage. Plus, its rounded edges give the frame a softer look than your standard boxy platform bed. And because it's unfinished, you can easily paint or stain it on your own.
For a bit of color and an unexpected silhouette, consider the Ava, a platform frame that comes recommended by interior design publicist Molly Schoneveld. It's definitely a splurge, but she says that "this gorgeous emerald-green velvet is such a refreshing change from so much gray over the past few years," adding that "it can easily be accessorized in so many different ways that would make it work in a modern or traditional home." The curving headboard features tailored channel detailing and slightly wraps around the top of the bed, creating a small nook of sorts, which seems super cozy — and indulgent — for reading in bed. Modsy designer Lisa Spicer also loves this frame, saying that it's "glam" in a way that "can really elevate your bedroom retreat while also being transitional enough to switch up throughout the years." In other words, it's an investment that can adapt to changing tastes and styles. She especially likes the "luxe velvet upholstery" and "little brass feet" — both are small but high-impact details that make this bed frame special.
This platform bed is as simple as the one above, but doesn't fold. It comes recommended by Tze Chun, the founder of Uprise Art, who has one in her guest room at her house upstate. She likes how the poplar wood is solid but light, and that the frame has an unfinished look and rounded corners. "For a super-affordable bed frame, the slat spacing is pretty tight, so it's plenty of support for foam or spring mattresses," Chun adds. "It has a minimalist Scandinavian look to it without being from Ikea."
If you're into the idea of an unfussy platform frame but want one with a little more heft, try this upholstered frame that Shaffer also recommends. The mid-century-modern–inspired style is also made of wood and features tapered, splayed legs, allowing it to "fit any space and nearly all styles," he says. Plus, the frame's hardwood slats mean you can simply throw any type of mattress on top, foam included.
For folks who prefer to fall, rather than climb, into bed, this super-low platform bed frame comes recommended by interior designer Liza Curtiss, a partner at design studio Le Whit. While the frame might cost as much as whatever mattress you put on it, Curtiss promises it is built to last. "Blu Dot offers a nice selection of durable fabrics, and their construction and quality are always dependable," Curtiss promises. The solid hardwood frame has soft, padded rails and comes in several neutral colors in addition to the marine blue shown.
Here's a simple wooden platform frame that's made more interesting by an upholstered headboard. RoomLift's Megan Hersch recommends it, telling us its "modern aesthetic and strong lines" have a "masculine touch." The low acacia frame has architectural elements like angular legs and slanted braces, which help support its cushy upholstered headboard. Shown in a polyester-linen blend, this frame also comes in a more expensive style upholstered in leather.
Like the frame above, this all-wood platform frame from Article, one of our favorite sofa-makers, also sports a headboard, making it a bit more distinguished than the more streamlined wooden styles on this list. Curtiss recommends it, telling us the mid-century-inspired frame's "clean lines and warm walnut color complement almost any style." Another thoughtful design detail comes in the form of the bed's tapered legs.
This platform frame can accommodate a box spring, but if you like the look of a low profile, you don't need one. It's also a bit of a splurge, but the fact that it's contract-grade (meaning that it can be used in commercial settings, like hotels, as well as residential) gives it a leg up durability-wise. It comes completely upholstered on all sides and has a high-back headboard and metal legs, elements that Modsy's VP of style, Alessandra Wood, calls "sleek with a touch of glam." She also likes that you can customize the frame with a range of fabrics and patterns, but says the standard mineral-gray velvet it comes in is really quite soothing.
Iron bed frames can be another reasonably priced way to make a design statement in your bedroom. Spicer turned us on to this iron platform frame that doesn't require a box spring, which she likes to use when decorating smaller bedrooms because "the low platform height gives the illusion of more open space." She also likes how the frame's "sleek metal lines lend themselves to an industrial vibe," but notes they can easily be warmed up by adding wood nightstands on either side of it.
This iron platform bed frame recommended by Modsy designer Yoan Walter has a softer, more traditional look thanks to its slender posts and slightly curving headboard and footboard. Walter calls it "a perfect, versatile piece of furniture that can adapt to many styles, like rustic, traditional, eclectic, or industrial." It too can be used with or without a box spring.
If you want to embrace the full drama that an iron frame can deliver, try this Art Deco–inspired model with a lovely arching footboard and headboard that incorporate oval motifs. It's made of handcrafted powder-coated iron, does not require a box spring, and comes recommended by Aimee Martinelli, a designer at Modsy. "The curved lines of the black iron are both on trend and timeless," she says. "But for me, it's all about the subtle gold details, which really make this bed special."
If you like the metal look but want something more minimal, consider a simple steel platform bed frame, like this one we heard about from Colony design-group founder Jean Lin. She calls the frame, which she has in her own home, her "price-conscious favorite." Its steel base has been gold brushed, which gives it a softer — and more versatile — look. "The Keetsa frame is so straightforward in form and materiality that it works with nearly everything," says Lin. "The bronze-hued finish dresses up earthen neutrals and tones down brighter palettes." Plus, she adds, "it's so affordable that it allows for a splurge elsewhere in the room."
Room & Board's Parsons bed is a steel platform bed frame with a bit more going for it (namely a footboard and a headboard). It's the frame of choice for designer Anki Spets, the founder of AREA Home, who likes that the frame is made of powder-coated steel, a material she says is "quite sturdy and will last for a long time." While made of steel, Spets says the frame still has an "airy look" thanks to its streamlined design and the fact that you can see under it. Available in a range of fun colors, she suggests not shying away from a bolder choice. "How about orange or onyx gloss?"
Curtiss has one word for this platform frame — "striking" — and we tend to agree. It has panels of woven cane on its footboard and headboard that she calls "a more modern take on caning." The frame is otherwise made of mango wood that's been blackwashed, an effect that contrasts nicely with the "simple basket weave" of the caning, according to Curtiss, who says the bed "adds a depth of color and texture to any space."
Best canopy bed frames
Due to their towering height, canopy beds feel both indulgent and dramatic — using one definitely requires a commitment to making it the center of attention in your bedroom. This one that Modsy designer Megan Huffman recommends certainly makes a statement, but "the streamlined aesthetic and matte black silhouette" keep it from feeling too heavy, she says. In fact, the box frame appears to hold the mattress aloft, as if it were floating. Huffman also appreciates that it's "reminiscent of industrial designs" while still being a tiny bit glam, thanks to its "plated brass corners that add a subtle level of interest." And for something so visually commanding, its price really can't be beat.