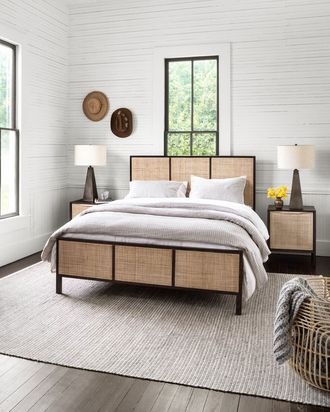 Photo: Courtesy of vendor
Finding the right mattress can take time and thought. But anyone who has shopped for a bed frame to put said mattress (and sheets) on knows that process can take just as much effort. For such a large and visible piece of furniture, there are a few things to consider. Do you prefer a minimalist platform bed frame or an elegant tufted one? Something with a canopy or an austere iron design? Bed frames now even come with built-in storage, but would underbed drawers or nightstands better suit your space? To help you find your ideal bed frame, we asked 15 interior designers for their picks and combed through our archives for exceptional styles we've written about before. To keep things simple, we've listed starting prices for queen-size frames, though all come in other sizes.
Best overall | Best (less expensive) overall | Best easy-to-assemble | Best customizable easy-to-assemble | Best wood | Best wood with upholstered headboard | Best upholstered | Best upholstered without headboard | Best on-the-floor upholstered | Best customizable upholstered | Best modern metal | Best traditional metal | Best Art Deco–style metal | Best minimalist metal | Best colorful metal | Best wood-and-cane | Best canopy | Best colorful canopy | Best wingback upholstered| Best customizable wingback upholstered | Best tufted wingback | Best with built-in side tables | Best with built-in underbed drawers | Other bed frames we like 
What we're looking for
Type and style: You'll want to consider your space before choosing a bed frame. If your bedroom is small or you prefer a minimalist silhouette, you can't get more streamlined than a platform bed frame that is, at its most basic, simply a base for your mattress — no box spring required. In fact, every single bed frame that our experts recommended is built on a platform foundation, so I've categorized them by other defining characteristics like material and whether they have headboards, an overhead canopy, or underbed storage, for example. Within these types, you'll see them in updated mid-century modern styles, ones with more traditional iron work, and sleek contemporary options.
Material: Depending on the look you're going for, you'll have to decide on whether you want a bed frame made out of wood, which will lend a more natural or rustic vibe to your space, or a metal one, which feels a bit more contemporary — unless, that is, you opt for a traditional wrought-iron style. Or if coziness is what you're after, an upholstered bed can help you accomplish that.
Price: While most of the bed frames on this list hover around the $1,000 price range, you can find many options that offer the same sought-after style for a lot less. Basic platform beds will be your most affordable bet, but you can definitely get something with a bit more character and still stay within your budget.
Best overall bed frame
Platform | Headboard | Wood | Mid-century modern | $$
This all-wood platform frame from Article — available in walnut in addition to the white oak (shown above) — is our pick for the best overall bed frame for its mid-century modern–inspired design that still manages to look timeless. It is made with solid and veneered American white oak and has a tall headboard that makes it feel a bit more distinguished than the more streamlined wood styles on this list. (You can also choose from a fabric or spindle headboard as well.) It's recommended by interior designer Liza Curtiss, a partner at design studio Le Whit, who tells us that its "clean lines and warm color complement almost any style." Another thoughtful design detail comes in the form of the bed's tapered legs.
Best (less expensive) overall bed frame
Platform | Wood | Traditional | $
If all you need is a wood platform base, this one, which Decorilla lead designer Devin Shaffer recommends, is a solid and affordable choice. Shaffer loves that it's constructed from poplar wood and made in Athens, Georgia, "which means it will stand the test of time," he says. He also likes this frame because it has "a price point for any budget" and even folds in half for easy, compact storage. Plus its rounded edges give the frame a softer look than your standard boxy platform bed. And because it's unfinished, you can easily paint or stain it on your own.
Best easy-to-assemble bed frame
Platform | Headboard | Wood | Modern | $$$
If you want another easy-to-assemble, no-tools-required option, consider Thuma's platform bed, which Strategist deals writer Leah Muncy recommended after testing one. As someone who "despises assembling furniture so much" that she considered calling off an apartment move to avoid having to build a bed, Muncy was surprised to find that it took all of 20 minutes to put together the wood frame, whose construction is inspired by Japanese joinery. "The pieces fit together intuitively and seamlessly — there were no gaps or ill-fitting screws," she wrote. "It stood upright without needing to be propped up, and the pieces held together once in place." After sleeping on it for a few months, Muncy reports that it "hasn't squeaked or tumbled like a Jenga tower." The bed comes with an upholstered headboard (with a removable, washable cover) that simply slips into the leftover space between the frame, mattress, and wall.
Best customizable easy-to-assemble bed frame
Platform | Headboard and underbed storage optional | Wood | Modern | $$
This bed frame from Detroit-based furniture company Floyd is a minimalist, industrial take on the platform bed that Strategist editor Maxine Builder owns and recommends. It's made up of three slats of plywood and metal feet that are held together by nylon ratchet straps — in other words, assembly requires no tools, just like the Thuma. And despite its straightforward assembly process, "it's surprisingly sturdy," says Builder. "We haven't had to adjust it since putting it together about a year ago." Plus it's "super-easy to move yourself because it's so lightweight," she adds. It has a low profile, making it all the more unassuming, but if you prefer a bed that has a bit more going for it, Floyd makes it easy to do. It comes with the option to add a headboard and underbed storage drawers (albeit shallow ones) on either side (all sold separately).
Best wood bed frame
This platform bed is as simple as our overall budget pick but doesn't fold. It comes recommended by Tze Chun, the founder of Uprise Art, who has one in her guest room at her house upstate. She likes how the poplar wood is solid but light, and that the frame has an unfinished look and rounded corners. "For a super-affordable bed frame, the slat spacing is pretty tight, so it's plenty of support for foam or spring mattresses," Chun adds. "It has a minimalist, Scandinavian look to it without being from Ikea."
Best wood bed frame with upholstered headboard
Platform | Upholstered headboard | Wood | Mid-century modern | $$$
Here's a simple wood platform frame that's made more interesting by an upholstered headboard. RoomLift's Megan Hersch recommends it, telling us its "modern aesthetic and strong lines" have a "masculine touch." The low acacia frame has architectural elements like angular legs and slanted braces, which help support its cushy upholstered headboard. Shown in a polyester-linen blend, this frame also comes in a more expensive style upholstered in leather.
Best upholstered bed frame
Platform | Headboard | Upholstered | Modern | $$$
For a bit of color and an unexpected silhouette, consider the Ava, a platform frame that comes recommended by interior design publicist Molly Schoneveld. It's definitely a splurge, but she says that "this gorgeous emerald green velvet is such a refreshing change from so much gray over the past few years," adding that "it can easily be accessorized in so many different ways that would make it work in a modern or traditional home." The curving headboard features tailored channel detailing and slightly wraps around the top of the bed, creating a small nook of sorts, which seems super-cozy — and indulgent — for reading in bed. Modsy designer Lisa Spicer also loves this frame, saying that it's "glam" in a way that "can really elevate your bedroom retreat while also being transitional enough to switch up throughout the years." In other words, it's an investment that can adapt to changing tastes and styles. She especially likes the "luxe velvet upholstery" and "little brass feet" — both are small but high-impact details that make this bed frame special.
Best upholstered bed frame without headboard
Platform | Upholstered | Mid-century modern | $
If you're into the idea of an unfussy platform frame but want one with a little more heft, try this upholstered frame that Shaffer also recommends. The mid-century modern–inspired style is also made of wood and features tapered, splayed legs, allowing it to "fit any space and nearly all styles," he says. Plus the frame's hardwood slats mean you can simply throw any type of mattress on top, foam included.
Best on-the-floor upholstered bed frame