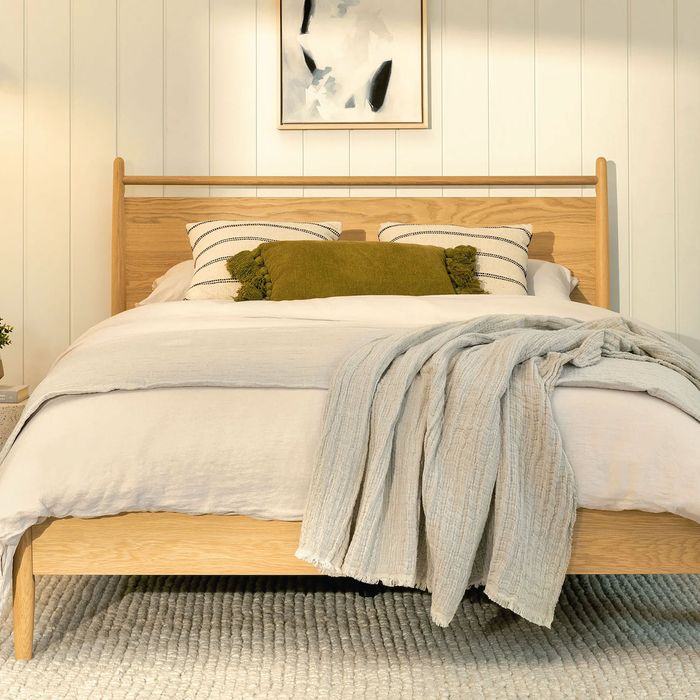 Photo: Courtesy of vendor
Finding the right mattress can take time and thought. But anyone who has shopped for a bed frame to put said mattress (and sheets) on knows that process can take just as much effort. For such a large and visible piece of furniture, there are a few things to consider. Do you prefer a minimalist platform bed frame or an elegant tufted one? Something with a canopy or an austere iron design? Bed frames now even come with built-in storage, but would underbed drawers or nightstands better suit your space? To help you find your ideal bed frame, we asked 12 interior designers (and a few Strategist staffers) for their picks. To keep things simple, we've listed starting prices for queen-size frames, though all come in other sizes.
What we're looking for
You'll want to consider your space before choosing a bed frame. If your bedroom is small or you prefer a minimalist silhouette, you can't get more streamlined than a platform bed frame that is, at its most basic, simply a base for your mattress — no box spring required. In fact, every single bed frame that our experts recommended is built on a platform foundation, so I've categorized them by other defining characteristics like material and whether they have headboards, an overhead canopy, or storage, for example. Within these types, you'll see them in updated mid-century modern styles, ones with more traditional iron work, and sleek contemporary options.
Depending on the look you're going for, you'll have to decide on whether you want a bed frame made out of wood, which will lend a more natural or rustic vibe to your space, or a metal one, which feels a bit more contemporary — unless, that is, you opt for a traditional wrought-iron style. Or if coziness is what you're after, an upholstered bed can help you accomplish that.
While most of the bed frames on this list hover around the $1,000 price range, you can find many options that offer the same sought-after style for a lot less. Basic platform beds will be your most affordable bet, but you can definitely get something with a bit more character and still stay within your budget.
Best overall bed frame
Style: Headboard, Mid-century modern, Two colors | Material: Wood | Price: $$
This all-wood platform frame from Article — available in walnut in addition to the white oak (shown above) — is our pick for the best overall bed frame for its mid-century modern–inspired design that still manages to look timeless. It is made with solid and veneered American white oak and has a tall headboard that makes it feel a bit more distinguished than the more streamlined wood styles on this list. Another thoughtful design detail comes in the form of the bed's tapered legs. (You can also choose from a fabric or spindle headboard as well.) It's recommended by interior designer Liza Curtiss, a partner at design studio Le Whit, who tells us that its "clean lines and warm color complement almost any style." Strategist writer Emma Wartzman, who owns this bed in walnut, agrees. "I knew I wanted wood, something mid-century-modernish while being super-simple," she says. "To me, this one just looks so timeless. I know I'll be able to take it to other apartments or reset it with new bedding whenever the desire strikes and it will still work. But it's also got just a bit of intrigue with the panel detail." Beyond the look of this bed, Wartzman says the delivery was smooth and she was able to put the whole thing together herself in an hour because she was too excited to wait for her boyfriend to come home. Plus, she says, "It feels incredibly sturdy, the wood looks high quality (something I was definitely nervous about with other models), and the sides are low enough to make bed-making easy."

Best (less expensive) overall bed frame
Style: Headboard, Modern, Three colors | Material: Wood | Price: $
For half the price of the Article frame, check out this mid-century-modern-inspired bed from AllModern that Strategist senior writer Liza Corsillo bought after scouring what felt like "every possible retailer and DTC furniture brand there is" for something both affordable and durable. She says she decided on this solid-wood frame because "it was the only affordable option I saw that both matched my style — vaguely mid-century, warm stained wood — and isn't made of cheap materials." She also appreciated its thoughtful design. "I love that the headboard is slatted, rather than one big piece of wood, because it feels airy in our not-enormous bedroom," she says. "The peg-style feet remind me of Shaker furniture, and the height is perfect for stashing bins below without making me feel like I'm a million miles off the ground." It's available in light-oak and white finishes in addition to the warm "castanho" color above.
Best wood bed frame
Style: Modern | Material: Wood | Price: $
This simple platform bed by KD Frames is made in Athens, Georgia, of solid wood and comes recommended by Tze Chun, the founder of Uprise Art, who has one in her guest room at her house upstate. She likes how the poplar wood is solid but light, and that the frame has an unfinished look and rounded corners. "For a super-affordable bed frame, the slat spacing is pretty tight, so it's plenty of support for foam or spring mattresses," Chun adds. "It has a minimalist, Scandinavian look to it without being from Ikea."
Best (less-expensive) wood bed frame
Style: Modern | Material: Wood | Price: $
For another straightforward platform bed made from solid wood that's even more affordable, consider this style that Strategist writer Katherine Gillespie recently bought and loves. As she wrote earlier this year, not only is it a huge upgrade from her squeaky metal bed frame, it's sturdy, looks nice, and was a cinch to assemble. "All the components aligned easily, and I was able to put the bed together single-handedly in about 45 minutes using the supplied Allen key," she says. Gillespie chose the dark antique-espresso color to contrast with her lighter floorboards. "The finished product looks like it cost far more than $200," she says.
Best customizable wood bed frame
Style: Modern, Customizable | Material: Wood | Price: $$$
Strategist editor Maxine Builder owns and recommends this minimalist, industrial take on the platform bed from Detroit-based furniture company Floyd. It's made up of three slats of plywood and metal feet that are held together by nylon ratchet straps — in other words, assembly requires no tools. And despite its straightforward assembly process, "it's surprisingly sturdy," says Builder. "We haven't had to adjust it since putting it together about a year ago." Plus it's "super-easy to move yourself because it's so lightweight," she adds. It has a low profile, making it all the more unassuming, but if you prefer a bed that has a bit more going for it, Floyd makes it easy to do. It comes with the option to add a headboard and underbed storage drawers (albeit shallow ones) on either side (all sold separately).
Best easy-to-assemble wood bed frame
Style: Headboard, Modern | Material: Wood | Price: $$$
If you want another easy-to-assemble, no-tools-required option, consider Thuma's platform bed, which former Strategist writer Leah Muncy recommended after testing one. As someone who "despises assembling furniture so much" that she considered calling off an apartment move to avoid having to build a bed, Muncy was surprised to find that it took all of 20 minutes to put together the wood frame, whose construction is inspired by Japanese joinery. "The pieces fit together intuitively and seamlessly — there were no gaps or ill-fitting screws," she wrote. "It stood upright without needing to be propped up, and the pieces held together once in place." After sleeping on it for a few months, Muncy reports that it "hasn't squeaked or tumbled like a Jenga tower." The bed comes with an upholstered headboard (with a removable, washable cover) that simply slips into the leftover space between the frame, mattress, and wall.
Best folding bed frame
Style: Traditional | Material: Wood | Price: $
Easy assembly is one thing, but imagine being able to put away a bed frame just as handily. Here's another minimalist platform style from KD Frames — one that happens to fold up. It's a favorite of Decorilla lead designer Devin Shaffer for its solid poplar construction he says "will stand the test of time." He also likes this frame because it has "a price point for any budget," and the fact that it folds in half for easy, compact storage. Plus its rounded edges give the frame a softer look than your standard boxy platform bed. And because it's unfinished, you can easily paint or stain it on your own.
Best upholstered bed frame
Style: Mid-century modern | Material: Upholstery | Price: $
If you're into the idea of an unfussy platform frame but want one with a little more heft, try this upholstered frame that Shaffer also recommends. The mid-century modern–inspired style is also made of wood and features tapered, splayed legs, allowing it to "fit any space and nearly all styles," he says. Plus the frame's hardwood slats mean you can simply throw any type of mattress on top, foam included.
Best customizable upholstered bed frame
Style: Headboard, Modern | Material: Upholstery, Customizable | Price: $$$
This platform frame can accommodate a box spring, but if you like the look of a low profile, you don't need one. It's also a splurge, but the fact that it's contract-grade (meaning it can be used in commercial settings like hotels, as well as residential) gives it a leg up durability-wise. It comes completely upholstered on all sides and has a high-back headboard and metal legs, elements that Modsy's VP of style, Alessandra Wood, calls "sleek with a touch of glam." She also likes that you can customize the frame with a range of fabrics and patterns, but says the standard mineral-gray velvet it comes in is really quite soothing.
Best mixed-material upholstered bed frame
Style: Headboard, Modern | Material: Rattan, Upholstery, Customizable | Price: $$$
For something a bit more surprising, consider this made-to-order frame that includes a rattan headboard and an upholstered base. It's recommended by Kasee Smith, lead designer at online interior-design service Havenly, who says it has a "more modern and contemporary aesthetic" thanks to "its soft curves and sleek design." Even though the headboard is high, the caning makes it feel "light and airy," while the sturdy base, which is customizable in either linen (six colors) or velvet (18 colors), grounds it. The ash legs are capped with brass, which adds a subtle, luxe touch.
Best metal bed frame
Style: Headboard and footboard, Modern | Material: Metal | Price: $$
Iron bed frames can be another reasonably priced way to make a design statement in your bedroom. Modsy designer Lisa Spicer turned us on to this iron platform frame that doesn't require a box spring, which she likes to use when decorating smaller bedrooms because "the low platform height gives the illusion of more open space." She also likes how the frame's "sleek metal lines lend themselves to an industrial vibe," but notes they can easily be warmed up by adding wood nightstands on either side of it.
Best minimalist metal bed frame
Style: Minimalist | Material: Metal | Price: $$
If you like the metal look but want something more minimal, consider a simple steel platform bed frame, like this one we heard about from Colony design-group founder Jean Lin. She calls the frame, which she has in her own home, her "price-conscious favorite." Its steel base has been gold brushed, which gives it a softer — and more versatile — look. "The Keetsa frame is so straightforward in form and materiality that it works with nearly everything," says Lin. "The bronze-hued finish dresses up earthen neutrals and tones down brighter palettes." Plus, she adds, "it's so affordable that it allows for a splurge elsewhere in the room."
Best colorful metal bed frame
Style: Headboard, Modern | Material: Metal | Price: $$$
If color is a priority for you, Room & Board's Parsons bed comes in a rainbow's array of options. It's the frame of choice for designer Anki Spets, the founder of AREA Home, who likes that the frame is made of powder-coated steel, a material she says is "quite sturdy and will last for a long time." While made of steel, Spets points out the frame still has an "airy look" thanks to its streamlined design and the fact that you can see under it. Available in a range of 16 fun colors, she suggests not shying away from a bolder choice: "How about orange or onyx gloss?"
Best canopy bed frame
Style: Canopy, Modern | Material: Metal | Price: $$$
This canopy that Modsy designer Megan Huffman recommends certainly makes a statement, but "the streamlined aesthetic and matte black silhouette" keep it from feeling too heavy, she says. In fact, the box frame appears to hold the mattress aloft, as if it were floating. Huffman also appreciates that it's "reminiscent of industrial designs" while still being a tiny bit glam, thanks to its "plated brass corners that add a subtle level of interest." And for something so visually commanding, its price really can't be beat.
Best wingback bed frame
Style: Wingback headboard, Traditional | Material: Upholstery | Price: $$
For a bit more drama, try a wingback bed (a frame with a tall headboard that has narrow, turned-in side panels) like this one, recommended by by interior design publicist Molly Schoneveld, that's made in the U.S. of pinewood. It has a high wingback headboard that feels luxurious while still being modern, and she says its price is hard to beat. (We agree.) While it's available in a few colors, Schoneveld prefers the navy (shown above) paired with crisp white sheets.
Best tufted wingback bed frame
Style: Wingback headboard, Traditional | Material: Upholstery, customizable | Price: $$$
If the popular tufted-and-upholstered style is what you seek, this is a great opportunity to get a very good version of it at a decent price. "For those looking to channel that five-star-hotel vibe, we love this affordable-luxe tufted bed from Pottery Barn," says Allison Whitt of Design X Interiors, a San Diego hospitality-design firm. "It's a timeless statement piece that instantly adds drama and depth to a room, and serves as the perfect backdrop for a decadent layering of pillows, bedding, and all things hygge."
Best bed frame with built-in side tables
Style: Headboard, Storage-side tables, Modern | Material: Wood | Price: $$$
While this one won't necessarily save you space (it's quite wide), it does come with nightstands that extend from the headboard on either side. "Designed by Mark Daniel of Slate Designs, the Andes Bed is always one of my favorites to use," says Modsy's Huffman. She likes its streamlined appearance and "gorgeous acacia veneer" — and, of course, its built-in shelves that can hold books, lamps, and other bedside essentials. She adds that hidden cutouts allow for convenient cord management. While they share a name, this Andes bears no obvious relation to the Andes platform style that appeared earlier on this list.
Some more bed frames we've written about
Our experts
• Tze Chun, founder of Uprise Art
• Liza Corsillo, Strategist senior writer
• Liza Curtiss, partner at Le Whit
• Katherine Gillespie, Strategist writer
• Megan Huffman, Modsy designer
• Jean Lin, founder of Colony
• Molly Schoneveld, interior-design publicist
• Devin Shaffer, Decorilla lead designer
• Kasee Smith, Havenly lead designer
• Anki Spets, founder of AREA Home
• Lisa Spicer, Modsy designer
• Emma Wartzman, Strategist writer
• Allison Whitt, principal at Design X Interiors
• Alessandra Wood, VP of style at Modsy
The Strategist is designed to surface the most useful, expert recommendations for things to buy across the vast e-commerce landscape. Some of our latest conquests include the best acne treatments, rolling luggage, pillows for side sleepers, natural anxiety remedies, and bath towels. We update links when possible, but note that deals can expire and all prices are subject to change.