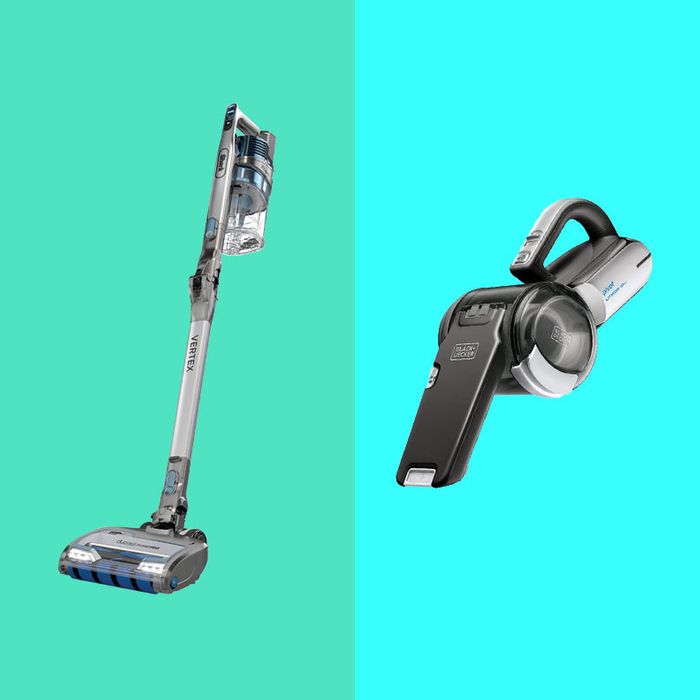 Photo-Illustration: retailer
You don't realize how bad your vacuum is until you get a new one — suddenly, you can see all the dust bunnies, spilled cereal, and clumps of fur you missed before. Upgrading to a cordless model might just give you an even bigger rush — since you won't be tethered to an outlet, you'll reach all sorts of never-before-cleaned spots. To help with your search, we turned to cleaning connoisseurs, including professional organizers and Strategist staffers, to hear about their favorites, from super-thin sticks to handheld dust-busters.
Best overall | Best less expensive | Best for carpet and hardwood | Best for pet hair | Best for small spaces | Best less expensive for small spaces | Best upright | Best handheld
Suction power: It's alphabet soup once you start getting into vac specs, but the only one to really know is AW, or air watts. This lets you know how powerful it is and how much suction you can expect to get, explains Jon Gibbons, a cleaning consultant for the site Smart Vacuums. (The vacuum-specific measurement is different from watts, which calculates power rather than suction.) He recommends looking for a model with a minimum of 100. It's important to mention that this number isn't always listed. When it wasn't (noted as N/A below), we made sure to ask our experts to detail the suction strength of their picks.
Run time: Any cordless-vacuum owner has experienced this: You're in the middle of a clean when it abruptly turns off. (This is, naturally, the cost of not being connected to an outlet.) Knowing the run time helps you avoid the aforementioned scenario.
Weight: A vacuum's weight is the easiest way to assess its practicality — the lighter, the better, especially if there's a flight of stairs in your way. Generally, cordless models are lighter than their counterparts, like the canister or carpet cleaner.
Extras: Most vacuums on the market have features like multiple cleaning modes (with names like Max and Turbo) and detachable components designed for different types of floors. Here, we've made sure to mention the ones that make a model more efficient or easier to use.
Price: In the making of this list, we considered three price points: under $250 (marked as $), under $350 ($$), and over $350 ($$$).
Best overall cordless vacuum
Best less expensive cordless vacuum
Best cordless vacuum for carpet and hardwood
Best cordless vacuum for pet hair
Best cordless vacuum for small spaces
Best less expensive vacuum for small spaces
Best cordless upright vacuum
Best cordless handheld vacuum overall