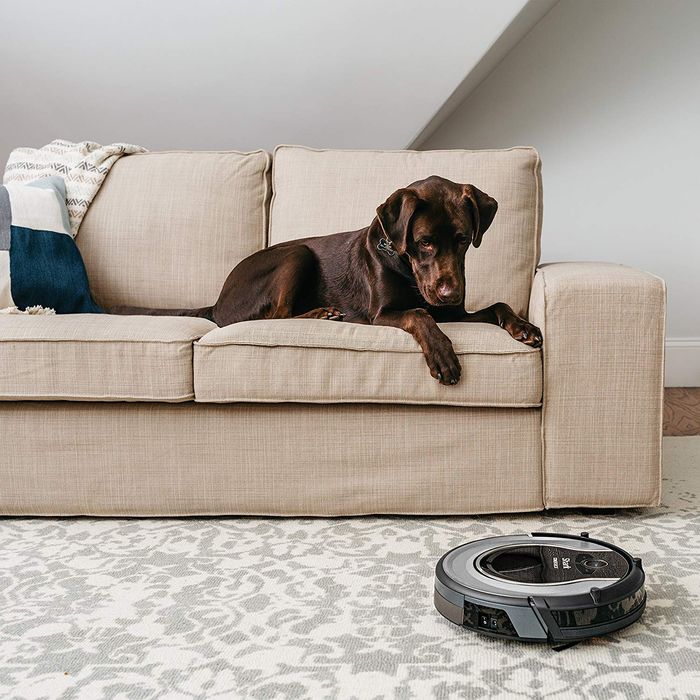 Homes have become offices, gyms, and even classrooms, so keeping the space within your four walls clean is of the utmost importance for your sanity and well-being. And if your goal is to clean the house from the ground up (literally), the first place to start is the floor. While we've written about lots of vacuums — including the best-rated vacuums on Amazon, the best handheld vacuums, and expert-approved vacuums — here, we've rounded up the best robot vacuums, so you don't have to raise a finger to clean, as praised by the most enthusiastic reviewers on Amazon.
Related Article: Best Cordless Vacuums | Best Vacuum for Pet-Owners
Best-rated robot vacuum
"This thing sucks," jokes one reviewer. "Its suction is much stronger than my Roombas have had." Thirty percent of five-star reviewers claim to have gotten this robot vacuum to deal with pet hair. "With two dogs and two cats (one of whom sheds enough to knit a sweater each year), my house rarely meets my own unattainable standards," one writes. "Eufy gets me close." Many reviewers are surprised by how much dirt and hair this thing picks up even after a first pass. "The floors were vacuumed and steam-cleaned about four days before it arrived, which is an important fact — it's just the two of us and our little dog, who doesn't shed, so I honestly didn't expect it to pick up much at all," one user explains. "Was I SURPRISED! I ran it four times yesterday to play with all the features and also on auto just to see where it would go. All four times that I ran the machine, the storage bin was FULL of dust, lint, and particles of debris." Reviewers also comment on the slim design (which gets this model "under the dressers, beds, other furniture, and all the tight spaces that I couldn't get to with an upright vacuum cleaner," according to one reviewer) and how quiet the machine is. It's so quiet, one says, "I don't even realize it's operating."
Best-rated (less expensive) robot vacuum
Nearly 3,000 reviewers give this robot vacuum five stars, with hundreds of them mentioning its reasonable price point and high-quality performance. "It gets under furniture, around the corners and edges, and does the whole house over on one charge. My husband was even surprised that it it could climb over the little hills and thresholds where our tile meets the laminate," says one former Roomba owner, who says this "drastically" cheaper robot vacuum does a better job of cleaning her house (which includes two elementary school–aged children and a dog that sheds a lot) than the more expensive device. Another ten-year Roomba user says this machine "cleans as well as the Roomba on hardwood floors, but does so extremely quietly." Hundreds of other customers describe this robot vacuum cleaner as "quiet," including one initially skeptical reviewer who says the first thing he noticed about the machine was the lack of sound, adding that he's also "blown away" by its performance: "After the first cycle the first and most important thing I noticed walking around barefoot. ZERO grit feeling. The filtration is amazing, prefilter, foam filter, then HEPA filter. The HEPA filter is rock solid and my girlfriend commented first thing after it was running that it wasn't bothering her allergies at all."
Best entry-level robot vacuum
"The baseline model is fabulous," according to one reviewer. While it "does not connect to your phone, nor can it be set to an automatic timer," it can "vacuum under the bed, under the dresser, over the air vents, over the door tracks, and on short-nap carpet, shag carpet, tile, vinyl, parquet, and throw rugs — anyplace you want cleaned," writes one reviewer. According to another, it can even do a "WAY BETTER job" than a regular vacuum. And while it might not have as many features as other robot vacuums, it does have a "'dock' button, if you want to send it back to it's charging station early, as well as a 'spot clean' button — which I find particularly useful to clean the more heavily trafficked areas of my apartment," says one user. It also offers a bit of entertainment, according to one self-identified "lazy millennial": "You haven't quite lived until you're drunk enough to follow the Roomba all over your small studio apartment feeding it Cocoa Krispies and getting giddy when it finally cycles around to catch it."
Best robot vacuum with Wi-Fi connectivity
"I have been eyeing this little piece of wizardry for years and wondering if this could be the tool that could change my life," one user writes, and for many, this Wi-Fi-enabled robot vacuum has at least made life a little easier. "The app you can use with it is really nice," one writes. "I can set and change the cleaning schedule from it. It also tells you when it's time to clean the various parts and includes a video showing you how." Another plus, according to one reviewer, is that "it will connect to our Echo Dot and so all we have to do is say 'Alexa, start the Roomba.'" Its Wi-Fi compatibility also means it docks itself, which reviewers also praise. One reviewer, who "let Rambo run until it ran out of power," says, "It ran for 90 minutes the first time and then went to the dock without prompting." For many this has proven itself superior to their ther vacuums. As one user says, "I can tell you I am a believer, and my Dyson is crying in the closet."
Best self-emptying robot vacuum
"The Roomba i7+ was a godsend to a lazy bum like me: It empties itself," one user writes, and others agree that the automatic dirt disposal is one of the best features. "Having the vacuum empty itself saves me from having interrupted cycles while it waits for me to empty it," one writes, and while one compares the sound it makes when emptying to "the deck of an aircraft carrier" they still say it works like a charm. According to one "multi-generational Roomba owner," another upgrade in this model is the mapping feature. "My older Roombas seem to ignore my invisible walls half the time," they explain. "I would try to move them around to control what room is getting cleaned and my wife simply would not use the Roomba because if she wanted one room cleaned it was easier to just go grab the regular vacuum. Now with the new maps you can tell the Roomba to go clean the kitchen. And off it goes and it sticks right to the map."
Best robot vacuum with rubber brush
While the point of robot vacuums is to help you clean, the machines themselves also need to be cleaned regularly. And to make that process a little easier, this Roomba has a rubber brush (instead of one with bristles), which reviewers find is easier to clean. "The brushes are rubber and have no bristles, so hair does not get wound around them and have to be cleaned constantly," one explains. Another benefit: "This model is so much quieter, and the two rubber rollers are a great improvement over the brush roller." The bin is also easy to clean. As another reviewer notes, "It's super-easy to empty, and I like the washable nature of the bin." And while a rubber brush may not sound ideal for carpet, about 10 percent of reviewers say this one works perfectly fine on them. "It runs for about an hour and finds its way back to the base most of the time," one reviewer says. "I have run it every day for the last four days, and the dirt cup is full every time; it is getting dirt that my upright did not."
Best robot vacuum for hardwood and carpets
Dozens of reviewers say this robot vacuum works well on all surfaces. "I turn the Shark loose and it cleans our kitchen, bathroom, and living room … Our living room is a deeper scroll carpeting, our kitchen is tile, and our bathroom is like an outdoor carpeting and the Shark does a great job," writes one reviewer. Another notes that while they do have to move cords out of their robot's way, "he's otherwise fairly quiet and unobtrusive, he's tenacious even in hard to reach places, and we're constantly equal parts amazed and horrified by how much orange cat fur and dust he sucks up from our floors, even with near daily use." And while this vacuum doesn't have mapping, it does have smart sensors to help it get around. One reviewer was pleasantly surprised that it didn't fall down the stairs: "I thought I would have to put the boundary strip down but nope, starts to go over the edge by an inch or so then stops and turns."
Best quiet robot vacuum
"She is lovely," one reviewer writes, one of almost 15 percent of reviewers who note how quiet their Ecovacs robot vacuum operates. "It looked as though I did the floors myself," they continue, "I ran the vac the entire 110 minutes, 'very quiet' 110 minutes, I emptied the drawer out twice. The bot transitioned well from hardwood to area rugs. Worked just as well on area rugs. I had been sweeping every day, so for those of you who don't, you may have to empty more often the first few times you use it." This robot vacuum also has a max suction mode, which another user still says it's "very, very quiet on." While more than 65 percent of reviewers give this five stars, some do say it gets stuck on things occasionally, but "When it does get stuck on something it beeps so you know to go check on," explains one reviewer, thanks to the Wi-Fi connectivity and loud buzzer.
Best robot vacuum for pet hair
About a third of reviewers mention how good this robot vacuum is at picking up their dog and cat hair. "We have a Golden Retriever that sheds constantly," one writes. " We run Rick three times a week and the hair on the floor has all but disappeared." Another user who with "1 dog and 3 cats that believe their only job in this world is to shed as much hair as possible inside" was admittedly skeptical says, "The amount of stuff that he was picking up was appalling." They add, "We've dumped bin after bin of hair and dirt into our trash can. We were all amazed at what that little guy can do." And while this model might not have upgrades like automatic dirt disposal, reviewers aren't bothered. "Yes, you have to empty the bin and shake out the filter and even sometimes remove pieces to pull out dog hair but the job it does makes it worth it." When writer Lori Keong tested this model, she was mainly impressed by the mapping feature and "how systematically it cleans, moving back and forth in a grid pattern so that it doesn't miss much, and without bumping into furniture too often."
Best (less expensive) robot vacuum for pet hair
"I was super-apprehensive about buying from a brand I didn't recognize, but let me tell you — I'm so glad I did," says one reviewer, who bought it as a replacement for a vacuum from a well-known brand and found that this one works much better. Dozens are equally impressed with how well it works, especially when it comes to pet hair: More than 500 dog owners and more than 200 cat owners say this is great for picking it up. One reviewer, who named their new "robot friend" Simon, says, "Simon has picked up so much fur, dirt, dust, it's unbelievable." Another writes, "We have three dogs and a cat, and I thought I would be satisfied if this thing would kind of 'surface clean' to get the tumbleweed fur," but finds it does that and so much more. "Yes! It also goes from hardwood to our low-pile Berber and rugs without hanging up." About 15 percent of reviewers agree that this model transitions well. "It transitioned over my hardwood and rugs without crying out for help and made it up and over the small ledge between the hallway and bathroom that the ol' roomba just wouldn't or couldn't," one says. Another reviewer even thinks this vacuum is sufficient for their primary source of cleaning, noting, "I HAVE NOT VACUUMED FOR A MONTH, AND MY HOUSE IS SPOTLESS." Even though it isn't from a name brand, this vacuum has converted at least one reviewer into a lifelong customer: "If this thing dies — I will replace it in a heartbeat."
Best robot vacuum with mapping
"The best thing about this unit is the mapping," says one reviewer, and more than a quarter of reviewers agree. And though that feature isn't unique to this robot vacuum, this one seems to map extraordinarily well. The technology is so good that even an engineer was impressed. "It cleans everything, the rotating LIDAR scanner maps out the entire house and every obstacle," they write. "Some very sophisticated things going on under the hood. My wife showed me the house after letting the robot learn it … I actually asked her where she downloaded the blueprints for our house. It is that precise." Precise and powerful according to one user who says it is "strong and it picks up everything from cereal, dog food, pennies, cat litter, fur, and every other nasty thing on the floor."
Best robot vacuum with mop
"I purchased this vacuum because it also has a mop function," one reviewer says, and about a third mention it in their reviews. "I tried the mopping feature when my kids tracked in mud and wet footprints and I was amazed that it cleaned it all up," one writes. "I thought for sure I would have to mop again, but it actually did a decent job." Another reviewer, who was "soooo impressed" by it, writes, "I added water and a little bit of cleaning liquid and afterwards the apartment smelled so good and looked so clean." One user does note, "When using the mop function I clean the pad and fill the reservoir about every thirty minutes" when cleaning their 1,200-square-foot home.
Best slim robot vacuum