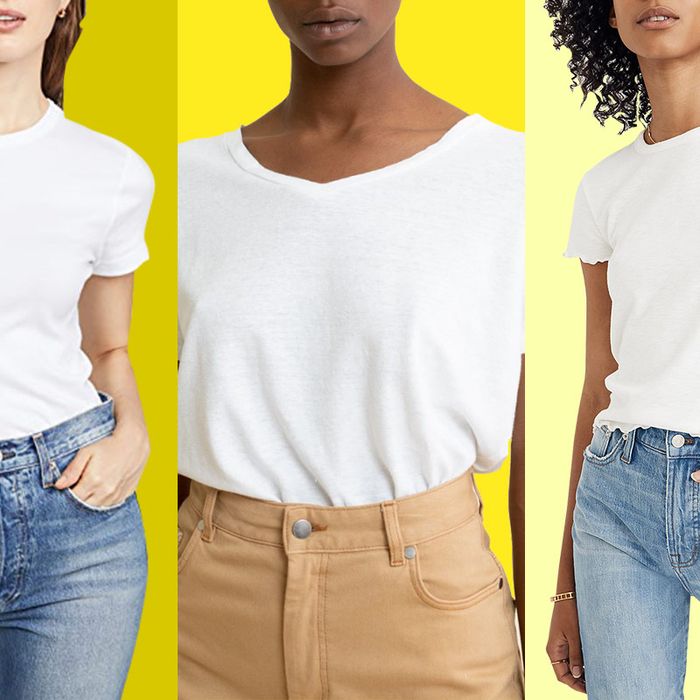 The more basic the item of clothing, the more work it has to do. This is especially true for white T-shirts, whose job it is to fit perfectly, look effortless, and get better with age (until it gets those dreaded stains). Perhaps that explains the endless variations on "basic" white tees that are on the market at any given time, as both shoppers and designers continue to search for the perfect one. A few years ago, we joined in on the hunt when we asked a bunch of stylish women to divulge their white-tee secrets. Since then, we've gone back to stylish women no less than five times (and included a few picks that some well-known fashion people gave to our friends at the Cut) to create an exhaustive list of the best white tees out there. Below, the 21 best white T-shirts — including French classics, men's and boys' three-packs, supersoft and slinky styles, and thicker, boxier ones — according to our stylish panelists.
Best white T-shirts under $20
If you want to stock up on white tees, consider Vera Wang's surprisingly down-to-earth suggestion. Wang told the Cut that she loves the short-sleeve V-necks that come in a three-pack from Fruit of the Loom. "I even sleep in them," she says.
The Gildan Soft Style 64000 was the choice white t-shirt of both TOPS singer Jane Penny and Biannual creative director Dani Roche. "I play a lot of our shows in it because I always feel comfortable in it," says Penny. "And I love the feeling this shirt gets when you've worn it for a long time — loose but fitting, with a stretched-out collar." To get a just-right length, Penny told us she cuts a few inches off the bottom of the shirt, "so it barely meets the waist of my jeans." Roche buys her Gildans in a large for a more oversized fit, and buys them in bulk: "I think I have an entire drawer of Gildan Soft Style 6400 T-shirts," she says. "I tend to wear my T-shirts a bit longer so I can do a half-tuck with slimmer jeans, or an oversize look over a skirt or shorts, and these shirts allow me to do just that." Like Penny, Roche cuts her tees to varying lengths for a custom fit. "The relaxed fit never ceases to be comfortable," she says.
Elizabeth Rose, a server at Cafe Gitane, told us that her go-to white T-shirt is Everlane's Cotton V-neck, which she likes specifically for the cut of its neckline: "I wear a lot of necklaces, and the depth of this V on this one shows them off," she told us. The shirt is made from lightweight Supima cotton, and hits just at the hip, giving it a not-cropped, but not-too-long silhouette.
When we asked Meg Vázquez, creative director at Splice, about her preferred white T-shirt, she raised an important (and familiar) point: "My forever issue with white tees is whether someone is able to see my bra through the shirt," she told us. The answer to that problem: The Uniqlo U Crew Neck T-Shirt. "The tees are just thick enough that no one can see your bra, without being so thick that you feel like you're wearing a weighted blanket," says Vázquez. "They also ride the line between a form-hugging women's cut and a traditional tee cut, which basically means they're great worn either tucked in or out."
"I like to think that I've mastered the art of buying and wearing a white T-shirt because it's pretty much the one thing that makes up my wardrobe," says artist and writer Jo Rosenthal. For a basic, inexpensive white tee, these Hanes tees are her go-to. "What can I say, I'm a big fan of something classic and timeless," she says.
When it comes to white T-shirts, stylist Mellany Sanchez told us that the "most crucial detail" is a "high and tight-ribbed crewneck." Sanchez's hunt for a shirt that satisfied that specification brought her to the boys' section. "I like an early-2000s Fruit of the Loom boys' three-pack crew," she says. "The packaging must feature the classic dark-blue stripe and saturated fruits. Mock-neck look is guaranteed."
"For basic white tees, it's Hanes or Fruit of the Loom white boy's tees, washed like a million times," says prop and fashion stylist Lily Hetzler. "I like that they are 100 percent cotton and for smaller-busted ladies they have a great fit, in nicer, heavier-weight cotton." According to Hetzler, the cotton is thick enough that your bra won't show through the material.
Designer Margherita Missoni is also a fan of wearing white tees made for the opposite sex, but in adult-male sizes rather than those for boys. She told the Cut that her favorite men's white tees come from Uniqlo and the Gap.
Best white T-shirts under $50
If you're looking for a shirt with a bit of stretch to it, costume designer Sabrinna Fabi says this Baby Tee from Madewell is her "all-time favorite. It has an amazing stretch to it but it's also a much thicker fabric than your average T." Fabi also loves the fit. "It just hugs your body really well so you can show off your curves and still be really comfy," she says. "I also love the cap sleeves with the crinkled edges, so cute!"