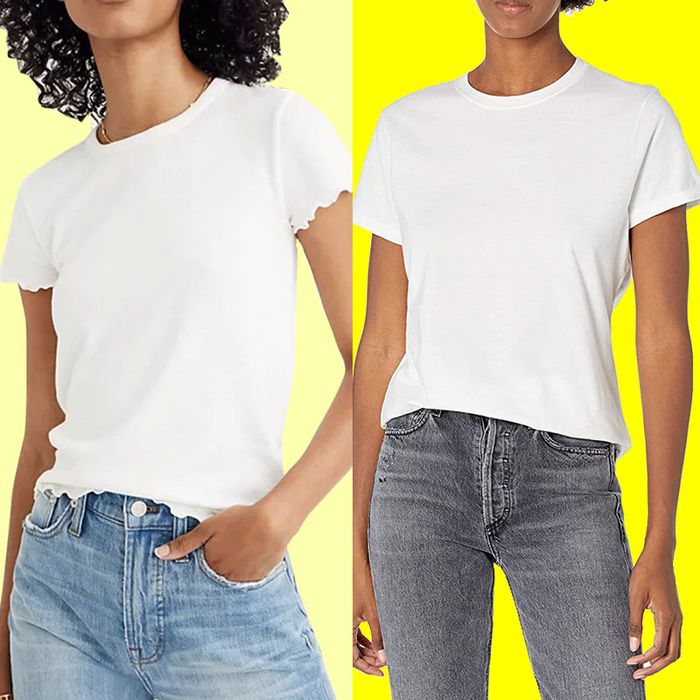 Photo-Illustration: Retailers
The more basic the item of clothing, the more difficult the choice, especially if you're shopping for a plain white T-shirt. Not only should it flatter your figure and look perfectly effortless, but it should hold up for ages even after being worn with nearly everything in your closet. But it's easy to be overwhelmed by the sheer number of white T-shirts out there: cropped, oversize, fitted, slub, V-neck, scoop neck, lightweight, heavyweight, and so much more. To keep your head from spinning, I consulted a dozen fashionable women for their take on the best one as well as tested a ton myself to suss out the absolute best T-shirts you can buy.
Best overall | Best (less expensive) overall | Best budget | Best V-neck | Best baby T-shirt | Best wide crew neck | Best scoop neck | Best oversize | Best cropped | Best splurge-worthy | Best hemp
What we're looking for:
Material: As with the men's white T-shirts I wrote about too, pretty much every pick on this list is made from cotton, except for a select few that are a blend. The breathable, versatile material ages well and comes in all sorts of weights, which we get into below. But not all cotton tees are made equal — some are made of organic cotton or partially hemp, which contributes to a heftier price tag, whereas others claim to be sustainable. All the T-shirts function about the same, so you can't go wrong with any of the below choices.
Weight: Most of the T-shirts on this list fall under the lightweight category simply because that seems to be what most of the experts consulted prefer. But I actually love a heavyweight T-shirt, as it feels substantial and much less delicate than a wispy tee. To satisfy both camps, I included a plethora of both options, plus a few medium-weight shirts, for you to consider.
Fit: I've noted how each should fit if you order true to size. Below, you'll find choices for loose-fitting (but not baggy), oversize, cropped, tight, and fitted tees.
Neckline: This is where the headaches start for me because there are so many options: V, crew, scoop, wide, and bateau. Combined with different fits, the styles to choose from grow exponentially. The most universal pick tends to be a crew or scoop neck, but a few other options are sprinkled throughout. As with most of these traits, everything comes down to personal preference and how each fits your body.
Best overall white T-shirt
Cotton | Lightweight | Loose | Crew neck
It's well documented that Strategist staffers love Buck Mason's T-shirts, with more than five of us recommending them. The slub crew beat out the cropped Easy crew four to one, which is why we've given it top billing here — plus, it isn't cropped, making it a teeny bit more versatile. Senior writer Liza Corsillo used to wear the men's tees, as did Deborah Castel, material design director at Nike, because they were that worthwhile. But now, with the womenswear line, Corsillo says, "It's just as good as the men's, with one exception: It fits my body correctly." The loose-fitting T-shirt has an effortless yet polished vibe while feeling breathable and softer with every wash. I like to say it has a Goldilocks length, too, because it's long enough to work with pants without a high rise, yet it doesn't feel bulky if tucked into high-waisted jeans.
Best (less expensive) overall white T-shirt
Cotton | Heavyweight | Fitted | Crew neck
Most of the time, I prefer a heavyweight T-shirt because I like the substantial feel — and the fact that my bra won't show through. Meg Vázquez, creative director at Splice, also appreciates that factor, noting that even though it's thicker, it isn't so heavy that it feels like "you're wearing a weighted blanket." The fit helps, too, by loosely hugging your body without feeling clingy. And unlike a few other tees on this list that have a faded, off-white appearance, this one comes in a pure, crisp white.
Best budget white T-shirt
Cotton | Medium weight | Loose | Crew neck
While not the most sophisticated shirt out there, a simple Hanes T-shirt does the job. Artist and writer Jo Rosenthal believes she has "mastered the art of buying and wearing a white T-shirt" since it's essentially all she wears, and even though her closet does consist of higher-end tees, she thinks you can never go wrong with Hanes. The shirts come in plenty of different sizes, fit well, and feature that perfect middle-ground weight. Plus, they're cheap enough to buy extras in case one endures one too many spaghetti dinners. Experts also pointed me to Gildan and Fruit of the Loom boys' T-shirts for bargain bulk-buys in case you'd like to shop around.
Best V-neck white T-shirt
Cotton | Lightweight | Loose | V-neck
A V-neck can be fairly polarizing because the length and width of the V needs to be spot-on. Elizabeth Rose, a server at Cafe Gitane, says the V is fairly deep on this Everlane tee, but because it has softer, slightly curved lines, the shape looks less severe — which is further enhanced by the lightweight Supima cotton that drapes flatteringly on the body. The hem hits right at the hip, giving it a not-cropped but not-too-long silhouette.
Best white baby T-shirt
Cotton and modal | Medium weight | Fitted | Crew neck
For those embracing the '90s revival, adding the perfect baby tee to your collection seems like a must. While not quite a typical baby tee — a.k.a. not completely shrunken — this one actually offers more versatility than others on the market (you won't want to toss it when '90s fashion ultimately fades away again). It has ultrasoft fabric that costume designer Sabrinna Fabi says stretches amazingly. "It just hugs your body really well, so you can show off your curves and still be really comfy," she says. The crinkled edges add a bit more flair to the plain tee.
Best wide crew-neck T-shirt
Cotton | Medium weight | Boxy | Crew neck
Most of the crew-neck tees on this list sit tight at the neck. But for those interested in something a little more relaxed, I love this Alex Mill T-shirt that allows for a bit of the collarbone to peek through. It has a slightly cropped, boxy fit, so it looks great tucked in or left out. The shirt has a lovely weighty feel to it to balance out the more open neckline.
Best scoop-neck T-shirt
Cotton and modal | Lightweight | Fitted | Scoop neck
And if you do want to go all-in with a scoop neck, this Banana Republic tee does it in a very flattering way. I personally dislike this neckline when it feels too loose and forces me to constantly readjust my bra strap so it doesn't peek out — and this one is the opposite. The back seam (instead of side seams) allows the shirt to lay flat against the chest and not be pulled from side to side. The brand also mixes cotton with a modal that's sourced from European beechwood trees, giving it a silky-soft feel.
Best oversize white T-shirt
Cotton | Heavyweight | Oversize | Crew neck
Sure, you could just size up in your favorite T-shirt for a slouchy fit, but nothing quite competes with a perfectly proportioned shirt that is meant to be worn big. This unisex tee from Everybody.World (the wholesale supplier for brands like Noah and Online Ceramics) is made from recyclable and biodegradable material and looks and feels effortless — the shoulders still hit at the right spot, and it doesn't swallow you whole.
Best cropped white T-shirt
Cotton | Medium weight | Cropped | Crew neck
Another tricky proportion to nail: the cropped T-shirt. I personally like a crop that can be left untucked with high-waisted jeans but isn't so short that your midriff shows, which is why I picked this recycled-cotton cropped tee from For Days. This '90s-style boxy tee made from recycled materials hits right at the beltline of my pants. (But if some exposed stomach is what you would like, check out these options from Urban Outfitters, Uniqlo, and Lululemon.)
Best splurge-worthy white T-shirt