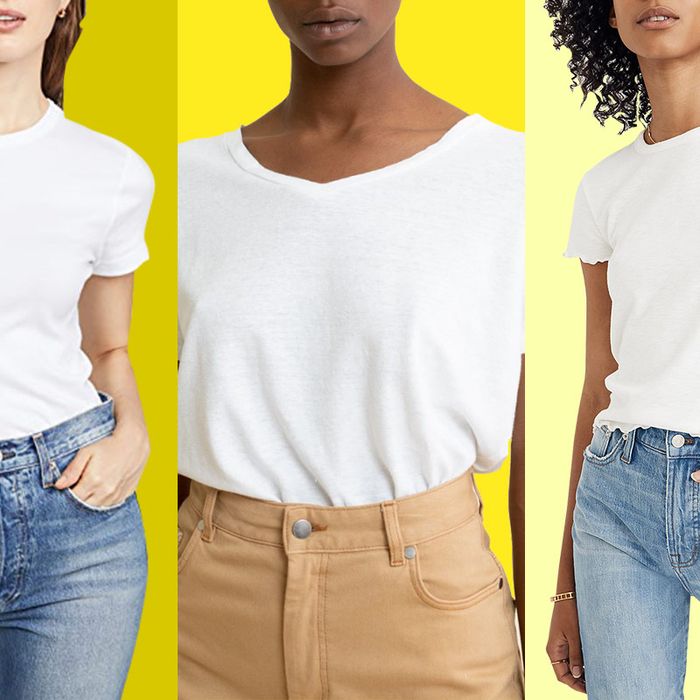 The more basic the item of clothing, the more work it has to do. This is especially true for white T-shirts, whose job it is to fit perfectly, look effortless, and get better with age (until it gets those dreaded stains). Perhaps that explains the endless variations on "basic" white tees that are on the market at any given time, as both shoppers and designers continue to search for the perfect one. A few years ago, we joined in on the hunt when we asked a bunch of stylish women to divulge their white-tee secrets. Since then, we've gone back to stylish women no less than five times (and included a few picks that some well-known fashion people gave to our friends at the Cut) to create an exhaustive list of the best white tees out there. Below, the 21 best white T-shirts — including French classics, men's and boys' three-packs, supersoft and slinky styles, and thicker, boxier ones — according to our stylish panelists.
Best V-neck white T-shirt
"Post-baby, I've gravitated toward more loose-fitting and boxy T's like Current/Elliott's Perfect V," says PR executive and mom Kat De Angelis. "It's a roomy V without being too low-cut (I hate when the V is not big enough), and it's great to sort of casually tuck in just the front, and [it] has some light distress so it feels nice and worn-in." The trim along the V-neck has a slight distressed touch, too, giving it the look of a favorite T-shirt you've worn and broken in for years.
Best multipack V-neck white T-shirts
If you want to stock up on white tees, consider Vera Wang's surprisingly down-to-earth suggestion. Wang told the Cut that she loves the short-sleeve V-necks that come in a three-pack from Fruit of the Loom. "I even sleep in them," she says.
Best stretchy white T-shirt
If you're looking for a shirt with a bit of stretch to it, costume designer Sabrinna Fabi says this Baby Tee from her Madewell is her "all-time favorite. It has an amazing stretch to it but it's also a much thicker fabric than your average T." Fabi also loves the fit. "It just hugs your body really well so you can show off your curves and still be really comfy," she says. "I also love the cap sleeves with the crinkled edges, so cute!"
Best white T-shirt for layering
Photo: 1063
Lili Göksenin, senior editor at Mr. Porter, says that while this Three Dots shirt was sent to her, it's become one of her all-time favorites. "It's such a good layering piece," she says. "I've had mine for over five years and it's in great shape, which is sort of stunning for a white cotton T-shirt."
Best white T-shirt to wear with a necklace
Elizabeth Rose, a server at Cafe Gitane, told us that her go-to white T-shirt is Everlane's Cotton V-neck, which she likes specifically for the cut of its neckline: "I wear a lot of necklaces, and the depth of this V on this one shows them off," she told us. The shirt is made from lightweight Supima cotton, and hits just at the hip, giving it a not-cropped, but not-too-long silhouette.
Best thick-weave white T-shirt
When we asked Meg Vázquez, creative director at Splice, about her preferred white T-shirt, she raised an important (and familiar) point: "My forever issue with white tees is whether someone is able to see my bra through the shirt," she told us. The answer to that problem: The Uniqlo U Crew Neck T-Shirt. "The tees are just thick enough that no one can see your bra, without being so thick that you feel like you're wearing a weighted blanket," says Vázquez. "They also ride the line between a form-hugging women's cut and a traditional tee cut, which basically means they're great worn either tucked in or out."
Best deep-V white T-shirt
"I have this in white and black, and to me, it is the perfect T," says graphic designer and dancer Chelsea Lee. "The V-neck is low enough to show off a cute bralette, but not too risqué." Lee says the rounded bottom is also "always super flattering," and gives the shirt a "relaxed fit without being slouchy."
Best vintage-feeling white T-shirts
If you love the feel of a T-shirt you've owned for years and washed many times, you might want to try Everyday Oil owner and founder Emma Allen's favorite, from sustainable clothing brand Jungmaven. "Jungmaven makes hemp-cotton-blend T-shirts and the feeling of the fabric is SO GOOD," she says. "If you like the thicker vintage feeling of '50s T-shirts, you will love these. They also make a 100 percent hemp version that is so, so nice."
Allen also recommended V-necks from an unlikely source: The Vermont Country Store. "These are secretly my favorite shirts," she says. "I could only find things like this vintage, but then I stumbled upon this holy grail of three packs at Vermont Country store. I order these in bulk now." Allen notes that the cotton camisoles in a similar style are also "the best" and that since both the T-shirts and tank tops are cut to be undershirts, you'll probably want to size up.
Best slimmer-fit white T-shirt
Alexa Buckley, co-founder of shoe line Margaux, recommends T-shirts from Industry Standard, a company that specializes in organic cotton shirts and small batch denim. "Industry Standard makes my favorite white T's," she says. "They have the best fit and the perfect opacity." The shirt is cut with a slightly slimmer fit — it's not tight, she says, and still has a bit of structure to it.
Best boxy white T-shirt
"The T-shirts I like are a sort of crop-top-undershirt hybrids: boxy, crewnecked, lightly structured, and subtly cropped at the waist and in the arms," says Strategist senior editor Katy Schneider. "This is the tee you imagine you could find at a vintage store for $15, but will not." The shirt may have a higher price tag, but Schneider makes a strong case for the splurge: "It seems absurd to spend $70 on a simple tee, I know. But hear me out: These T-shirts are the retail equivalent of no-makeup makeup. These T-shirts pull together an entire outfit handily, no matter what you are wearing — they'll elevate jeans and even fancy pants." And, most importantly, Schneider adds: "These are T-shirts you can wear almost every day — for days in a row, without anyone so much as noticing."
Best white T-shirts for taller women
Those on the taller side might consider Rag & Bone's classic short white T-shirt, recommended by Lindsey Boyd, co-owner of The Laundress."I'm tall, so I like the T-shirt to hit below my waist," says Boyd. "I like the Rag & Bone Base Tee because of the fit and feel — it also has a little sheer look (it's not solid white) so it makes it a bit dressier and more feminine."
Another longer T-shirt comes recommended to us by designer TyLynn Nguyen, who chose minimalist Norwegian brand Julie Josephine's Boyfriend Shirt as her go-to. It's one of the higher-priced options on this list, but according to Nguyen, it's a worthy investment: "Great quality and great fabrics — it will be with you for years to come," she says.
Best oversize white T-shirt
The Gildan Soft Style 64000 was the choice white t-shirt of both TOPS singer Jane Penny and Biannual creative director Dani Roche. "I play a lot of our shows in it because I always feel comfortable in it," says Penny. "And I love the feeling this shirt gets when you've worn it for a long time — loose but fitting, with a stretched-out collar." To get a just-right length, Penny told us she cuts a few inches off the bottom of the shirt, "so it barely meets the waist of my jeans." Roche buys her Gildans in a large for a more oversized fit, and buys them in bulk: "I think I have an entire drawer of Gildan Soft Style 6400 T-shirts," she says. "I tend to wear my T-shirts a bit longer so I can do a half-tuck with slimmer jeans, or an oversize look over a skirt or shorts, and these shirts allow me to do just that." Like Penny, Roche cuts her tees to varying lengths for a custom fit. "The relaxed fit never ceases to be comfortable," she says.
Best white muscle tee
According to model Lindsay Ellingson, Frame Denim has some of the best T-shirts on the market. Ellingson told the Cut that "Frame Denim has so many cool T-shirt options. I love to throw one on; they're really comfortable." Her current fave includes some subtle embroidery, but for something more basic, the Cut editors recommend this flattering muscle tee.
Best white T-shirt with a logo
"The heart just gives it that little bit of 'tude," says visual artist Jesse Lee of this Comme des Garçons logo tee. There's more to the appeal than the logo, though: "I love that the material on this is just a little bit thicker than on most tees," she says. "The sleeves on this are just right, too — not too long but not cap sleeves, either." Lee also notes that the shirt is the "perfect length," and says that even though she has a long torso and high waist, she never has to wear the shirt tucked in or with rolled sleeves because the cut is already flattering.
Softest white T-shirt
Photo: Courtesy of the vendor
"I used to be a big James Perse wearer, but recently I fell in love with the T-shirt of a male friend of mine," says Deboral Castel, material design director at Nike. "I brushed up against him and felt this incredibly smooth texture, so of course I stole the shirt (which is too big for me in a way I like), and every time I wear it, it feels softer than silk." The shirt also has a slightly curved hem, making it ideal for tucking in.
Best white T-shirt for small-breasted women
"For basic white tees, it's Hanes or Fruit of the Loom white boy's tees, washed like a million times," says prop and fashion stylist Lily Hetzler. "I like that they are 100 percent cotton and for smaller-busted ladies they have a great fit, in nicer, heavier-weight cotton." According to Hetzler, the cotton is thick enough that your bra won't show through the material.
Best mock-neck white T-shirt
When it comes to white T-shirts, stylist Mellany Sanchez told us that the "most crucial detail" is a "high and tight-ribbed crewneck." Sanchez's hunt for a shirt that satisfied that specification brought her to the boys' section. "I like an early-2000s Fruit of the Loom boys' three-pack crew," she says. "The packaging must feature the classic dark-blue stripe and saturated fruits. Mock-neck look is guaranteed."
Best men's white T-shirts for women