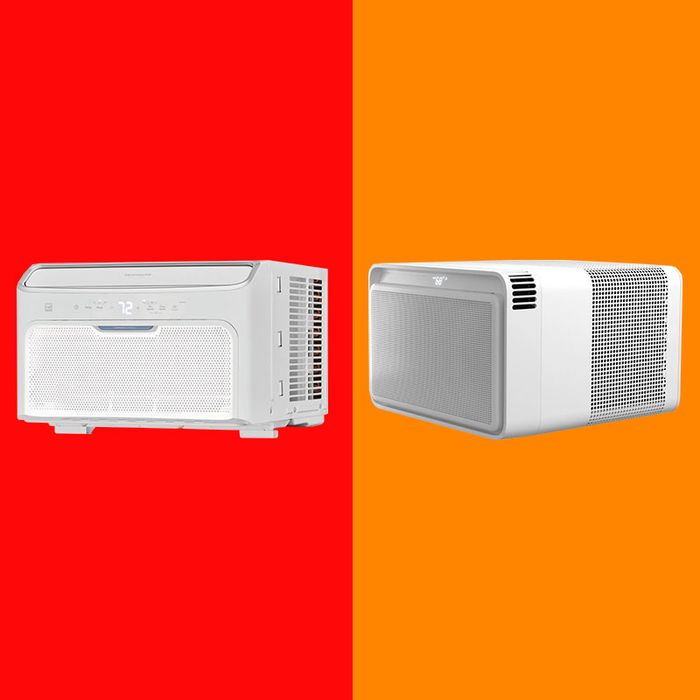 Photo-Illustration: Bettmann/Contributor
When it's hot and humid outside (and escaping to the beach isn't an option), the quickest way to cool down is retreating into an icy, air-conditioned room. Yes, fans can provide some relief, but for serious cooling power, you'll want an air conditioner — preferably a window unit, according to Jonathan Berkson, the owner of the AC installation company Super Cool NYC, who says portable stand-alone models tend to be less efficient and noisier. Window units are also the most cost-effective option if you are looking to cool a single room or small area, according to Scott Needham, president of Princeton Air, though beware that the electricity required to run multiple ACs for an entire house will quickly get expensive.
Once you narrow down the space you are trying to cool, the exact window unit to buy depends on several factors, with the number of BTUs being the most important. Beyond that, there are lots of options to choose from, ranging from basic units that get the job done to models with timers, Wi-Fi compatibility, and more sophisticated cooling systems. To find the best AC for your room size, budget, and preferences, we asked Berkson, Needham, and four other air-conditioner experts to tell us their favorites.
Best overall | Best less-expensive | Quietest window air conditioner | Quietest less-expensive | Best stylish | Best for studio apartments | Best less-expensive for studio apartments
What we're looking for
BTUs: More powerful air conditioners (as measured in BTU or British thermal units) are necessary to cool larger rooms, but that power often comes with a higher price. You can use this chart to determine the BTU level you'll need to cool your space, but keep in mind that if your home receives a lot of sunlight, you might need a more powerful AC than your square footage would otherwise require. Jesse Mastro, founder of Rent an AC, also has a guide that recommends going for a higher BTU if you're on an upper floor of your building, as heat rises. Because almost all of the units below come in different sizes, we've listed the BTU range for each of the models.
Noise Level: Cheap air conditioners can rattle and shake the window, while mid-range and high-end models tend to be quieter. These units are made with newer technology, Mastro explains, and either have a dual or single inverter mechanism inside, both of which are quieter than basic models. However, it's not the only method AC companies use to control noise. Below, we've listed the lowest decibels (dB) for each unit. For reference, decibels between 31 and 60 are considered comparable in range to a soft whisper and a standard conversation, according to the CDC.
Wi-Fi: Wi-Fi capability shouldn't make or break your air-conditioner decision, but it is something to consider. Mastro says that the main benefit of a Wi-Fi-enabled unit is that you can turn it on on your way home to start cooling your space. The downside is that none of them are easy to set up, according to Mastro, but they can be worth it once you do.
Best overall window air conditioner
5,000 to 24,000 BTUs | dB unknown | WiFi-enabled 
Three of our experts agree that Friedrich makes the highest-quality window ACs. Sylwia Dudek-Gorski, operations manager at the air-conditioner service Figlia & Sons, calls Friedrich "the king of air conditioners" and says they make the best equipment. According to Berkson, they're extremely efficient at processing the refrigerant gasses responsible for creating cold air so that you get colder air and more air flow.
This model is part of the company's Chill Premier series (available in sizes from 5,000 to 24,000 BTU), which Joe Lakin, general manager of Brooklyn's Best Air Conditioning, describes as a budget-friendly, smart air-conditioner line that lives up to Friedrich's reputation. With the timer, you can program the air conditioner to turn off up to 24 hours in advance to save energy, and in addition to Wi-Fi, you can pair it with your Alexa to use voice control. Lakin adds that if you have multiple Wi-Fi-enabled Friedrich units, you can connect them through the brand's app for central-air-like control.
This model doesn't have inverter technology to reduce noise, but it does have heavy-duty insulation for greater sound absorption and counterweights to dampen vibration. Once you purchase and install your air conditioner, Howard Lupowitz of Mike's Air Conditioning says to make sure you regularly clean the filter so the unit can work effectively.
Best less-expensive window air conditioner
5,000 BTU | 51.3 dB | No Wifi
Berkson says Frigidaire's standard 5,000-BTU model is probably the most popular air conditioner for people looking to cool a single room. Suitable for a 150-square-foot bedroom, the unit is a "super reliable" and reasonably priced option if you don't need the bells and whistles of a Friedrich, Berkson says. While you can find an off-brand model for even less, he cautions that those are often hit or miss in terms of quality and longevity. In contrast, Frigidaire offers a great warranty and helpful customer service, he says. You should know, however, that it doesn't have Wi-Fi or a ton of different settings, and is one of the loudest units on the list. For $46 more, you can get a very similar but more attractive Frigidaire model that comes with a remote control, so you can at least turn on the air without getting off the couch.
Best quiet window air conditioner
6,000 to 10,000 BTUs |38 dB | No WiFi
This unit is basically an upside-down U that straddles the window sill without obstructing the view. The design allows you to open and close your window whenever you like, though Lakin does say it's a little challenging to remove come fall. He also notes that because the air conditioner can only fit on window sills up to 11 inches, potential buyers should make sure to get that measurement before purchasing. There is no inverter technology in this AC, but the compressor sits outside the window, making it the quietest unit in our roundup, according to the lowest-setting decibels listed. And while this specific model doesn't have WiFi, for about $100 more, you can get one that does.
Best less-expensive quiet window air conditioner
8,000 to 12,000 BTUs | 41 db | WiFi-enabled 
Mastro calls Frigidaire Galleries "by far the quietest units on the market." They employ the inverter technology he recommends, which the brand says also makes them energy-efficient and consistent. This unit is Wi-Fi-enabled, and many reviewers point out that the lights not only dim, but can be turned off completely so they don't disturb you during the night. And while aesthetics aren't everything, it helps that this unit "looks fantastic too," one Amazon reviewer says. It's monochromatic, has a touch screen instead of bulging buttons and knobs, and instead of slatted vents, the design features a flat, honeycomb-like pattern for a sleek effect. Lakin also says this model installs very easily.
Best stylish window air conditioner
6,000 and 8,300 BTUs |50 db | WiFi-enabled
If aesthetics are even more of a priority for you, look no further than Windmill, a new DTC brand you've almost certainly gotten an Instagram ad for by now. Strategist writer Dominique Pariso was sent one to test and concluded that "compared to its clunkier competitors, Windmill is affordable, easy on the eyes, and quiet." She adds that it's unobtrusive enough to leave in the window all year round. But beyond looks, Pariso was pleased with the innovative functionality as well. She says the main difference with the Windmill is that the air comes out the top of the unit, not out the front like traditional ACs. "Since my bed is positioned right underneath my windows, I appreciated not having the cold air directly blasted at my head each night, and I've found that the cold air gets circulated throughout my room very efficiently," she says of her larger 8,300-BTU unit, which worked well in her bedroom but wasn't powerful enough to cool her living room. Nonetheless, it has all the qualities you'd expect with an all-frills model, including Wi-Fi, voice control, and the DTC-company-standard 30-day trial. NB: According to Windmill, this unit starts at 50 decibels, while the smaller unit starts at around 45.
Best window air conditioner for studio apartments
6,000 to 35,000 BTUs | dB unknown | WiFi enabled 
While all the units on this list come in a range of BTUs to accommodate a variety of spaces, for a studio apartment, it's important to pair size with quality, and even go overboard with the number of BTUs recommended for your space. "You would probably want to put a minimum of 10,000 BTUs in that 300-square foot studio," says Lakin, "because you have a variety of things that give off more heat than just a standard bedroom," like kitchen appliances and electronics. Friedrich's high-end Kuhl air conditioner — a step above Friedrich's Chill Premiere series in terms of noise and life span, according to Dudek-Gorski — is available in sizes up to 35,000 BTUs, so it should work for studios of any size. And while Lakin says it'll feel like central air in your small space, you will pay a premium: At over $1,000, this is the most expensive unit on our list by far, but it's also the largest, from what our experts call the highest-quality brand, and the only model on the list that can act as a heater come winter.
Best (less-expensive) window air conditioner for studio apartments
8,000 to 18,000 BTUs | 51 dB | No WiFi
If you're trying to cool your studio but don't have the budget for a Kuhl, Lakin recommends this LG unit that's nearly $1,000 cheaper. It doesn't double as a heater, and you can't connect it to Wi-Fi, but it will get the job done. Lakin explains that LG models tend to be lower priced because they have a fixed chassis, meaning they're one piece that doesn't slide out from the inside, which makes repairs more difficult. However, if you're only using the unit for a year or two, or are willing to replace it after a couple of summers, there's nothing wrong with opting for a cheaper one. I personally bought a 10,000-BTU unit for a spacious (by Brooklyn standards) studio that I stayed in for a month. And while it wasn't the quietest unit, it certainly kept me cool overnight even when placed in the window furthest from my bed.
Our experts
 • Jonathan Berkson, owner of the AC installation company Super Cool NYC
• Sylwia Dudek-Gorski, operations manager at the air conditioner service Figlia & Sons
• Joe Lakin, general manager of Brooklyn's Best Air Conditioning
• Howard Lupowitz, owner of Mike's Air Conditioning
• Jesse Mastro, founder of Rent An AC
• Scott Needham, president of Princeton Air
• Dominique Pariso, Strategist writer
The Strategist is designed to surface the most useful, expert recommendations for things to buy across the vast e-commerce landscape. Some of our latest conquests include the best women's jeans, rolling luggage, pillows for side sleepers, ultra-flattering pants, and bath towels. We update links when possible, but note that deals can expire and all prices are subject to change.
Every editorial product is independently selected. If you buy something through our links, New York may earn an affiliate commission.