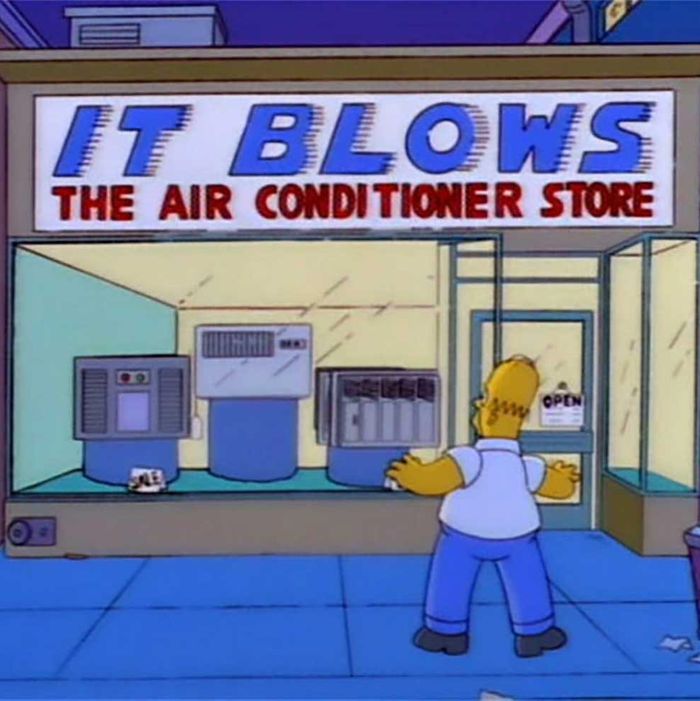 Photo: Bettmann/Contributor
When it's hot and humid outside (and escaping to the beach isn't an option), the quickest way to cool down is retreating into an icy, air-conditioned room. Yes, fans can provide some relief, but for serious cooling power, you'll want an air conditioner — preferably a window unit, according to Jonathan Berkson, the owner of the AC installation company Super Cool NYC, who says portable stand-alone models tend to be less efficient and noisier.
The exact window unit to buy, though, depends on several factors. More powerful air conditioners (as measured in BTU or British thermal units) are necessary to cool larger rooms, but that power often comes with a higher price. You can use this chart to determine the BTU level you'll need to cool your space, but keep in mind that if your home receives a lot of sunlight, you might need a more powerful AC than your square footage would otherwise require. Scott Needham, president of Princeton Air, says, "If you're only looking to cool a single room or small area, window ACs will usually be the more cost-effective option." But, he warns, the electricity required to run multiple ACs for an entire house will quickly get expensive. Joe Lakin, general manager of Brooklyn's Best Air Conditioning, also points out that there is an AC shortage from manufacturers, so don't be surprised if you see higher prices and limited stock. Which is also to say: Don't dillydally. Buy your AC before it gets too hot — and before they're more expensive or just plain sold out.
There are lots of options to choose from, ranging from basic units that get the job done to models with timers, Wi-Fi compatibility, and more sophisticated cooling systems. To find the best AC for your room size, budget, and preferences, we asked Berkson, Needham, Lakin, and three other air-conditioner experts to tell us their favorites.
Best overall window air conditioner
While it's a little pricier than some of the other recommended brands, three of our experts agreed that Friedrich makes the highest quality window ACs. Sylwia Dudek-Gorski, operations manager at the air conditioner service Figlia & Sons, calls Friedrich "the king of air conditioners," and says "they make the best equipment." According to Berkson, they're extremely efficient at processing the refrigerant gasses responsible for creating cold air, so that "you get a little bit colder air and a little bit more air flow."
This one is part of the company's Chill Premier series (available in sizes ranging from 5,000 to 12,000 BTU), which Lakin describes as a budget-friendly line that still lives up to Friedrich's high-quality reputation. With the timer, you can program the air conditioner to turn off up to 24 hours in advance to save energy, and there's also built-in Wi-Fi, so you can turn it on and off from your phone. And once you purchase and install your air conditioner, Howard Lupowitz of Mike's Air Conditioning says to make sure you regularly clean the filter, so the air conditioner can work effectively.
Editor's note: While you can purchase this unit at Walmart, it's sold by a third-party seller with an approval rating of 77 percent, so there is less risk in purchasing this model from P.C. Richard & Son.
Best (less-expensive) window air conditioner
Berkson says Frigidaire's standard 5,000 BTU model is "probably the most popular air conditioner" for people looking to cool a single room. Suitable for a 150-square-foot bedroom, he calls it "super reliable," and reasonably priced. While you can find an off-brand model for less, he cautions that those are often "hit or miss" in terms of quality and how long they last. "The nice thing about Frigidaire is that they have a great warranty and they're very helpful if something goes wrong," he says. Lakin is also a fan and likes that Frigidaire's basic models are well priced. "You don't need to spend and go crazy on pricing and fancy stuff," he says. Berkson agrees it's a good option if you don't need "the bells and whistles" of a Friedrich. For a little bit more, you can get a very similar model that comes with a remote control, so you can turn on the air without getting off the couch.
Shirley Hood, appliance specialist at Abt Electronics and Appliances, says this Frigidaire mode will easily cool a 200- to 300-square-foot room with its 6,000 BTUs. It comes with a remote control "that allows you to control the temperature and fan speed from across the room and has a sleep mode that gradually increases the temperature by a few degrees during the night."
Best easy-to-install window air conditioner
Lakin calls the Midea air conditioner the "most user-friendly, easy-to-install air conditioner," available right now. The unit comes with a simple safety bracket, and there are easy-to-follow video instructions for free online to guide you through the installation process. Unlike traditional air conditioners, Midea's U-shaped design allows you to open your window whenever you want to get fresh air. And because the compressor is basically sealed outside the window, it's much quieter than other options, Lakin says. It's Wi-Fi enabled, too.
Best over-the-sill window air conditioner
The Soleus is also extremely easy to install, says Lakin, because the unit is placed directly over the window sill, though he does say that it may be slightly more challenging to remove come fall compared to the Midea. Because of the low-profile design, you can open and close your window whenever you'd like, while your view and sunlight remain virtually unobstructed. Lakin does note that because the air conditioner can only fit on window sills up to 11 inches, make sure you measure the length of your window before purchasing. It is available in two sizes: 6,000 and 8,000 BTU.
Best smart window air conditioner
This AC is slightly larger than our best overall unit (it's usable in rooms up to 350 square feet), and also comes with built-in Wi-Fi. "This is basically Friedrich's smart air conditioner line that is considered more affordable than the other units that they have out there," says Lakin, who adds that if you have multiple Wi-Fi-enabled Friedrich units, you can connect them through the Friedrich app for central-air-like control.
Best window air conditioners for larger rooms
For slightly larger rooms — or small rooms that get a lot of sunlight — this Frigidaire offers a little more cooling power. Lakin says the line's Gallery models, like this one (which is available in 6,000 to 12,000 BTU versions), "install very easily" and run quietly. Although it doesn't have Wi-Fi, Berkson points out that "you can actually make pretty much any air conditioner Wi-Fi compatible with a plug from Amazon, like a WeMo." Once the AC is hooked up to a smart plug, you can control it from Siri or an app.
Best (less-expensive) window air conditioner for large rooms
For a more affordable yet equally powerful model, try LG, a brand whose air conditioners tend to be lower priced, according to Lakin, because they have a "fixed chassis, meaning they don't slide out from the inside, they're just one piece built in," which makes repairs more difficult, he admits. However, if you're only using the unit for a year or two, or are willing to replace it after a couple of summers, there's nothing wrong with opting for a cheaper one.
Best window air conditioner for studio apartments
Things get a little more complicated when you're looking for an AC for a studio. The space might be small, but you'll want to get a more powerful model than the square footage dictates. "You would probably want to put a minimum of 10,000 BTUs in that 300 square foot studio," says Lakin, "because you have a variety of things that give off more heat than just a standard bedroom," like kitchen appliances and electronics. Friedrich's high-end Kuhl air conditioner (available in 6,000 to 35,000 BTU sizes) is Lakin's pick for a unit that'll basically feel like central air in your small space. Dudek-Gorski says that compared to Friedrich's Chill Premier line, its Kuhl air conditioners are quieter and longer lasting.
Best less-expensive window air conditioner for studio apartments
If you don't need all the features of the Kuhl (like Wi-Fi compatibility and the ability to program a daily schedule for up to seven days), this LG air conditioner would also work in a studio, says Lakin. If you're cooling an even larger space, LG makes affordable models up to 24,500 BTU, like this one.
Editor's note: This is a third-party seller on Amazon with an approval rating of 75 percent, and supply is limited. Although you'll pay more at Home Depot, there is less risk in purchasing this model from it.
Best quiet air conditioner
"It is extremely quiet, very easy to use, and comes with integrated Wi-Fi that allows you to control your unit remotely from an app on your smartphone," Hood says. The Friedrich models were also highly praised by Lakin, who ranked the brand as one of the best window-AC manufacturers available. This unit has 10,000 BTU and will cool a 400- to 500-square-foot room. "It's one of our top sellers, especially if noise is a big concern for you," Hood says.