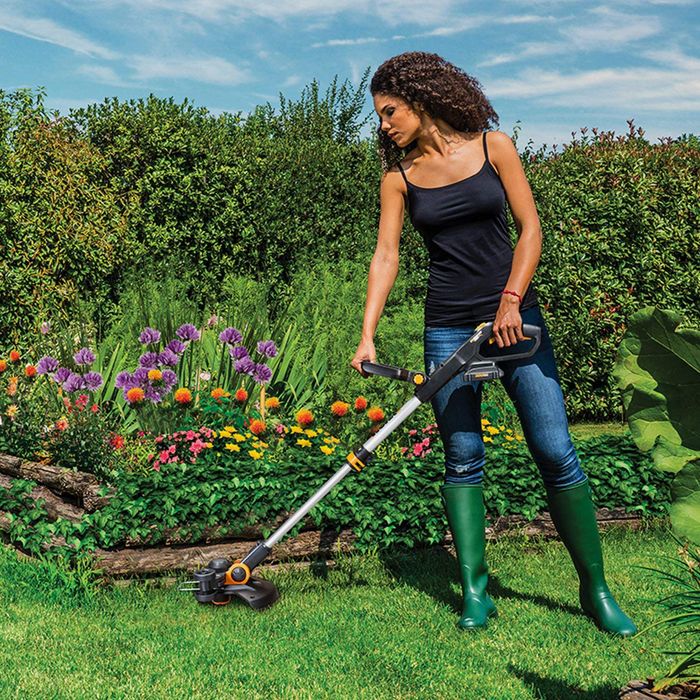 Photo: Courtesy of the retailer
Here at the Strategist, we like to think of ourselves as crazy (in the good way) about the stuff we buy, but as much as we'd like to, we can't try everything. Which is why we have People's Choice, in which we find the best-reviewed products and single out the most convincing ones. (You can learn more about our rating system and how we pick each item here.)
And while we've written about lots of power tools before — including the best lawn mowers, the best leaf blowers, and the best power drills — here, we've rounded up the best string trimmers, as praised by the most enthusiastic reviewers on Amazon.
Best-rated string trimmer
Almost a quarter of five-star reviewers describe this string trimmer as "easy." One customer, who trimmed his "whole front yard in only maybe an hour," writes,"I tell you this is so easy to handle. Lightweight but strong, strong, strong. Very easy to manipulate the power buttons that it has." Another reviewer, who already owns "two gas weed eaters (curved shaft & straight shaft) that are of professional quality and have a double string assembly," says, "In turn this B&D single string unit looked and felt like a toy. Never-the-less I used it and to my surprise it did a wonderful job. I was amazed." And being called a "toy" isn't always a bad thing. "Wow, I love this new toy. I just took it out for a spin around the property and it was so much fun," one reviwer writes. "It's nice and light, so even a small, and yes, older woman (63) can easily manage it." And lots even admit this battery-powered works better than a gas-powered trimmer. "This one does not get hot, it doesn't smoke, it's lightweight and my neighbors can't hear it. No more gas oil mixtures, gas cans and gummed up carburetors. I would recommend this to anyone that doesn't want to deal with a heavy, hot, noisy and smokey string trimmer," concludes this happy shopper.
Best-rated (less expensive) string trimmer
"This little thing is pretty powerful," notes an originally skeptical reviewer, who continues, "I'm surprised, since it's battery powered I figured it wouldn't cut through much, but it does." Many more also explain they weren't expecting much, but they're impressed with how strong this trimmer is. "Seriously impressive and stronger than I thought it would be. I feel like the battery got stronger after the second use, as odd as that sounds," one customer explains, adding, "The second time I used this thing it was shredding my yard, nearly as powerful as the gas one I had. This thing is awesome, forget mixing gas and oil anymore, push the button and go." One more just "wanted something lightweight and capable of cutting," and says, "This little string trimmer is just that. This is a great tool for trimming around the yard. It's not great for clearing out brush but no one would expect it to be." Plus, the battery actually lasts: "I had some doubt with the price point, but I was pleasantly surprised. We have a huge yard, and I bought and extra battery, figuring I'd have to change them out, but the first battery lasted through the whole job, which was probably 1.5 hours of heavy trimming. This is SO much better than the expensive (heavy) one we bought a few years ago."
And now for some micro-picks for every type of string trimmer you might be looking for.
Best battery powered string trimmer
"This thing is a beast," assures one ranch owner. "It can tackle some tough stuff, is way lighter than the gas trimmers, and won't kill your back and neck." Many more reviewers also love that this is battery powered instead of being powered with gas, making it much lighter and easier to use. "I was skeptical of the battery powered whacker, but this thing tore through the jungle in my backyard like Lieutenant Dan while he still had his legs," one reviewer writes. And another who bought this to replace another cordless trimmer adds, "This thing kills weeds and grass like it has a grudge. I'm seriously impressed with its effectiveness. This new one makes the other look bad. It's incredibly powerful and cuts through things the other never did. The edger function cleaned up my sidewalks really nicely. The best part is it's way lighter than the old one."
Best lightweight string trimmer
Dozens of reviewers describe this cordless string trimmer as "lightweight," including one who says, "This trimmer is so easy to use. Lightweight, battery powered so it goes everywhere. I have so much fun that I trim everything. I only stop when the batteries need to be recharged, but I'm usually pretty ready to quit before the batteries run out." Another admits, "If you are looking for something to clear a field you'll need to get a more powerful one," but adds, "That said I bought this to edge my yard and general trimming. For this it works like a charm. Its light and easy to use. I have about 5,000 square feet, and I've yet to wear the battery out." One even purchased this because although she has three gas powered weed trimmers, they're too heavy for her, noting, "unfortunately I don't have the 'umpth' needed to start any one of these. I recently ordered this, and I just love it. It's lightweight, easy to start, and does have a long battery life per battery usage."
Best easy-start string trimmer
"I love how easy it starts. Pull the trigger," explains one content reviewer who adds that they "cut high weeds for 40 minutes and the trimmer was still going strong and showed a half charge remaining." Another reviewer calls it "a true weed whacker," and adds, "It's the bomb. It does not play around. It whacks everything in its path, be warned." That it's cordless is another fact brought up by dozens of reviewers, like one who says, "No cords to worry about, no gas to worry about. Before I couldn't get the gas ones to sta