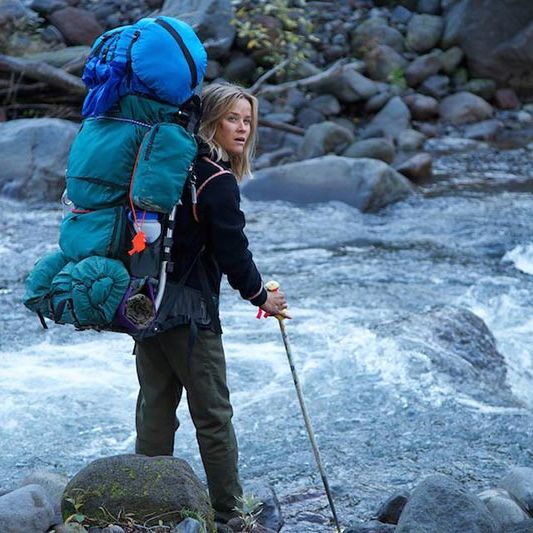 Photo: Courtesy Fox Searchlight Pictures
Here at the Strategist, we like to think of ourselves as crazy (in the good way) about the stuff we buy, but as much as we'd like to, we can't try everything. Which is why we have People's Choice, in which we find the best-reviewed products and single out the most convincing ones. (You can learn more about our rating system and how we pick each item here.)
And while we've written about lots of hiking gear — including the best hiking sandals, the best hiking boots for women, and the best hiking backpacks — here, we've rounded up the best trekking poles, as praised by the most enthusiastic reviewers on Amazon. 
Best-rated trekking poles
Over 2,700 hikers give these trekking poles five stars, and many note how helpful they are on the trail. "I blew my knee seriously on the second day of a two week trip in Glacier National Park and Banff," one reviewer reports. "The trip would have been ruined if I didn't have my sticks. I'm a big girl and had my heart set on a certain set of hikes, and managed them all (70 miles worth) with the help of the poles." Another user who has "retired as a working stiff and am now a walking around retired old fart," upgraded to these trekking poles and says they're "pretty easy to adjust, like the anti-shock feature and they sure are helpful in getting an old guy up and down the trails." Dozens of reviewers bring up the anti-shock feature: "I am really glad I got these — the support and the anti-shock really made the hike more manageable and they're very easily adjustable." They also add, "It was nice to have the option of the two different ends (sharp and rubber-tipped) for the different surfaces I encountered." Many users describe how comfortable these are to use as well, but at least one user who bent her stick after "nearly falling down a very steep hill" thinks they are life-saving. "If it weren't for these poles I probably would have ended up at the bottom of the hill severely hurt," they write. "These really saved me and for $20 it couldn't have been a better investment on that trip."
Best-rated (less expensive) trekking pole
"Sturdy" and "lightweight" are often used to describe this walking stick. "It's economical, lightweight, and gives a person the right amount of security when walking," one reviewer writes. Another, who bought this for their sister in El Paso, says, "This is a good quality pole for hiking in the mountains where she is at and has strength in the wood, not flimsy like some others." Beyond hiking, one user says, "The walking stick is certainly sturdy enough for my purpose — making sure neighborhood dogs don't get too close while I am walking for exercise." In addition to keeping animals at bay, lots of reviewers also describe this walking stick as a great cane alternative. "I feel more confident walking with it, than with a cane," one user writes, explaining, "The walking stick helps maintain my balance and also inspires me to keep moving." Another customer turned to this because they "can't use a conventional cane, that puts too much strain on my wrist." Many note that the stick is the ideal height for children or adults under five-foot-five. "I'm 5'1 and find that it is going to be very useful as a prop getting out of a chair," one customer writes, while another calls it, "Very sturdy and the perfect height for my 4-year-old."
And now for some micro-picks for every trekking pole you might be looking for.
Best cork grip trekking poles
One self-proclaimed "avid section hiker on the Appalachian Trail" and "camping-gear nut" says that with these trekking poles from Cascade Mountain, "You get all the things you look for in high-end poles, at a very reasonable price." They describe the cork grips as "much more durable than foam. It holds up better over time and it doesn't get slippery when wet." Those cork grips are mentioned in dozens of reviews, described by one customer as a feature "usually found on higher-end poles." Another reviewer loves that the cork grips "don't get slick," while another writes, "Love the cork handles and the locking mechanisms which worked great and are fast to adjust." One customer user who has "hiked well over 1,000 miles with these already" attests "there have been no issues." They continue, "The cork grips have only become more comfortable, the locks work well and secure the poles at the desired length, and after more miles than the typical user may go in a lifetime, the tips are still like new!"
Best aluminum trekking poles
"When bragging to my friends about how bad a$$ these were I started hitting a rock with them and bent one of them … I was able to bend it back by hand and it worked like new," one reviewer writes of these aluminum trekking poles. And that aluminum construction means, "These don't snap like carbon fiber poles if they get bent or caught in a rock and twisted," another reviewer writes. Lots of reviewers also describe these as sturdy, including one reviewer who "used them for a 3-day/2-night backpacking trip through the Cascades without a hitch." They add that these poles are "easy to adjust and lock in position, came with 4 different tips for all conditions, very sturdy with full weight, looks great even after the trip." Another hiker says, "After days of a lot of elevation change, rocky switchbacks, and river crossings, my knees felt great," though they add, "As long as you use good technique, these poles will hold up. The grip felt good, they stayed nice and tight, and were able to take a beating without showing the abuse." And these aluminum poles are sturdy enough to bring on a trek up Kilimanjaro: "Poles also survived the airports while being fastened to the outside of my luggage. That in itself speaks volumes."
Best trekking poles with shock absorbers
Nearly 90 percent of reviewers give these trekking poles five stars, with dozens of them specifically calling out their shock absorption, even on concrete or gravel. "I can't believe I have been hiking for so many years without trekking poles," one user admits. "And these are especially wonderful with the shock-absorbers! They totally saved my knees from the downhill impact and are easy to collapse and store in my backpack when not in use." Another says, "The shocks are subtle, but if you compare it to a pole without shocks you will notice immediately." One customer says that the shock absorbers allow them to hike of various terrains: "These have made a huge difference for my shoulders and wrists by significantly reducing vibration." They continue, "I can go longer and further on pavement/man-made terrain with these poles than with my regular poles. I don't feel tired nor do my arms have the typical pins/needle feeling I get when using poles on paved paths." Another says, "I purchased the rubber tips, and the combination of that and the shock absorbency on concrete are superb."
Best trekking poles with flick locks
The unique locks on these trekking poles, described by one as "quick and sure" make them a favorite among reviewers."Exceptional product … Well made, extremely rugged and the FlickLock is a well-engineered locking mechanism," one user writes. Another says, "The locking mechanism is extremely quick and easy to use (much easier than other designs I've had experience with), and they are very sturdy and lightweight." One hiker notes, "I love the clip locks, even when I bent the poles I was still able to slide them in and out." The grip of these Black Diamond trekking poles also get a lot of love. "The padding and mold of the grip is great, and it allows for a few positions, all comfortable," one reviewer attests, adding, "You can hold it straight on, or move you hand up (without taking off the strap) and palm the top for a little more reach (the top has a lip which makes it easy to grip and a rubber coating which makes it comfortable), or you can temporarily remove the strap and hold further down the pole for a short climb."
Best easy-to-adjust trekking poles