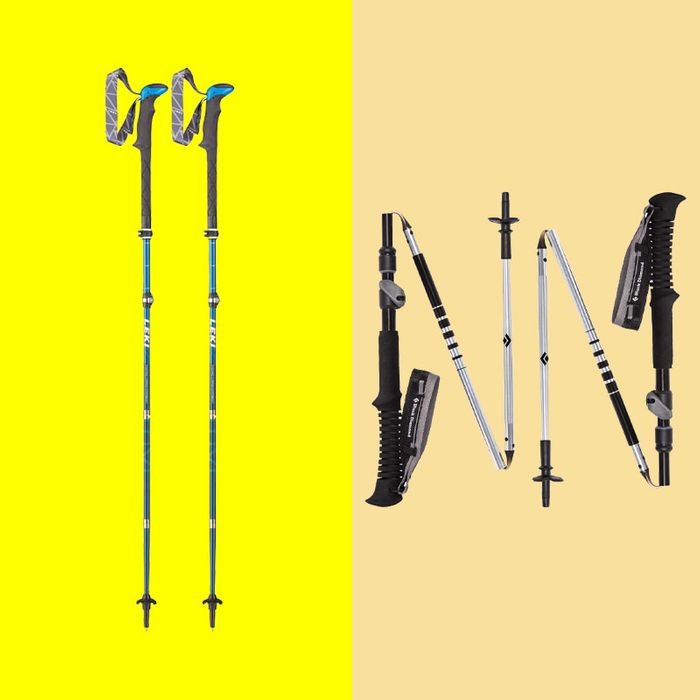 Photo-Illustration: Courtesy Fox Searchlight Pictures
Whether you're hiking the Appalachian Trail or doing a loop around your local park, trekking poles can provide stability and balance on the trail. Over time, that extra support can help reduce fatigue and potential injury, which is why poles are a crucial part of most long-distance hikers' kits. But while trekking poles are simple in their design, it can be hard to pick the right pair: There are different materials, grips, and collapsable mechanisms to choose from that can make the process overwhelming. That's why we spoke to wilderness experts and outdoor-gear testers to get their recommendations for the poles they'd recommend to hikers of every level. And while we've written about lots of hiking gear — including what you should pack when heading into the backcountry, the best hiking boots for men and women, and the best hiking backpacks — here we've rounded up the best trekking poles for every type of adventure.
Best overall | Best for long distances | Best (less-expensive) carbon | Best aluminum | Best aluminum with shock absorption | Best (less-expensive) aluminum | Best fixed-length | Best budget-friendly
Material: "Most trekking poles are gonna be aluminum, or composite, which is partially or completely made of carbon," explains Katie Gerber, a Colorado-based wilderness guide and author of Adventure Ready: A Hiker's Guide to Planning, Training, and Resiliency. Gerber has hiked thousands of miles of trails in the United States, such as the Pacific Crest Trail, the Continental Divide Trail, and the Appalachian Trail. She explains that the primary difference between the two shaft materials is durability and weight. "Generally, carbon poles are going to be lighter and help reduce the vibration in your hands, but they can be less durable, and they can snap more easily, whereas aluminum's going to bend and maybe last longer, but they're a little bit heavier." Because of that trade-off, aluminum models tend to be less expensive than carbon poles.
Weight: The weight of a pair of trekking poles can be a major factor in your shopping decision, depending on what you plan to use them for. "For some people, weight might not matter at all, but for a long-distance backpacker, which is my background, I care about the difference in ounces, especially because it's gonna be in my hands or on my back for hundreds, if not thousands, of miles on a trip," Gerber says. Most poles that are best for long-distance backpacking weigh 16 ounces or less per pair, whereas other models generally weigh between 17 and 20 ounces per pair.
Adjustability: Almost every pole on this list is adjustable, which means you can adjust the length of the shaft. "I think it's really helpful to use something that's adjustable versus fixed length. If you're going uphill, you can shorten the pole a little bit. If you're going downhill, you can lengthen the pole to break up your momentum from walking and give your joints a break," Gerber says. Most poles adjust with telescoping shafts that lock or tighten into place. "Whether you get an adjustable or a fixed-length pole, make sure that it's able to be sized to you. If you're walking on flat ground, or rolling terrain, your elbows should be at a 90-degree angle while you grip the trekking pole."
Collapsibility: Trekking poles are usually either telescoping or they collapse into sections that are connected by an internal cable (and usually, one of these sections — most commonly the one closest to the grip — has a telescoping feature while the other sections don't).
Grip type: The grips in trekking poles are generally made from three different materials: foam, cork, or rubber. Gerber says the grip type is not a huge determining factor in the poles that she buys, but they have different features that will ultimately come down to preference. "They're different in how they resist moisture and vibration. They have different softness. If you have super-sweaty hands or something, maybe you want a foam grip that's going to prevent water from getting in it. Some people really like the feel of cork and how it sort of molds to your hand over time."
Best overall trekking poles
Carbon shaft | 1 lb., 1.1 oz per pair | Adjustable | Telescoping | Cork grip
The Black Diamond Alpine Carbon Cork is one of Gerber's top recommendations. "It's very good and very highly rated by a lot of our guides," she says. The simple, three-part telescoping shaft is secured by two sturdy flick locks on each pole that are easy to use.
"I've tested a lot of poles and some are just more complicated than they need to be. I like Black Diamond's Alpine Carbon because they have a straightforward design that everyone can understand," says Graham Averill, a freelancer writer and outdoor-gear expert. "The cork handles are comfy and it's easy to choke up on them when you're climbing something steep."
Best trekking poles for long distances
Carbon shaft | 1 lb., 0.1 oz per pair | Adjustable | Collapsible sections | Cork grip
When we asked Gerber if there was a pair of trekking poles that she used the most, she pointed to her pair of Lekis. "I have used them for thousands and thousands of miles and never snapped one. So even though they are carbon poles, I find that they're pretty durable," she says of the Micro Vario. "They pack down very small, so I'm able to fit them anywhere. I use them on day hikes, fourteeners, and backpacking trips. I will fly with them and they always can pack down inside my backpack, which I think is pretty impressive." The Black Series FX has foldable sections that collapse, and they're connected by an internal cable.
Strategist senior editor Winnie Yang says that three of the four pairs of trekking poles that her family owns are Leki. "My husband really loves his newest pair, the Leki Makalu FX Carbon, which are superlight, pack down very compactly, and are easy to adjust," she says.
[Editor's note: Gerber originally referred to her pair of Micro Vario Carbon poles, which are out of stock and currently unavailable at most retailers. Leki's newer Black Series FX poles maintain a lot of the same features that make the Micro Vario Carbon a crowd favorite.]
Best less-expensive carbon trekking poles
Carbon shaft | 1 lb., 0.6 oz per pair | Adjustable | Telescoping | Cork grip
For hikers looking for a more affordable pair of carbon trekking poles, look no further than these from Cascade Mountain Tech. They come recommended by Gerber: "When folks come to me looking for a recommendation, I tell them that this is a more budget-friendly option compared to higher-end carbon poles. It's a good carbon pole, and it's pretty lightweight," she says. These are also one of the most popular trekking poles sold on the Strategist, and customers are enthusiastic about the cork grips. One Amazon reviewer loves that the cork grips "don't get slick," while another writes, "Love the cork handles and the locking mechanisms which worked great and are fast to adjust."
Best aluminum trekking poles
Aluminum shaft |15.7 oz per pair | Adjustable | Collapsible sections | Foam grip
This pair of aluminum Black Diamond poles comes recommended to us by outdoor-gear expert and writer Ebony Roberts, who uses the Distance FLZ as her main pair: "They're height adjustable, lightweight yet sturdy, and have a foldable shaft that makes stashing them in or on a backpack easy," she says. Other than the relatively lighter weight than some of the carbon models on this list, there are a few features that Roberts enjoys in particular. "The foam grips are comfortable and they don't make my hands sweaty if I'm out in the hot sun all day. They lock firmly in place and are reliable on slippery descents, and especially useful when wearing a kid carrier."
Best aluminum trekking poles with shock absorption
Aluminum shaft |1 lb., 1.9 oz. per pair | Adjustable | Telescoping | Cork and rubber grip
This pair of Lekis has a light anti-shock (that's what the "AS" stands for) system toward the tip of the pole that works like a cushion that flexes upon impact. It's a solid pair that comes recommended by outdoor writer and gear tester Miyo McGinn. "They're good quality, and if you want all the bells and whistles, these deliver. Interchangeable powder baskets and teeny trekking baskets let me use them year-round for ski touring as well as hiking; the little levers for retracting and expanding are micro adjustable, really sturdy, and can maintain a lot of pressure. If I screw them on really tight, they don't retract when I put my full body weight on them. Friends with adjustable poles will comment on how their poles get shorter over the course of the day — mine never do," she says. "The one feature I wish I had was longer grip. It's only one hand-sized, but a hand-and-a-half or double-hand-length grip lets you find more angles/lengths without adjusting the length of the pole."
Best less-expensive aluminum poles
Aluminum shaft | 1 lb., 2.0 oz. per pair | Adjustable | Telescoping | Cork grip
The Legacy Lite poles are the unisex version of the Leki Lhasa AS poles that McGinn recommended above, minus the anti-shock system. At just $100, this is a slightly more affordable pair of aluminum poles compared to more feature-rich models. We also recommended these poles to folks who are looking to gear up for snowshoeing.
Best fixed-length trekking poles
Aluminum shaft | 1 lb., 2.0 oz. per pair | Fixed length | Collapsible sections | Foam grip
One benefit of fixed-length poles is that with no adjustments, there are fewer parts that can fail or break. I like these Black Diamond Distance Z poles (I use the 120-centimeter length) for that very reason. I've used my pair for about a year and a half, hiking around trails in New Mexico, Colorado, and California, and haven't had any issues thanks to its streamlined design.
Best budget-friendly trekking poles
Aluminum shaft | 1 lb., 0.6 oz per pair | Adjustable | Telescoping | Foam grip
This is the aluminum version of the Cascade Mountain Tech poles that Gerber recommended above — and at $30, it's even more affordable. These poles are a true bang for your buck: They weigh just as much as the Cascade Mountain Tech carbon models and come with a comfy foam grip and interchangeable baskets. Like its carbon cousin, these poles are very popular among Strategist readers and have generated many positive reviews on Amazon: "After days of a lot of elevation change, rocky switchbacks, and river crossings, my knees felt great," one reviewer wrote. "As long as you use good technique, these poles will hold up. The grip felt good, they stayed nice and tight, and were able to take a beating without showing the abuse," they added. And these aluminum poles are sturdy enough to bring on a trek up Kilimanjaro: "Poles also survived the airports while being fastened to the outside of my luggage. That in itself speaks volumes."
The Strategist is designed to surface the most useful, expert recommendations for things to buy across the vast e-commerce landscape. Some of our latest conquests include the best acne treatments, rolling luggage, pillows for side sleepers, natural anxiety remedies, and bath towels. We update links when possible, but note that deals can expire and all prices are subject to change.