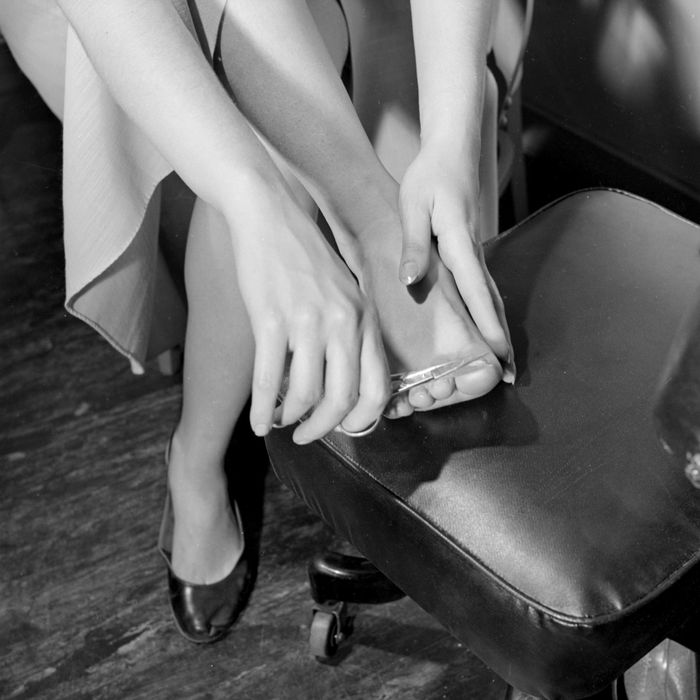 Clip!
Photo: Douglas Grundy/Getty Images
Here at the Strategist, we like to think of ourselves as crazy (in the good way) about the stuff we buy, but as much as we'd like to, we can't try everything. Which is why we have People's Choice, in which we find the best-reviewed products and single out the most convincing ones. (You can learn more about our rating system and how we pick each item here.)
And while we've written about lots of nail-care products before — including the best nail cream, the best non-acetone nail polish, and the best nail strengtheners — here we've rounded up the best nail clippers, as praised by the most enthusiastic reviewers on Amazon.
Best-rated nail clippers
With over 5,000 reviews–84 percent of which are 5 stars–the Haperton nail clippers are the most beloved set on Amazon. One reviewer writes, "These are attractive, comfortable to hold and use, solidly built and sharp." Many reviewers noted that the clippers give a very precise cut without breaking, pulling, or tearing the nail, with one reviewer writing, "They cut very well, very cleanly, and very satisfyingly." A second reviewer who has tried over a dozen nail clipper brands, explains, "The innovation is in the very sturdy top lever, which makes your compression much more likely to result in a clean cut, rather than a tear." A second reviewer adds, "The cutting edges on both the large and the small clippers were very well aligned and sharp, making quick and easy nail cuts. No ragged edges whatsoever." Many reviewers also loved that the clippers come with a "very useful" nail file built right in that is "great for smoothing rough edges after clipping."
Best-rated (less expensive) nail clippers
These affordable clippers were specifically recommended by reviewers who have arthritis or dexterity difficulties because of the easy-to-use scissor-style design. "I have very bad arthritis in my hands and ordered several different nail clippers. This one was by far the easiest to operate, even with painful joints. Highly recommend for folks with difficulties like mine," writes one reviewer. Another reviewer, who has had four hand surgeries, adds, "My dexterity leaves a lot to be desired. Using the traditional type clipper is impossible for me. I decided to give this product a try and was delighted to find it is very easy to use." A third reviewer notes that the reason the clippers are so convenient is that there is "just enough extra length to give more leverage to create a cleaner and easier cut without losing control or hurting your fingers."
And now, some micro-picks for every type of nail clippers you might be looking for.
Best angled nail clippers
"Finally found clippers that are a good practical design and work perfectly," enthuses one reviewer about these from Mehaz. "Angled cutting head is a wise improvement, the cutting edges are very sharp, the rubberized sleeves provide good grip, and the heft and size of the down-press lever made my first-time use this morning easy." Many reviewers with thicker nails raved about how sturdy the clippers are. "Mehaz toenail clippers are a cut above the rest (pardon my pun.) They work well on my thick, ingrown toenails," writes one reviewer who has even begun gifting the clippers to loved ones. "I have very thick toenails and this clipper works very good, and I also like the taper of the clipper, it doesn't have the normal crescent configuration that makes it impossible to clip in tight areas."
Best ergonomic nail clippers
Photo: Courtesy of the vendors
"I have never seen clippers this good, in fact, I have never imagined clippers this good existed," raves one reviewer who goes on to describe the clipper like this: "Heavy-duty, ultrasharp, nonslip surfaces, everything a clipper should be." One reviewer, who works as a massage therapist and describes themselves as being "obsessed" with their nails writes, "I would recommend these to anyone as the absolute best clippers available anywhere at any price, and especially if your joints are a bit weathered." We've also written about these clippers before, in which Jason Chen espouses that, "the Green Bell slices through nails like a Santuko through a tomato." Reviewers were also impressed by the clippers ergonomic design: "What makes these clippers really special is their ergonomics. The design makes the grip on these clippers steady and sure. "They are so well-engineered, so sharp and accurate that it is nothing to take off just a tiny sliver of nail," another happy customer writes. "Both unique-looking and attractive. If you're into giving high-quality, practical gifts, these would make an excellent choice."
Best nail clippers for ingrown nails
"Trying to perform minor surgeries on your big toe with a pair of tweezers, a pocketknife, and traditional clippers is a bad idea," cautions one reviewer, "Buy these before the ingrown nails become even more of a problem. These are the only way to cut the nail far enough without hurting yourself or paying more money to have a doctor use the same tool." Another reviewer who describes his toenails as "The most hideous growing thing in the natural world" and "dream haunting" writes that the clippers "Work wonders! They are very sturdy and super sharp, and my toenails actually look pretty good all trimmed up." A third reviewer with chronic ingrown toenails says, "This so far is the best one I found. Real quality. It is sharper than most and the nibs can really get to the hard to reach areas.
Best nail clippers with a built-in nail file
The general consensus among reviewers was that they loved the Clyppi clippers' built-in nail file and under-nail cleaner. "These are the last clippers I will ever buy. Simply amazing. They have an aggressive hook on the swing-out file. No more wishing for a more substantial hook to dig out that nasty toe jam!" A second reviewer adds, "The file is also well made and even files on both sides of its surface. Being brushed stainless steel they have a well-made look about them." Although, you may not even need to use the file that frequently because, as one reviewer notes, "These cut well, so filing is kept to a minimum."
Best extra-large nail clippers for toenails
"My fingernails and toenails are thick and strong, and in the past, have broken lower-end nail clippers. This thing is awesome. Cuts through my claws flawlessly, and fit comfortably in my hand," raves one satisfied customer. And other reviewers couldn't agree more with these clipper's strength: "I took a chance and bought these and they've basically changed my life. They can get around my thick, rough toenails and cuts like a hot knife through butter." Another reviewer promises, "You will not be disappointed one bit, especially if you need a wide-mouthed, large toenail clipper that clips your hard nails on the first try."
Best small nail clippers for travel