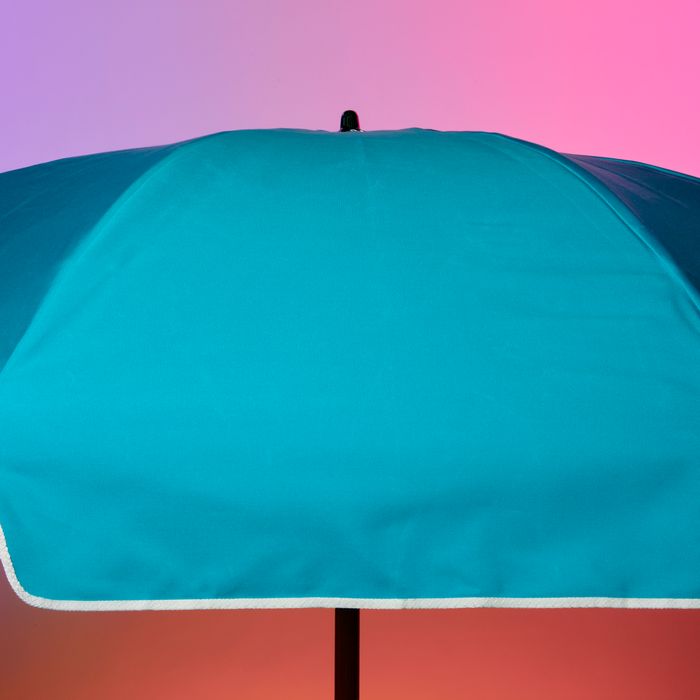 The problem with most beach umbrellas is they don't last. You might remember to buy one for, say, $30 as you pass a boardwalk store on your way to the beach, but it'll blow away and nearly impale your neighbor, or the cheap flimsy pole will snap in half, or it'll rust. Actually, you'll probably be annoyed enough that you'll just throw it out on your way home before it even gets to that point. "If an umbrella lasts more than two summers, you're getting the most out of it," says Eytan Benzeno, who founded one of the first online beach outlets back in 1999. "It usually doesn't." To help you find that unusually versatile beach umbrella this summer, I've consulted avid (yet non-sun-worshiping) beachgoers and resort managers about the very best options — including a couple of more tentlike styles. Myself and fellow Strategist staffers have also tested out these umbrellas on our own beach trips, alongside a selection of expert-recommended beach towels and chairs.
The best beach umbrellas are made with materials that last — all day, during all kinds of conditions, and ideally over the course of multiple seasons. For canopies, I looked for marine-grade fabric that won't rip, rag, or stretch after a summer's worth of salt and sand and is thick enough to block out harmful UV rays as you shelter between swims. For poles and frames, I sought out durable materials like fiberglass and wood over plastic.
I looked for umbrellas with a range of shade coverage, from traditional circular canopies to umbrellas with adjustable hinges to tilt toward the sun to umbrellas that lie at a 45-degree angle and include flaps to create a mini-cabana effect. I also included a couple of expert recommendations for more tentlike beach shelters for the truly sun-averse beachgoers out there.
A solidly constructed canopy is only one aspect of a good beach umbrella. I also considered how each of our umbrellas anchored into the sand, with the aim of identifying those that will stay up all day, even in windy conditions. The best way to dig a pole into the sand is with the use of a sand anchor, a spiral-shaped shaft that allows you to drill the umbrella further down than its pole would otherwise allow. Some umbrellas have built-in sand anchors, while others require an additional purchase. For beach tents, I considered those that anchor using sand bags as well as more traditional stakes.
Best overall beach umbrella
Materials: Marine-grade fabric, steel, and wood | Canopy: 94-inch open height, non-tilt | Anchor: Sold separately
The Frankford is the go-to umbrella for shade-loving beachgoers on all the coasts. They use a version of the Frankford when at the Ritz-Carlton in Miami as well as the Delano, the Fontainebleau, and the Eden Roc. It's also the umbrella of choice at Breakers Montauk, where Leyla Marchetto, a partner at the motel, calls it "elegant, classic, and sturdy." The umbrella was first made for beach concessionaires after World War II then redesigned a few years ago for public use. Its 7.5-foot pole is fashioned out of flexible long-grain ash wood, the same wood used for baseball bats, so it won't snap or rust; the skeleton is made of steel, so it won't break off in the wind; and the nine-ounce marine-grade fabric, which comes in solid bright colors or in soothing stripes, is the same material used in most awnings, so it won't fade. Plus it blocks both UVA and UVB rays. The umbrella comes with a carry bag because all that durability makes it a hefty 15-ish pounds.
The Frankford isn't cheap, but you'll get your money's worth over time — investing in one great umbrella makes more sense than buying the same cheap boardwalk one every time you hit the Rockaways. If you're looking for the best in long-lasting beach umbrellas, this is the only one. Being the opposite of flimsy, you should be able to anchor the Frankford pretty well on your own — but for best results, the brand does recommend purchasing the sand anchor above.
Best (less expensive) beach umbrella
Materials: Polyester, fiberglass, aluminum | Canopy: 94-inch open height, tilt mechanism | Anchor: Pole
If you just can't bring yourself to spend that much, here's another very good beach umbrella option. To be honest, nothing about this umbrella is sexy. Not only is it made by Tommy Bahama, but it's branded with a giant Tommy Bahama logo (even if the online picture doesn't have the logo, be warned, it will arrive with the logo). But you'll soon get over all this when you realize this umbrella will never fly away. That's thanks to the built-in sand anchor, which Mike Reinhardt, a co-founder of Locals Surf School at Rockaway Beach, says will ensure that the umbrella "stays in place on windy days." There's also a hinge in the middle of the pole so you can tilt just the top of the umbrella to meet the sun without having to dig it out and adjust the entire base. A vent at the top of the umbrella helps increase wind tolerance. Meanwhile, an aluminum undercoating helps block the dangerous rays while keeping you cool. The umbrella weighs four pounds and comes with a bag. According to Liz Gumbinner of Cool Mom Picks, everyone at Long Beach Island has one.
Best stylish beach umbrella
Materials: Marine-grade polyester, beech wood, aluminum | Shade coverage: 90-inch open height, tilt mechanism | Anchor: Pole
When using a beach umbrella, I ideally want to feel like I'm reclining poolside at Frank Sinatra's Palm Springs compound. Australian brand Sunday Supply shares my sense of nostalgia; its vintage-style umbrella even has that retro '60s canopy fringing. I tested out one of these dreamlike canopies over the course of several sunny weekends last summer, and was more than happy with its shade-providing capabilities and aesthetics. Like the Tommy Bahama pick above, it features a tilt mechanism and sand anchor for ease of use. Unlike the Tommy Bahama umbrella above, it is extremely easy on the eye. Constructed from beech wood and aluminum, rather than the brittle plastic you'd find at the boardwalk store, the Sunday Supply umbrella weighs 12 pounds (that's three less than the Frankford), and collapses into an included shoulder bag that can withstand a long and crowded mid-August train journey. Best of all, you can match your umbrella to one of the brand's similarly sturdy (and retro-looking) beach chairs for the full midcentury experience.
Best beach umbrella-tent hybrid
Materials: Polyester, alloy steel | Canopy: 96-inch open height, 45-degree pole | Anchor: Ground stakes and sand pockets
The above umbrellas are traditional in both structure and function. If you'd like to invest in more futuristic beach technology, consider the Sport-Brella, which features a telescoping pole that stands at about a 45-degree angle, much like a telescope pointing toward the stars. It features two side flaps that anchor the umbrella's UV-blocking fabric into the sand with ground stakes, creating a mini-cabana. Weighing six pounds, the Sport-Brella can comfortably fit three adults and comes with a side window, a flap for ventilation, and a pocket to hold your keys and phone. Peter Shaw, head instructor at Surfs Up NY surf school, likes that this "half-tent, half-umbrella" is "semi-private, since the back half is covered, and that's pretty cool for hanging out with friends." He says it stays put in 15 mph wind, the point at which many weaker umbrellas blow away. Most impressive, the Sport-Brella has over 7,000 Amazon reviews and still averages a 4.5 rating. It's the ultimate crowd-pleaser.
Best beach tent
Materials: Waterproof stretch nylon and lycra | Canopy: 66-inch height, tilted canopy | Anchor: Sand pockets
A beach tent comes with two significant advantages compared with its beach umbrella cousins: lightness and increased shade. The sporty-looking Neso is recommended by avid beachgoer Bianca Buchanan, who's been visiting local beaches from Staten Island to the Bronx weekly for the past 17 years. "It's great in the wind, and keeps you cool underneath," she says. Unlike an umbrella, the tent doesn't have to be dug into the ground — simply fill the bags in each corner with sand to weigh them down. And compared to our bulky top pick, it's much easier to tote around. Buchanan says, "When the sandbags are empty, each tent weighs just four pounds."
Best beach tent for groups
Materials: Waterproof stretch nylon and lycra | Canopy: 84-inch height, tilted canopy | Anchor: Sand pockets
The Nemo also comes in this larger option that's recommended by Jeff Moore, who lives full-time in the Caribbean and runs his own beach-themed YouTube channel. It has the same sand-anchored design as Nemo's original tent above and weighs just a few pounds more. Couples and small families will be able to stretch out more under its 110-by-110-inch canopy.
Best full-coverage beach tent
Materials: Polyester and fiberglass | Canopy: 47-inch height, three-wall canopy and floor | Anchor: Sand pockets and stakes
And if you're really camping out all day and wish to avoid even the slightest tan, here's a three-walled tent with a built-in floor. It comes recommended by New York's extremely sun-averse deputy editor Alexis Swerdloff, who was especially struck by how easy it is to pack. Weighing four pounds, the tent "can be packed up and toted around in a very manageable carry case with a shoulder strap." As for setup, its name does not lie: "All you have to do is pull its little lever on top and it snaps into shape. Then push four yellow stakes into the ground, and for extra weight, there are several pockets into which you can deposit a few handfuls of sand." And while the three walls (constructed from UV-blocking polyester) will protect you from the sun, you can still experience some beach ambiance courtesy of two mesh windows that'll let in a sea breeze and whatever the group next to you is playing on their Bluetooth speaker.
Best beach shade
Materials: UPF 50+ recycled plastic | Canopy: 150 square feet of shade | Anchor: Sand pockets and pole
Strategist senior editor Kayleen Schaefer calls this eye-catching shelter made from recycled ocean plastic her "biggest, boldest, baddest piece of beach gear." The Shibumi's roughly 16-by-8-foot rectangle of parachute fabric sails overhead and "immediately announces you to the rest of the shore as someone to stare at," she explains. It has enough of a footprint to keep three to six people out of the sun, while still allowing airflow and maximum ocean views. While it may look a little gravity-defying, the best thing about the Shibumi might be its ease of transport and set-up. It folds down to be more compact and lightweight than a traditional pop-up beach tent, and while there's a slight learning curve, Schaefer says that two people can fill the sandbag and plant the curved pole in a couple of minutes after a few rounds of practice. Just note that you will have to keep re-positioning the shade so that it catches the wind (just a slight breeze will do), which could be an annoyance for some. Being expensive, Schaefer suggests that this is "the rare purchase that makes sense to go in on with friends" because it's designed to be enjoyed by many. She, her best friend and boyfriend have joint custody of theirs.
Some more beach essentials we've written about
• Eytan Benzeno, Florida-based realtor and former CEO of beachstore.com
• Bianca Buchanan, weekly New York City beachgoer
• Liz Gumbinner, writer and publisher, Cool Mom Picks
• Leyla Marchetto, partner, Breakers Montauk
• Jeff Moore, YouTuber, How2Beach
• Mike Reinhardt, co-founder, Locals Surf School at Rockaway Beach
• Peter Shaw, head instructor, Surfs Up NY
• Alexis Swerdloff, deputy editor, New York
The Strategist is designed to surface the most useful, expert recommendations for things to buy across the vast e-commerce landscape. Some of our latest conquests include the best women's jeans, rolling luggage, pillows for side sleepers, ultra-flattering pants, and bath towels. We update links when possible, but note that deals can expire and all prices are subject to change.
Every editorial product is independently selected. If you buy something through our links, New York may earn an affiliate commission.