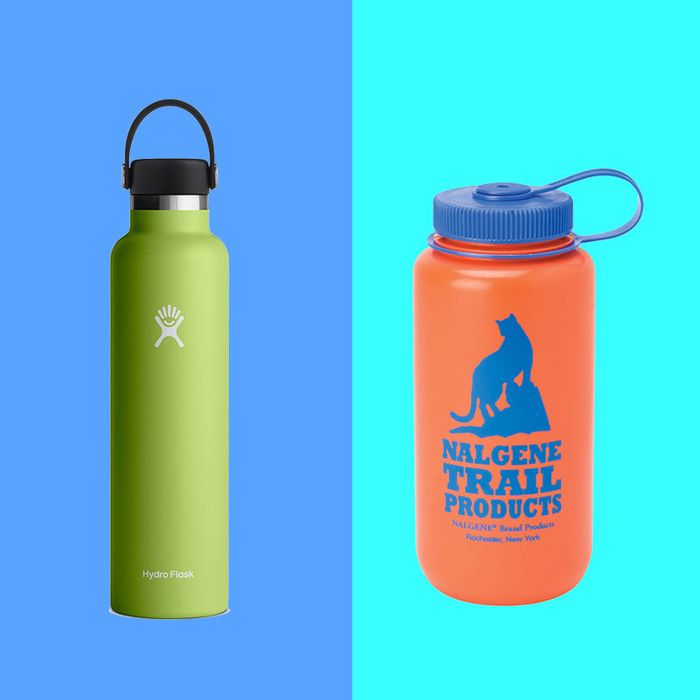 Photo-Illustration: The Strategist; Photos: Courtesy of retailers
It's no secret that carrying a reusable water bottle is beneficial — for your health, for the planet, and for your wallet. But it's also easier said than done. You want a well-built model. Otherwise, it'll end up degrading (gross) or breaking (annoying). Even more importantly, though, you want one that fits your lifestyle — if it doesn't, you'll just end up forgetting to bring it with you or simply deciding it'd be easier to leave at home.
For example, if you commute with your belongings jumbled in a tote bag, you should find a vessel that will never leak. If you hike, you might want a bottle that can strap to your backpack. If you're buying one for your kid, you want to make sure they can easily maneuver it on their own. To find the reusable water bottles that best fit all these scenarios and more, I chatted with a bunch of folks who feel passionately about their own.
Best overall | Best lightweight | Best for kids | Best vacuum insulated | Best for families | Best large | Best for hiking | Best to use one-handed | Best foldable | Most stylish
What we're looking for
Volume: Most of the bottles on this list come in various sizes that hold different amounts of water. Where that's the case, I've given details within the description. Logically, if you're going to be toting your water bottle around all day with nowhere to refill it, you'll want something bigger. If you only plan on using it for a few hours, you should be fine with something smaller.
Lid type: The type of lid on your reusable water bottle will make a difference in how you drink from it. Some have bigger mouths, some smaller. Some lids fully detach, while others twist off but stay connected to the top. Some flip open and lock shut; others have a "sport" cap from which you can suck out the water. What you choose will depend on what you find comfortable to drink from, as well as what you'll be doing as you drink (driving, sitting at a desk, exercising, running errands, or whatever else). It's worth noting that many of the brands below sell various types of compatible lids beyond what the listed bottle comes with. Again, if that's the case, I've said so in the description.
Material: Some bottles on this list are insulated stainless steel, which keeps your water very cold for long periods of time. But others are plastic, glass, or non-insulated steel, as several of the people I spoke with prefer room-temperature water (or at least don't mind when the liquid doesn't stay cold all day).
Best overall water bottle
24 ounces | Detached screw top | Insulated stainless steel
Hydro Flask is my personal bottle of choice. It's sleek and durable, and it keeps my water cold or cool all day. They make both standard-mouth bottles (seen here) and wide-mouth ones in a range of sizes — from 18 ounces up to 40 — as well as additional styles of lids. It's quite customizable to your particular needs. Plus there are both bright and neutral color options.
I'm not the only one who's an enthusiast. Journalist and cookbook author Lesley Téllez also swears by the brand, saying, "The 24-ounce fits in my tote bag and isn't too heavy to carry around. No straw means less gunk to clean, and I don't need a special skinny straw-cleaning brush. I've traveled with it, I've dropped it a million times, and it's fine. We've tried several different stainless-steel varieties, and we always come back to Hydro Flask." Strategist senior editor Simone Kitchens is another fan, as is Strategist editor Maxine Builder. Builder started using a wide-mouth one with a straw lid when she went to hot yoga pre-pandemic, where her Nalgene wouldn't keep her water cool enough (more on that below). "That's also why the Hydro Flask is my favorite water bottle to bring on long car rides, where I don't want my water bottle to get baked and weight isn't a primary concern," she says.
Best lightweight water bottle
32 ounces | Attached screw top | Plastic
Classic Nalgene bottles are another favorite among the people I spoke to — in particular, this version made of HDPE, a particularly lightweight plastic. It weighs 3.75 ounces when empty, according to the Nalgene website, whereas the Nalgenes made of Tritan plastic weigh 6.25 ounces. Recipe developer and soon-to-be cookbook author Jessie Sheehan raves about hers, citing its massive size. "It's not sexy at all, but it holds a lot of water, which is helpful for those of us obsessed with drinking eight glasses a day," she says. "And it's still so lightweight. It's not insulated, but I like room-temp water anyway." A couple of Strategist staffers also named Nalgene as their preferred brand in this article, including Builder, who has the HDPE version. "Those three extra ounces make a difference when you're toting around a bottle full of water every day, or going hiking, or schlepping through the subway," she says. This smaller-mouthed version that's "just easier for sipping" has now made it into her rotation too.
Best vacuum insulated water bottle
16 ounces | Fliplock lid | Insulated stainless steel
This Zojirushi mug has been a Strategist favorite — among both writers and readers — since contributor Laura Perciasepe waxed poetic about it in 2016. "One time, my boyfriend put a bunch of ice and a bunch of vodka and soda in the Zojirushi and brought it to the beach," she says. "The Zojirushi fell out of our bag and lay on a towel, exposed to the hot sun for a few hours. When he went to go take a drink, the ice clinked — it hadn't melted." New York deputy editor Alexis Swerdloff also swears by it, calling its stay-cold capabilities "mind-boggling." That is, in part, thanks to the insulated stainless-steel interior, which several bottles on this list also have. The feature that puts it over the top, though, is the vacuum-sealing lid, which adds another layer of temperature protection (yes, the Zojirushi also works beautifully for hot liquids). Said lid also ensures that the bottle is completely leakproof.
Best water bottle for kids
12 ounces | Straw cap | Insulated stainless steel
"Our kids are hard on water bottles, so we've recently moved on to these tough Yeti bottles for them," says cookbook author Erin Gleeson, who has three children under 8 years old. "I bought one for each of them, and so far, so good." (She did mention that her 1-year-old has a harder time opening the straw spout on her own, whereas the other two have no problem; Yeti writes on its website that the bottle is meant for children ages 3 and up.) Gleeson says they're on the heavier side but still manageable (and durable) enough for children to carry. Another kid-friendly bonus? The stainless-steel interior keeps them "not grimy," as Gleeson puts it, and both the lid and the bottle are dishwasher safe.
Best water bottle for families
18 ounces and 12 ounces | Sport cap | Stainless steel
Klean Kanteen makes bottles in three different sizes — the 18-ouncer listed above, a bigger 27-ouncer, and a child's-size 12-ouncer — with universal lids that can easily be mixed and matched. "My family has about a dozen of them," says Mei Lei, co-owner of Mei Mei in Boston and writer of Food Waste Feast. "They come in lots of colors (important when you have opinionated children) and are super-easy to clean. I appreciate that they don't have tons of fussy little bits that are easy to lose." The different styles of lid offer versatility, meaning that you can buy a handful and pick out whichever ones you need for yourself or a family member — say, a sippy cap for a younger child and a loop cap for an older one.
Best large water bottle
One gallon | Attached screw top | Plastic
If you really want to challenge yourself to drink a ton of water (or if you're frequently out and about for an extended period of time with no way to refill), we've gotten a couple of testimonials about this huge BuildLife water bottle — which not only holds a full gallon but is "stamped with inspirational and vaguely threatening phrases encouraging you to keep drinking at every hour of the day," as contributor Caroline Goldfarb explains. In fact, the markings encourage you to get down to the next level every two hours — if nothing else, it's a very easy (and visual) way to keep track of how much you're hydrating. Anderson Paak is another devotee, carrying it with him ever since he stopped using disposable gallon jugs.
Best water bottle for hiking